I think the thing that I love most about wild violets is that they are usually the first flower to show their face in early spring. Actually, where we live in Southern Oregon they come up in mid-February! These little purple flowers give us a nice little foreshadowing of spring when we're still in the midst of winter, which is a welcome sight. They grow plentifully right in our backyard under the apple tree, which makes foraging for them rather easy. Even if you don't have them in your yard, foraging for wild violets usually isn't difficult, as they grow almost everywhere!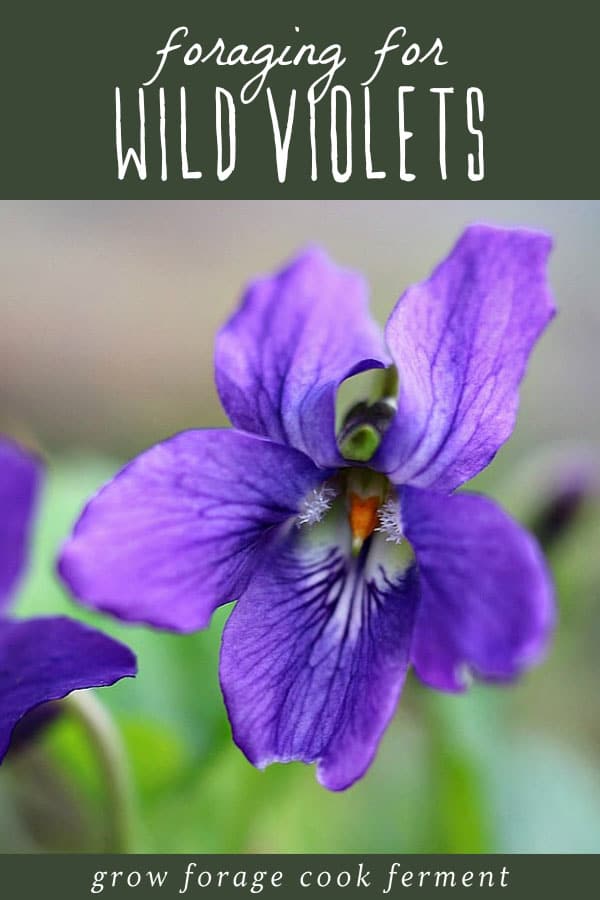 ---
Wildcrafting Weeds
If you want to learn more about the edible and medicinal weeds that surround us and how to use them, check out my eBook: Wildcrafting Weeds: 20 Easy to Forage Edible and Medicinal Plants (that might be growing in your backyard)!
Gather & Root Online Foraging Course
My online foraging course is a great way to learn about wild edible and medicinal plants! Sign up to join the waiting list for the gather + root online foraging course here so that you are the first to know when it opens for enrollment.
---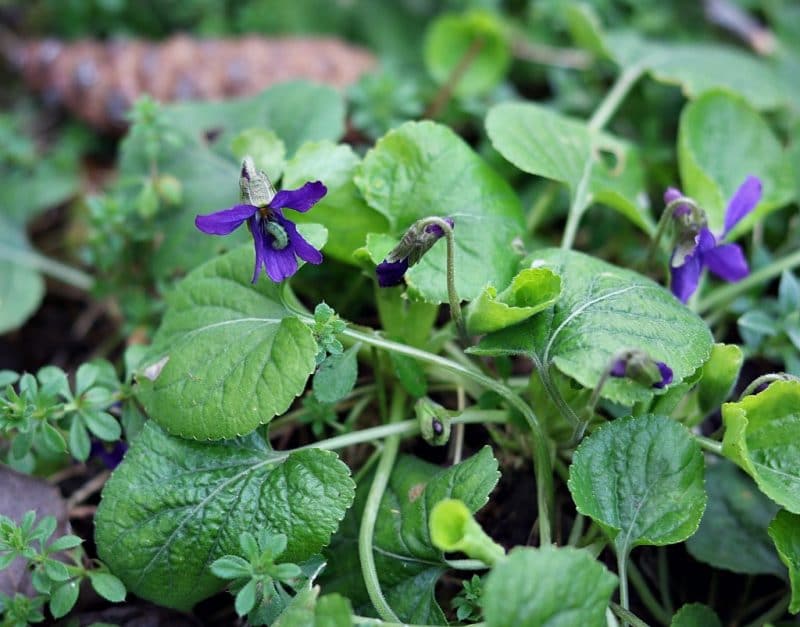 Foraging for Wild Violets
Wild violets are a low growing plant that prefers a shady, wooded area with rich soil. They have a basal rosette of toothed, heart shaped leaves, and drooping purple flowers with five petals that do not produce seeds. Interestingly enough, tiny round black seeds are produced from non-edible brown flowers at ground level. Wild violets mainly reproduce via underground rhizomes.
Wild violets are not the same as African violets, which are not edible at all.
Both the leaves and blossoms are edible, either raw or cooked, and are extremely high in vitamin C. The flowers are a wonderful late winter or early spring treat, and are often made into violet jelly or violet syrup. The leaves can either be eaten raw in a lovely wild greens salad, sauteed or steamed, or made into a tea.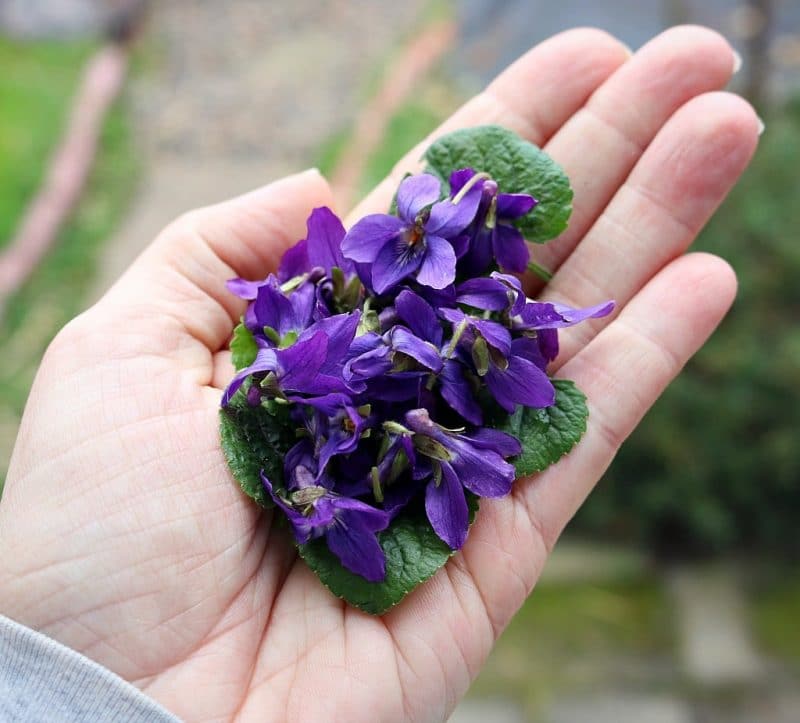 Violets leaves are also medicinal,  with a soothing mucilaginous property. They are anti-oxident, anti-inflammatory, and a blood cleanser. They are good for coughs and colds, and can be made into a violet leaf and honey cough syrup.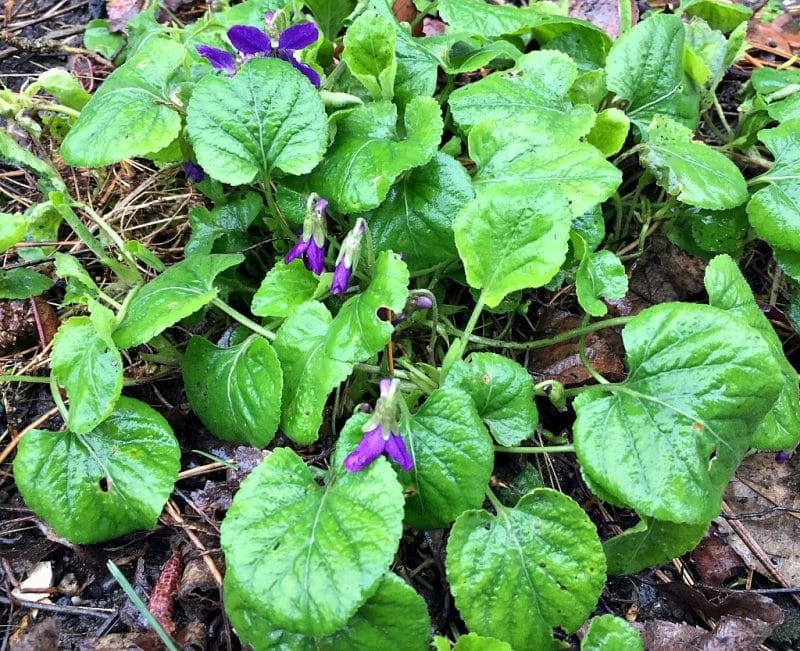 Violets can also be used topically for skin conditions like eczema, dry skin, bug bites, and vericose veins. Here are some homemade recipes for violet leaf balm and violet lotion that can provide some relief.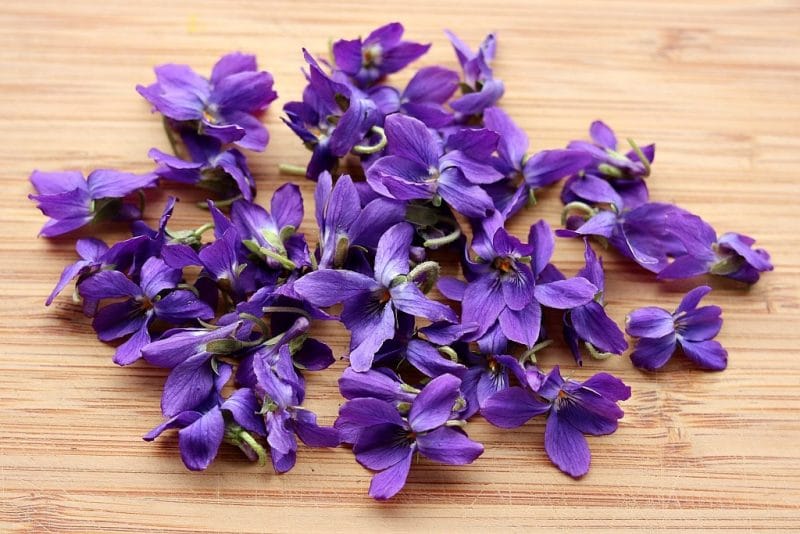 If you can't find any wild violets, or if  it's the wrong season, you can purchase dried violet leaf from Mountain Rose Herbs (my favorite place to get high quality, organic dried herbs).
Here are some more great ways to use wild violets:
I hope this post inspires you to go foraging for wild violets! They are awesome little spring flowers that have so many great uses. How do you like to use wild violets?
Save