This chaga chai with carob and coconut has a variety of health and medicinal benefits. It's a gut-healing and anti-inflammatory remedy. Enjoy these potential health benefits, as well as a flavorful treat with this chaga chai recipe. This is an easy and straightforward recipe for beginner home herbalists to master, and it tastes delicious!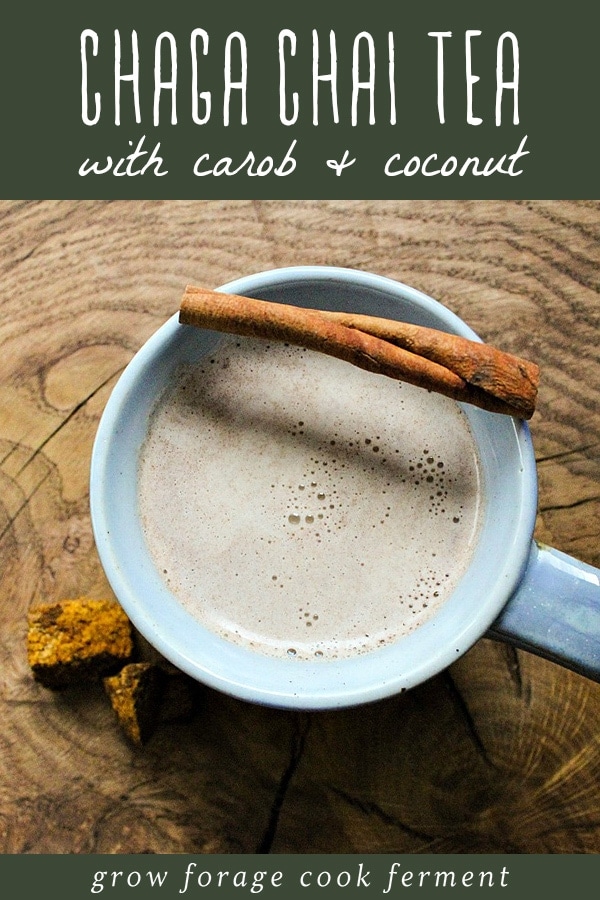 Benefits of Chaga
Anyone moving in herbal circles (and even of those who don't) has likely heard of the great virtues of medicinal fungi.
Chief among them, chaga is particularly popular. Touted for a variety of health benefits, chaga's fame is certainly warranted.
The medicinal benefits of chaga are abundant. It boasts tremendous antioxidant potential, as well as immune-modulating, anti-allergenic, anti-viral, and, yes, even anti-cancer properties.
However, it is important to understand these exciting properties are often attributed to complex extractions that may be difficult for a home herbalist.
Perhaps one of the most profound benefits of chaga for the home herbalist, is its benefits for relieving inflammation of the gastrointestinal system.
Its extraordinary anti-inflammatory action is especially meaningful for concerns of ulcer, gastritis, and even liver disease.
Related: 6 Medicinal Mushrooms for Your Health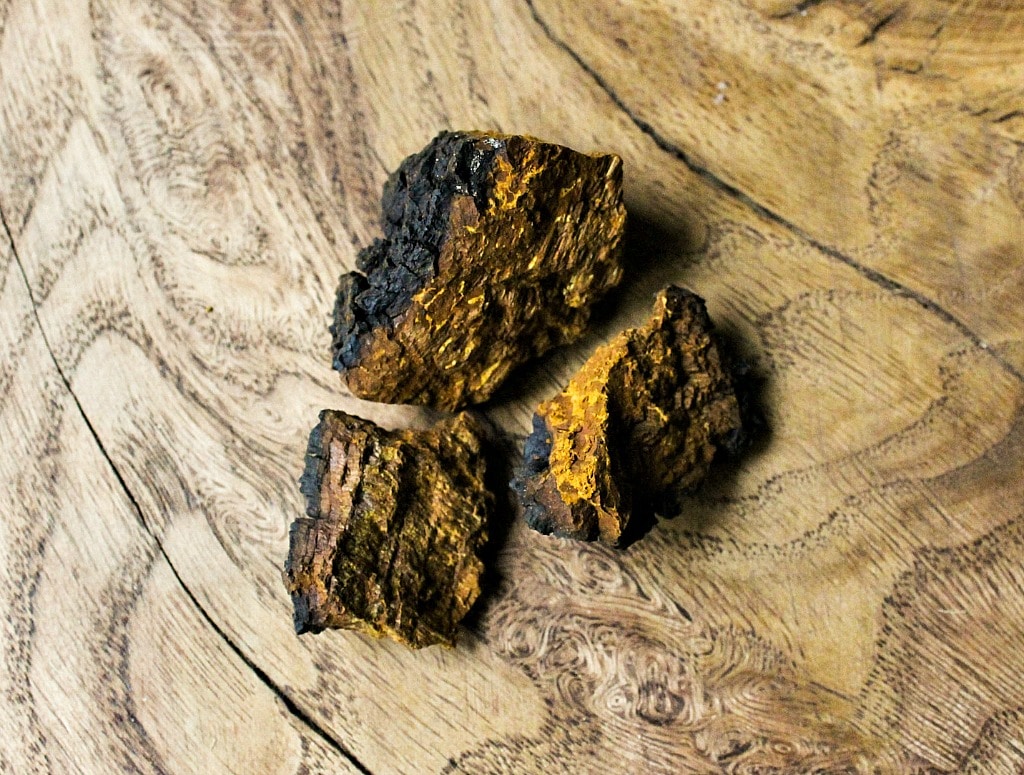 Foraging Chaga Ethically
However, chaga's fame comes with a price. Over-harvesting has put this veritable royalty of the fungi greatly at-risk.
Chaga prefers to grow on birch trees in temperate and subarctic regions throughout the northern hemisphere.
Resembling a burnt log more than a mushroom, chaga is a unique fungus with an equally unique growth habitat.
Unlike other bracket/conk/polypore type fungi, what we observe growing on a tree is the fungus itself – not the fruiting body.
Bracket fungi like artist's conk and reishi present with the visible fruiting body, but the actual living fungus is a network of mycelia under the bark.
However, chaga rarely ever "fruits" and the entire fungus grows on the outside of the host.
Completely harvesting chaga from a host tree not only leaves a gaping scar in the tree, from which it might not recover, but also eliminates further chaga growth from that site.
That being said, chaga can be harvested ethically!
By removing no more that 50% of the fungus and harvesting only what you reasonably need helps to preserve this very important medicinal.
If you do not live in a region where chaga is a potential foraging fare, I strongly urge you to find a source for ethically and sustainably sourced chaga for your purchase, such as The New New Age.
Related: What to Forage in Winter: 30+ Edible and Medicinal Plants and Fungi
Chaga Chai with Carob and Coconut Recipe
Chaga Chai with Carob and Coconut is a healthful, yet seeming indulgent treat.
To make this chaga chai blend you'll simply mix all of the ingredients together and store in an airtight container until ready to use.
A few traditional chai spices lend a warming spicy note, while the chaga and carob contribute a flavor reminiscent of dark chocolate.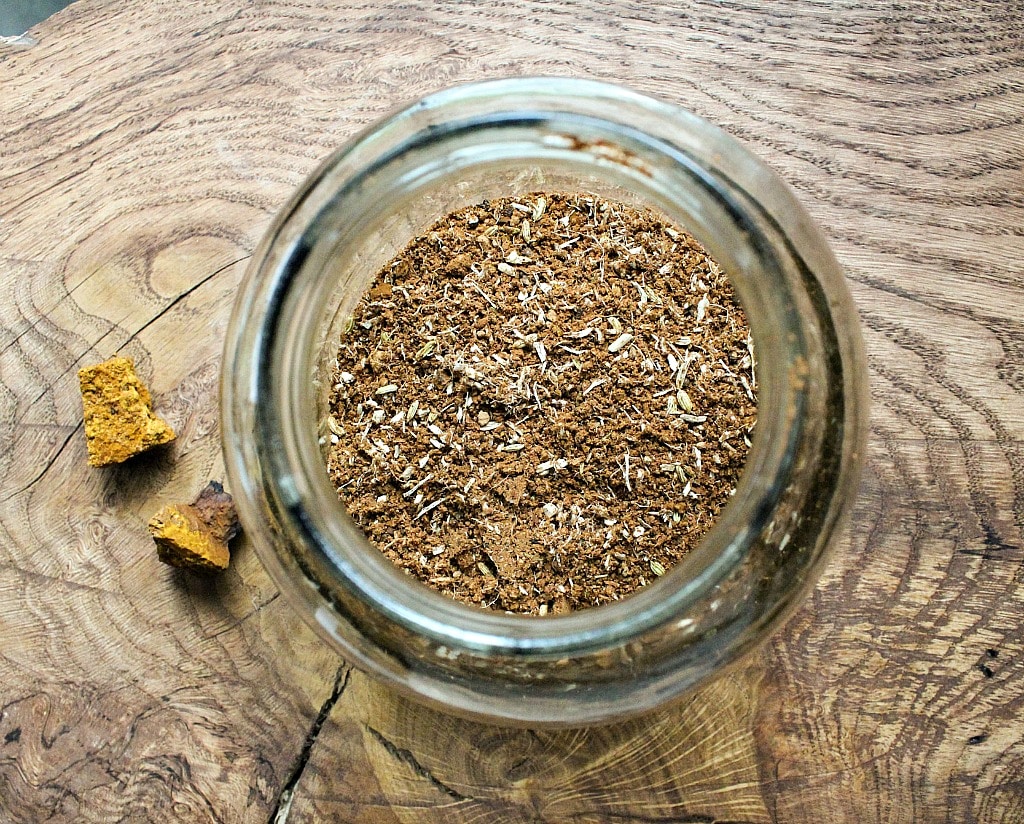 An addition of marshmallow root offers additional gut soothing benefits. And toasted, unsweetened coconut? Just the exotic "icing" on the proverbial cake.
This mixture can be prepared and simmered in a milk of your choice when desired.
Sweetened with honey, or, even better, maple or birch syrup, to your liking, this chaga chai is a tasty, medicinal treat!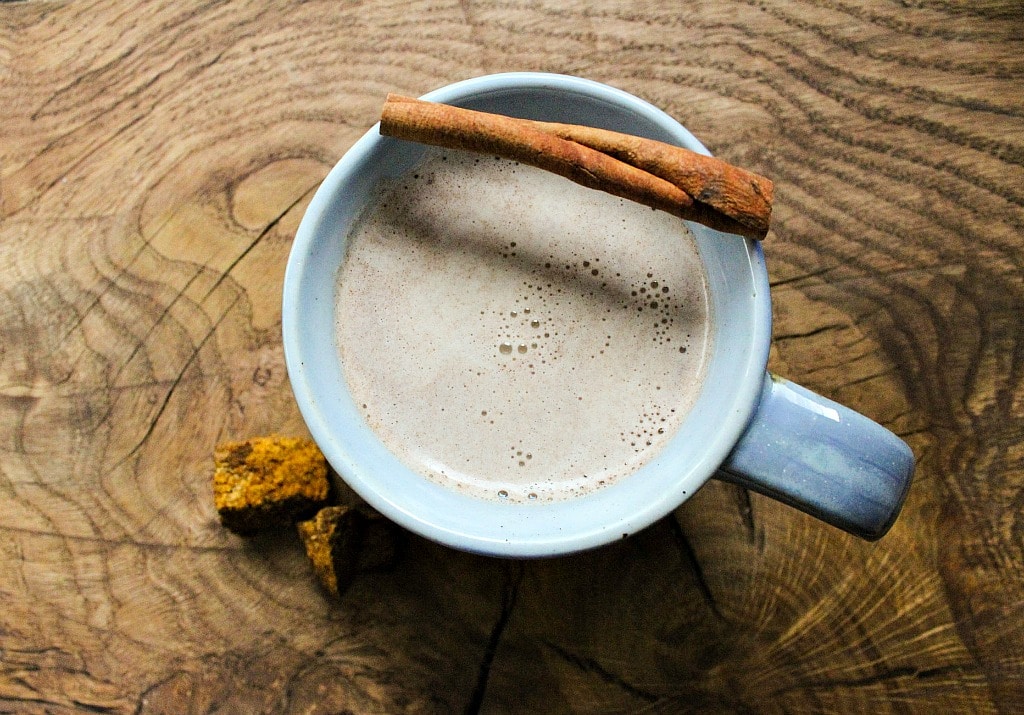 I hope you enjoy this foraged forest treat! Check out these Chocolate Chaga Brownies for another awesome chaga recipe.
Have you ever made anything with chaga? Tell me about it!
For more delicious chai recipes, try homemade spicy chai or fir needle forest chai!
Chaga Chai with Carob and Coconut
Chaga fungus is amazing for your health. Make this tasty chaga chai blend with carob and coconut!
Instructions
Mix ingredients together and store in an airtight container, in a cool dark place.

To prepare, add one heaping tablespoon of the mixture to 8-10oz of a milk of your choice.

Simmer over low to medium heat for at least 20 minutes, stirring frequently.

Strain, sweeten and serve.
Notes
Be sure to use ethically and sustainably sourced chaga for your purchase, such as The New New Age.
Nutrition
Serving:
1
Tablespoon
|
Calories:
1
kcal
Devon Young is an herbalist and blogger at Nitty Gitty Life and author of two books: The Backyard Herbal Apothecary and The Herbalists Healing Kitchen. Devon recently completed a degree in Complementary and Alternative Medicine with the American College of Healthcare Sciences. When not writing, practicing herbal medicine, or tending to her farm and family, Devon enjoys foraging for wild edibles and medicinals.