Sometimes herbal medicine is right in your own backyard, and you often don't need to go much further than that. But if you venture out to the woods, be sure to collect some conifer needles, as they have benefits that not everyone knows about! Fir needles are especially nice, and can be made into a forest tea with chai spices that is not only delicious and festive, but also helpful for respiratory wellness.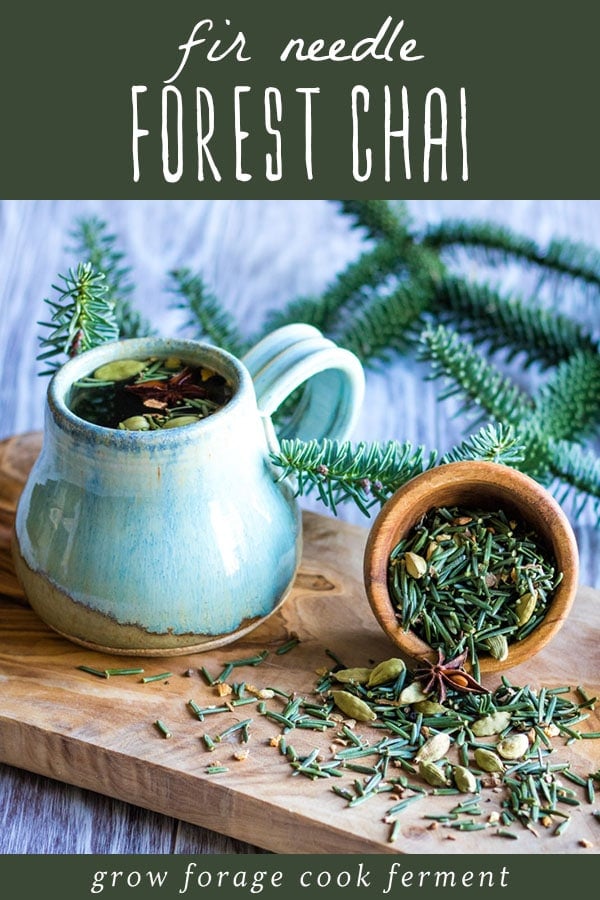 The Backyard Herbal Apothecary Book
This recipe for Forest-Tea Chai for Respiratory Wellness comes from the wonderful book The Backyard Herbal Apothecary by Devon Young of Nitty Gritty Life.
This book is an amazing resource of inspiring herbal recipes and remedies that can be made from plants that are foraged right from your backyard (or not too far away).
Each plant that is covered in the book has a complete herbal profile, with information on how to forage or grow, harvest, and use, with recipes!
While this fir needle forest chai recipe caught my eye right away, here are some other great sounding recipes from the book:
Yarrow All-Purpose Wound Salve
Usnea Dual Extraction Tincture for Respiratory Complaints
This is an excellent book for anyone that is interested in foraging and the healing power of plants!
Devon also has another amazing book called The Herbalist's Healing Kitchen which is more food focused. They both make great holiday gifts!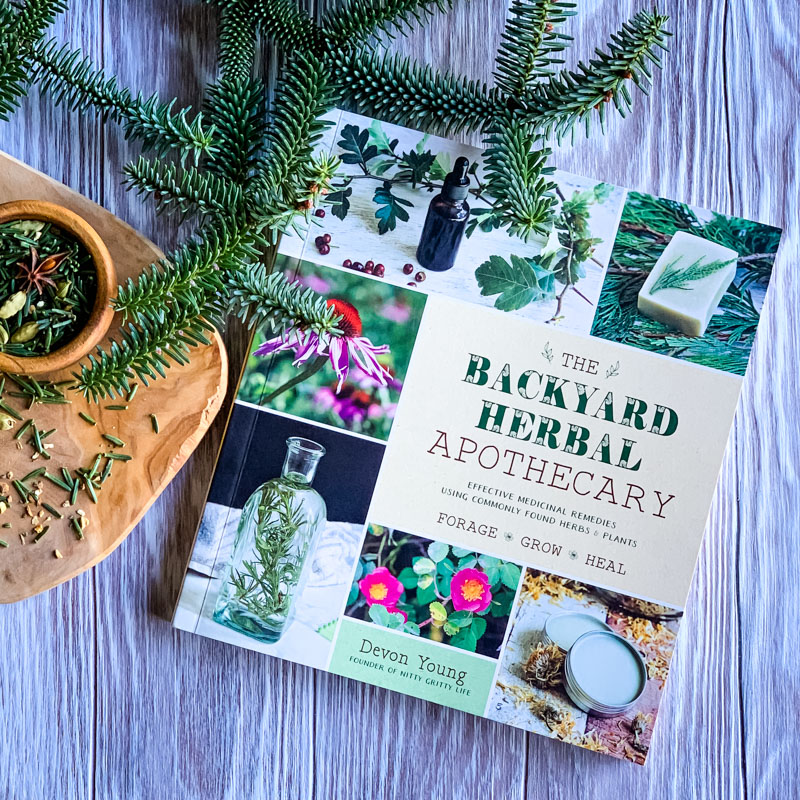 Foraging Fir Needles
Fir needles, just like most foraged conifer needles, are edible and make wonderful medicine!
Fir trees (Abies spp.) are easy to identify from other conifers if you know what to look for. They are very beautiful evergreens that are often used as Christmas trees.
The needles are flat and they attach to the twigs by a base that looks like a tiny suction cup. They also have two white lines on the bottom, and tend to curve upward. The cones stand upright, like candlesticks.
Some common fir species include: grand fir, white fir, silver fir, basalm fir, and noble fir.
Related: How to Identify Conifer Trees: Pine, Fir, Spruce, Juniper & more
Fir Needle Benefits & Uses
Fir needles have many medicinal benefits and are particularly good for the respiratory system. They are anti-inflammatory, antimicrobial. antioxidant, antiseptic, antispasmodic, diuretic, expectorant, and sedative.
I love what Devon says about fir trees in her book The Backyard Herbal Apothecary:
"Firs are known for their aromatic qualities. A hike through an evergreen forest often leaves one feeling restored and invigorated. This sense of rejuvenation is owed to its aromatics. The volatile compounds of the fir needles promote deep, fully actualized breaths and a subtle sedative (think more meditative than sleepy) quality. This "forest therapy" extends beyond the woods and into the apothecary. Fir needles, consumed as a tea or infusion or even applied as an infused oil, speed relief to tight, swollen airways, heavy boggy chests and irritable coughs."
Because of their respiratory benefits, fir needles would be excellent to use in place of pine needles in my pine needle cough syrup recipe.
Fir needles can be used in any conifer needle recipe. They would be great infused in vodka or used in shortbread cookies for holiday parties.
I think fir needles really shine in this forest chai blend!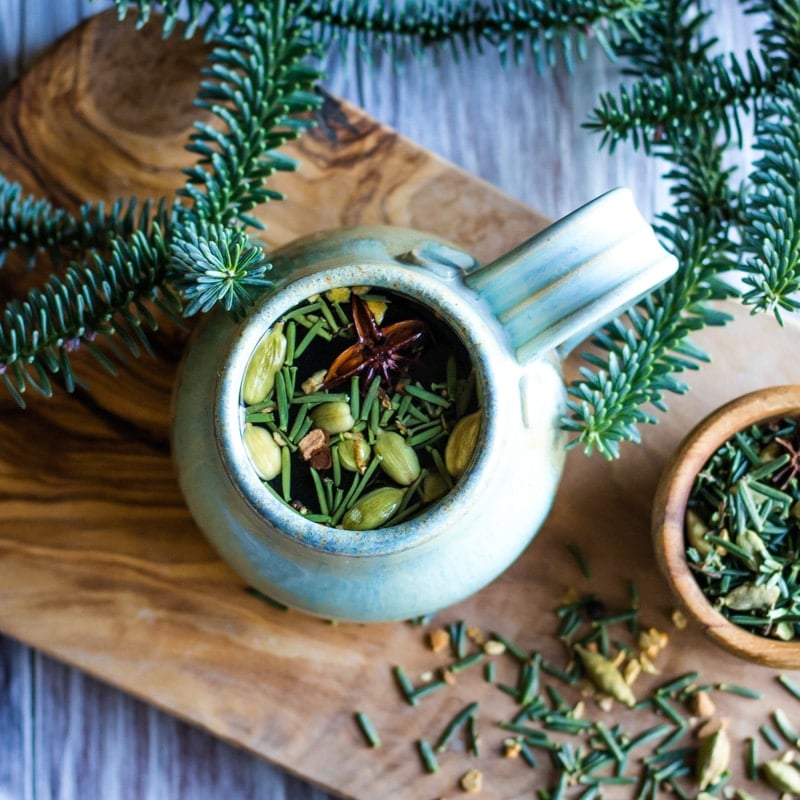 Fir Needle Forest Chai Blend
This recipe is really simple to put together, and is basically just a mix of fir needles with some chai spices. The hardest part of the recipe is collecting the fir needles! It's good for the soul though.
Once you've collected your fir needles, you can either use them fresh or dry them for longer storage.
Because conifer needles have a low water content, it won't take too long for them to dry. Depending on the humidity level it will only take a week or so.
Simply combine the dried fir needles, dried orange peel, cinnamon chips, cardamom pods, star anise pods, dried ginger pieces, and peppercorns in a jar.
If the fir needles are dry, you can cap the jar and store it in a cool dry place for up to a year.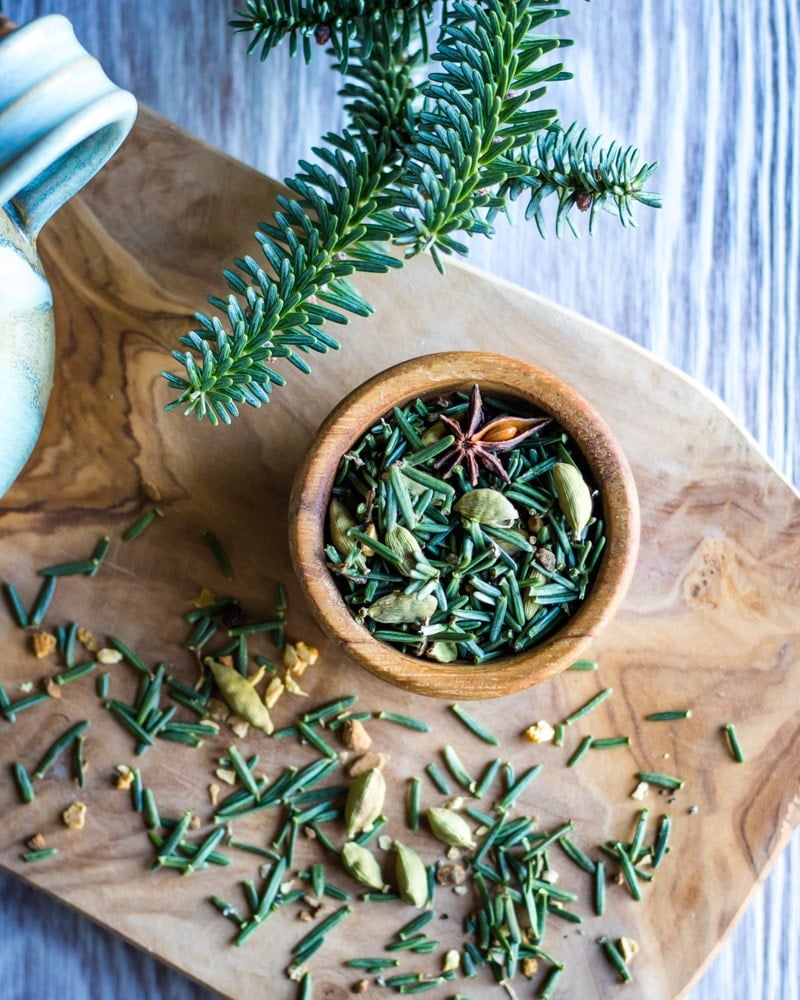 If you are using fresh needles I would make a smaller batch and use it up fairly quickly.
I also would not cap the jar, so that any moisture that might be there can escape. Fresh needles have more flavor and are really a joy to use!
In the springtime you can collect fresh fir tips and dry them for later use in this chai.
Brew a Cup of Fir Needle Chai
When you are ready to make the chai, steep one heaping tablespoon of the mixture in 8 to 10 ounces of near boiling water. Let the tea infuse for 5 to 7 minutes or longer if desired, then strain into a mug.
If you prefer a sweeter tea you can add a spoonful of raw honey if you wish. Try it without first, you may be pleasantly surprised by its flavor!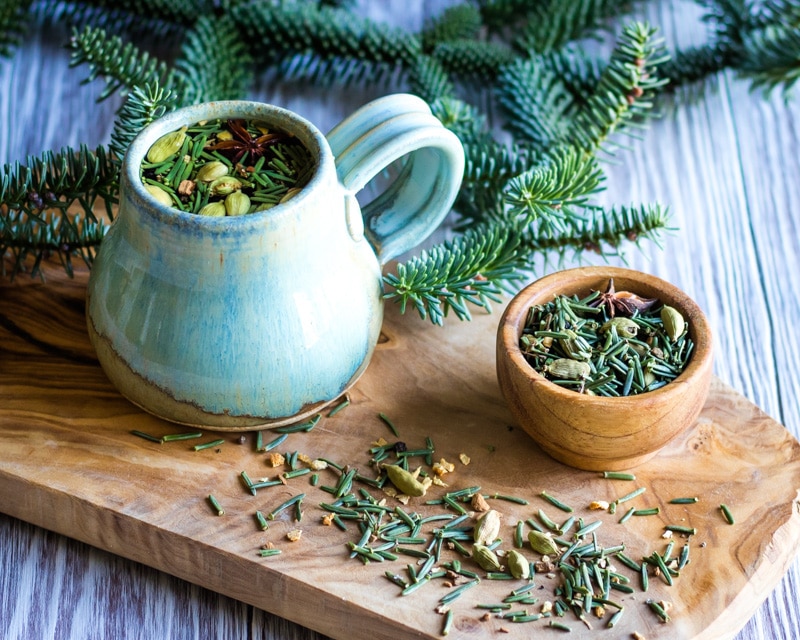 This conifer needle chai is definitely my new favorite wintertime drink!
For more delicious chai recipes, try homemade spicy chai or chaga chai with carob and coconut!
Fir Needle Forest Chai
This foraged tea blend uses pleasant tasting fir needles and chai spices to create a delicious and festive drink. It is also good for respiratory wellness and opening the chest and sinuses. This recipe is from The Backyard Herbal Apothecary book by Devon Young.
Instructions
Combine the fir needles, orange zest, cinnamon chips, cardamom pods, star anise pods, ginger, and peppercorns.

If using dried fir needles, store in a jar with a tight fitting lid in a cool, dark place and use within one year. If using fresh fir needles, leave the jar open and use within a few weeks.

To prepare the tea, steep one heaping tablespoon of the mixture in 8 to 10 ounces of near boiling water.

Infuse for 5 to 7 minutes or longer if desired, then strain in a serving mug. Sweeten with raw honey if desired.
Notes
In the springtime you can collect fresh fir tips and dry them for later use in this chai.
Nutrition
Serving:
8
ounces
|
Calories:
1
kcal