Homemade gifts, especially when they have an herbal element, are my favorite things to give! This peppermint coconut sugar scrub is easy to make and package up for a thoughtful gift. It smells absolutely amazing and is cooling, soothing, and moisturizing for the skin. All natural beauty at its best!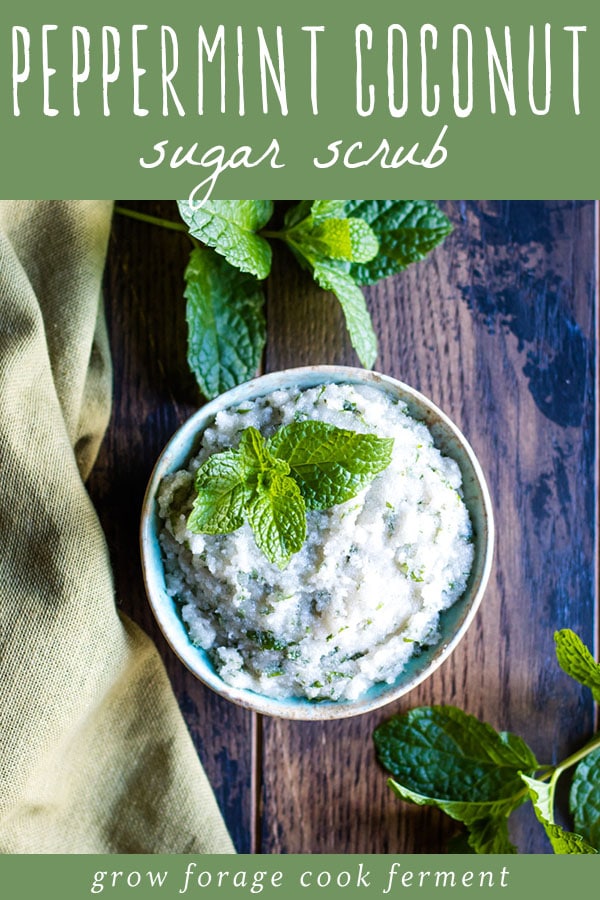 Make & Give Home Apothecary Book
This peppermint coconut sugar scrub recipe comes from the Make & Give Home Apothecary book by Stephanie Rose of Garden Therapy.
There are 12 herbal and botanical projects in this book that all sound amazing! Each one includes a skin care recipe and instructions for how to thoughtfully package it as a gift.
Learn how to make bath bombs, lotion bars, salt scrubs, and more!
Stephanie also has a Make & Give Home Candle Making book, and a brand new book titled Garden Alchemy that is available for pre-order!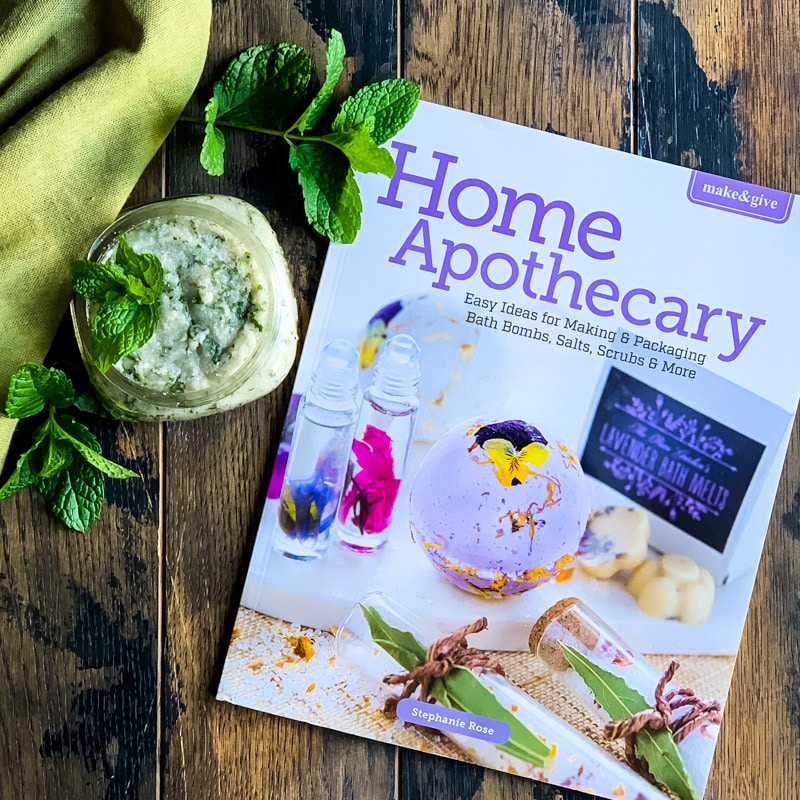 Peppermint Coconut Sugar Scrub Recipe
This sugar scrub is easy as can be to make! There are only three main ingredients: coconut oil, sugar, and peppermint.
I used fresh peppermint from my garden, but if you don't have fresh you can use dried peppermint. You can even use peppermint from a tea bag if that's what you have on hand!
First you want to make sure that your coconut oil is soft, but not totally melted. Then cream the sugar into the softened coconut oil and add the mint leaves.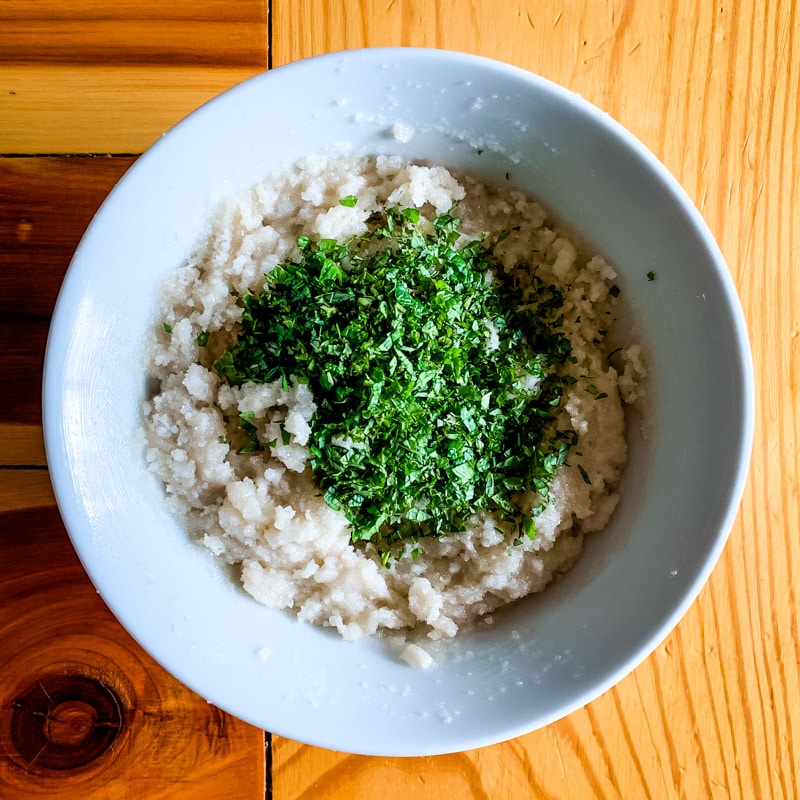 Add the peppermint essential oil and optional spirulina powder for color (I did not use spirulina because the fresh mint leaves are pretty green in color) and stir everything together well.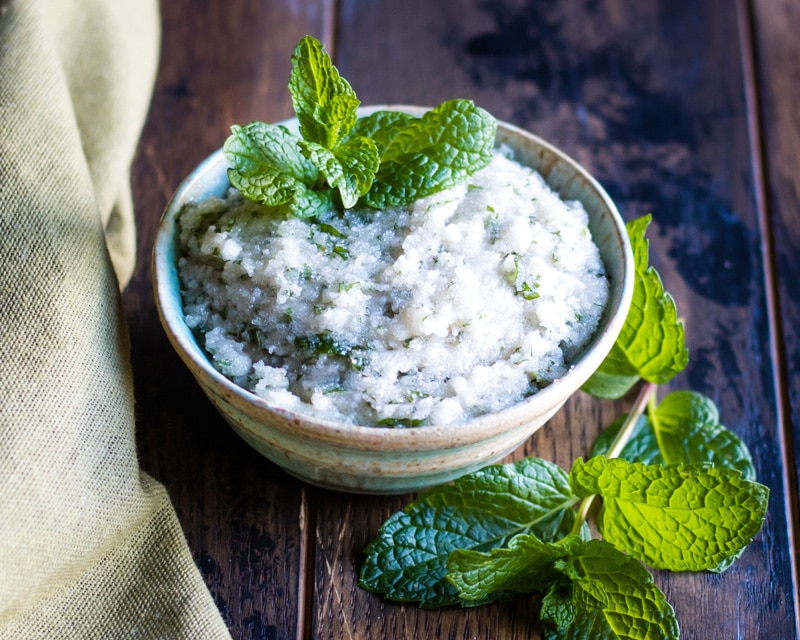 That's all there is to it! To store, or for gift giving, scoop the sugar scrub into a nice jar with a lid. I used a squat wide mouth half pint Ball Jar which seemed to work well for this purpose.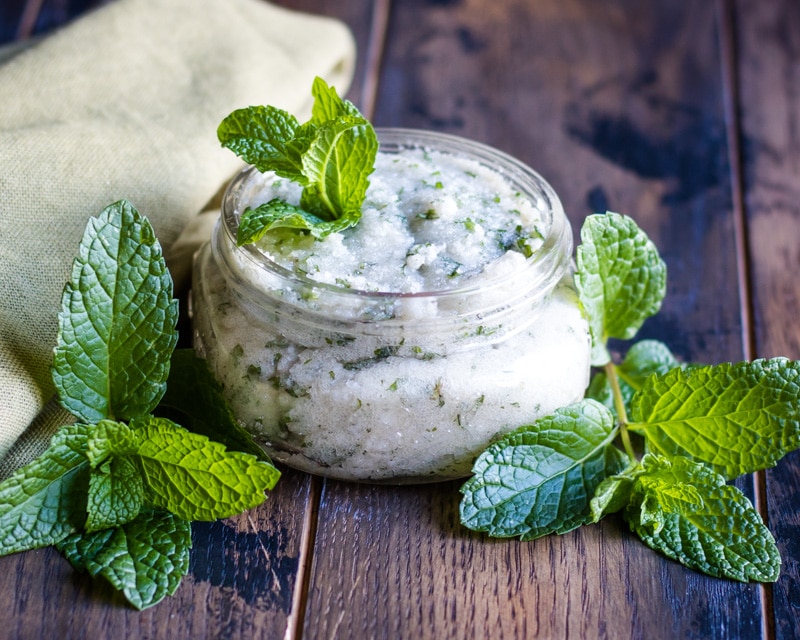 In the book Make & Give Home Apothecary, Stephanie says:
"Package the scrub in a jar with a chalkboard label, then use a liquid chalk pen to write the label. Wrap jute twine around the top of the jar just under the lid and tie in a bow."
She is much more crafty than I am (thankfully so)!
Use this sugar scrub in the bath or shower to leave your skin feeling soft and smooth. The mint is cooling and refreshing and the coconut oil is moisturizing. The aromatherapy from the peppermint will lift your mood as well!
What a great herbal gift to give (make sure to make extra for yourself)!
Here are some more herbal and botanical skin care recipes:
If you want more ways to use mint, read my post on 80+ Mint Recipes!
Peppermint Coconut Sugar Scrub
Peppermint and coconut pair perfectly when it comes to brightening up your skin AND your day. Mint has a cooling effect on the skin and coconut oil is a wonderful skin moisturizer. Plus, the fresh and tropical aroma will work wonders for your mood. This is a scrub that will make your skin smooth and soft, without the need to apply lotion after the shower.
Recipe reprinted with permission from Make & Give Home Apothecary by Stephanie Rose, © 2018. Published by Leisure Arts.
Instructions
Set the coconut oil out in a warm place so that it softens but does not completely melt. Look for the consistency of softened butter for baking.

In a bowl, cream together the sugar and the coconut oil.

Stir in the peppermint leaves (fresh or dried), peppermint essential oil, and optional spirulina powder.

To store (or for gift giving), scoop the sugar scrub into a nice jar with a lid.
Notes
To use a peppermint tea bag:
Empty the contents of a tea bag into a small bowl. Sprinkle the herbs into the sugar scrub. You can choose as much or as little you would like to add, keeping in mind that adding more herbs can make the scrub more abrasive.