When I first began delving into making herbal bath and beauty products myself many years ago, it all started with homemade herbal deodorant. It's the perfect beginner recipe for DIY beauty products, mainly because it's simple to make, but also because it's good for your health. The best part is that this homemade deodorant recipe really works!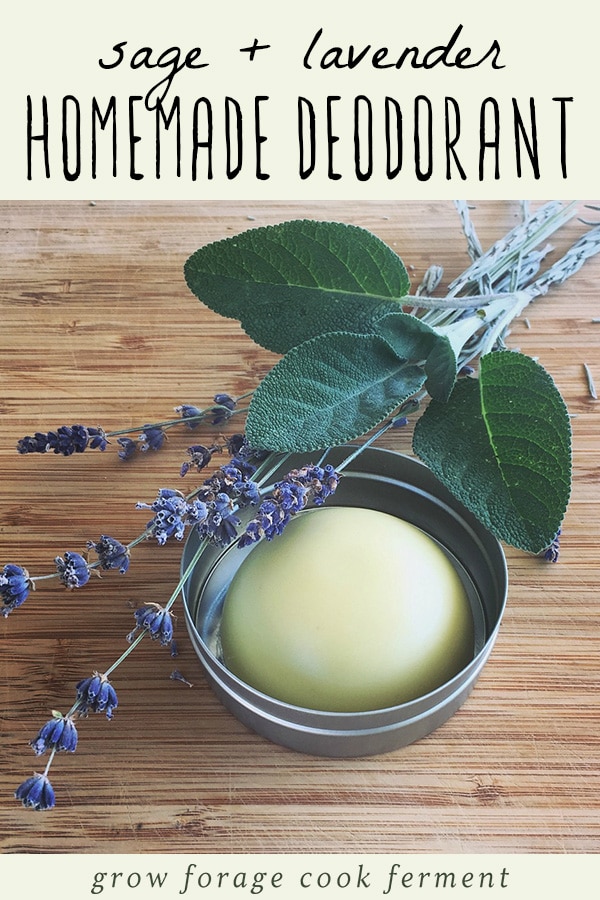 Why Make Your Own Deodorant?
But why make your own deodorant you ask? Because regular store bought deodorant is full of ingredients that are very questionable to say the least. Have you ever looked at the ingredient list? I suggest checking it out and you'll see what I mean.
I know you're not eating the stuff, but all those chemicals do get into your body through your skin. There have also been studies that show that aluminum in antiperspirants may cause breast cancer. I don't know about you, but I don't want to mess around with that.
What Goes in Homemade Deodorant?
The first homemade deodorant I made is the most common one you'll find on the internet, with coconut oil, baking soda, arrowroot or cornstarch, and essential oils. It works ok, but needs to be put into a jar and applied with your fingertips as it's too soft for a normal deodorant container.
The bummer about it is when it's hot out it turns almost to a complete liquid, with the baking soda and arrowroot/cornstarch settling at the bottom.
That's where this recipe is different, as it adds beeswax and shea butter to make the whole thing a thicker consistency so that it will hold up in an actual deodorant container or in a half circle mold, making for much easier application.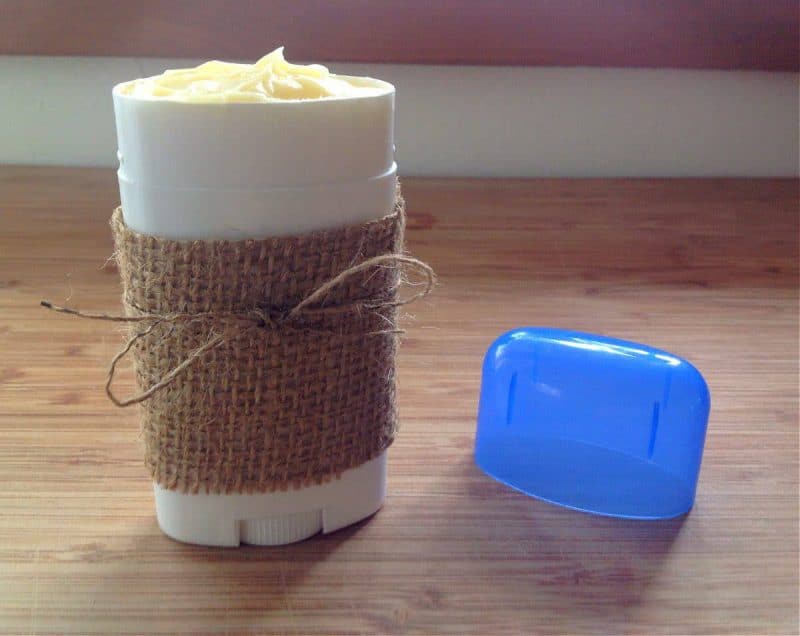 Beeswax is beneficial in homemade deodorant recipes because it's naturally antiseptic, antibacterial, emollient, and hydrating to the skin. Vegans can try using carnauba wax in place of the beeswax to get the same results, but less will be needed as it's a harder wax.
Arrowroot powder and baking soda are added for their natural deodorizing effect. If you are sensitive to baking soda in your deodorant it can be omitted, just replace with more arrowroot powder.
Essential oils make the deodorant smell good while also adding some antimicrobial, antibacterial, and antifungal properties.
I like to use an herbal infused blend of coconut oil and sweet almond oil for this deodorant recipe. Coconut oil is antimicrobial and antifungal, and sweet almond oil is light and absorbs easily into the skin, so there is minimal oil residue left after applying.
Herbs to Use for Homemade Deodorant
Lavender and sage are excellent for making herbal deodorant. Lavender is often used in skin care products due to its antiseptic and anti-inflammatory benefits and its pleasing scent. Sage is amazing in that it has some natural antiperspirant properties as well as being antimicrobial.
There are many other herbs you could choose depending on your preferences. Some good options are rosemary, mint, calendula, oregano, marshmallow root, yarrow, rose, chamomile, and lemon balm.
My favorite place to get high quality, organic dried herbs is Mountain Rose Herbs.
Homemade Deodorant Recipe with Lavender and Sage
The first step in this recipe is to make an infused herbal oil with lavender and sage, or any other herbs of your choice.
For the Infused Herbal Oil
Fill a half pint canning jar about 2/3 full of dried lavender and sage leaf. Melt 1/4 cup of coconut oil in a saucepan on the stove over low heat, then pour over the dried herbs. Then add sweet almond oil to fill the jar.
Cover the jar and put in a cool and dark place to infuse for 2-6 weeks (the longer the better). Strain out the herbal material with a fine mesh sieve when ready to use.
For the Deodorant
Ingredients
Instructions
Put the infused oil and beeswax into the top container of a double boiler, and stir as the beeswax melts. (Tip: you can make a double boiler with a smaller pot, bowl, or a glass Pyrex measuring cup over an inch or so of simmering water. If you use glass Pyrex, put something in the bottom of the pot that it can rest on, such as a canning jar lid).
Once the beeswax has completely melted, add the shea butter and stir until it dissolves.
Remove the mixture from the double boiler and stir in the essential oils, then stir in the arrowroot powder and baking soda. Keep stirring for a minute or two to thoroughly combine. The mixture will begin to thicken slightly.
Pour the mixture into empty deodorant containers or half circle molds. Let the deodorant set up for a few hours before using.
This recipe makes about 8 ounces of deodorant in total.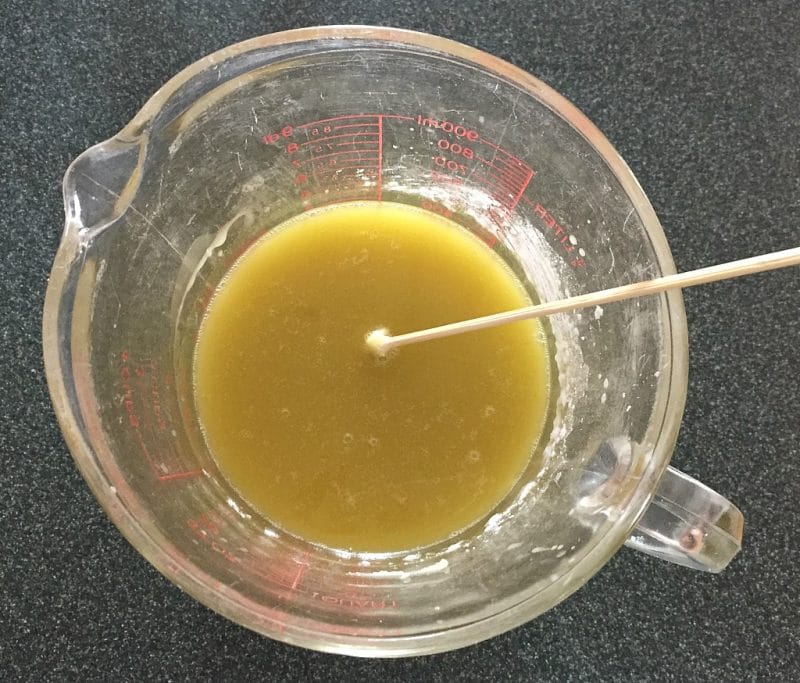 This is what it looks like when everything is stirred together right before pouring it into the deodorant container or mold. It has thickened slightly, but is still pourable.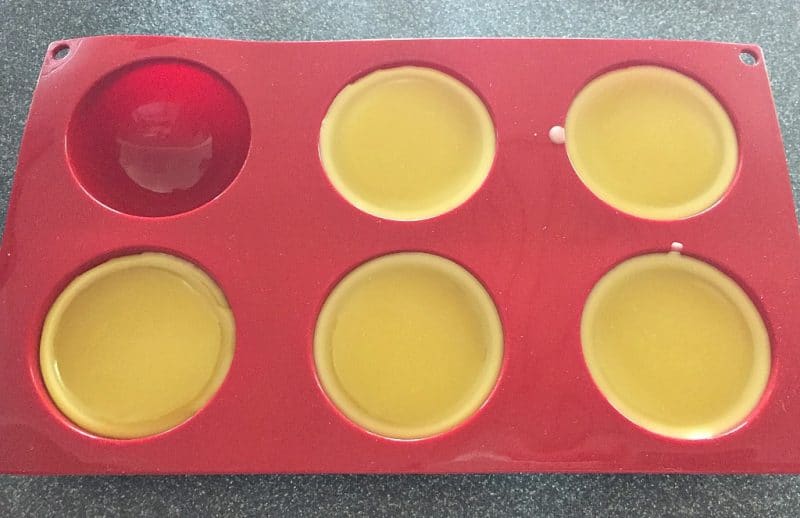 I really like using the half circle mold for homemade deodorant. I keep the finished deodorant in a large tin and it works perfectly!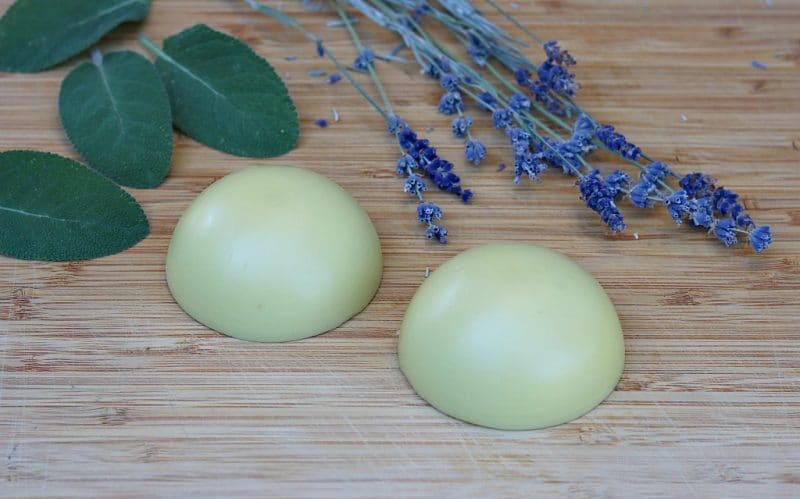 It's really amazing how well this herbal deodorant works! I really suggest you give it a try, even if you've had trouble with homemade deodorants in the past. The lavender and sage combination are highly effective and smell very nice.
This is absolutely my favorite recipe for deodorant, and I'm so happy to be ditching the store bought stuff for good!
Save