I have something a little bit different for you today. Well, it's not that different, as I've done plenty of DIY herbal products for you before, including an herbal salve which is a very similar process. This rosemary pine beard balm, however, is made especially for men. Bearded men, to be exact! I'm going to show you how to make it, of course, but I've also made some extra to sell in my Coco's Herbals Etsy shop. If you don't have the time or the energy to make it yourself, but you want to have a great gift for that bearded man in your life, I've got you covered!
I made rosemary beard oil before, and it was quite nice. But I really like the idea of a beard balm, as it has some added ingredients that help to moisturize and condition both the beard and the face. It's also more portable, and has a great pine and rosemary scent to it, with a slight hint of orange.
Rosemary Pine Beard Balm Recipe
This recipe makes about 6 ounces of beard balm. You will need a container (or containers) to keep it in. I used 2 ounce tins, which would make you three balms total (you can purchase tins from Mountain Rose Herbs).
There are many different carrier oils you can choose from when making your infused oil. I used a blend of olive, coconut, sweet almond, and jojoba. These are all good for the skin and hair, particularly jojoba. Argan oil is another common one for hair and beard care.

MY LATEST VIDEOS
Ingredients
Directions
To make the infused oil, gather some fresh green pine needles and a few springs of fresh rosemary, and place them in a jar. Completely cover them with your carrier oils of choice and let sit in a dark place for several weeks.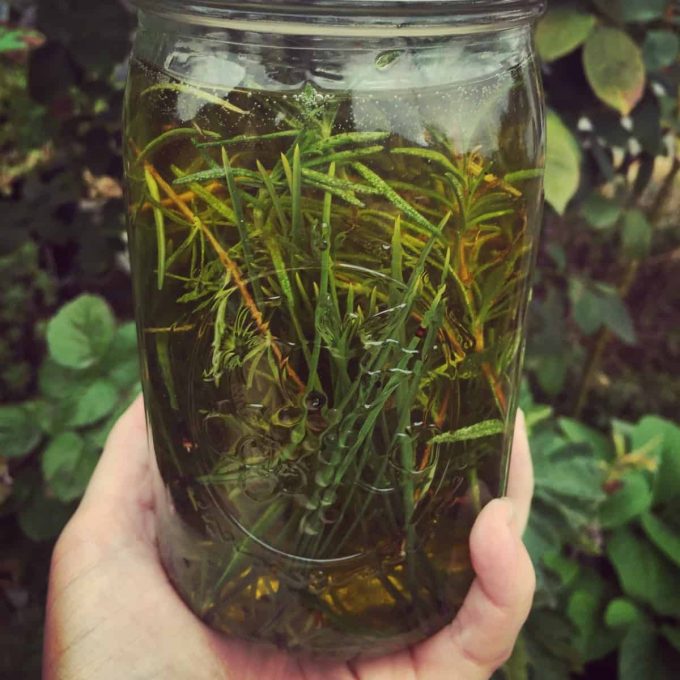 Once you are ready to make the beard balm, strain out the pine needles and rosemary from the oil. It will be a nice green color and will smell amazing.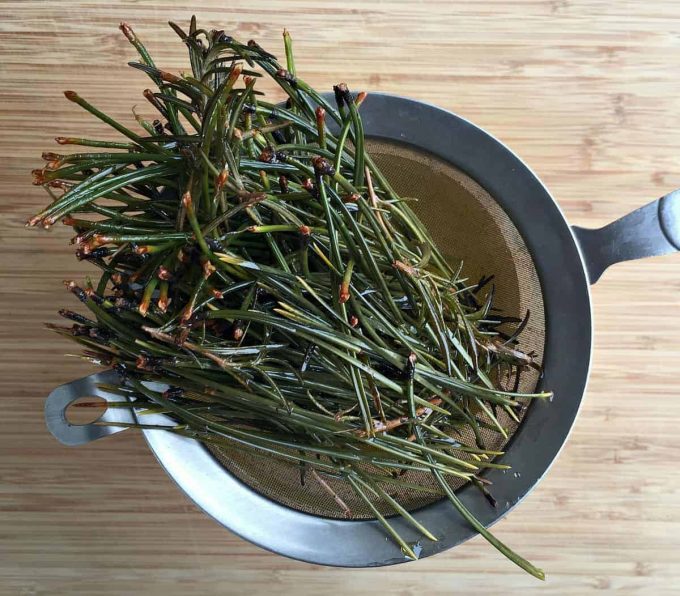 Use a double boiler, or make one with a smaller pot, bowl, or glass pyrex measuring cup over an inch or so of simmering water. If you use the glass pyrex like I did, put something in the bottom of the pot that it can rest on, such as a canning jar lid.
Put the infused oil and beeswax into the top container of the double boiler. Note that I am making a much larger batch in these photos than the amounts I give in the recipe.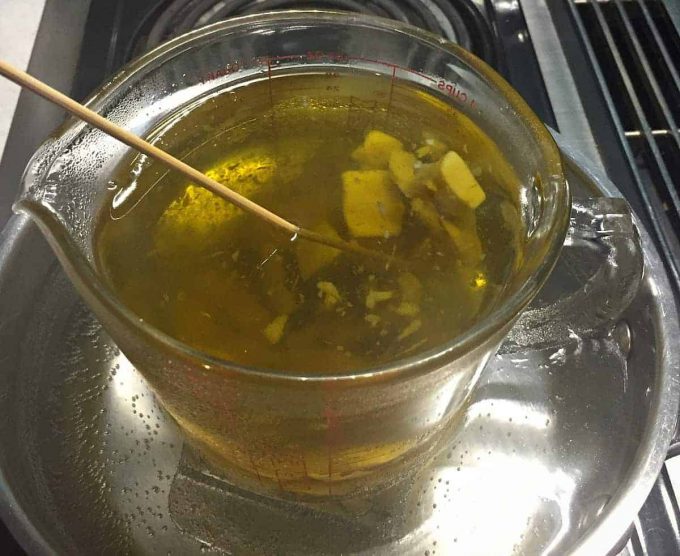 Stir it as it heats up and the beeswax will slowly melt. A wooden skewer works well as a stir stick. Once the beeswax is almost completely melted, add the shea butter.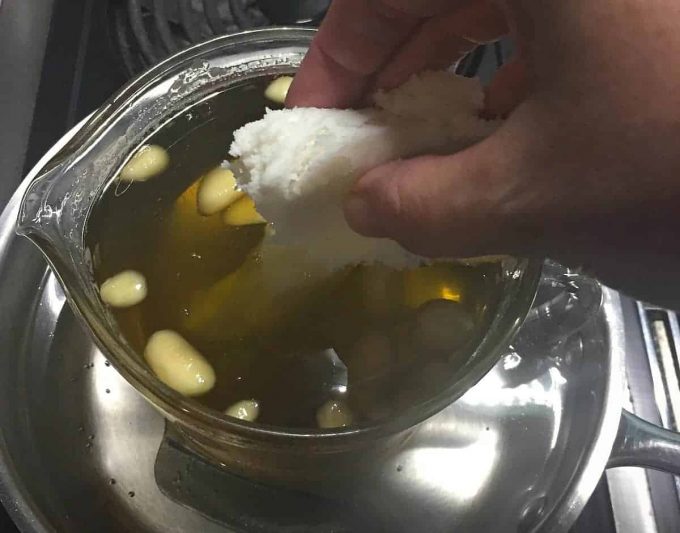 Continue to stir, and the shea butter will melt rather quickly. Once everything has liquefied, stir in the essential oils. Then carefully pour the mixture into your tins or jars.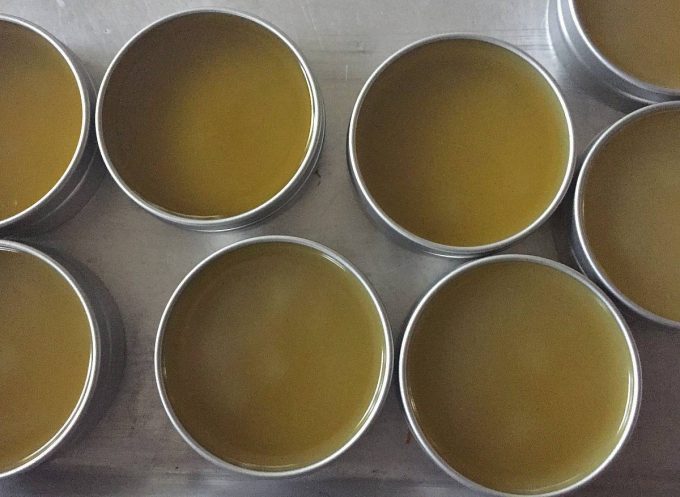 Let them cool undisturbed for several hours. The balm will harden as it cools. Soon you will have a luscious and wonderful rosemary pine beard balm on your hands. Speaking of hands, this will also work wonders on dry and cracked hands and feet. It's definitely multi-purpose!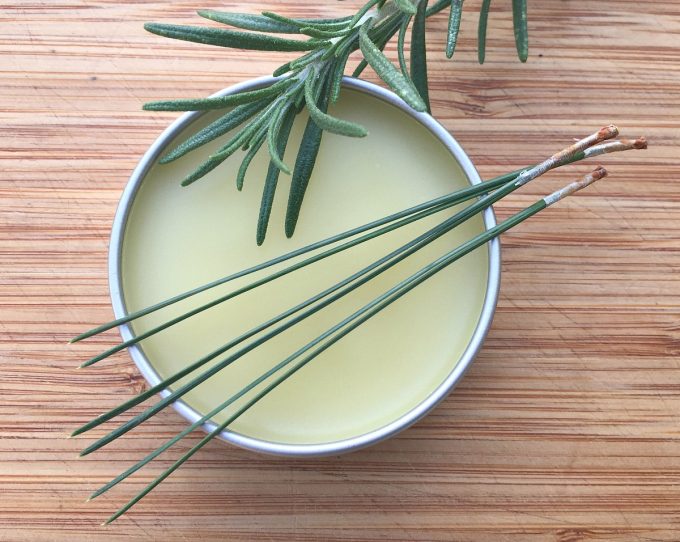 This beard balm smells amazing, and is for sure manly enough, but not overpowering. It will make a beard smell good as it softens and repairs it. Perfect!
Check out my recipe for Juniper Spice Beard Balm here.
As I said before, I'm selling this Rosemary Pine Beard Balm, along with two other varieties, Juniper Spice, and Spruce Nettle, in my Etsy shop!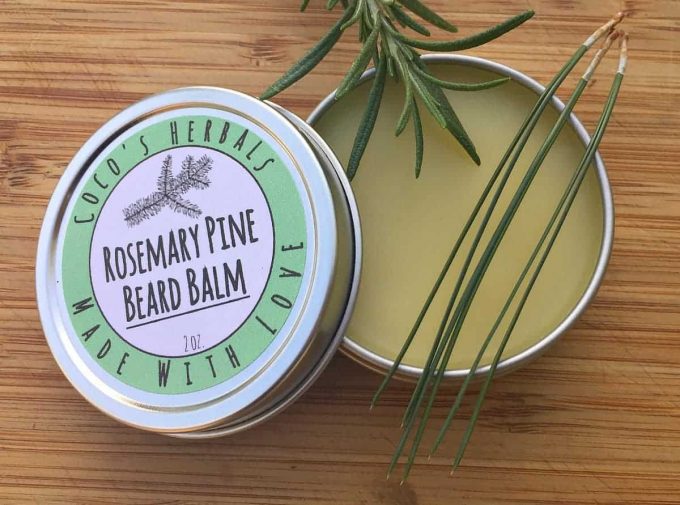 Happy beard balm making!