This homemade lip balm made with calendula oil is a wonderful way to soothe chapped and cracked lips while connecting to your inner kitchen herbalist self. Similar to calendula salve, this natural lip balm will restore moisture to your lips when you need it most. This is a super easy lip balm recipe!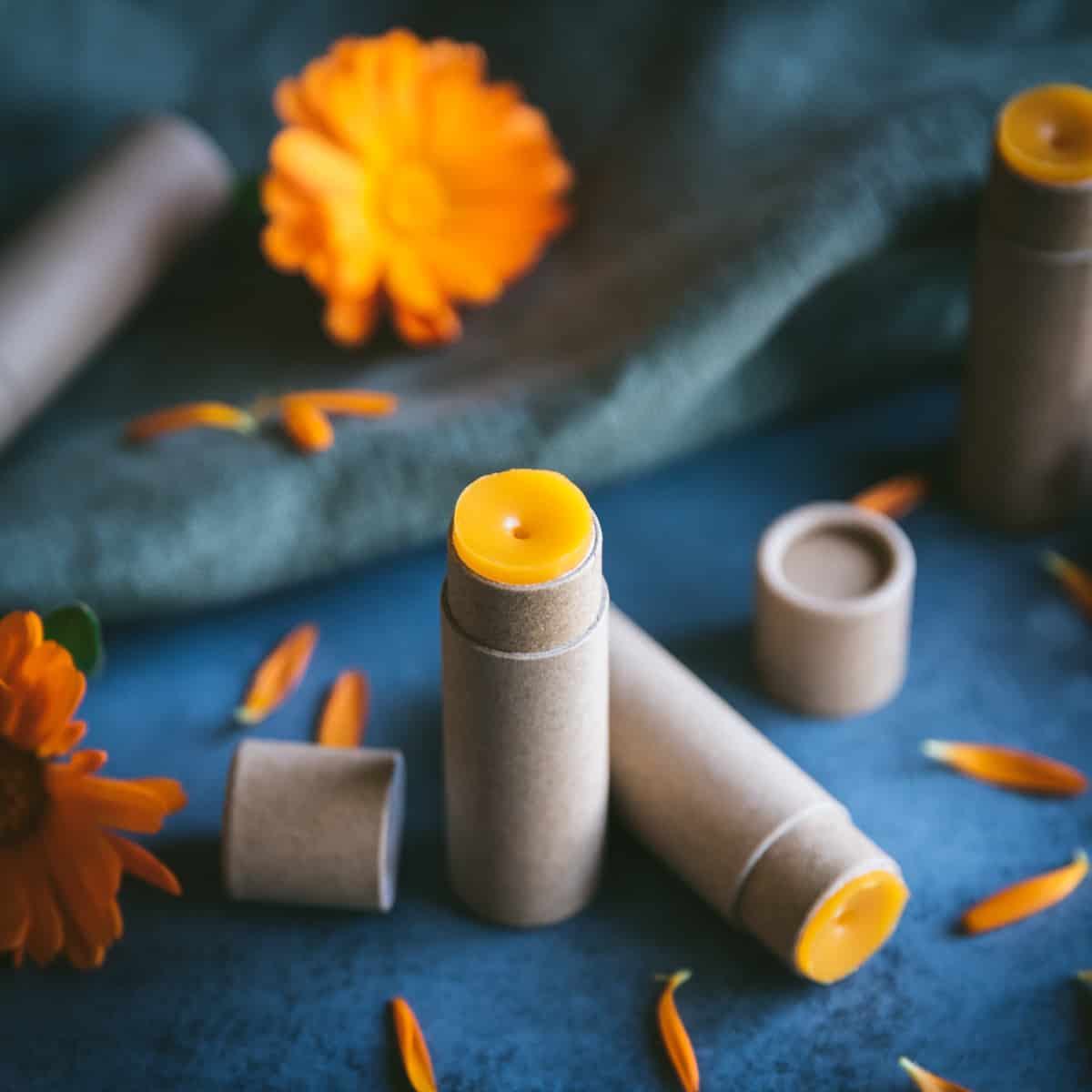 Calendula for Skin Care
With beautiful orange flowers, calendula is a soothing herb no matter what application it is put to use for. While both edible and medicinal, using calendula for skin is wonderfully soothing.
This homemade lip balm with calendula begins with infused calendula oil, which is a simple process that anyone can do.
Calendula is a favorite herb of many herbalists, known to calm, soothe, and moisturize skin ailments. Calendula salve is a popular way to utilize the powers of these orange beauties, and this homemade lip balm recipe is very similar using the same process and calendula oil.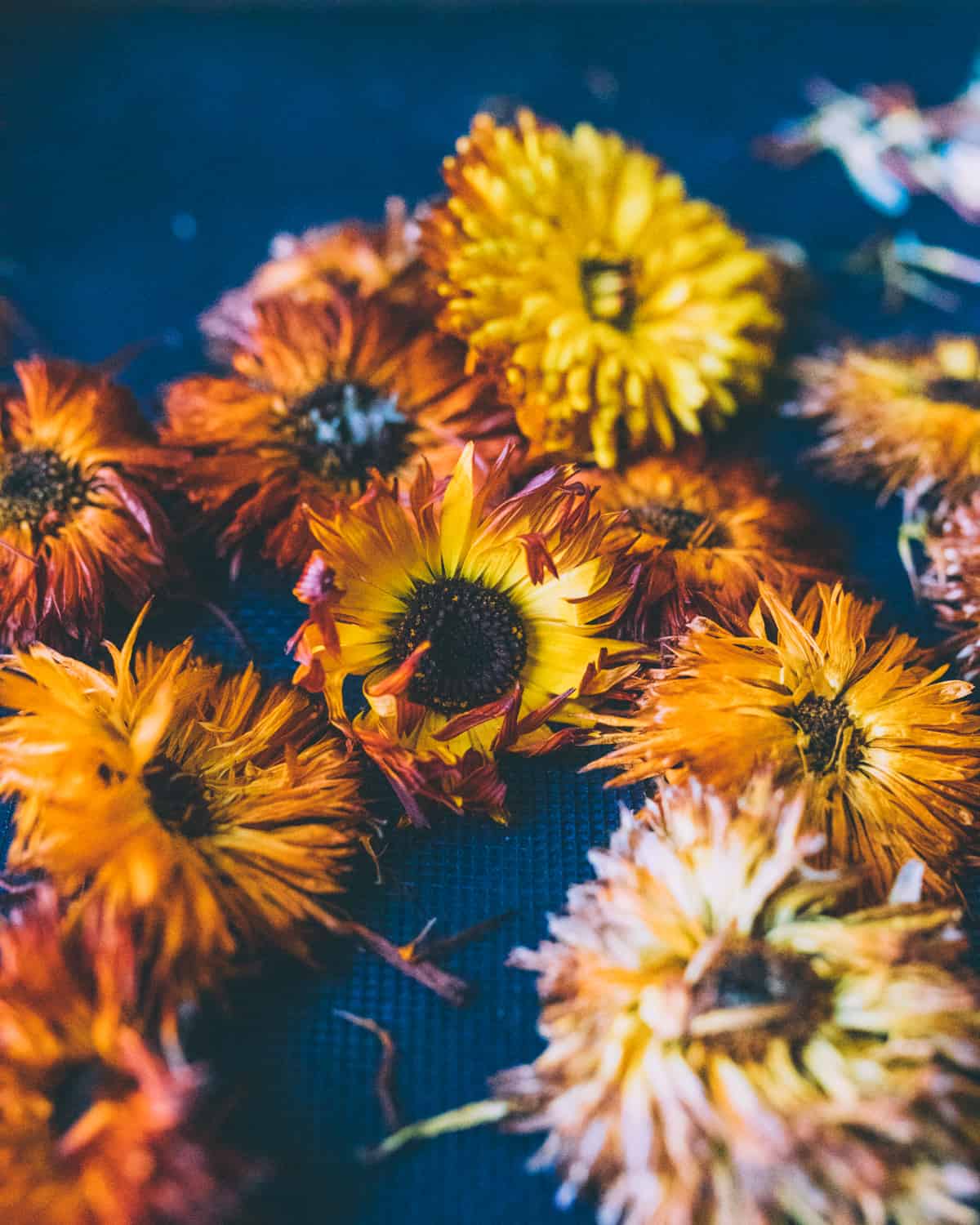 Grow calendula in your garden for easy flowers to use freshly dried! They're really one of the best herbs to grow.
If you don't have any growing yet, buy dried flowers. Find them at Mountain Rose Herbs, where I love to buy any natural herbal ingredients I don't grow myself.
Calendula Homemade Lip Balm
The best part about making homemade lip balm is the energy you put into lovingly choosing the herbs. DIY lip balm is easy to make, and there are many herbal options like vanilla lavender, orange peppermint, or rose hip lip balm.
However, calendula is one of the best herbs to use for chapped and cracking lips, so taking the time to create this natural lip balm is a gift to yourself and anyone you share it with!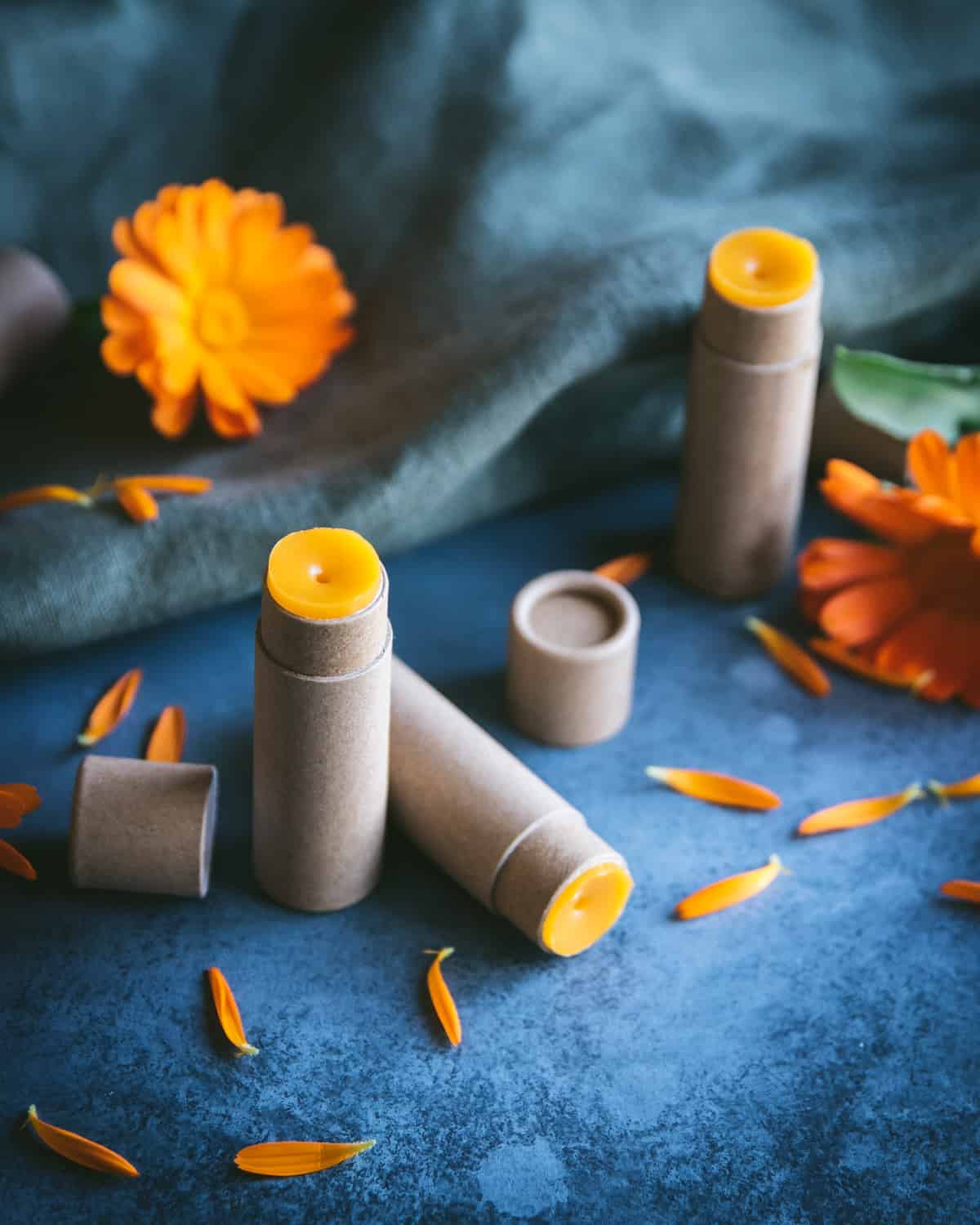 Ingredients
For the Calendula Oil
Dried calendula flowers: Use homegrown from your garden and dry them yourself, or already dried flowers can be bought online.
Carrier oil: I like to use a blend of olive oil, melted coconut oil, and sweet almond oil.
For the Lip Balm
Along with infused calendula oil, use:
Beeswax: This is the main ingredient besides the infused oil, it gives the homemade lip balm the right consistency, used at a higher ratio than making a salve which is softer.
Refined shea butter: An optional ingredient that makes the lip balm even more moisturizing.
Calendula Lip Balm Recipe
Make the Infused Calendula Oil
To make the infused calendula oil, place the dried calendula flowers in a jar and pour the carrier oil over it.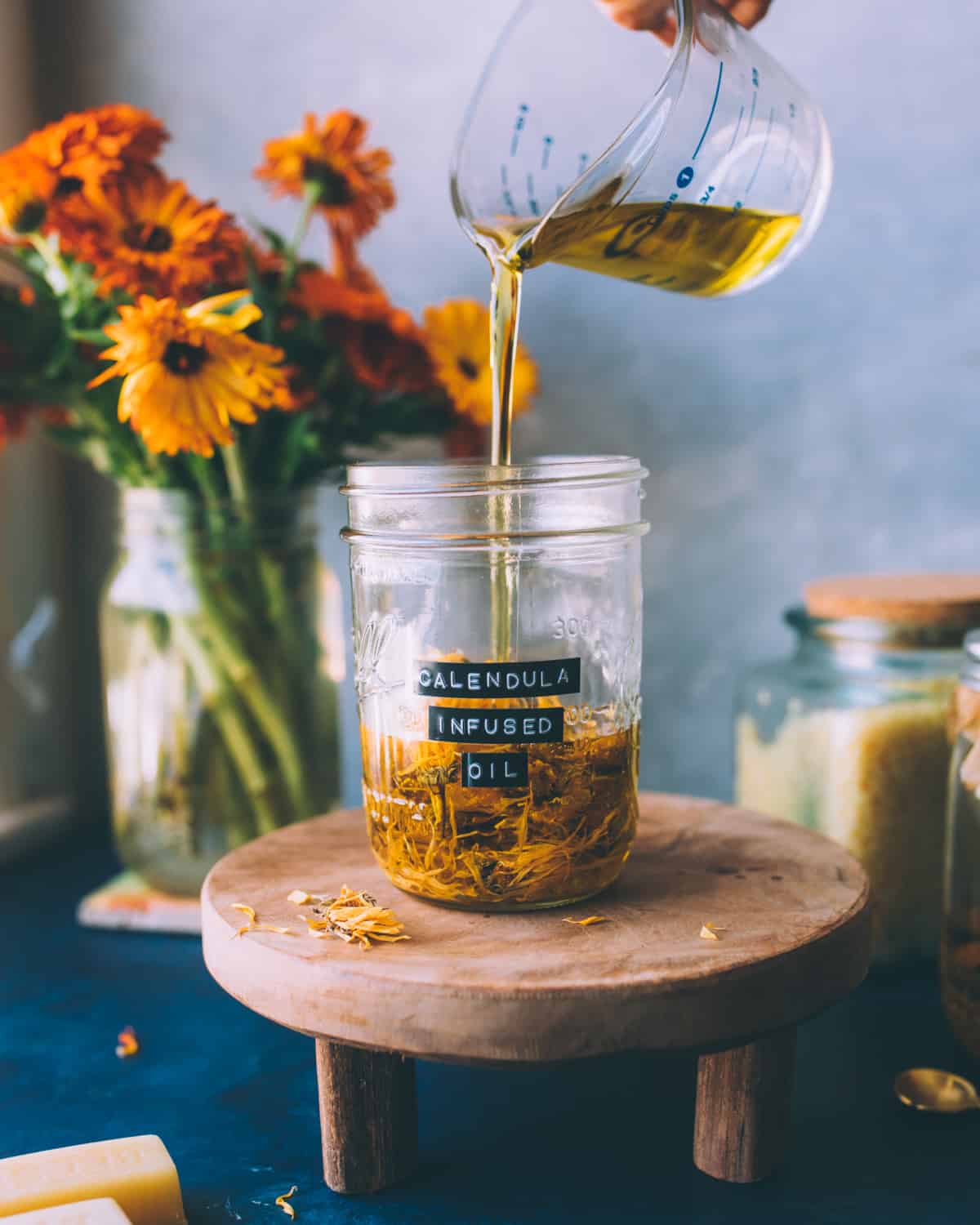 Cover the jar with a lid and let it sit in a dark cool corner of your kitchen or in a cupboard. Let it infuse for 4-6 weeks. Let time do its magic!
When the calendula oil is fully infused and you're ready to use it, strain out the dried flowers using a mesh sieve lined with cheesecloth. Give the cheesecloth filled with the oil-soaked flowers a squeeze to get all of the calendula goodness into the oil.
If you're looking for more tips for making and recipes to use extra infused oil, read How to Make and Use Calendula Infused Oil.
Make the Homemade Lip Balm
First heat the calendula oil in a double boiler. A makeshift double boiler is perfectly fine. Use a small glass Pyrex measuring cup over a pot with an inch or so of boiling water.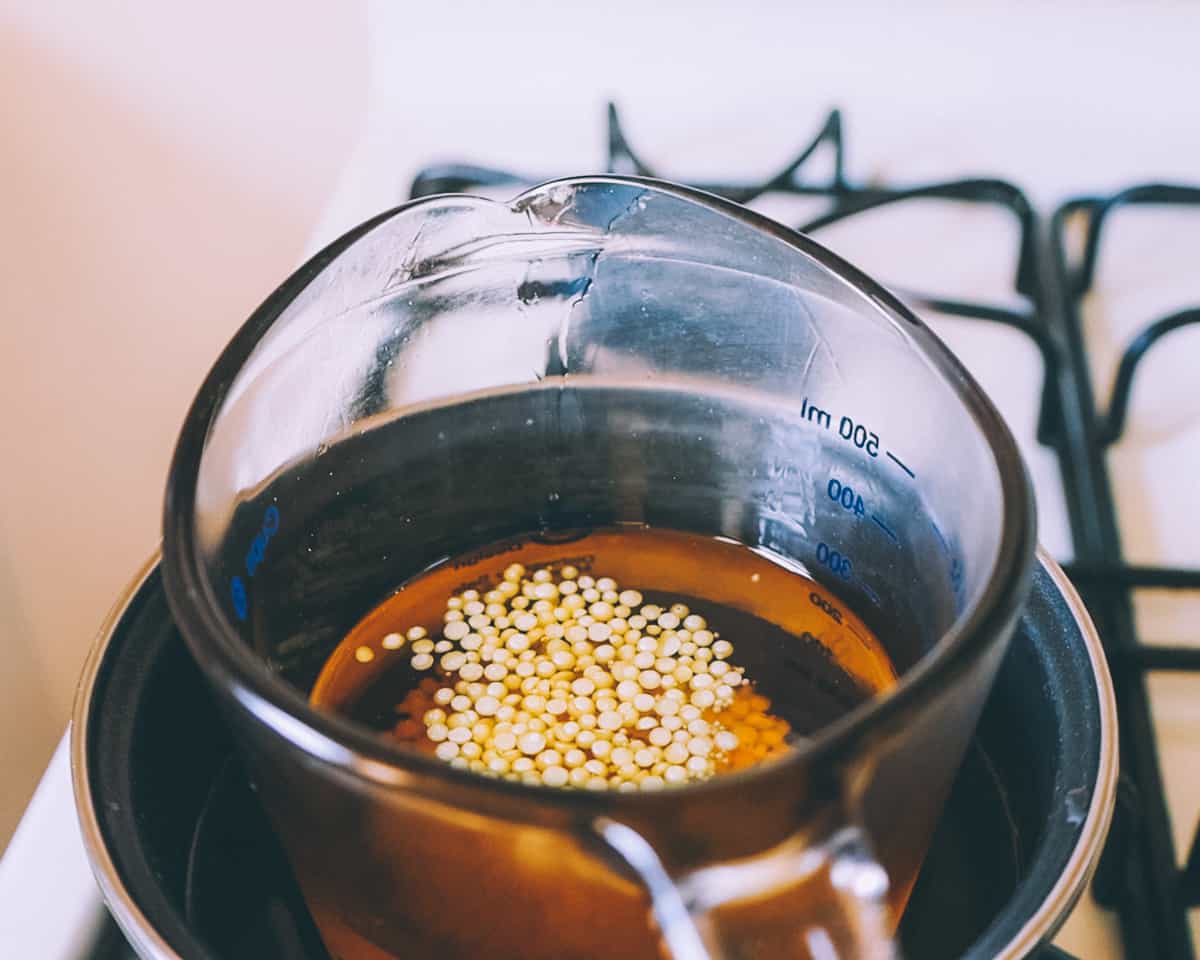 Add the beeswax into the double boiler with the calendula oil, and stir occasionally until the beeswax is completely melted. A chopstick or bamboo skewer works well for stirring to dissolve the beeswax into the oil.
Remove the calendula oil and beeswax mixture from the heat. If you want to add the shea butter, now is the time to quickly stir it in until it melts.
Pour the melted mix carefully into tubes or small tins. This can get a bit tricky as the containers for homemade lip balm tend to be pretty small!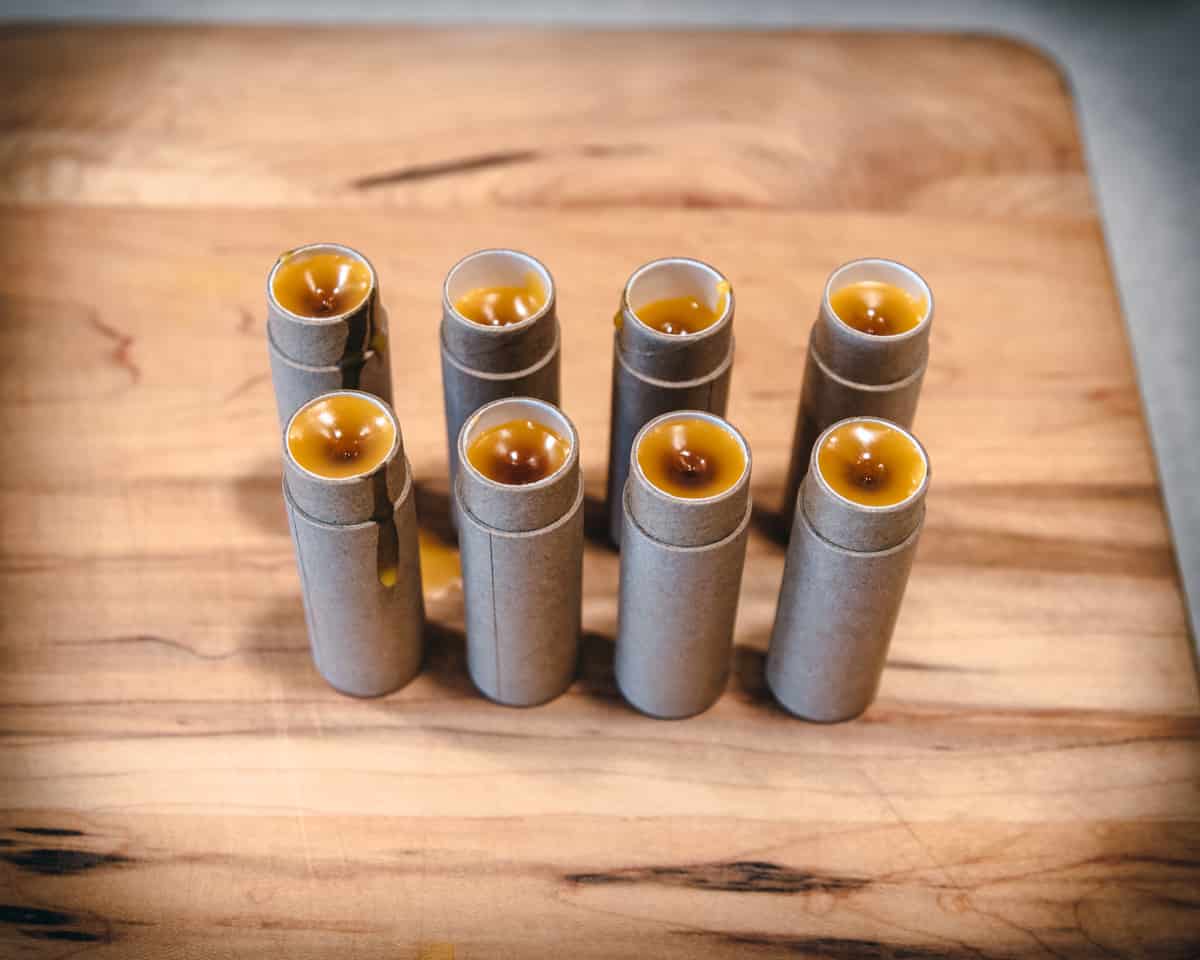 The natural lip balm tubes I used in the photos are a little bit bigger than the average which makes them easier to fill. They are made from paper and are recyclable.
These regular-sized lip balm tubes from Mountain Rose Herbs also work well. If you choose these, this filling tray for pouring homemade lip balm is super helpful!
Lastly, these tins are a great choice too and can make the filling process just a bit easier. Some people also prefer tins, I know my sister does!
Let the balm set for several hours until completely cooled in the tubes or tins, and it's ready to use!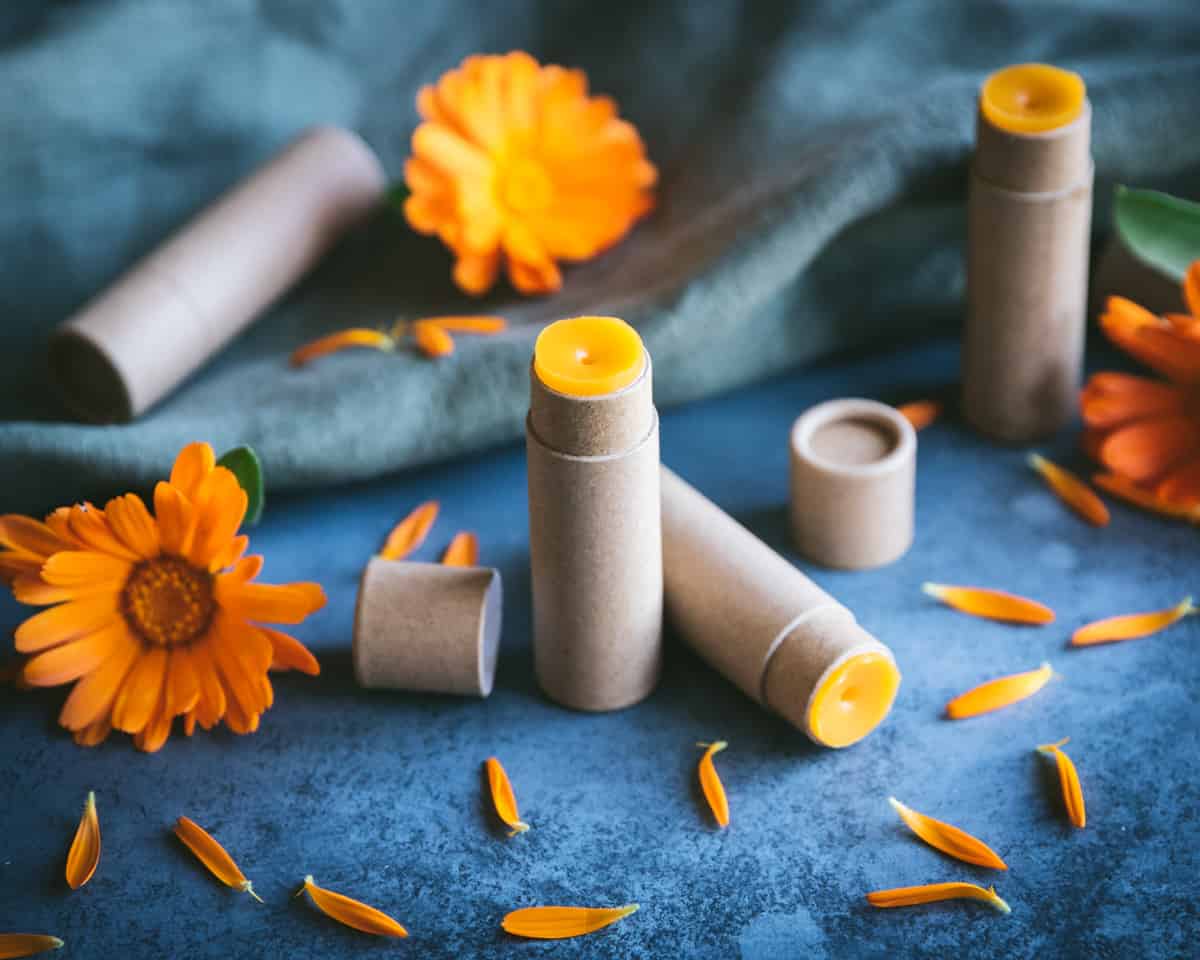 How to Use and Store Calendula Homemade Lip Balm
Any time you have dry, chapped, or cracked lips, use this natural lip balm to moisturize and soothe irritation. Keep them stored in your bag, around your house, at your work desk, and use them as much as needed!
Once set, calendula lip balm should last up to a year or longer.
I really like to share when I make a batch of homemade lip balm, it's a great way to make friends and family feel loved and cared for. The energy you put into making herbal recipes with love will show up for your loved ones right when they need it!
These are great for travel and should hold up to warm temperatures well once set. This just may become your favorite homemade lip balm yet, so don't be afraid to double it!
Love soothing calendula for skin care? Try these recipes too:
Calendula Lip Balm
This homemade lip balm made with calendula oil is a wonderful way to soothe and restore moisture to chapped lips. A is super easy lip balm recipe!
Instructions
Calendula Infused Oil
Put the dried calendula flowers into the jar, then add the carrier oil (or a blend of oils) of your choice.

Cap the jar with a lid and let the oil infuse for 4-6 weeks (or more) in a cool spot out of direct sunlight.

Once the calendula oil has infused, strain out the flowers from the oil with a fine mesh sieve lined with cheesecloth. Squeeze the remaining oil out of the flowers in the cheesecloth.
Calendula Lip Balm
Heat the calendula infused oil in a double boiler on your stove. You can create a makeshift double boiler by putting a small bowl or a glass Pyrex measuring cup over a pot with about an inch of simmering water.

Add the beeswax and stir occasionally (a wooden or bamboo skewer or chopstick works well for this) until the beeswax completely dissolves into the oil.

Then remove the oil/beeswax mixture from the heat and add in the optional shea butter, stirring quickly and constantly until it melts.

Pour the lip balm mixture into tubes or tins.

Let the lip balm set up for several hours or until it is completely cooled before using.
Notes
This calendula lip balm recipe is easily adapted to smaller or larger batches. Simply double it for a larger batch or cut it in half for a smaller batch.
Olive oil is a great choice as a carrier oil and is easy to find. I often use a blend of about 50% olive oil, 25% coconut oil, and 25% sweet almond oil. Each oil has its own benefits and it's really up to you which one you'd like to use.
You can alternatively use the quick method for making infused oils by heating the oil and dried flowers in a pot on low heat for up to 12 hours, but the infused oil may not be as potent.
This lip balm will last for a year or more if kept in a dry place out of intense heat and sunlight.