Calendula is one of my very favorite flowers. Not only is it a beautiful addition to the garden, but it has many amazing health benefits. I feel lucky that it grows readily and wild in our backyard without me having to do much, as it reseeds itself every year. You can read more about how to grow it and its uses in my post here: How to Grow and Use Calendula. One of the most popular and effective ways to enjoy the benefits of calendula is to make an infused oil. There are many ways to use calendula infused oil once you have it on hand!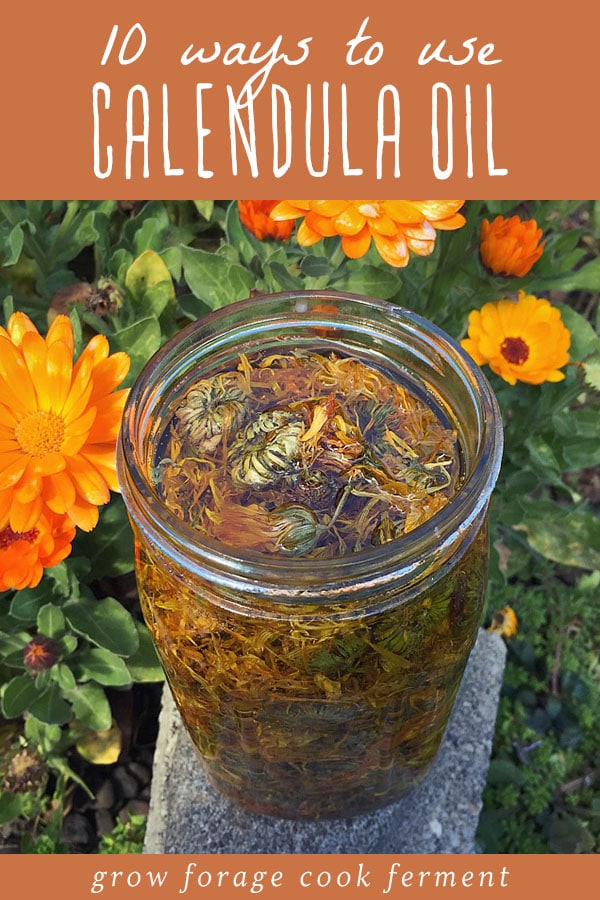 Calendula Benefits
Before we get to its uses, let's talk about about why calendula is so awesome in the first place. First and foremost, let's set aside that you can make shortbread cookies with calendula and focus on how great calendula is great for the skin. It may be beneficial for dry skin, cracks, eczema, scrapes, minor burns and sunburns, rashes, chapped lips, and pesky bug bites. It helps to reduce inflammation and promotes wound healing.
This is what makes calendula infused oil such a beneficial application, as it can be used topically for many different ailments. Plus it's gorgeous!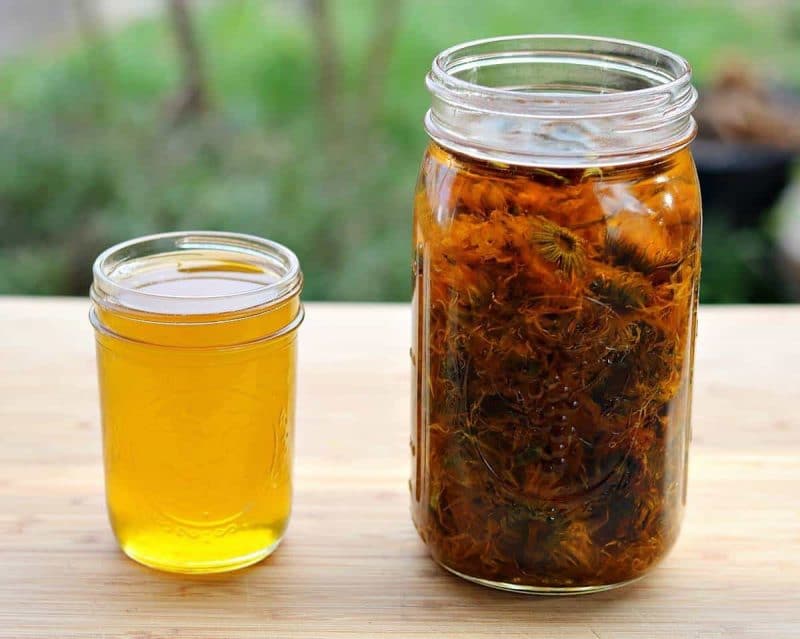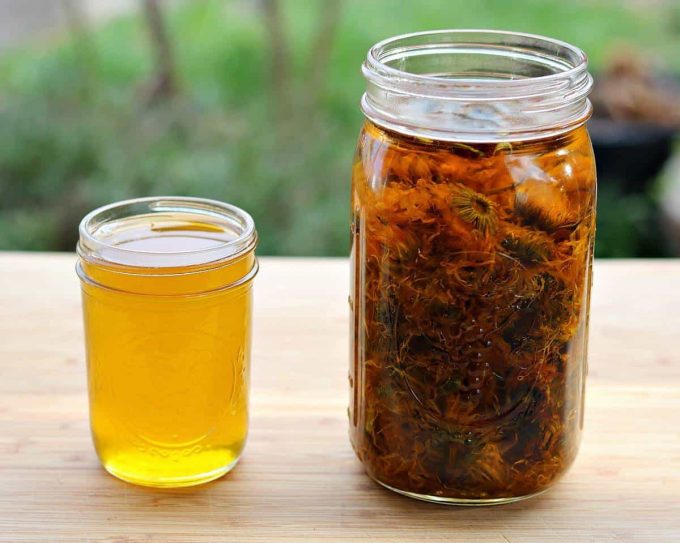 How to Make Calendula Infused Oil
Basically, you infuse dried calendula flowers into the carrier oil of your choice. The amount of dried herb isn't really important, just stuff whatever jar that you want to use with dried calendula flowers and cover them with oil. The kind of oil that you use will depend on the final application and your own personal preference. For most skin applications I like to use a blend of coconut, sweet almond, and olive oils.
Let the infusion sit for several weeks before using. I usually like to add a bit of heat to my infused oils several times using my Excalibur dehydrator, as it is excellent for heating at lower temperatures. To see all of the different methods that can be used for infusing oils, see my post on How to Make Infused Herbal Oils.
Once it's infused to your liking, strain out the calendula flowers and use it however you please!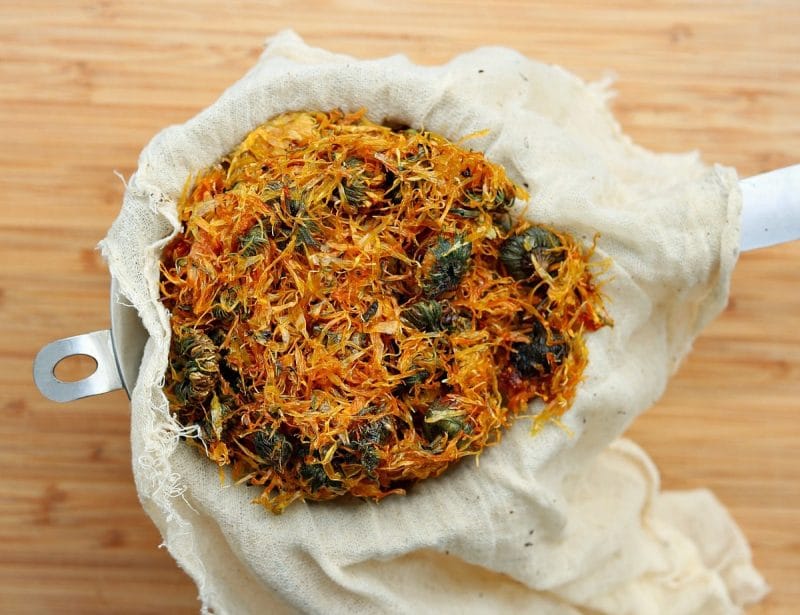 10 Ways to Use Calendula Infused Oil
Now that we got why you would want to use calendula infused oil and how to make it out of the way, here are some of my most favorite ways to use it.
Use The Oil As Is
After you have that wonderful golden oil, you can use it just as is if you wish. Rub it on dry hands and feet, on cuts and bruises, or even rub a little into your hair. It is extremely nourishing on its own! That said, it may be a little cumbersome to carry a jar of oil around, so I generally prefer these other applications.
Healing Salve
Making a homemade healing salve is probably my favorite way to use calendula oil. Calendula salve is one of the easiest to make and most versatile ways to utilize the benefits of this amazing flower!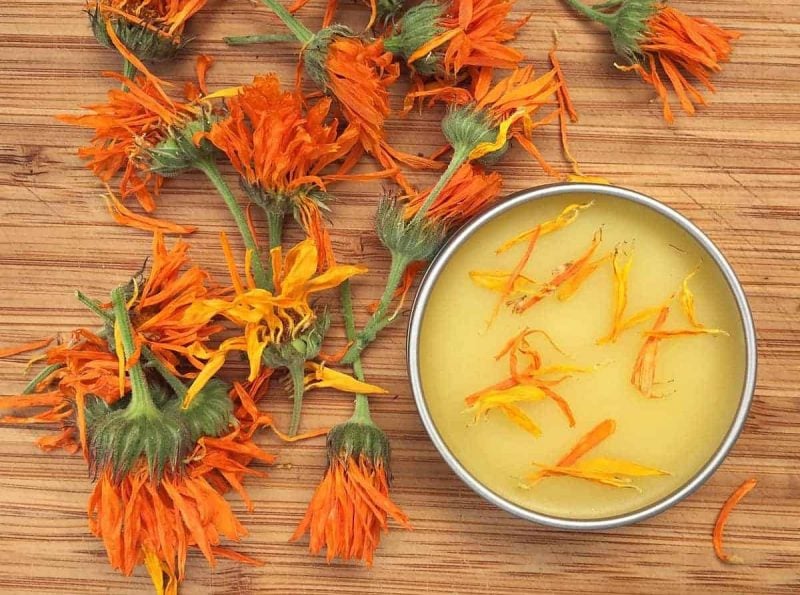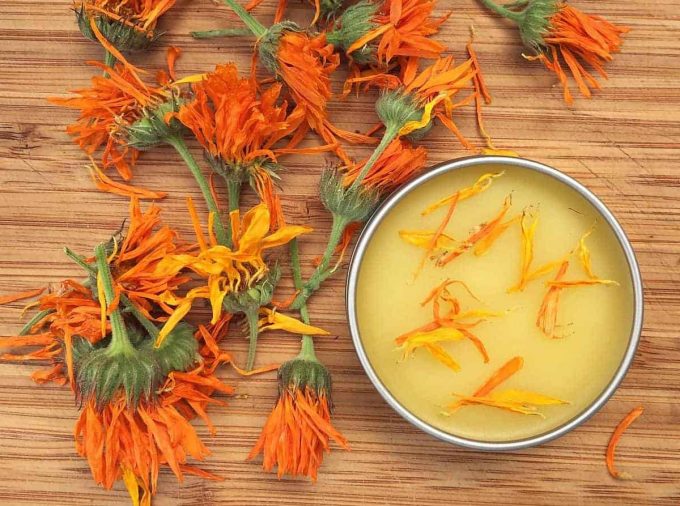 Cream and Lotion
My homemade calendula cream is a rich and creamy delight for the skin. It is perfect and soothing for really dry and itchy skin. I use it almost daily as a moisturizer! This recipe for calendula lotion from Frugally Sustainable is similar and also sounds very nice.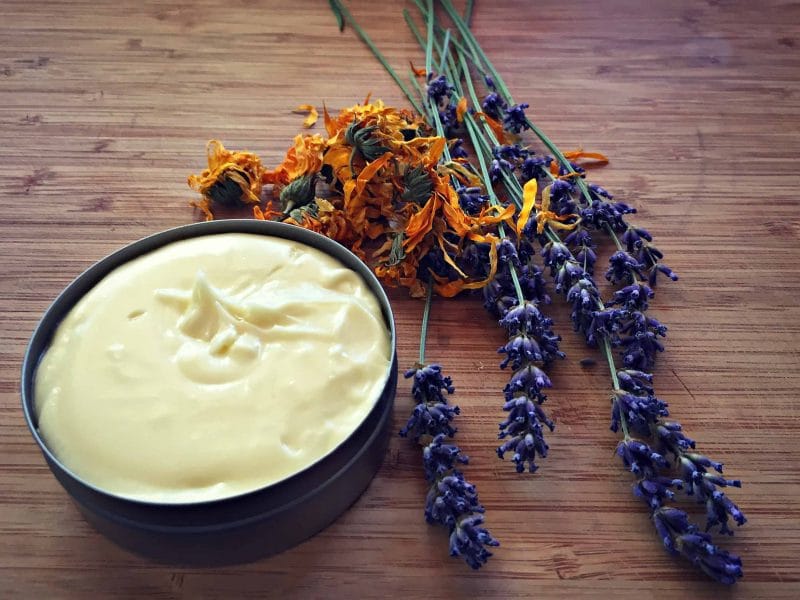 Body Butter
Calendula body butter is similar to a cream or lotion, but thicker and even more rich! Try this calendula whipped body butter from the Nerdy Farm Wife, with a bonus recipe for calendula bath melts. This after sun butter made with calendula from Livin Lovin Farmin is perfect for sunburns.
Lotion Bars
I've become really fond of homemade hard lotion bars lately. They are perfect for keeping on hand when you're out and about and need some skin nourishment. My calendula lotion bars are easy to make and great to have around!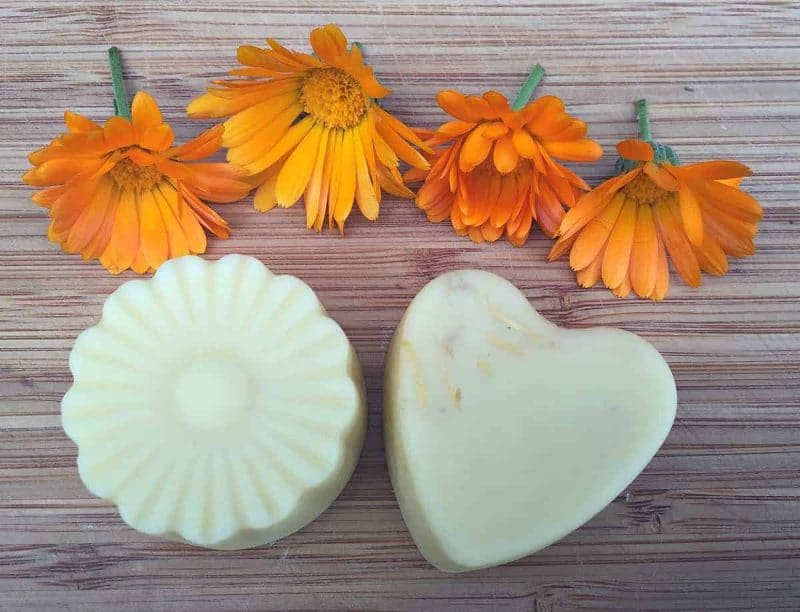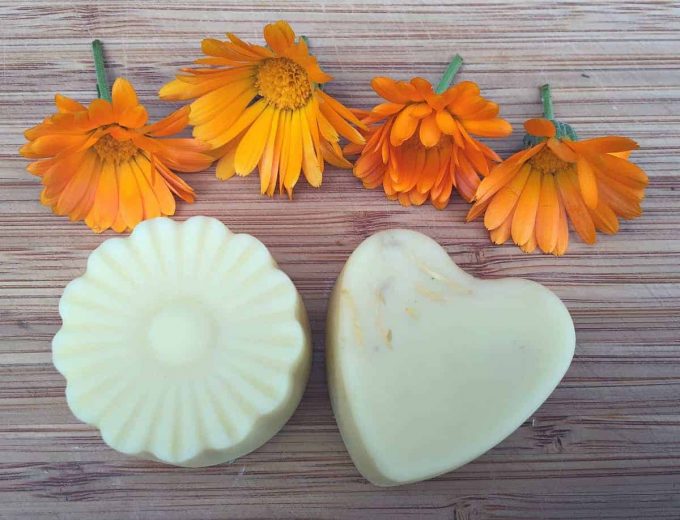 Homemade Soap
I've been really getting in to making my own homemade soap these days, thanks to Jan Berry's Natural Soap Making eBook. The first batch of soap I ever made was a wonderful calendula soap recipe from that eBook, and it's still one of my favorites!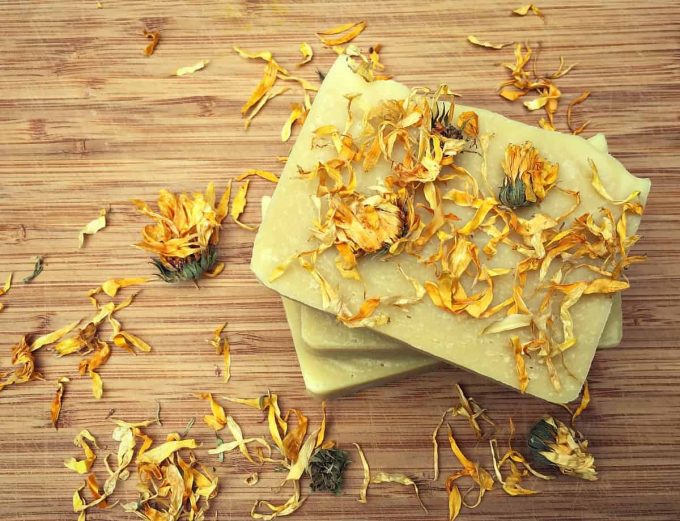 Lip Balm
Homemade lip balms are fun to make and great to have around for chapped and dry lips. The method is similar to to making a salve, often with a bit more beeswax so that it stays solid in the tube. Try one of the summer lip balm recipes from Joybilee Farm, or check out this extensive post from the Nerdy Farm Wife on how to make your own lip balms.
Diaper Rash Salve
Calendula is one of the safest herbal ingredients to use on a baby's sensitive skin. This herbal diaper rash salve uses calendula infused oil as its base, and it works wonders! It's a much better alternative than the store bought stuff with weird ingredients. It's perfect for your little one!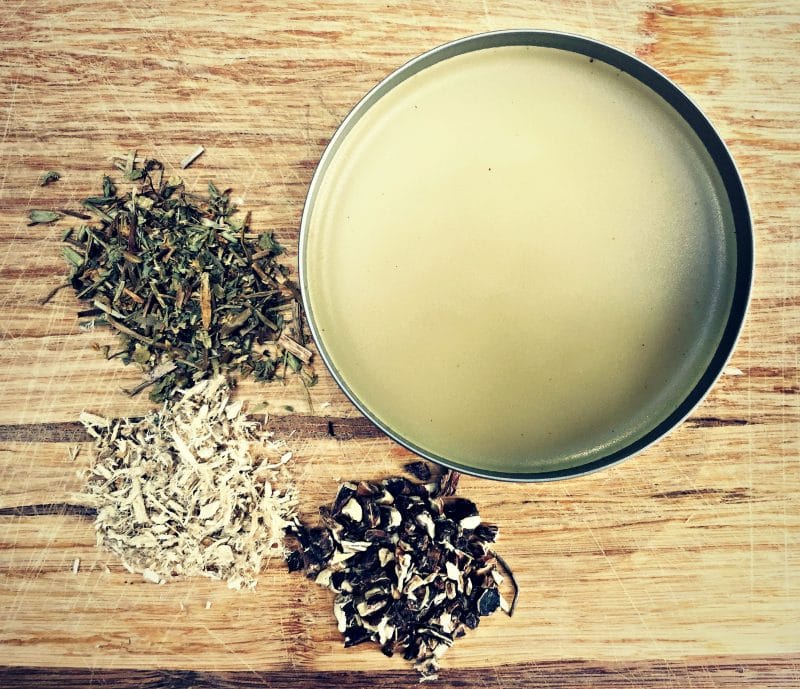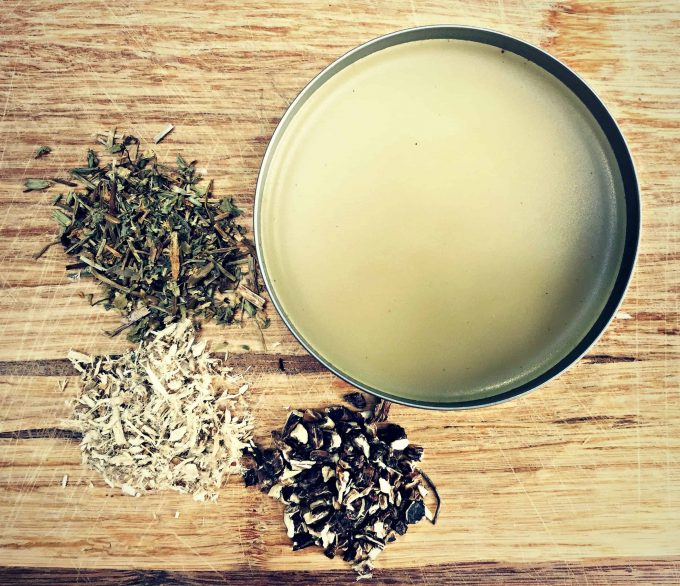 Bug Bite Balm
Calendula is great for relieving the pain and itchiness of pesky bug bites. Make these bug bite relief sticks from The Prairie Homstead using calendula, comfrey, and chamomile oils to take with you when you go hiking and camping this summer. You will be glad to have them around!
Salad Dressing
Last, but certainly not least, don't forget that calendula infused oil is edible! Use it in place of regular oil when making a vinaigrette style salad dressing. I would use whatever oil you normally use in your dressings as the carrier oil for your infusion, probably extra virgin olive oil. You could even throw a few fresh calendula petals on the salad if you have some handy. This will make a wonderful and bright addition to your every day salads!
I hope this gives you some ideas and inspiration on ways to use calendula infused oil! Did I forget anything? What is your favorite way to use this healing oil?