I have a lot of calendula growing in my backyard. This is not a bad thing, mind you, as calendula has many uses, but my mind kept turning to cookies (whose doesn't?). It's probably because of this Sweet & Savory Dandelion Shortbread post by Gather that I keep seeing. That recipe definitely sparked my idea of calendula and thyme shortbread cookies, but these are definitely more cookie like, more sweet than savory, with a hint of thyme. Calendula flowers have a slightly peppery, almost citrus like taste that's hard to describe, but they're delicious!
I also decided to add in a bit of lemon juice and zest to play off of the calendula's citrus notes, and it worked well. You can omit them, but if you do leave out the juice, be sure to use 2 more Tbsp of butter.

I used fresh calendula flowers right from my garden, and thyme that is just starting to flower.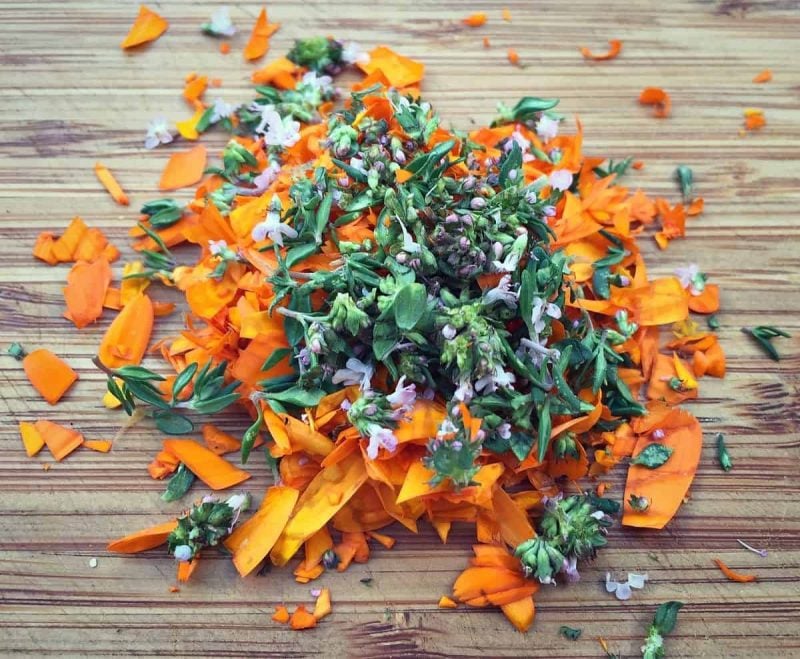 Calendula and Thyme Shortbread Cookies
Total Time
1
hour
10
minutes
Ingredients
14

Tbsp

unsalted butter

softened

3/4

cup

sugar

1

egg yolk

2

Tbsp

lemon juice

optional, but use 2 more Tbsp butter in its place

1

Tbsp

lemon zest

1 1/2

cups

all-purpose flour

1/2

cup

arrowroot powder

or cornstarch

3-4

Tbsp

minced fresh calendula flower petals

1

Tbsp

minced fresh thyme

pinch

salt
Instructions
Cream together the butter and sugar, then add the egg yolk, lemon juice and lemon zest (if using) and stir to combine. Then add the flour, arrowroot, calendula, thyme, and salt.

Gently stir everything together until the dough barely holds together. It will seem a bit floury, but that's ok.

Take the dough out of the bowl and form it into a log shape.

Wrap it tightly with parchment paper, twisting the ends to help hold it all together.

Put in the fridge or freezer for about 30 minutes, or until firm. You can store the dough for several days in the fridge, or for several weeks in the freezer, if need be.

When ready to cook, preheat the oven to 300°F. Slice the log into 1/4 inch rounds.

Put them on a parchment lined baking sheet, about an inch or so apart. They don't really spread much.

Bake for 25-30 minutes. Check them closely after 25 minutes, as they will start to brown pretty quickly. Take them out when only the edges just barely start to turn golden. The centers will still be fairly soft. Let them cool on the baking sheet for several minutes before transferring them to a cooling rack. They will firm up as they cool.
Nutrition
I was really impressed with these cookies! They are sophisticated and beautiful, yet simple to make. If you want to make different shapes, instead of forming the round log you can alternatively refrigerate the dough as a ball, and then roll out on a floured board and use cookie cutters.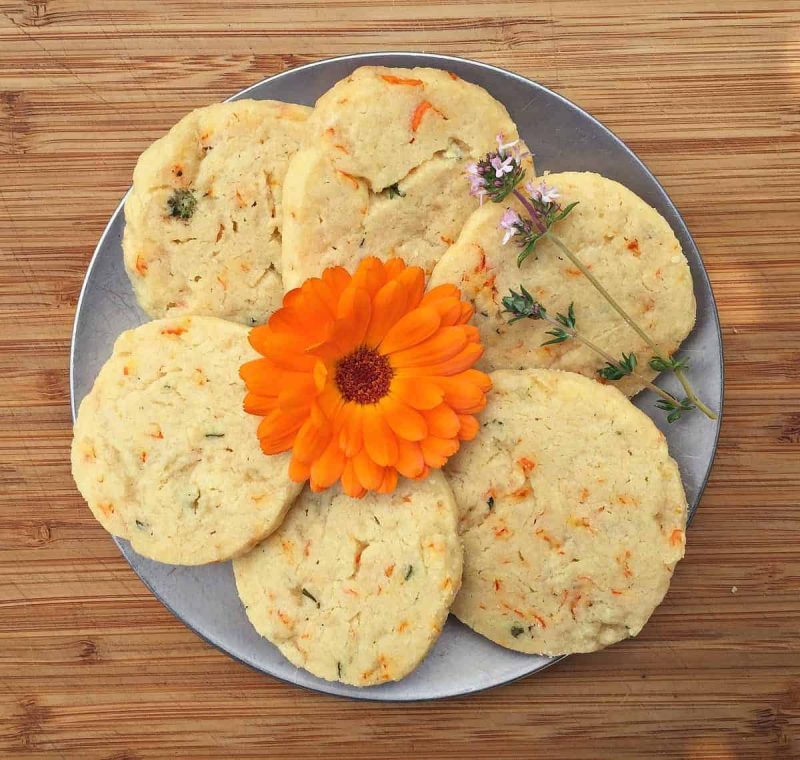 You can also get creative and use other edible herbs and flowers. Nasturtiums, violets, borage, lavender basil, oregano, and sage would all work beautifully. Get creative!
Have you ever used edible flowers in your recipes? Tell me what you've made!