Basil is a common herb that is most often used in the kitchen, but it is also good for the garden and has amazing health benefits! Learn about 10 reasons to grow basil and the benefits of basil.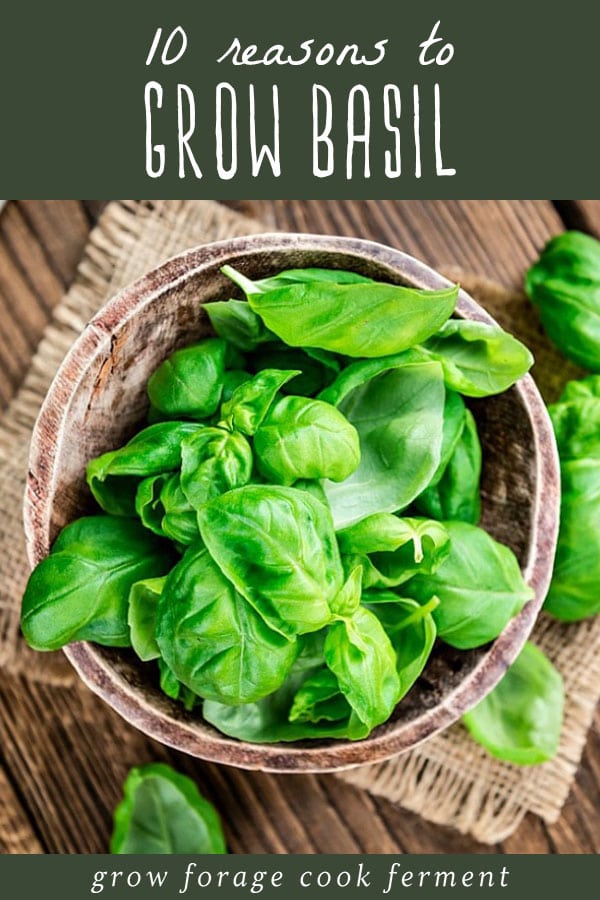 ---
Healing Kitchen Herbs eBook
Did you know that most of the herbs you use in your kitchen also have medicinal uses?
My eBook Healing Kitchen Herbs: 12 Common Herbs with Powerful Medicinal Benefits will teach you how to grow and use these amazing herbs. You'll learn the benefits of each plant and how to maximize their herbal power in your kitchen!
---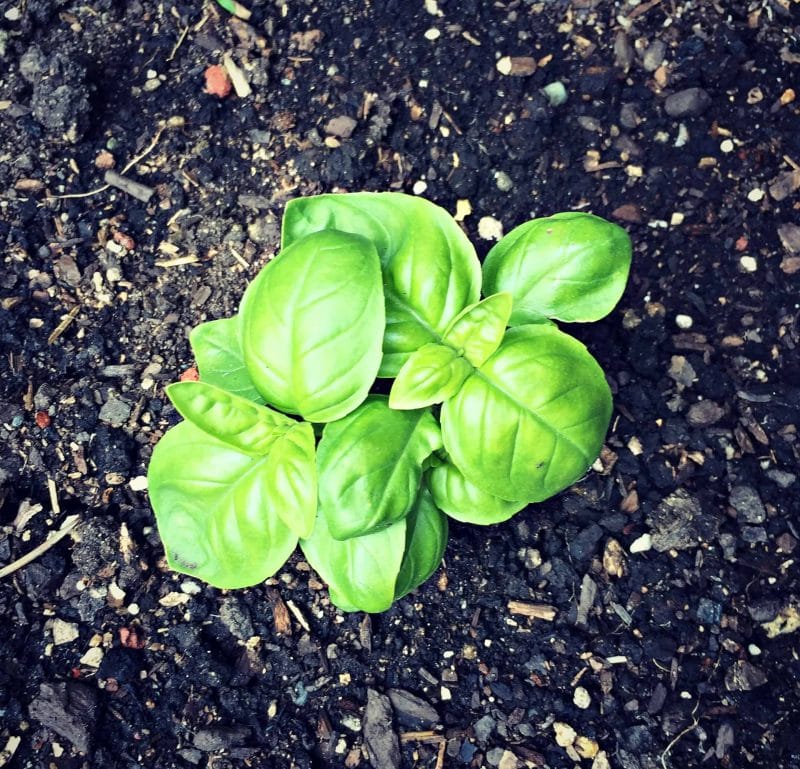 Grow Basil in the Herb Garden
Basil is one of the most popular herbs used in cooking and for good reason! It has a slightly peppery and sweet flavor that everyone seems to love.
Turns out that it's also a great plant to have in your herb garden for many reasons!
Besides being a delicious addition to food, basil is easy to grow and care for and has some amazing health benefits. Read on for all the awesome reasons to grow basil.
Basil is Easy to Grow From Seed
One great thing about basil is that it's very easy to grow from seed. It does need warm soil and can't tolerate frost, so be sure to wait until after your last frost date to sow.
I always make sure to get some started in pots indoors in early spring, then again outdoors in late spring so that I have basil all summer long!
Read more about growing and harvesting basil here.
Basil is an Excellent Companion Plant
Have you ever heard the phrase, "grow basil for the best tomatoes"? It's true! Not only do tomatoes and basil go well together in culinary dishes, they are also great garden mates.
This is because basil is effective at repelling tomato hornworms making it an excellent companion plant. It's also said to improve the flavor of homegrown tomatoes!
Other garden veggies that benefit from having basil nearby are lettuce, peppers, eggplant, asparagus, beans, beets, and potatoes.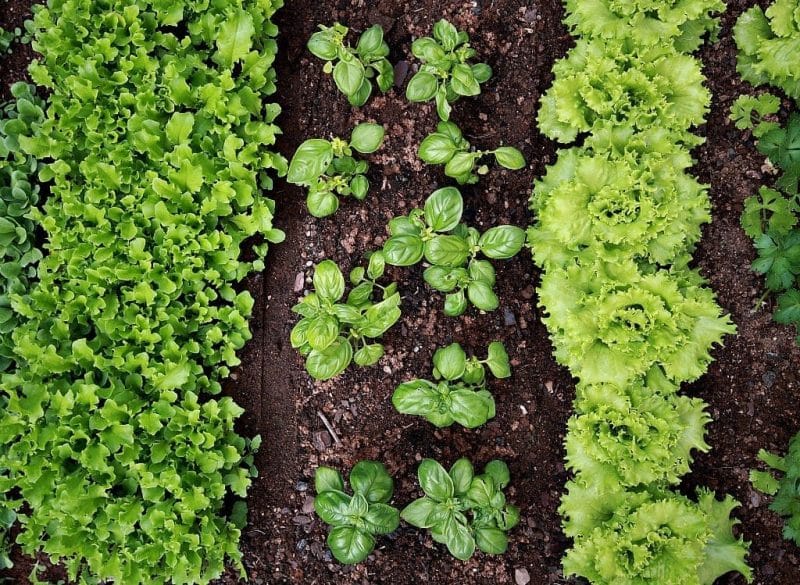 Basil is a Beautiful Herb Garden Plant
There are many different varieties of basil and some are quite beautiful. I especially love the purple and red cultivars! Thai basil and holy basil (also known as tulsi) are other fun types to try.
I recommend letting some of your basil go to flower for even more beauty in the herb garden!
Check out all of Baker Creek Heirloom Seeds basil varieties!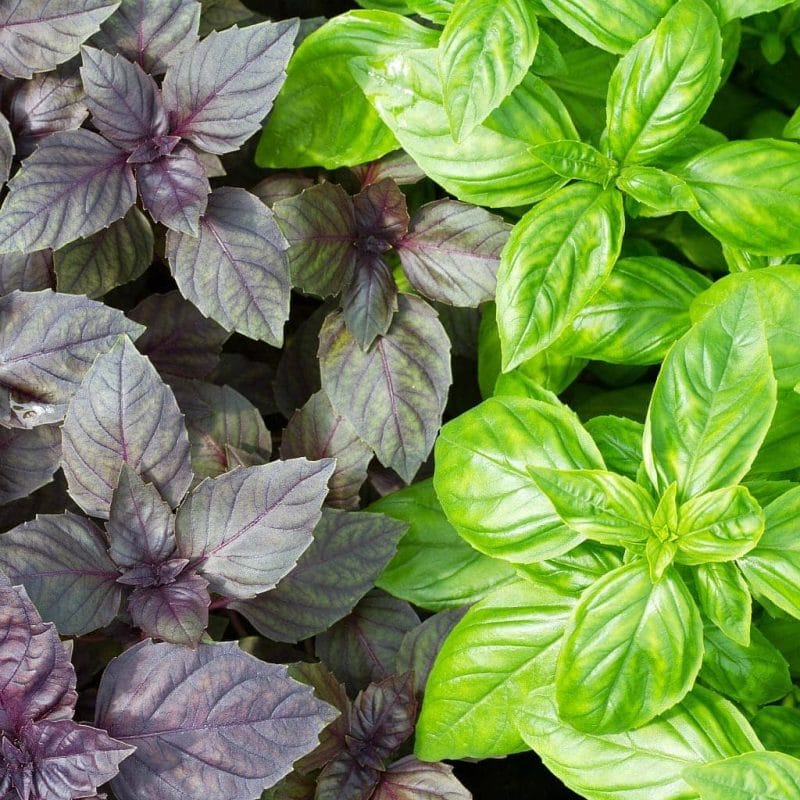 Basil Can be Grown in a Pot
Basil is one of those herbs that actually thrives quite well when grown in a pot. This is perfect if you don't have any garden space but still would like to have some fresh herbs growing.
You can also keep basil in a sunny windowsill and it will be perfectly happy!
I start my basil indoors in the early spring and keep it in a pot in a window until it is warm enough to be moved outside.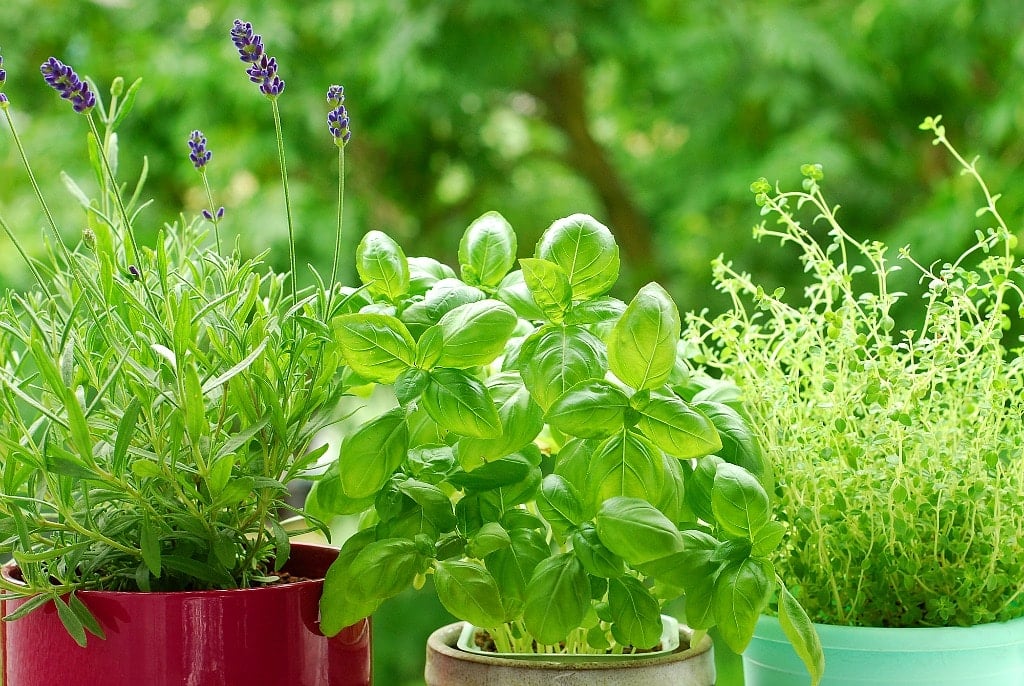 Basil Attracts Beneficial Insects
Another reason for letting your basil go to flower (besides beauty) is that the blossoms attract beneficial insects and pollinators that you want to have in your garden.
Bees and butterflies especially love basil flowers!
Read about 12 more flowers to plant for the bees here.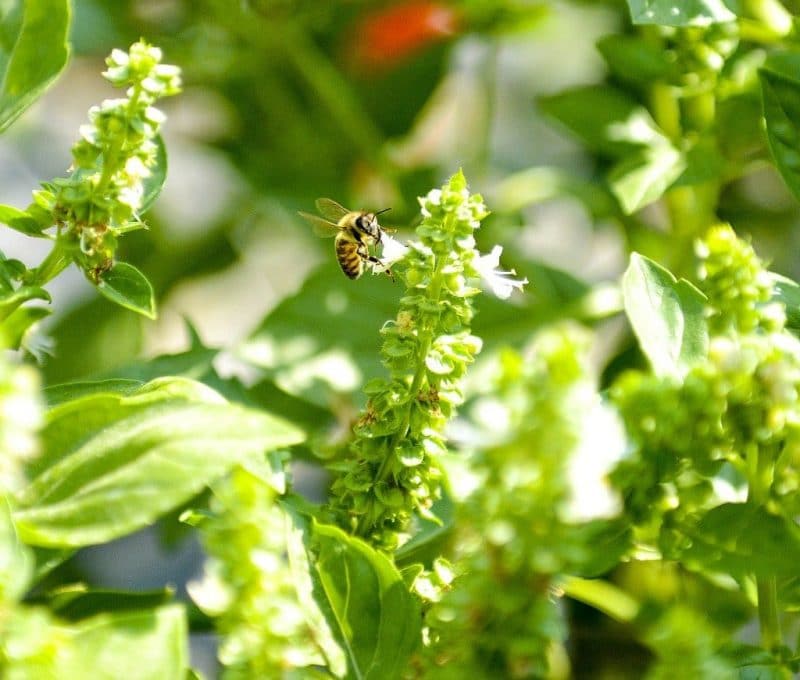 Basil Keeps the Bad Bugs at Bay
As I mentioned above basil is effective at repelling tomato hornworms making it a good companion plant for tomatoes.
In addition to that, it is also an effective mosquito deterrent, and we all need that!
Basil also repels flies, aphids, and asparagus beetles, so you can see that this is a plant that you definitely want around the garden!
Related: DIY Herbal No Bug Balm
Basil is Delicious
Because it's so delicious basil is by far most well known for its culinary uses. Pesto is probably the first recipe that comes to mind when we think about basil, but it can be used in so many other ways.
Try this basil oil which can be drizzled over bread or roasted veggies, or you can freeze basil oil for later use.
This basil vinaigrette for salads sounds amazing too.
One of my favorite ways to use basil is in a Caprese salad with homegrown tomatoes!
It's even good in desserts like these basil butter cookies or even basil ice cream! I definitely need to try that as soon as possible.
Basil is Nutritious
Besides being delicious, basil is also very nutritious! It is high in vitamins K and A and contains many trace minerals like manganese, calcium, copper, and magnesium.
Sounds like a great reason to eat more pesto (or basil ice cream…) to me!
Basil has Medicinal Benefits
In addition to being high in vitamins and minerals, basil also has an abundance of medicinal benefits. It is anti-inflammatory and is an effective pain reliever. It is also a digestive aid and has powerful antioxidant properties.
Basil is antibacterial and antiviral making it a great remedy for colds and flus. Make a cup of basil tea to help when you are feeling sick.
As an added benefit basil is an excellent choice for making homemade natural cleaning products.
Pregnant women should avoid consuming large medicinal quantities of basil, but regular culinary amounts are just fine.
Basil is Good for the Skin
Like rose hips, basil has anti-aging effects and is highly beneficial for the skin. Make this divine sounding basil anti-aging face cream or this basil lime body scrub to reap those benefits!
You can also use fresh basil in soap. Try this layered tomato and basil soap recipe or this lemon basil soap. They sound good enough to eat!
---
More Herb Guides
Learn 10 reasons to grow all of these common herbs in your garden!
---
I hope these 10 reasons to grow basil that I have detailed for you have inspired you to grow more of this awesome beneficial herb in your garden!