Chives are a wonderful culinary herb, but they also have many other benefits in the garden and in the kitchen. Learn about ten different benefits of growing chives and why you should have them in your herb garden!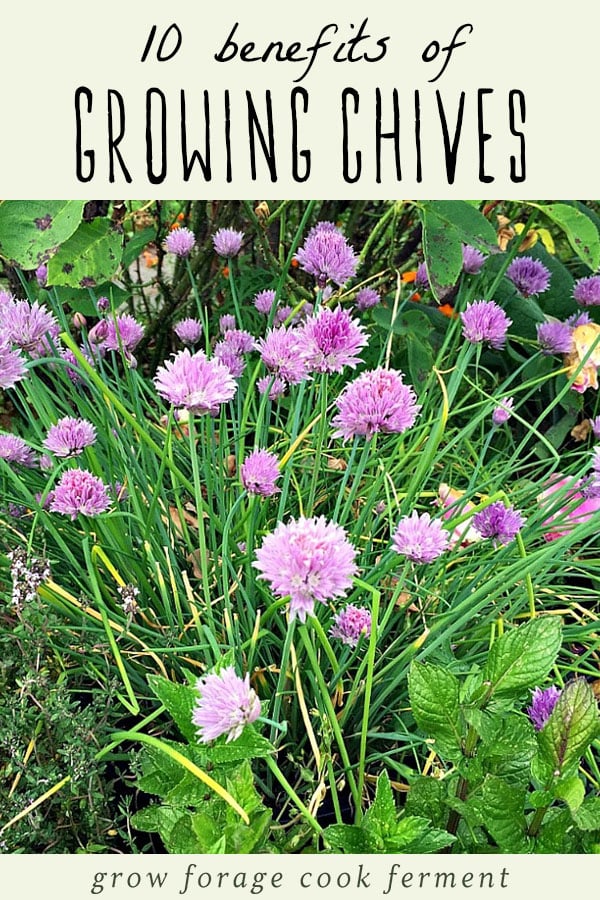 ---
Healing Kitchen Herbs eBook
Did you know that most of the herbs you use in your kitchen also have medicinal uses?
My eBook Healing Kitchen Herbs: 12 Common Herbs with Powerful Medicinal Benefits will teach you how to grow and use these amazing herbs. You'll learn the benefits of each plant and how to maximize their herbal power in your kitchen!
---
Growing Chives in the Herb Garden
Chives are often one of the first plants to pop up in the springtime and they are a welcome sight after a long and cold winter.
I love growing chives for many reasons beyond putting them on a baked potato with sour cream (but that's an excellent reason to grow them, too!).
They are great to have growing in your garden, and they have multiple edible and even a few medicinal uses too!
Be sure that you plant some this year so that you can experience these ten awesome benefits of growing chives.
Chives are Perennial
The first benefit of growing chives is that they are a perennial herb, which means that they will come back year after year without you having to do much of anything!
I love perennial plants in that they make my life a whole lot easier – less to plant in the spring and more to harvest year after year.
Chives Have a Long Growing Season
Chives have a super long growing season, and in more mild climates they may even grow year round!
If your winters are cold, chives will die back, but they will be one of the first plants to come back in the very early spring. Our chives usually come back in mid February here in hardiness zone 8a.
If you do live in a climate with a cold winter, you can divide and pot up some of your chives in the fall to bring inside.
Put them in a sunny windowsill to have fresh greenery all winter long!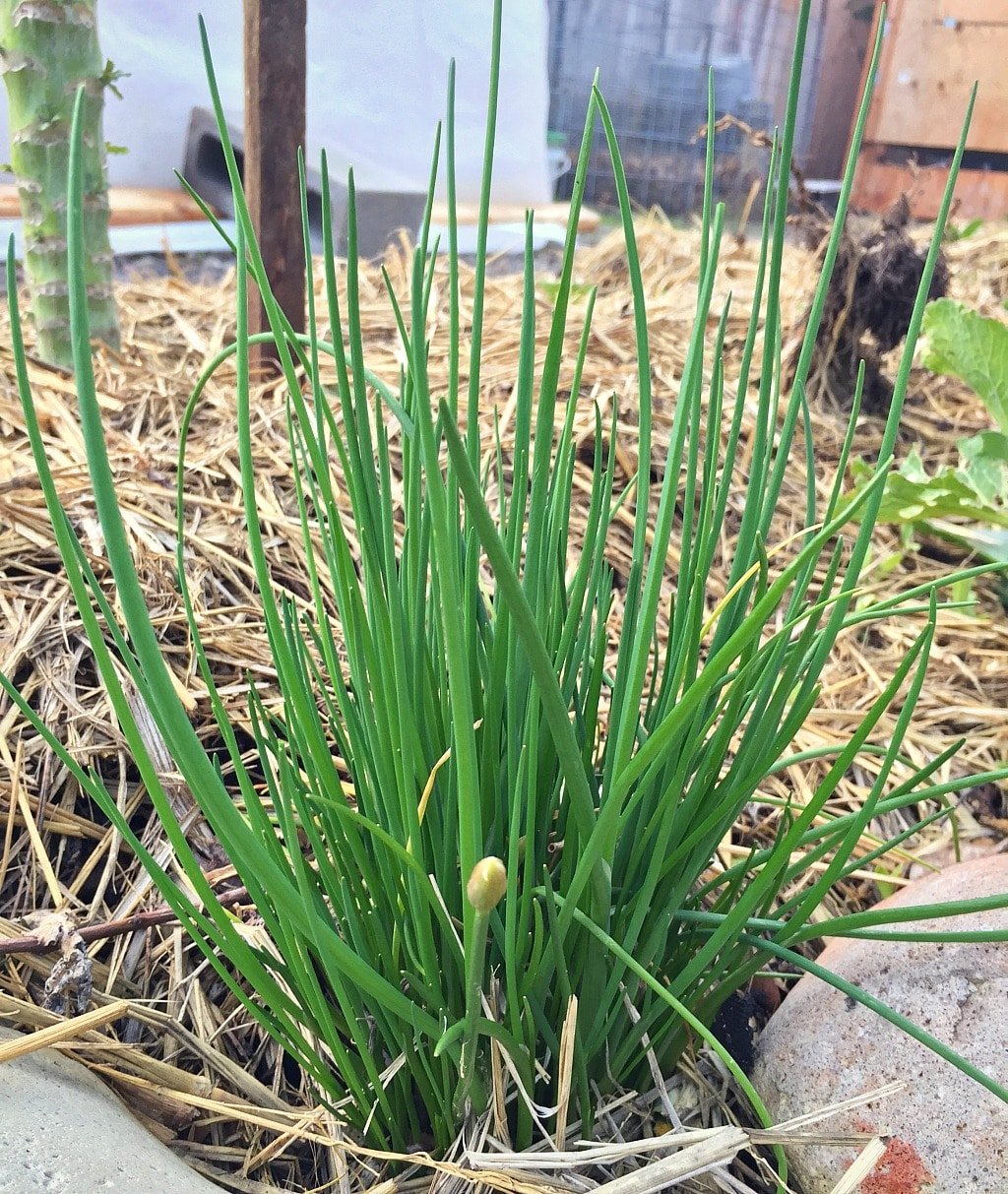 Chives are a Permaculture Plant
If you're interested in permaculture, then chives are the plant for you!
Besides being edible (see more on that below), they are great to have in the garden, or forest garden if you have one.
They make a wonderful ground cover and are perfect for chopping and dropping as a living mulch.
Read more about the permaculture uses for chives from Amy at Tenth Acre Farm.
Chives are a Companion Plant
Along the same lines as being a permaculture plant, chives are also an excellent companion plant.
This mean that growing chives alongside other plants and trees will benefit them by deterring pests, promoting pollination, improving the soil, and increasing yields.
Here are some plants and trees that benefit from chives growing near them:
Chives Attract Beneficial Insects
One reason that chives make such a good companion plant is that the blossoms attract pollinators and other good for the garden insects like bees, butterflies, and beneficial wasps.
These are important species that help our gardens immensely by pollinating plants and keeping pests in check.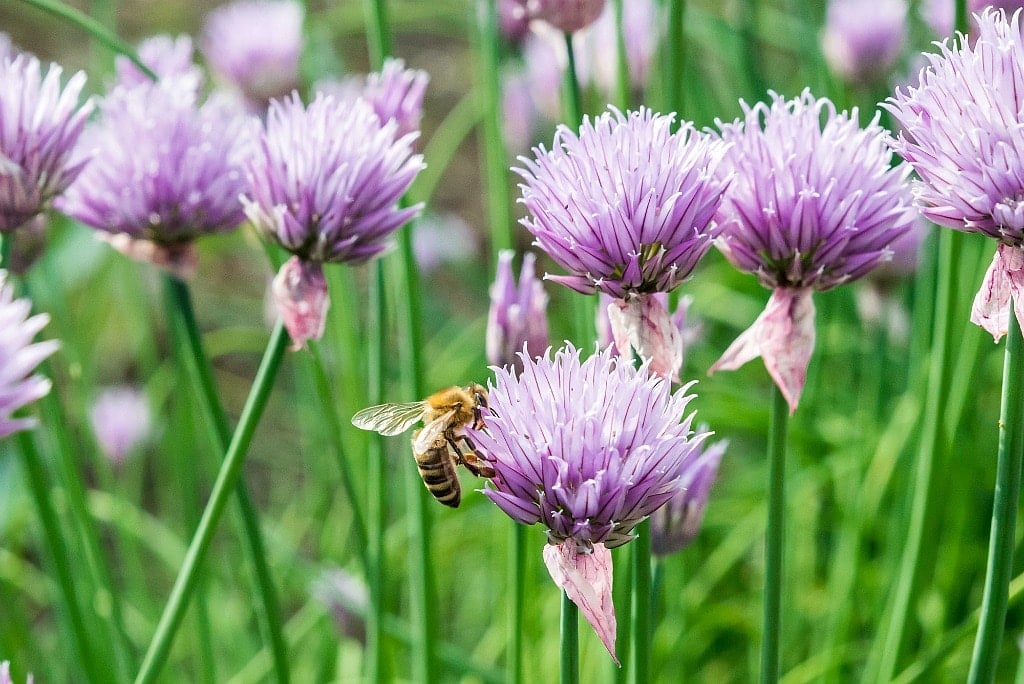 Chives Keep the Bad Bugs Away
Along with attracting the good bugs, chives also help to repel some of the unwanted insects that may be in your garden and on your plants.
This is due to their strong onion-like scent that some bugs like carrot flies, Japanese beetles, and aphids don't like.
Besides chives, there are many other herbs that are also good at keeping pests away, like mint, lavender, borage, dill, fennel, lemon balm, rosemary, thyme, basil, and oregano.
Chives are Deer Resistant
Chives are also a great herb to plant if you have deer that like to visit your garden!
Just like some of the pests described above, deer also dislike the the onion-y scent and taste of chives.
Check out this article on deer resistant herbs to see what else to plant that your local deer friends (hopefully) won't eat.
Chives Have Edible Flowers
One of my favorite benefits of growing chives is their edible pink blossoms that bloom throughout spring!
They are perfect for using in a salad or anywhere else that would benefit from some onion flavor in a pretty package.
I like to make an infused chive blossom vinegar that is great for making a homemade salad dressing.
These chive blossom and oregano corn muffins sound delicious, and I'd love to make this chive blossom butter someday soon!
Chives Have Edible Greens
Of course the most well known benefit of chives is their tasty greens! I love chopped chives on a baked potato or on top of some scrambled eggs. They are the perfect garnish to almost any meal.
These sour cream cheddar and chives drop biscuits look amazing, as do these garlic chive butter roasted potatoes.
If you have garlic chives try this super tasty sounding Korean chive pancake recipe (I'm thinking regular chives would work just as well).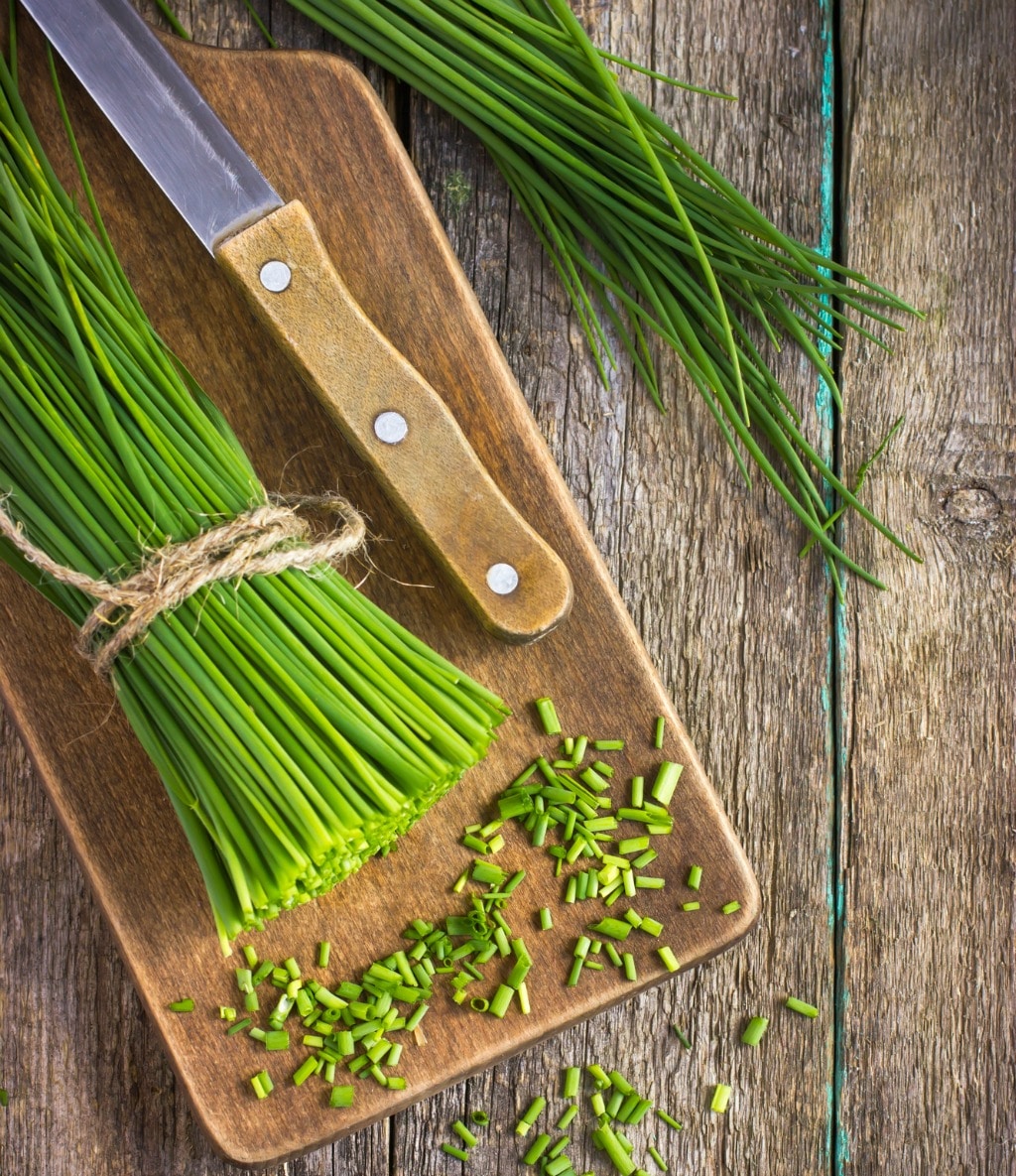 Chives Have Medicinal Benefits
Last but certainly not least, chives do have some medicinal benefits, too!
Chives are high in minerals and vitamins, particularly vitamins K and A.
Like onions, garlic, and other alliums, chives are also heart healthy by helping to regulate cholesterol and lowering blood pressure.
Chives have also traditionally been used for digestive issues.
Here are ten great reasons to start growing chives in your garden today!
---
More Herb Guides
Learn 10 reasons to grow all of these common herbs in your garden!
---