I've been visiting family on the central California coast, which has been wonderful. I always like going to other parts of the country to see what I can forage, and the temperature here is so mild that you can pretty much find edible or medicinal plants year round. Late spring and summer is when the coastal roadsides are covered with a tall yellow flower that smells of licorice. At first I thought it was some sort of anise, but upon further investigation I discovered it was wild fennel. How exciting is that? Foraging for wild fennel is easy on the west coast, because it is so widespread.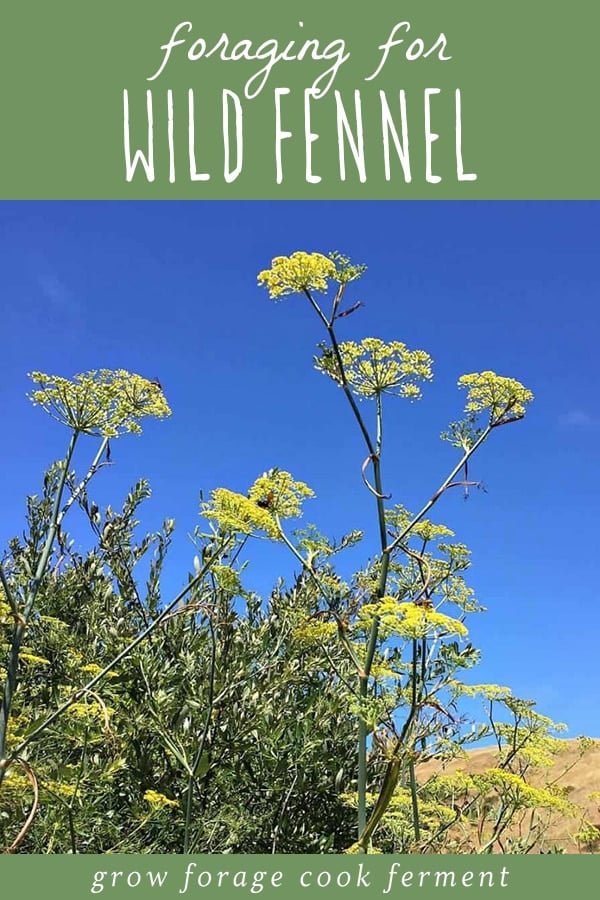 ---
Wildcrafting Weeds
If you want to learn more about the edible and medicinal weeds that surround us and how to use them, check out my eBook: Wildcrafting Weeds: 20 Easy to Forage Edible and Medicinal Plants (that might be growing in your backyard)!
Gather & Root Online Foraging Course
My online foraging course is a great way to learn about wild edible and medicinal plants! Sign up to learn more about the gather + root online foraging course here.
---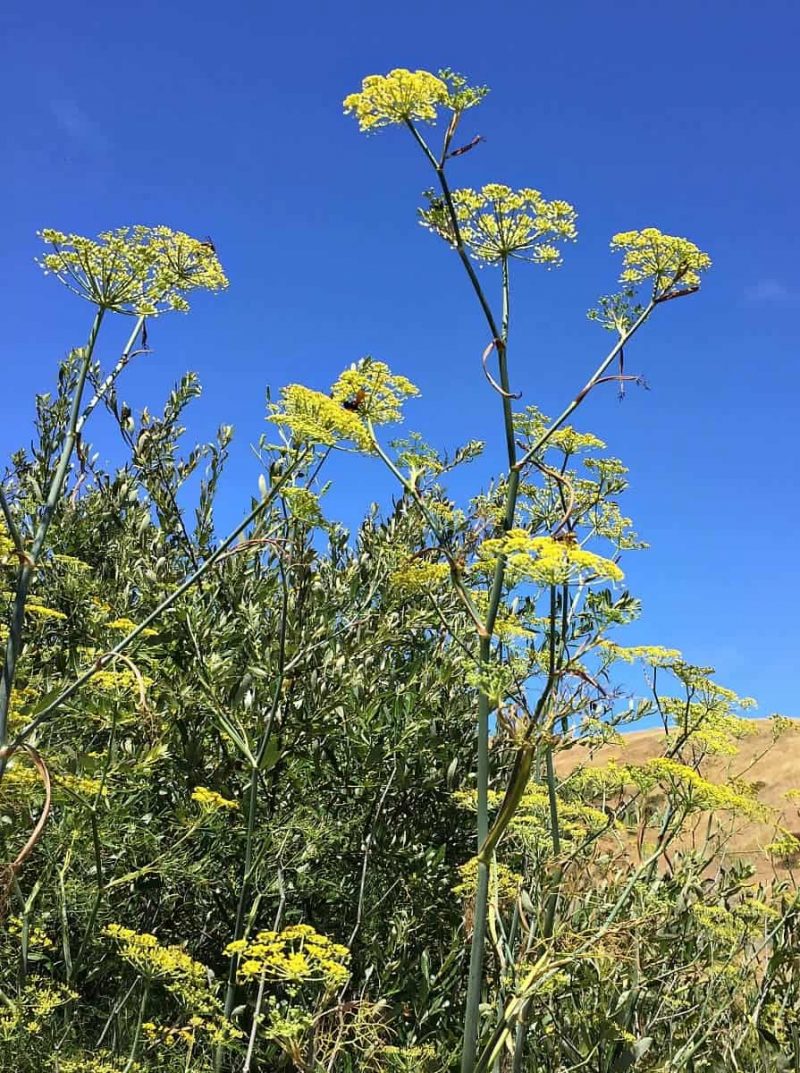 About Wild Fennel
Wild fennel is native to the Mediterranean, but has become widely naturalized in many parts of the world.
It is considered an invasive plant, so please harvest and use as much as you want! It is often found along roadsides or disturbed areas, and is especially prevalent on the California coast.
It's a very tall plant in the carrot family with an umbel type flower similar to dill, coriander, and caraway.
Fennel flowers are beneficial insect attractants, so having them around isn't all bad. These flowers that I photographed were absolutely covered with many different species of bugs and bees.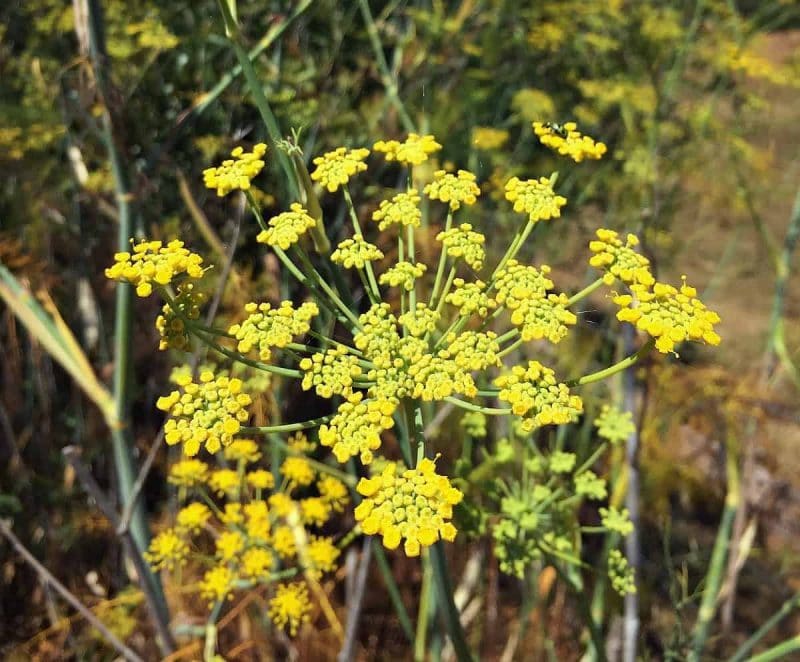 How to Identify Wild Fennel
Wild fennel is pretty easy to positively identify as its licorice like smell is unmistakable.
The stalk also looks just like what is attached to a fennel bulb that you would buy at a grocery store or farmer's market, with all of the feathery fronds.
Unfortunately wild fennel does not produce an edible bulb, but it does have the fronds that can be used in dishes or as a garnish.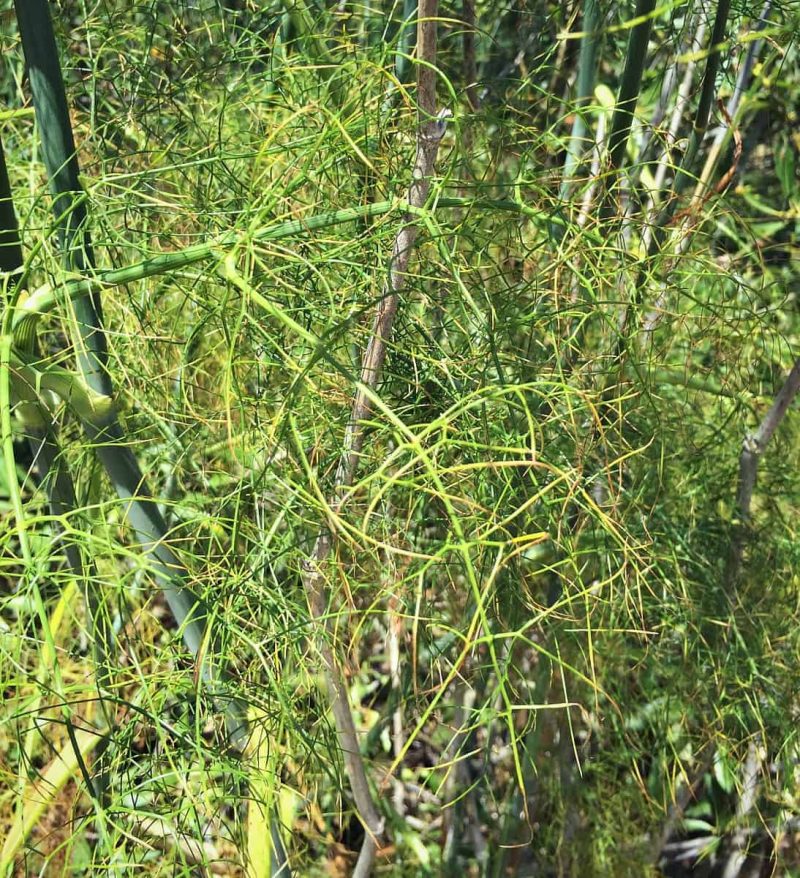 I collected a few flowers and let them dry.
Wild fennel pollen has become a popular ingredient these days, and while it is a bit tedious to collect, a little goes a long way.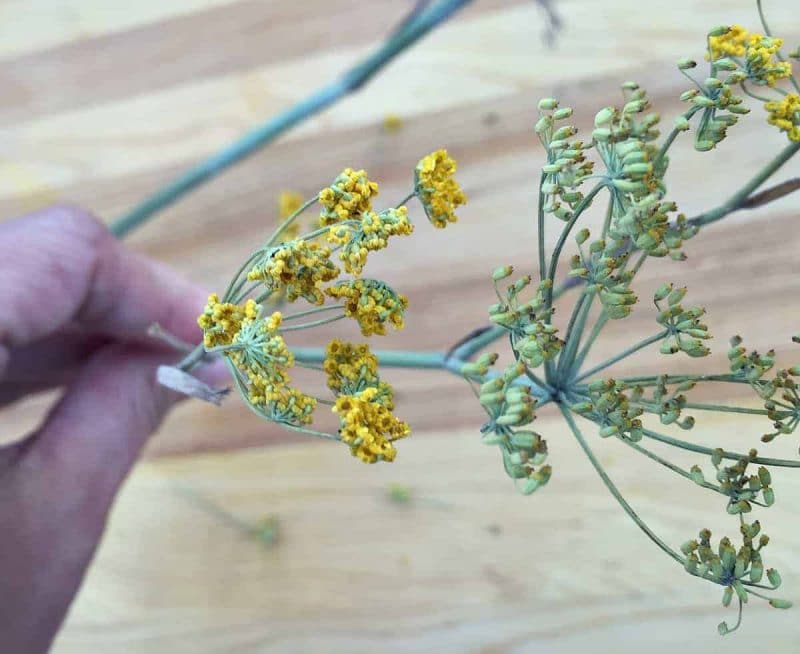 The seeds are nearly identical to dried fennel seeds that you can buy in the store in the spice department.
The immature green seeds are even tastier than their cultivated counterpart, as they are a bit softer on the teeth and more flavorful.
You can by all means collect the seed in any stage of its development for use in food, however.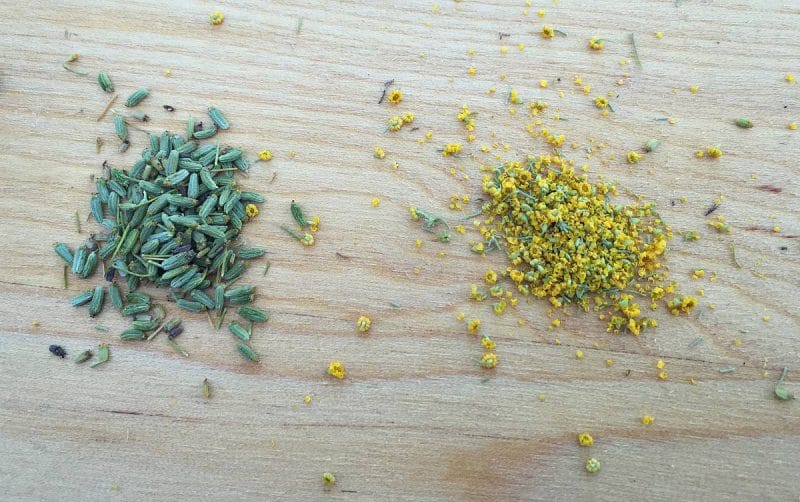 Uses for Wild Fennel
Fennel has some great medicinal uses.
It is primarily used as a post meal digestive aid, and is good for heartburn, gas, bloating, and regulating appetite. Nibble on the seeds after a big meal, or brew up some fennel tea.
I made a delicious dandelion and fennel kombucha recently that has become one of my favorites!
Here are some more great articles on wild fennel:
Have you ever seen wild fennel growing?
Save