It's blackberry season!  You know what that means, right?  It's cobbler time!  I'm such a sucker for simple and rustic fruit based desserts.  The fruit brings natural sweetness, so minimal sugar is needed, plus you get the natural health benefits and antioxidants from the berries.  These blackberries were amazing!  We went foraging for blackberries recently in an area where we know they aren't sprayed, and they were big, sweet, and delicious!  Right at the same time, we got beautiful peaches in our CSA veggie box, so I knew what I had to do… make a skillet peach and blackberry cobbler!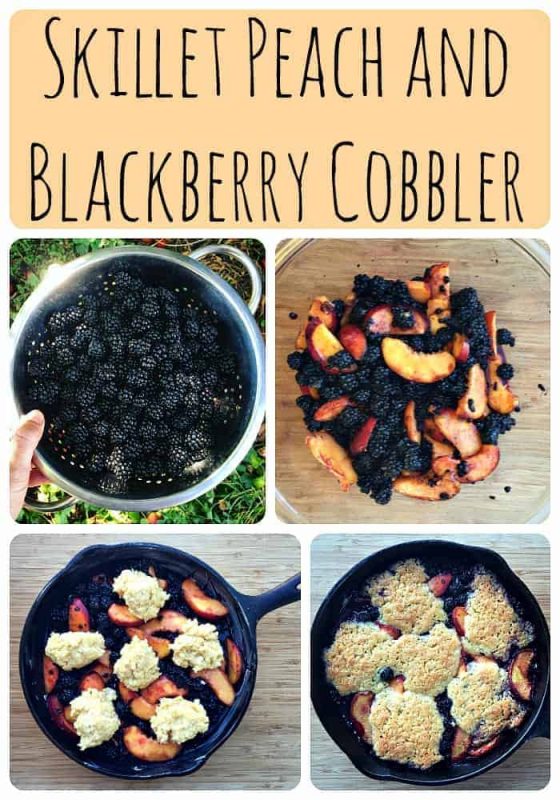 This is a very adaptable recipe, as pretty much any fruit that you have around can be used.  I must admit that this is probably my favorite combo, though!  I keep this recipe very low sugar as both the peaches and blackberries very sweet on their own, but feel free to up the sugar a bit if you'd like.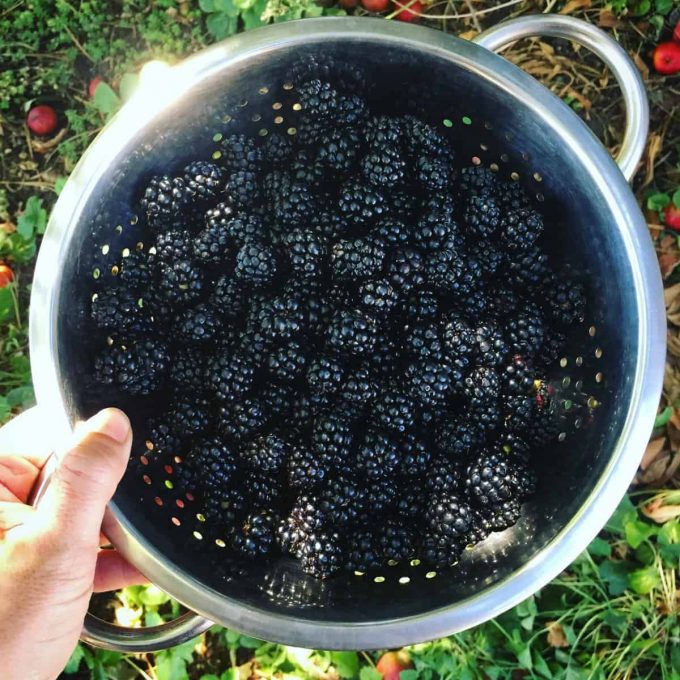 Skillet Peach and Blackberry Cobbler Recipe
This recipe is adapted from the book How to Cook Everything from Mark Bittman.
3 cups peaches, sliced
3 cups blackberries
2 Tbsp honey
1/2 cup sugar, divided
1/2 cup (1 stick) cold unsalted butter, cut into small pieces, plus more for the pan
1/2 cup all purpose flour
1/2 tsp baking powder
pinch salt
1 egg
1/2 tsp vanilla extract
Preheat the oven to 375°F, then combine the peaches, blackberries, honey, and 1/4 cup sugar in a bowl and set aside.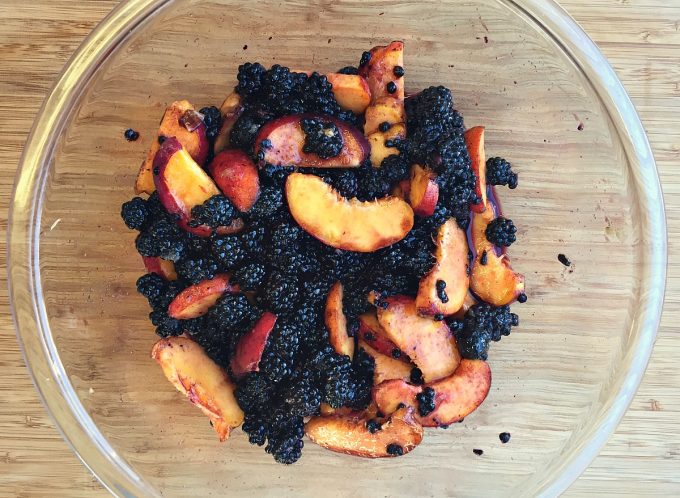 In a food processor, combine the flour, baking powder, salt, and remaining 1/4 cup sugar and pulse once or twice.  Add the butter and process for 10 seconds, until the mixture is well blended.  By hand, beat in the egg and vanilla.
Alternatively, you can mix it all by hand if you do not have a food processor, just be sure to cut the butter into the dry ingredients first.
Pour the fruit into a buttered 10 inch cast iron skillet, then top with spoonfuls of the dough.  Do not spread it out.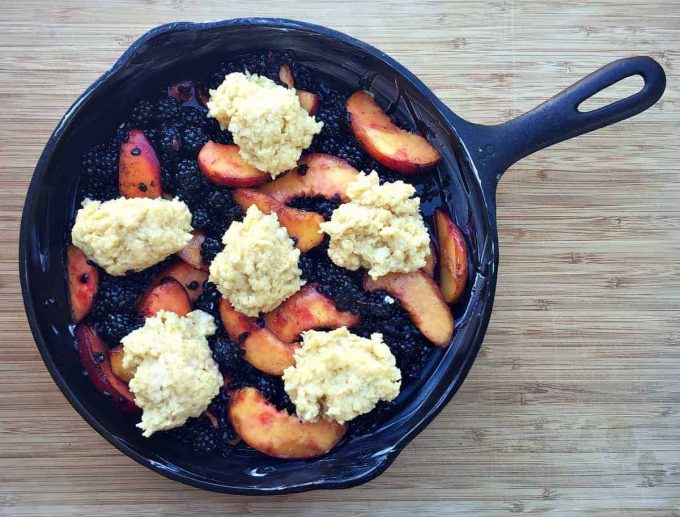 Bake for 35-45 minutes, or until it is just starting to brown.  It will smell amazing!  Carefully pull it out of the oven and serve hot or at room temperature.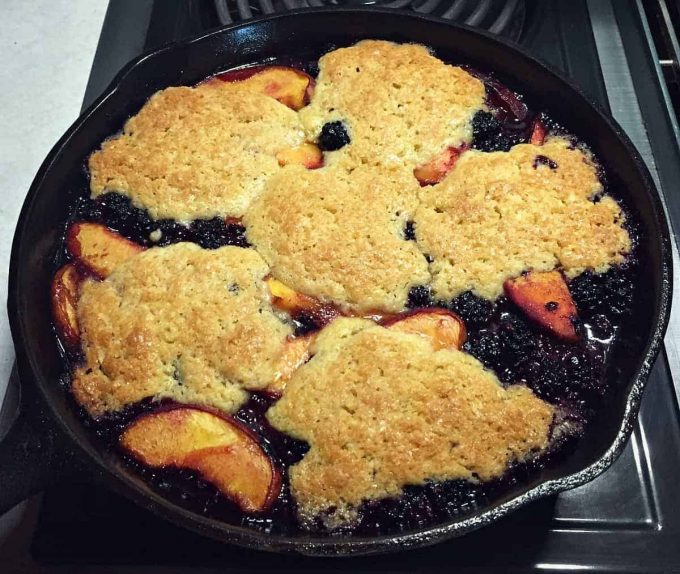 This recipe is so good!  Topped with vanilla ice cream, it is the perfect summer dessert.  It is simple to make and easily adaptable, perfect for last minute company, or if you decide on a whim that you want a tasty treat.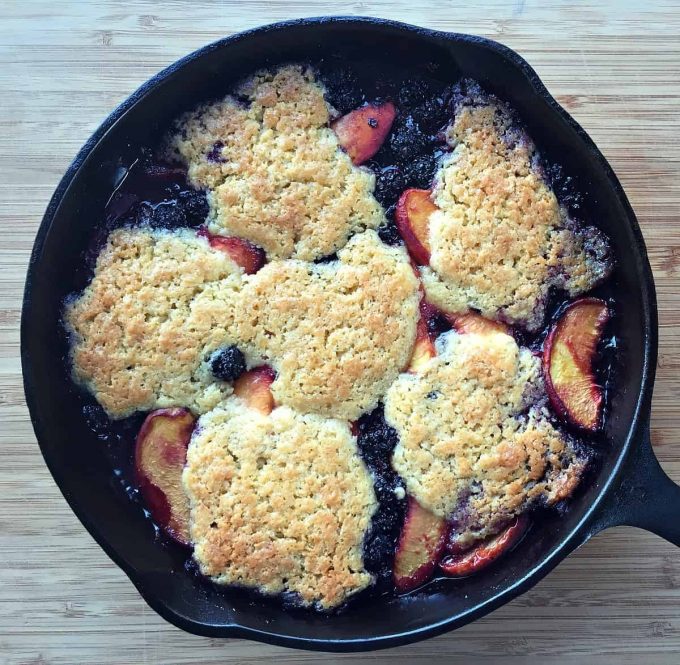 As I said before, I love fruit desserts!  You may have noticed that theme recently, and most of them are cooked in a cast iron skillet as well.  Here are some of the other fruit based desserts I have made:
What is your favorite fruit based dessert?
Save