You might have seen my recent post about foraging for salal berries.  Well, after bringing home a bunch of these foraged berries, I really wanted to do something delicious with them.  Salal berries are slightly sweet when fresh, but I knew that cooking intensifies and brings out their sweetness even more.  I've watched my good friend Charlotte (who has her own awesome blog, Rooted Revival) make beautiful galettes that look and taste amazing, so that is the route I decided to take here.  Charlotte is a pastry dough queen, and has an amazing galette (or pie) dough recipe that she has allowed me to share here.  Consider yourself lucky!  Read on for this wild berry and nectarine galette with goat cheese and fresh thyme recipe.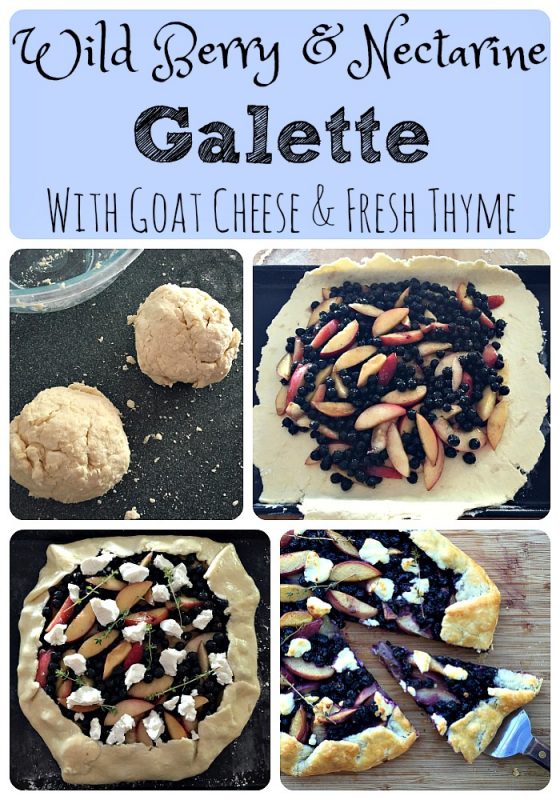 I love the combination of berries and tree fruit in desserts.  Peach and blackberry cobbler is one of my favorites, as is apple or pear and blackberry crisp.  I love rustic and simple desserts that look pretty, are easy to make, and are slightly healthy with the addition of real food from the plant world.  This galette fits that bill in every way!
Other similar dessert recipes I have are blueberry cornmeal skillet cake, and plum and lemon upside down cake with lavender whipped cream.
Of course, you don't have to use wild berries in this recipe.  Any berry will work just fine, and you can also use peaches, plums, or apricots instead of the nectarines.  I was actually originally going to use peaches, but the white nectarines just happened to be perfectly ripe and beautiful at my local food co-op, so that's what I went with.  Strawberry peach would be amazing, as would raspberry plum.  Mix it up!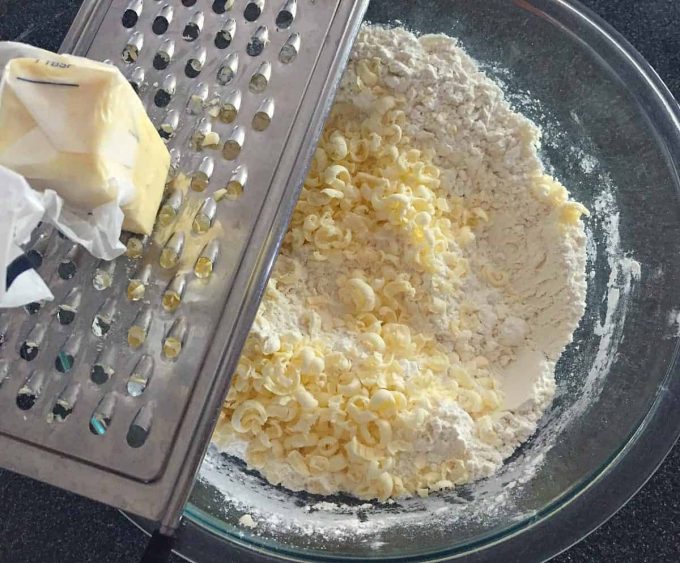 Now let's talk about this dough.  There are a few tricks of the trade, so to speak.  First is to use frozen butter, and to grate it with a cheese grater directly into your dry ingredients.  This is actually easier than it seems.  Second, is two secret ingredients: vodka from the freezer, and sour cream.  Don't ask why, just trust.
This recipe makes enough dough for two galettes, or one pie with a bottom and top crust.  You can always freeze the second dough for later use (that's what I did).  It's really handy to know that you have that in the freezer for a galette emergency!
You'll want to start this dough at least a few hours prior to assembling the galette, as it needs to be chilled before rolling out.
Galette (or pie) Dough Recipe
Ingredients
2 1/2 cups pastry flour
1 Tbsp sugar
1 tsp salt
2 sticks unsalted butter, frozen
2 Tbsp vodka (from the freezer)
1 Tbsp sour cream
1 ice cube
water
Directions
Stir together the flour, sugar, and salt.
Grate the frozen butter into the dry ingredients using a cheese grater, stirring occasionally to coat the butter pieces with flour.
Put the vodka, sour cream, and ice cube in a liquid measuring cup.  Add cold water to the 3/4 cup line and stir to combine.
Slowly add the liquid ingredients to the flour and butter mixture, stirring until the dough just barely begins to hold its form.  You may or may not use all of the liquid, and you might even need to add a bit more water.
Once the dough comes together, use your clean hands to form into 2 roughly equal sized dough balls.  Wrap each ball in plastic and refrigerate for several hours before rolling out.  If you are only using one dough, the other can be frozen for later use.
Wild Berry and Nectarine Galette Recipe
Ingredients
2 cups salal or other berries
3 large or 5 small nectarines or other tree fruit, sliced
1/2 cup brown sugar
1/2 tsp cinnamon
1 ball of galette dough
soft goat cheese (chèvre)
fresh thyme sprigs
1 beaten egg for washing the crust (optional)
Directions
Preheat the oven to 400°F
Combine the berries, fruit, brown sugar, and cinnamon in a bowl and set aside to macerate.
Roll out the galette dough onto a floured board into roughly a round shape.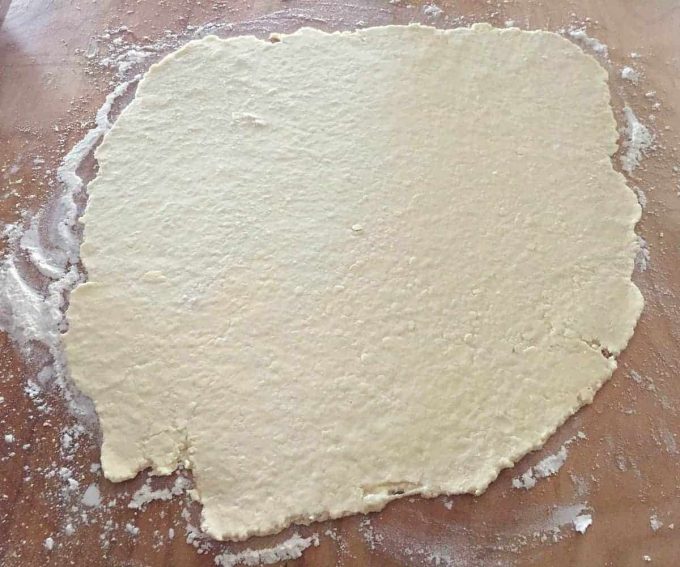 Carefully transfer the dough onto a sheet pan, and spread the berry and fruit mixture on it, leaving an inch or two of space on the edges.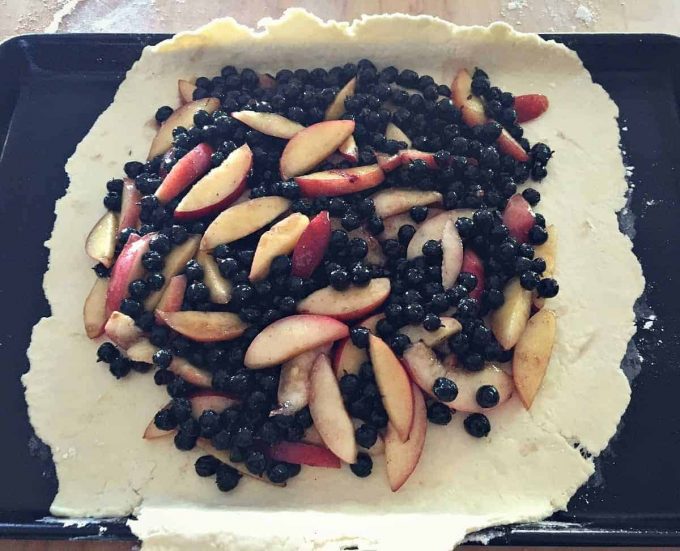 Fold the edges in to create a lovely crust.
Top the fruit with pieces of soft goat cheese and sprigs of fresh thyme.
Brush the crust with an egg wash if desired.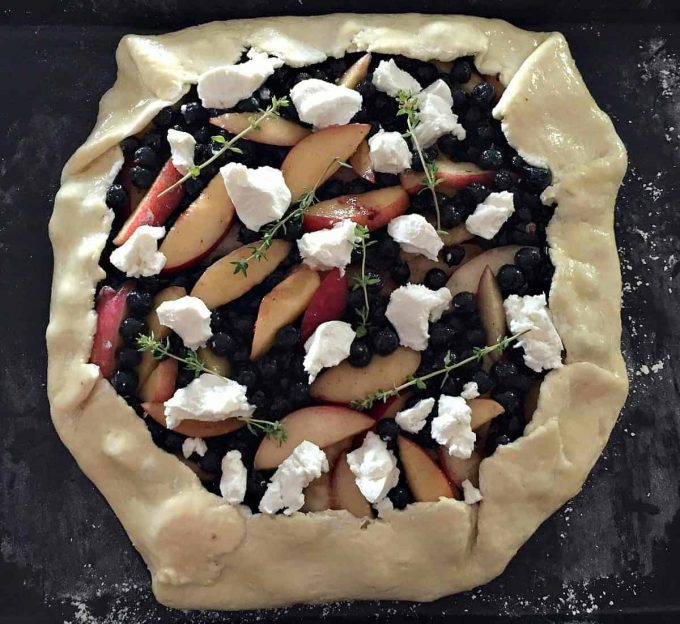 Bake for 35-45 minutes, or until the crust is golden brown and the filling is bubbly.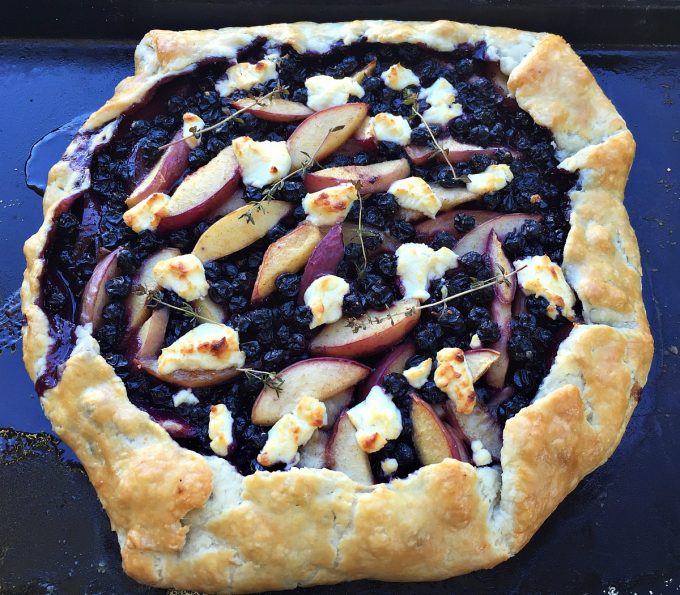 Look at how beautiful this is!  It smells amazing, too.  This is a dessert that is hard for anyone to resist!  Let it cool a bit before serving, then cut into wedges.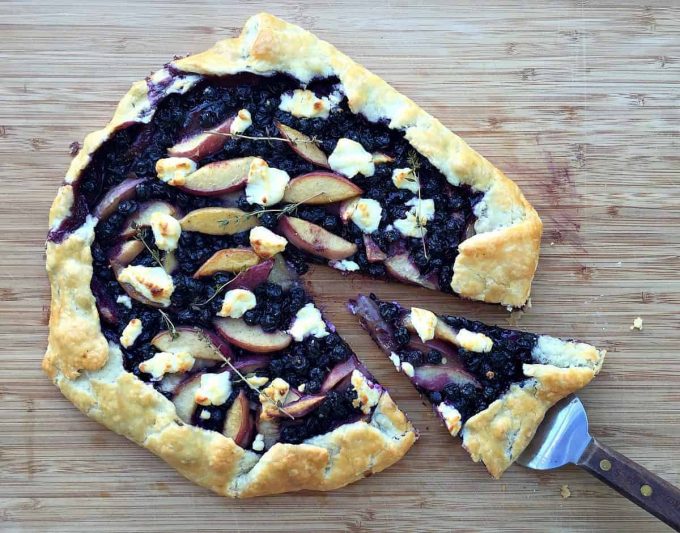 Serve warm with vanilla ice cream, and you will be everyone's friend for life!  This turned out so tasty, and the dough is really easy to work with.  I love knowing that I have one waiting for me in the freezer for that moment when I just need to make another galette!
What are your favorite fruit based desserts?
Save