Pear season is in full swing and I'm loving it!  Southern Oregon is pear country and right now is the time to buy, harvest, or glean them.  If you're lucky you'll end up with more than you can deal with!  I remember one year the pear tree we had in our backyard of the house I grew up in was absolutely loaded with pears.  Mom made freezer pear butter that lasted forever, which was awesome because it was delicious!  Someday I when I have a ton of pears I will have to recreate that.  For now, though, I've been addicted to this skillet pear and blackberry crisp!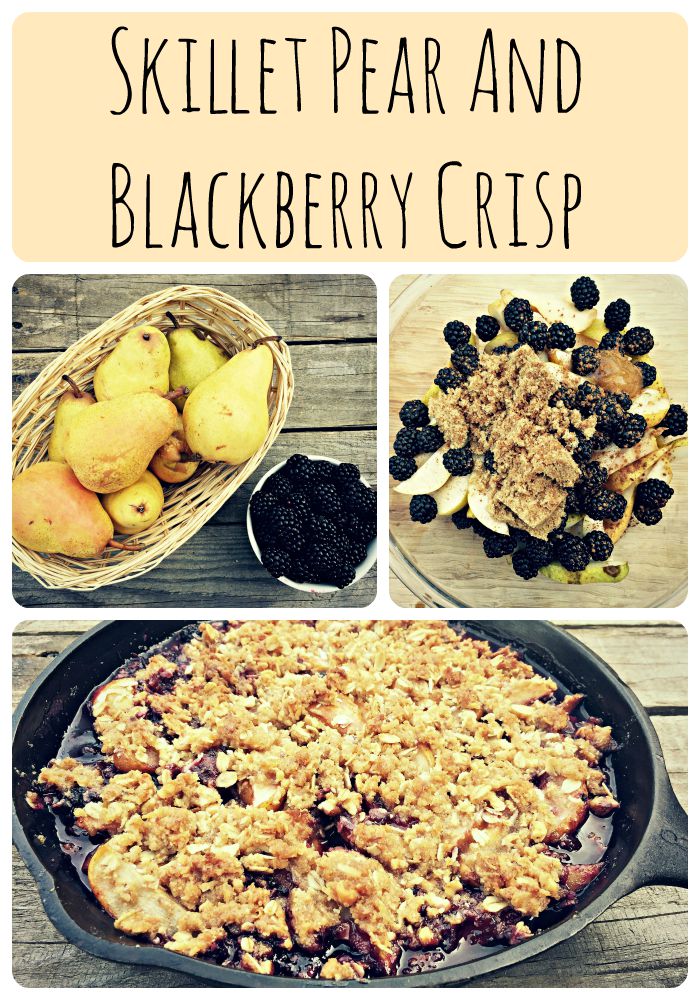 Blackberries are also at the very end of their season right now, but I have to admit that the ones I used in this recipe were store bought.  If it makes you feel any better, I did make many crisps over the course of the summer with our foraged blackberries and either pears, apples, peaches or nectarines.  Also, I should add that any berry would work in place of the blackberries.  Peaches and strawberries, apples and blueberries, nectarines and raspberries, any and all of these combinations will work!  For this one, though, I used pears and blackberries.
Skillet Pear and Blackberry Crisp Recipe
There are two parts to making this crisp, although they are both quite simple.  First is preparing the fruit filling and second is making the crumble topping.
Fruit Filling
8 ripe pears (or apples, peaches or nectarines)
1-2 cups blackberries (or raspberries, blueberries or strawberries)
1/2 cup brown sugar
1 Tbsp honey
1/2 tsp cinnamon
1/2 tsp vanilla extract
First, core and slice the pears.
Put the sliced pears in a large bowl and add the blackberries.
Next add the brown sugar, honey, cinnamon, and vanilla extract.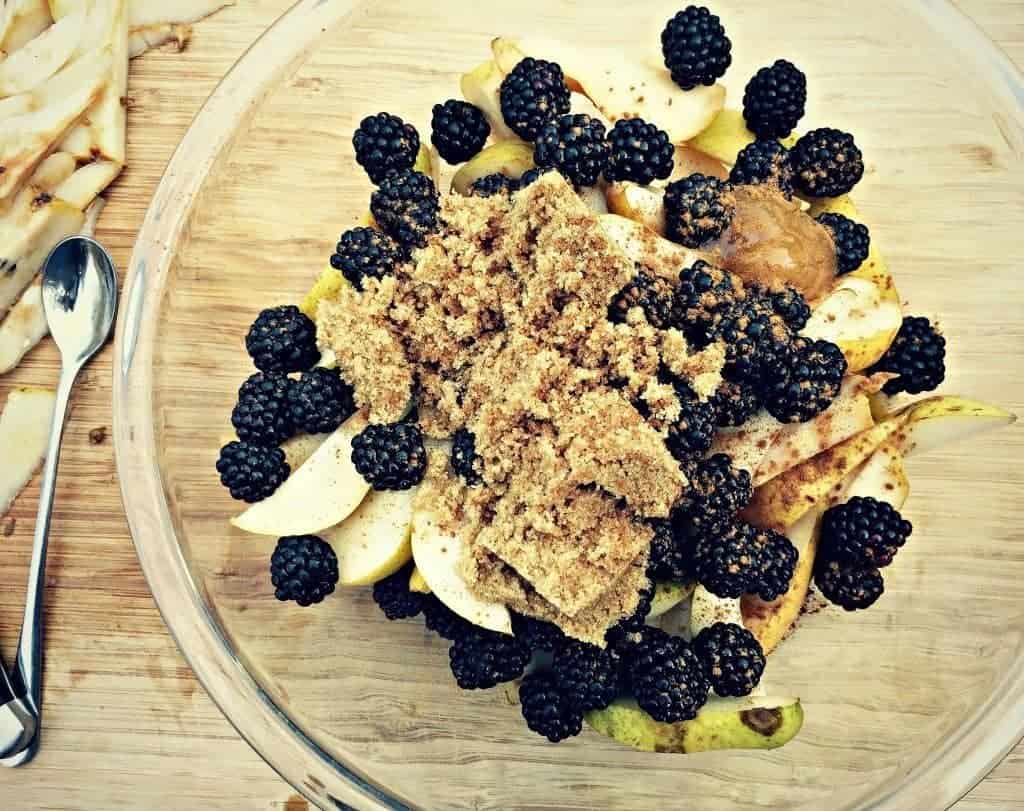 Stir it all together and set aside to macerate (that's when you mix together fruit with sugar and let it sit and get all cozy together).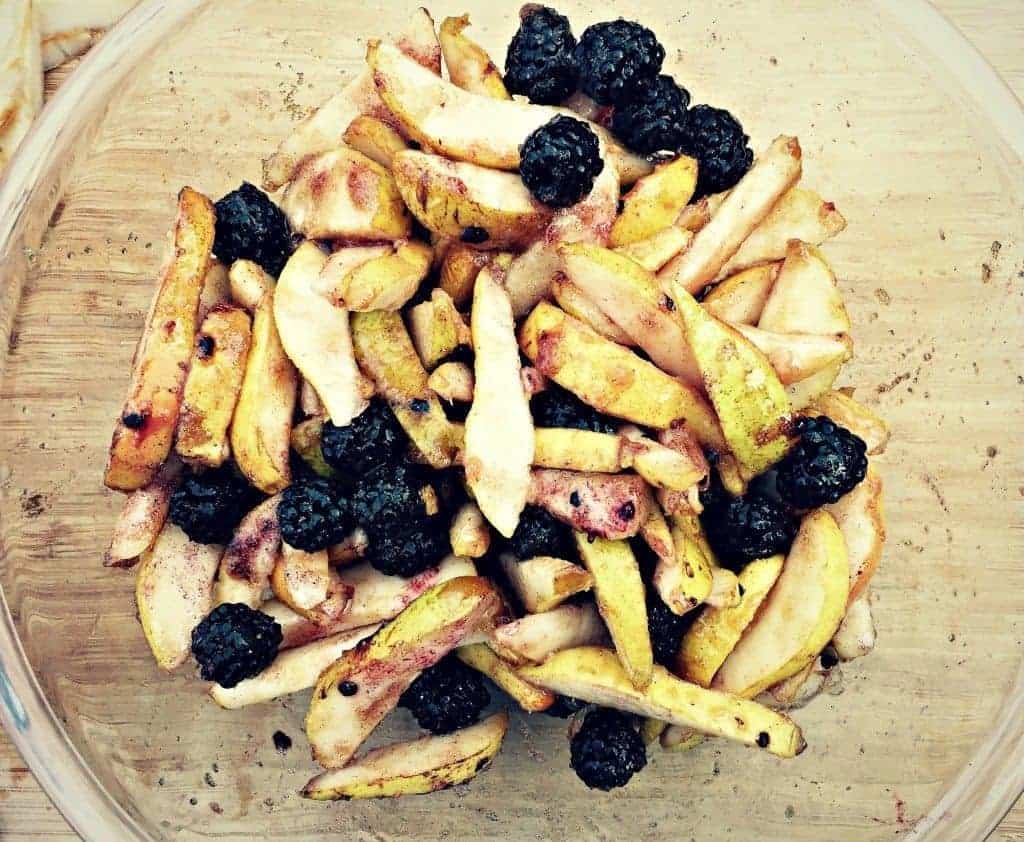 Next, you'll want to preheat your oven to 375°F, then get together your ingredients for the awesome crumble topping.
Crumble Topping
4 Tbsp softened butter (or coconut oil for dairy free)
1/2 cup brown sugar
1/2 cup flour
1/2 cup rolled oats
1/2 cup finely chopped walnuts (or other nuts), optional but recommended
1/2 cup unsweetened coconut, optional but recommended
1/2 tsp vanilla extract
1/2 tsp cinnamon
pinch salt
Cream together butter and brown sugar.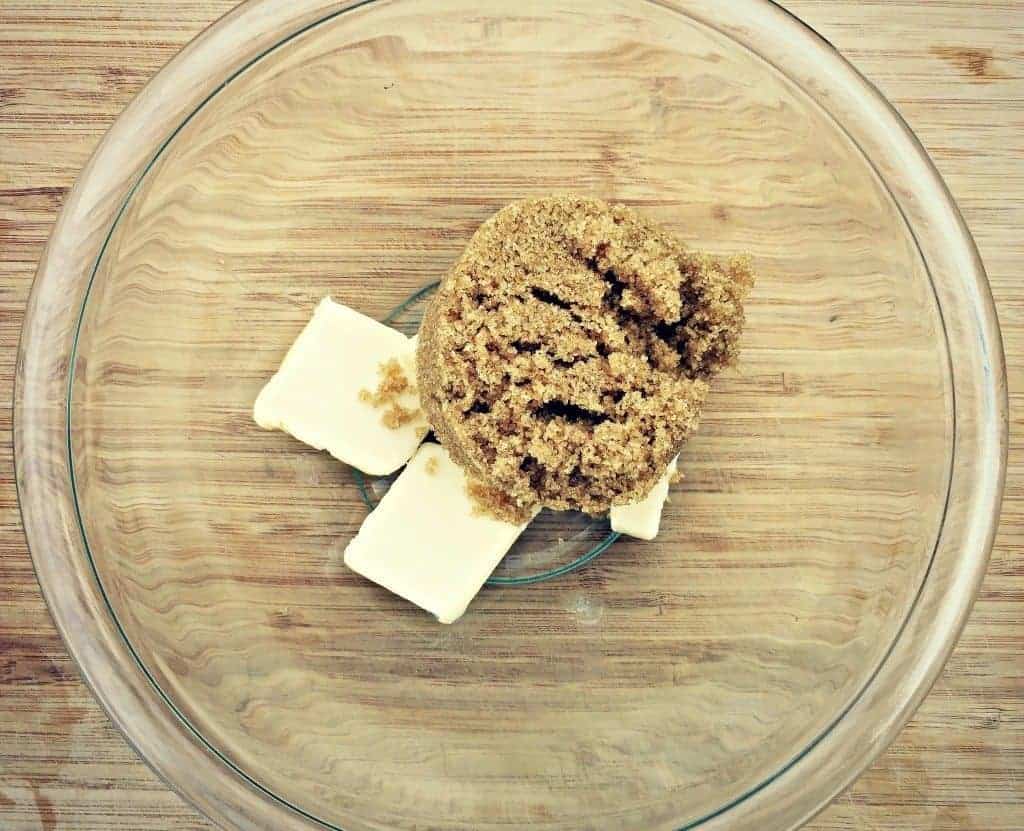 Then stir in the rest of the crumble ingredients.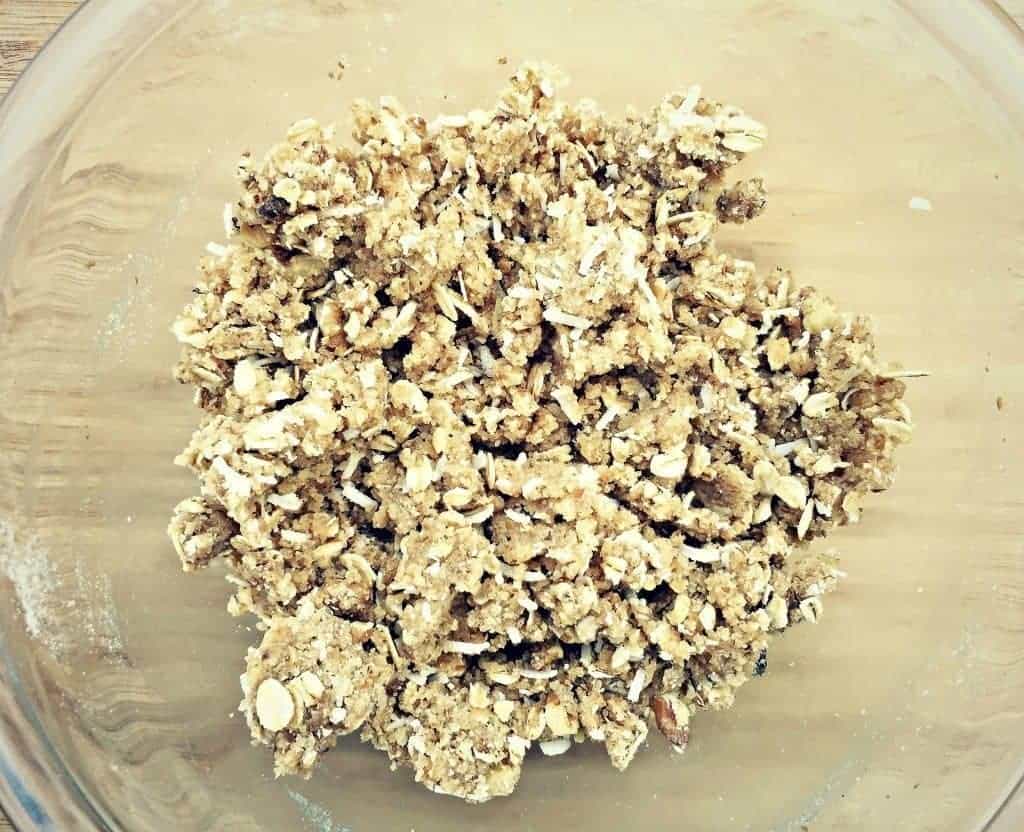 Whenever I'm making a recipe for a blog post, I'm always aware of the dishes that I use to make it look appealing for the internet (you know what I mean, right?).  Anyways, I didn't really have a great pan for this crisp, so I went searching at second hand stores like I usually do to find something cool, but still no luck.  So I was about to use my crappy pan when a lightbulb turned on in my head… Hello, cast iron skillet!  We are starting to acquire quite the collection of old and well seasoned cast iron pans, and use them for a majority of our cooking, but the thought never occurred to me before to make this crisp in one.
It worked out perfectly, but any other similar sized (8 or 9 inch) baking dish will work just fine.  Anyways, put the macerated fruit into your baking dish of choice.
Then distribute the crumble topping over the top.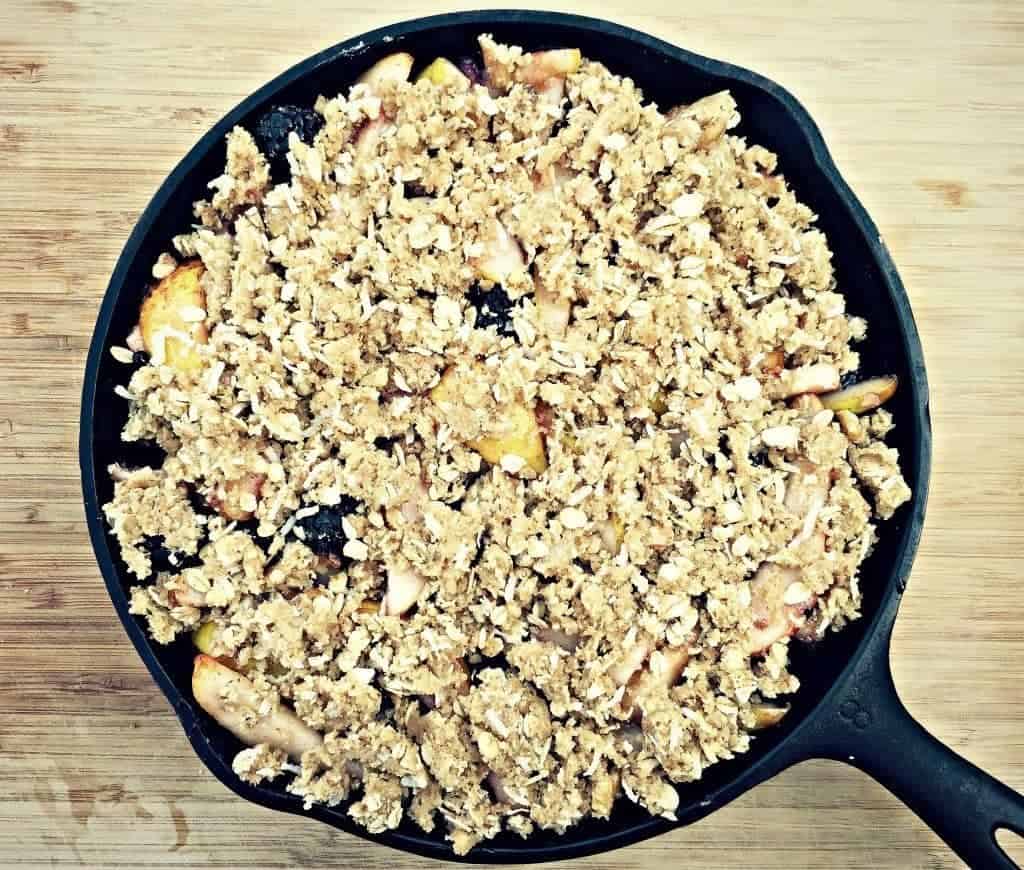 If your baking dish is super full you may want to put it on a sheet pan before putting in the oven in case of bubbling over.  Bake in the preheated 375°F oven for 30-45 minutes, or until the top is golden brown and the fruit juices are bubbly.  It should also smell wonderful!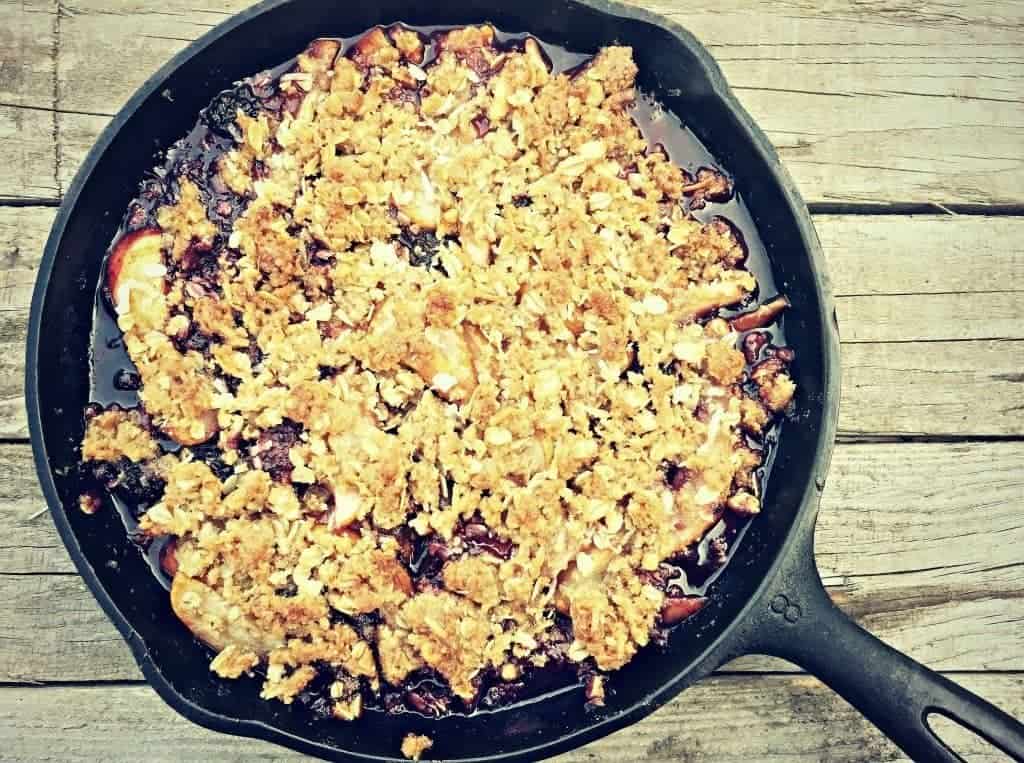 Let cool for as long as you can stand it.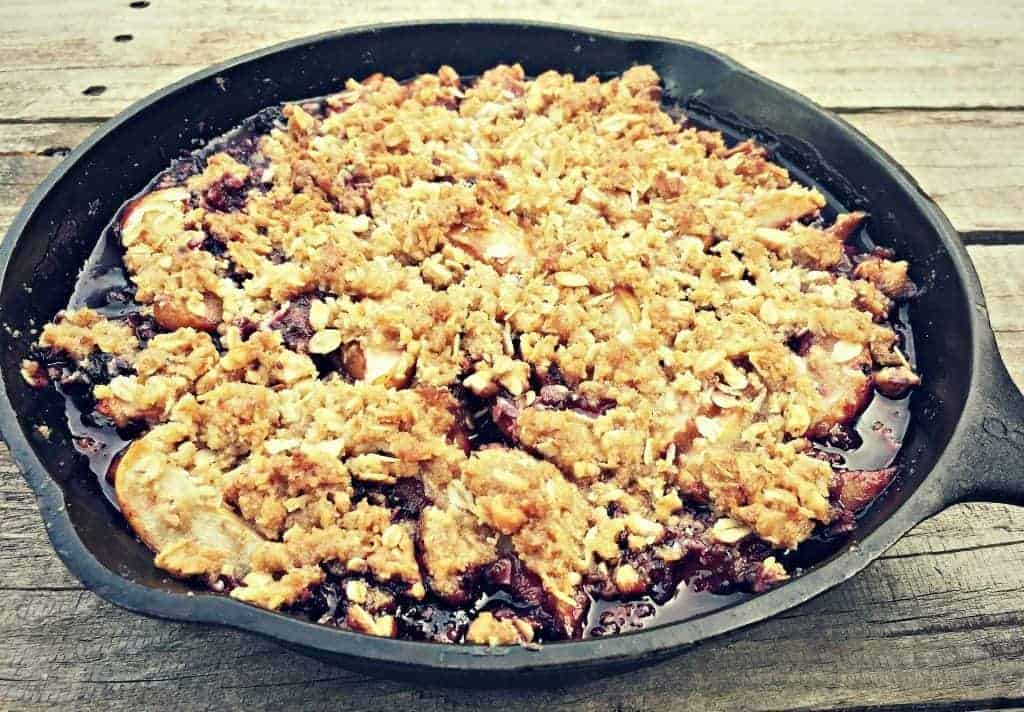 Then serve it up with a scoop of vanilla ice cream.  Sorry for the low light in this next photo, but this blog is about reality, so it was taken after dinner when it was dark out.  There was no way we were willing to waste a serving of this crisp and ice cream just for a beautiful photo op before dinner!
Oh man, was this awesome!  The pears were perfectly ripe and the blackberries were juicy and delicious.  Topped with some organic vanilla bean ice cream, you really can't go wrong!  The whole thing screams summer and I love it!  You should definitely make some variation of this as soon as you can.
Time to get your skillet pear and blackberry crisp on!
Save