Hello my friends! Today I have something really special for you. Cake. Yes, cake. I am usually not much of a sweets person, and when I do make something of that nature I almost always cut back on the sugar. I know, call me crazy, but that's just how I am. I'm also partial to desserts made with fruit or vegetables, with rhubarb pie, carrot cake, zucchini bread, and berry crisps being among my favorites. So when I got the opportunity to take a look at the new book Cake Stand from Reformation Acres, I was delighted to see that every single cake recipe uses farm fresh ingredients! Like actual fruits and veggies, which is so cool. After flipping through it, while all of the cakes sounded amazing, the one I knew I had to try was this blueberry cornmeal skillet cake.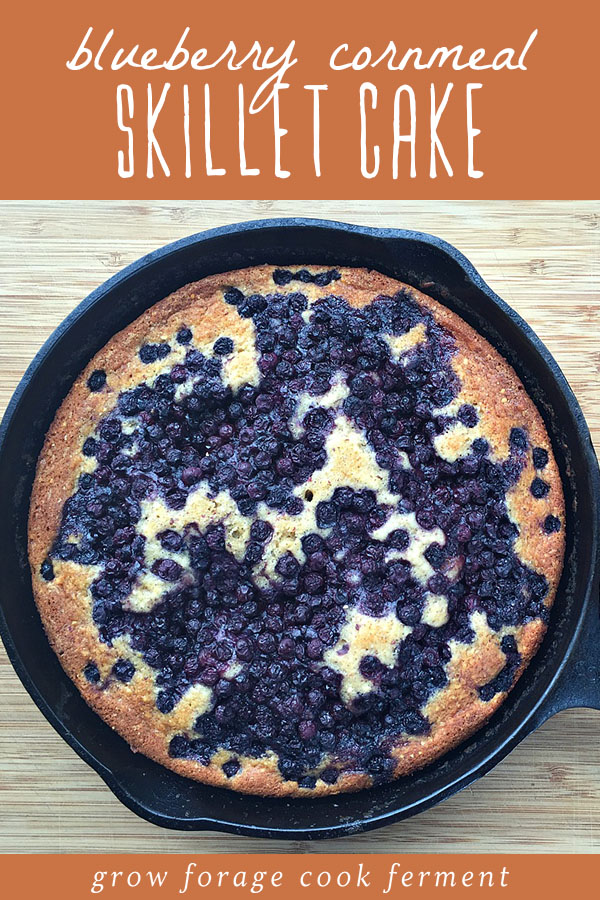 Blueberry Cornmeal Skillet Cake
I love me a skillet anything! Seriously, cooking and baking in cast iron brings me much joy. I love the rustic nature of it, and the fact that you can move it from stove top to oven. (And they're not very expensive either, get a 10-inch cast iron skillet from Amazon). You've seen me make my no-knead sourdough bread in cast iron, as well as my skillet pear and blackberry crisp. So, since this blueberry cornmeal skillet cake recipe was low in sugar, made with fruit, and baked in a cast iron skillet, it was a no brainer recipe for me to try!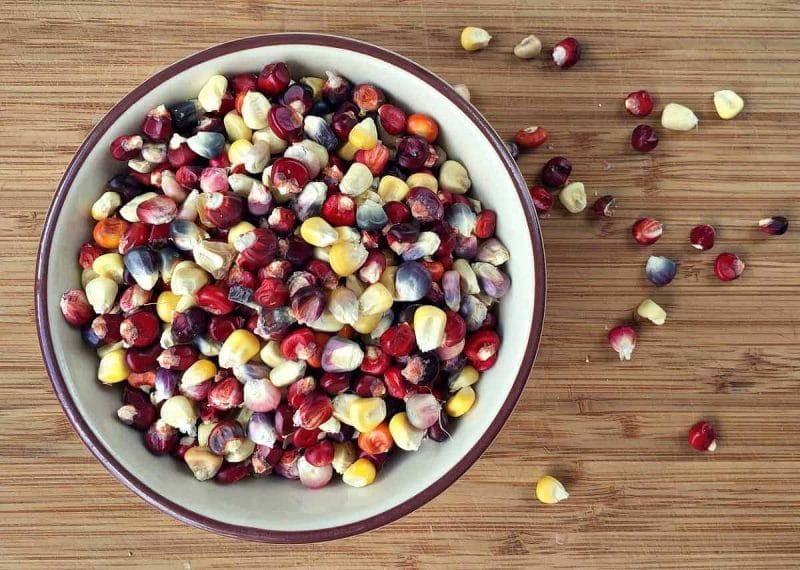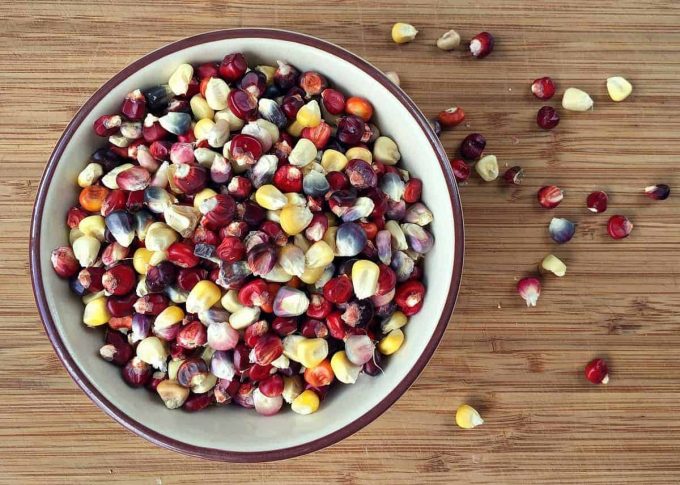 Also, the fact that it was a cornmeal cake was intriguing to me. I've had this locally grown flour corn that I got in a winter CSA veggie box sitting in a jar in the cupboard for a while now. So, I decided to grind it up in my blender into some beautiful cornmeal for this recipe. You can use whatever cornmeal you have on hand, though.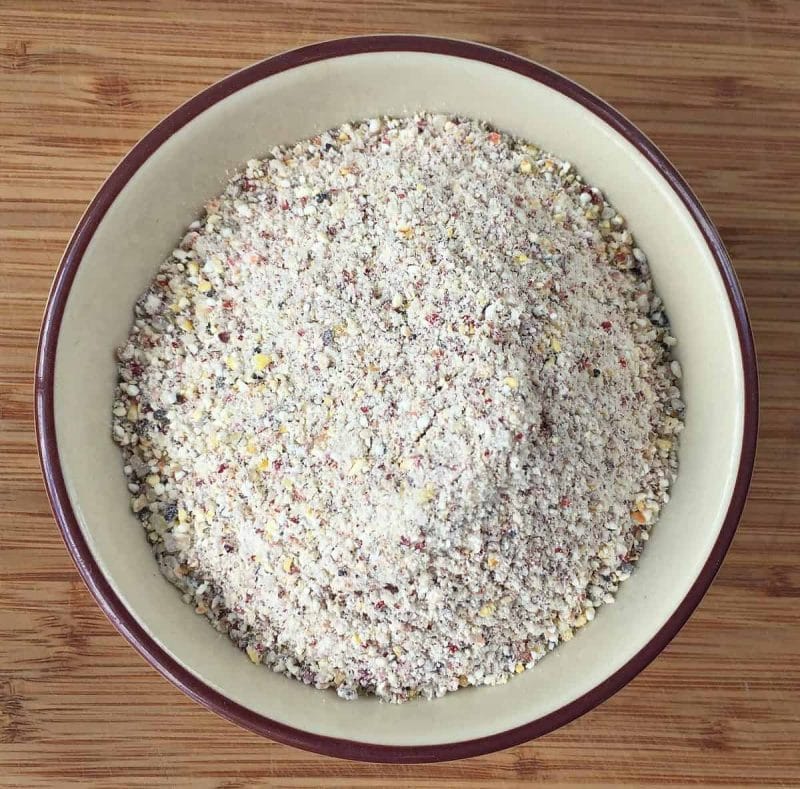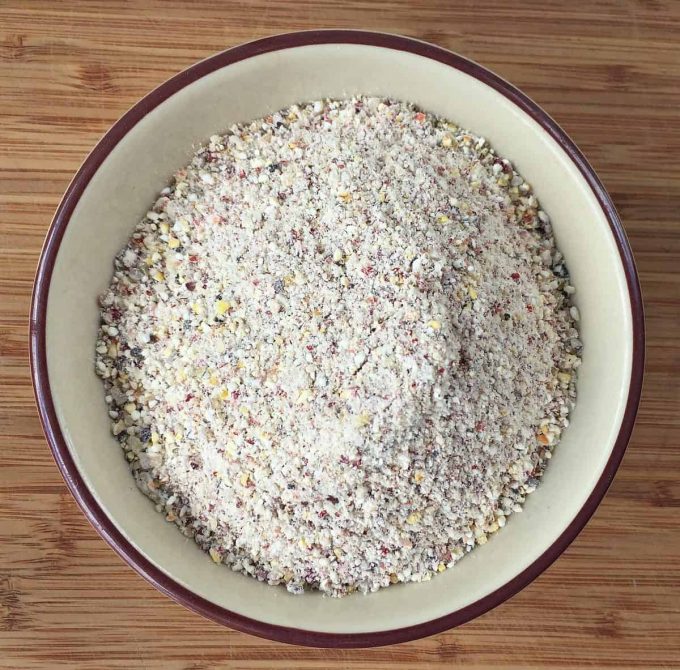 I used yogurt instead of sour cream, and frozen blueberries, because that's what I had on hand. I also did not use a stand mixer, I stirred everything by hand and it seemed to work just fine.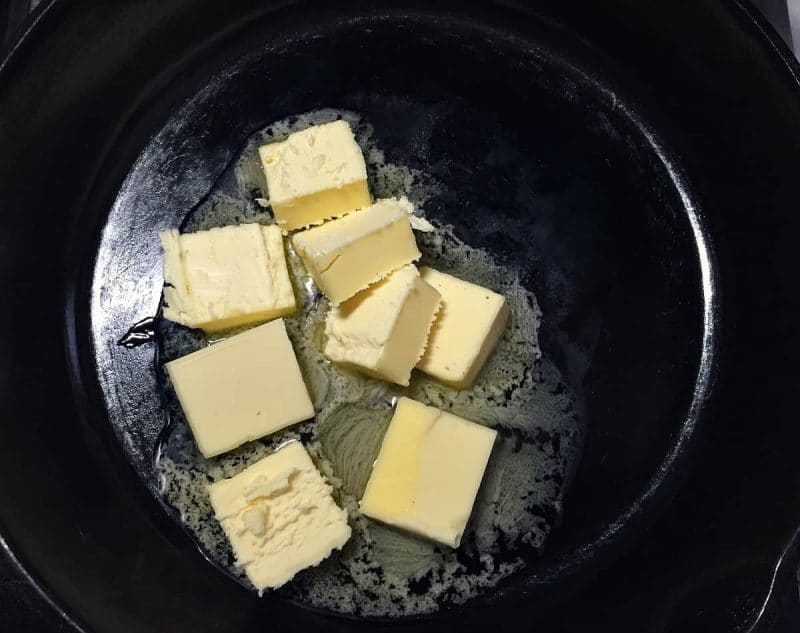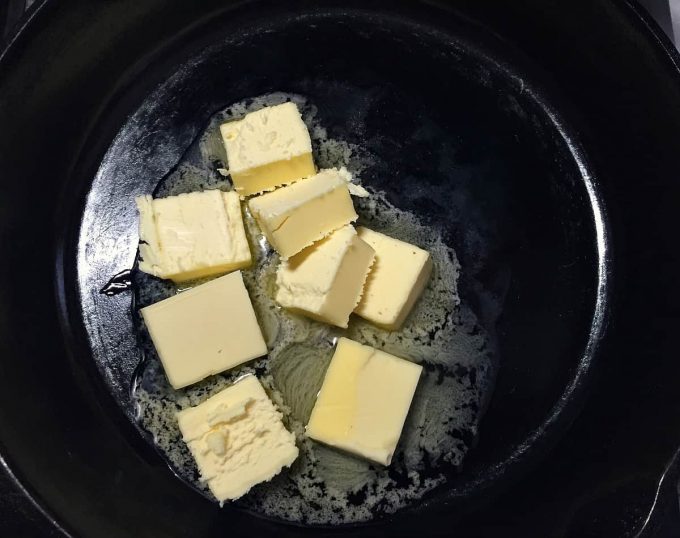 I was surprised that the recipe called for only putting the berries on top rather than stirring them into the batter, but I did as told (which you all should know by now that this is hard for me – I rarely follow a recipe exactly).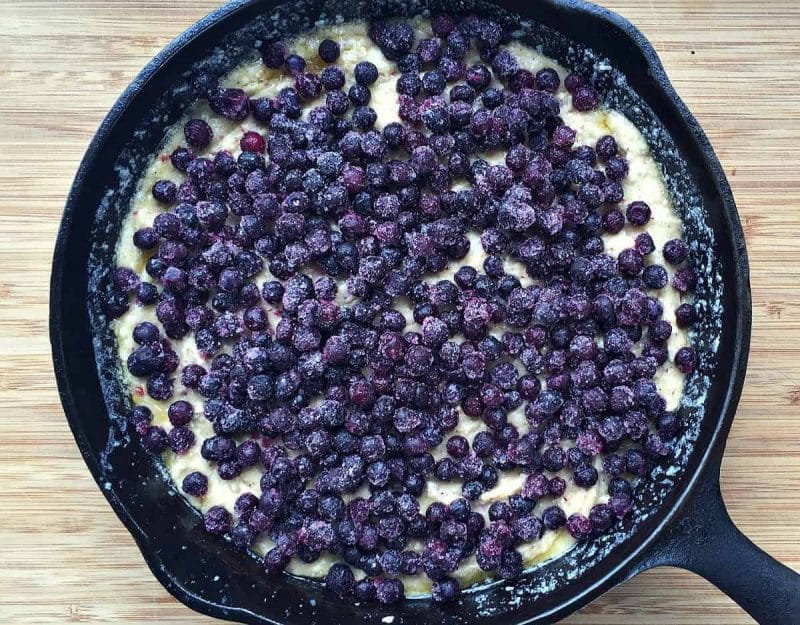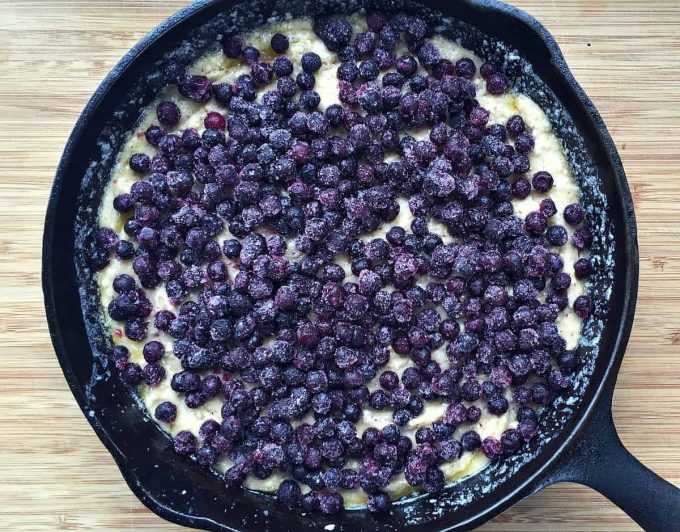 The end result was phenomenal! The smell coming from this cake was so amazing when I took it out of the oven, I couldn't wait to try it!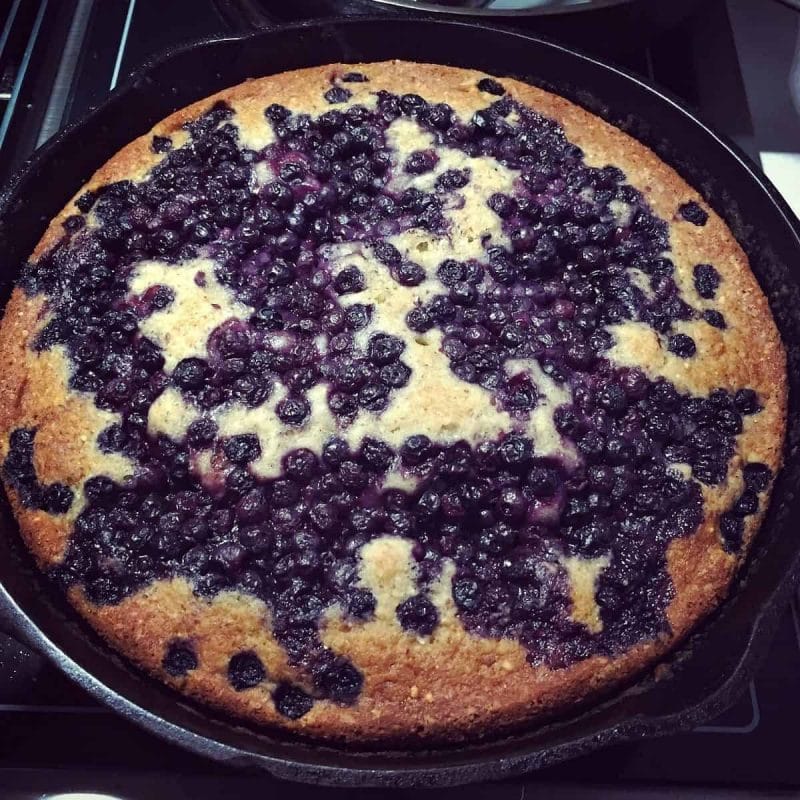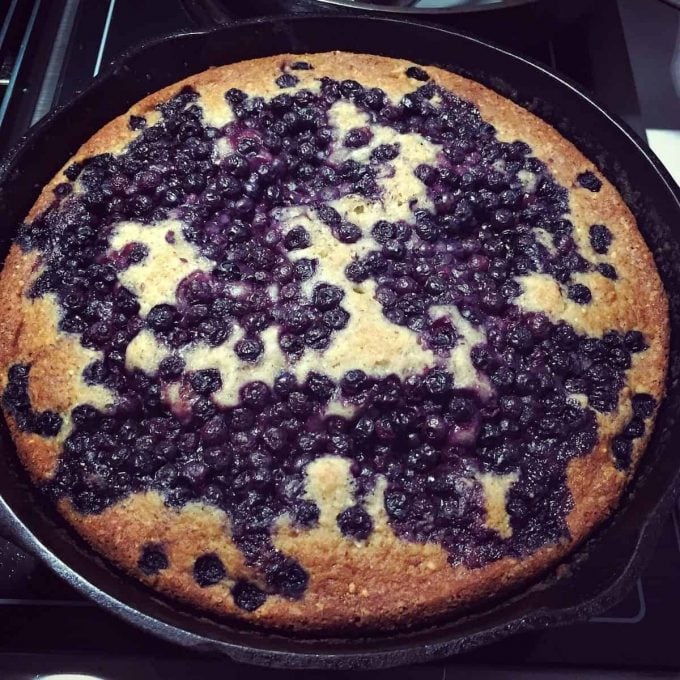 Some of the berries sunk into the cake as it baked, but a lot stayed on top as well, making it look irresistible!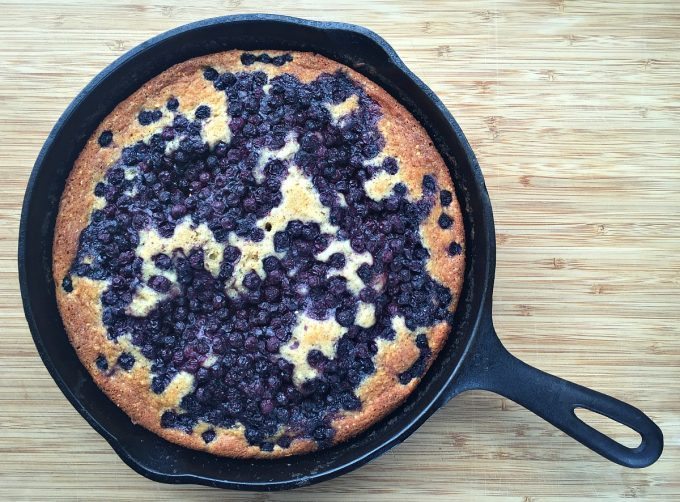 I let it cool just enough so that I could cut a piece to taste. It came out of the skillet easily.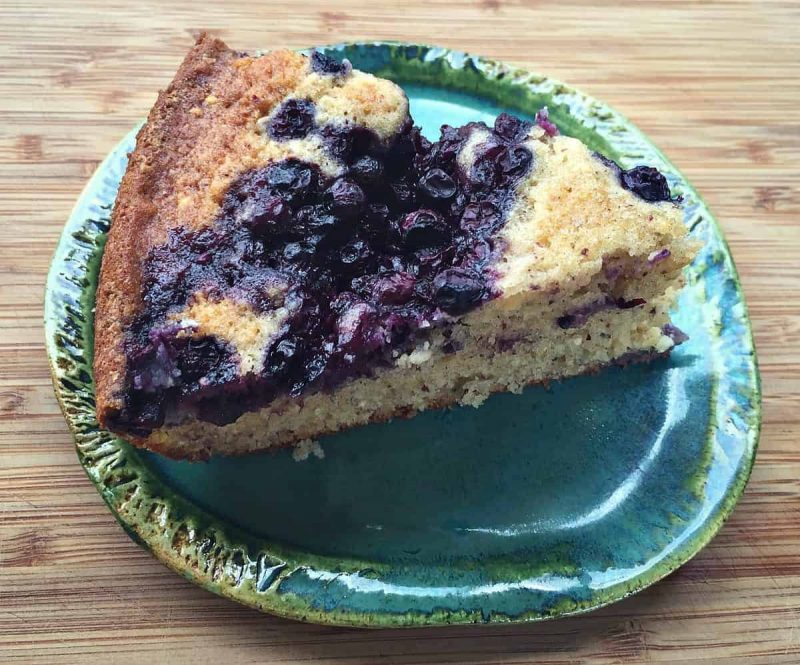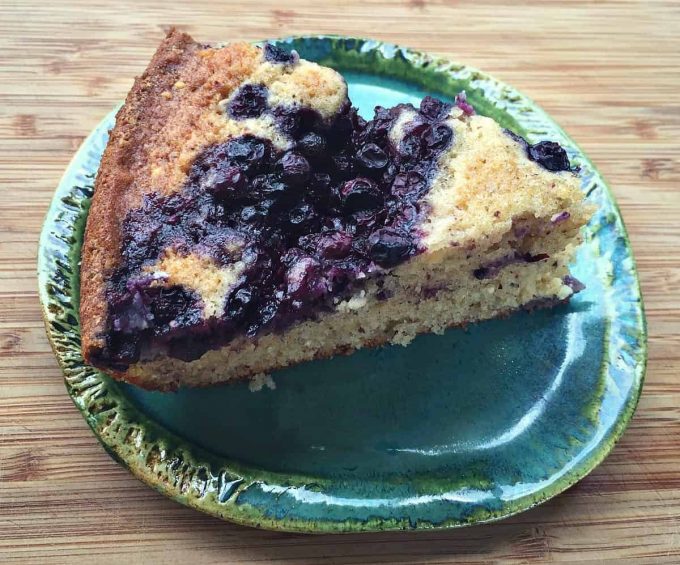 You guys, this cake was so unbelievably tasty! This is definitely one that I will be making again. It came together easily, had just the right amount of sweetness (not too much), and looked gorgeous right in the skillet that it was baked in.
Now, about this Cake Stand book. It's the perfect book for those of us who like to use garden fresh ingredients in our sweet treats. I'm going to be honest, the recipes in this book are for real, delicious, cakes, not "healthy" low fat versions.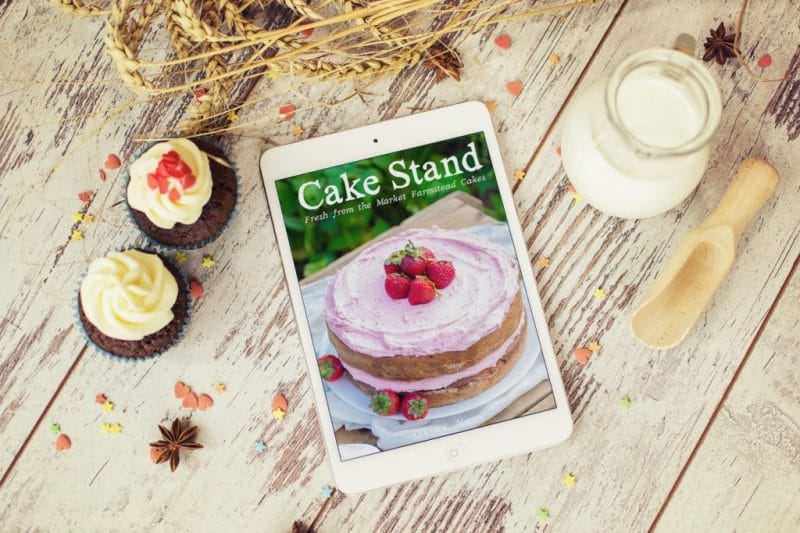 They are all recipes from scratch, with delicious sounding names such as Blackberry-Apple Wooden Spoon Cake, Caramel Pear Upside Down Cake, Strawberry Chamomile Cake, Sweet Potato Molasses Cupcakes, and Chocolate Kale Cake. I seriously want to make all of them, and I (supposedly) don't even like cake! Trust me, you will not be disappointed with this book.
---
Seasonal Farm Fresh Dessert Recipes
Looking to do a little extra baking with fresh, seasonal fruit? Try some more of my favorite recipes!
---
What is your favorite dessert that uses fresh from the garden produce?
Blueberry Cornmeal Skillet Cake Recipe
A rustic and delicious blueberry cornmeal skillet cake recipe!
Total Time
1
hour
5
minutes
Instructions
Preheat the oven to 375 degrees.

Heat a 10″ cast iron skillet over medium heat. Add the butter to the pan and allow it to melt. Brush it up the sides and then pour the rest into the bowl of a stand mixer.

Add the sugar to the butter and whip it together for a couple of minutes.

Add the eggs, one at a time, beating each until they are incorporated and then beat in the vanilla.

In a small bowl, whisk the flour, cornmeal, salt, baking powder, and baking soda together.

In a separate bowl, stir the honey into the sour cream (or yogurt).

Add the flour mixture and sour cream mixture to the stand mixer bowl in turns. Begin and end with the flour, beating each addition well and scraping sides when necessary.

Pour the batter into the skillet and sprinkle the berries over the top.

Bake the cake for 30 minutes and then cover it with foil. Continue baking for 10-15 minutes until it passes the toothpick test.
Nutrition
Serving:
1
slice
|
Calories:
392
kcal
|
Protein:
6
g
|
Fat:
16
g
|
Sodium:
439
mg
|
Potassium:
249
mg
|
Sugar:
28
g
|
Calcium:
70
mg
|
Iron:
2.3
mg