In spring and summer wildflowers start popping up everywhere. I love finding and identifying them, especially when I discover that they are edible or medicinal (or both!). Wild California poppies are a common sight for us here in Southern Oregon and in other western states. No, they won't quite put you to sleep like Dorothy from the Wizard of Oz, but they may make your life a little bit more cheery! Foraging for wild poppies is fun and they have many uses, which I will tell you about today.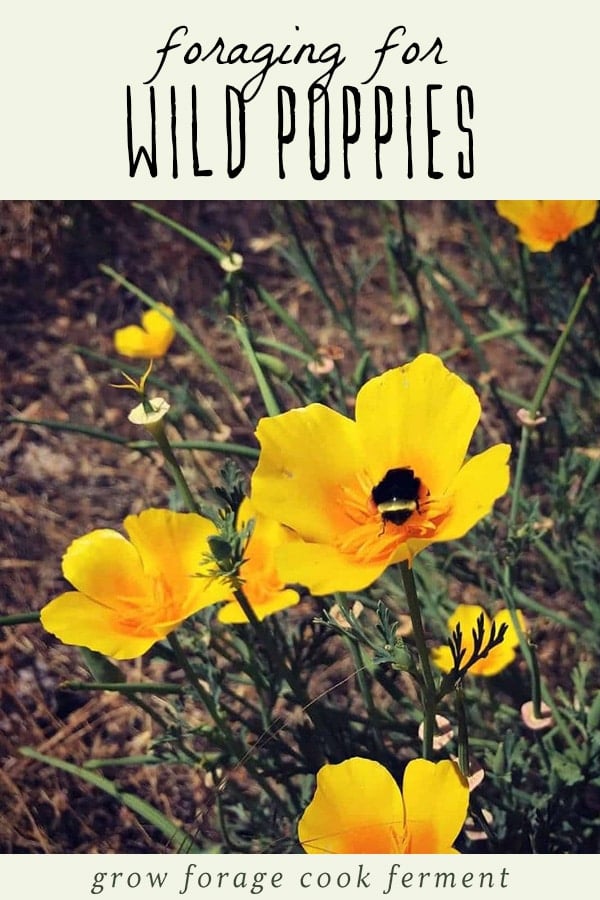 ---
Wildcrafting Weeds
If you want to learn more about the edible and medicinal weeds that surround us and how to use them, check out my eBook: Wildcrafting Weeds: 20 Easy to Forage Edible and Medicinal Plants (that might be growing in your backyard)!
Gather & Root Online Foraging Course
My online foraging course is a great way to learn about wild edible and medicinal plants! Learn more about the gather + root online foraging course here.
---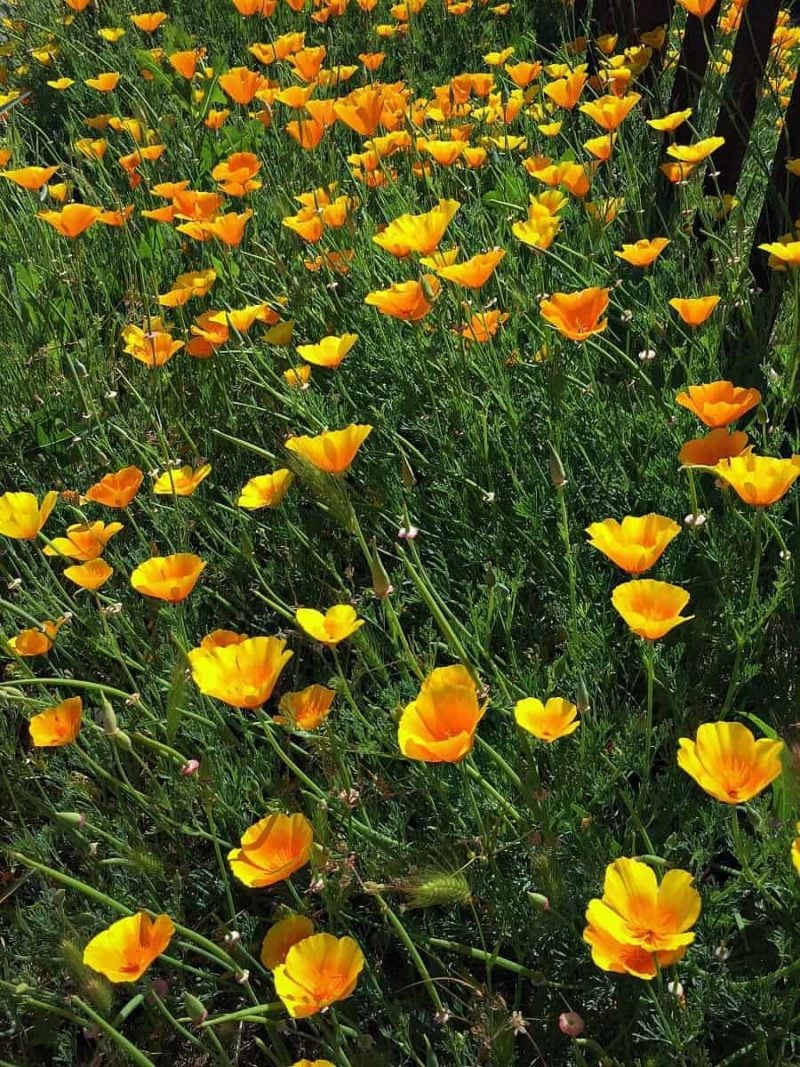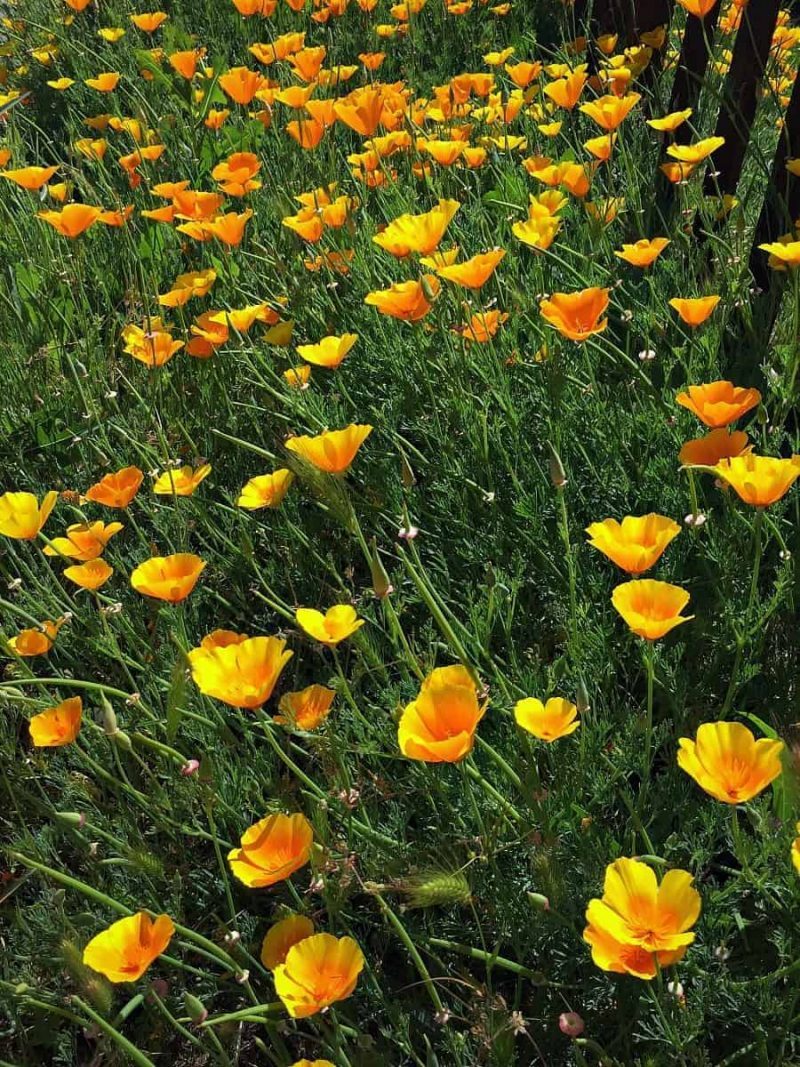 Foraging California Poppies
California poppies are the state flower of California, and they are quite common there, but their range starts to dwindle the further north you go.
There are many other varieties of wild poppies as well, all of which have similar uses, but the photos in this post are all of Eschscholzia californica, the California poppy.
California poppies grow very readily in rocky, drought laden areas and nutritionally poor soils. They will often grow in huge swathes, covering hillsides, canyons, and meadows.
It is truly a sight to behold!
But, it will also be that one little flower growing out of a crack in the sidewalk. In fact, there a couple growing out of the seam in the curb next to my mailbox right now!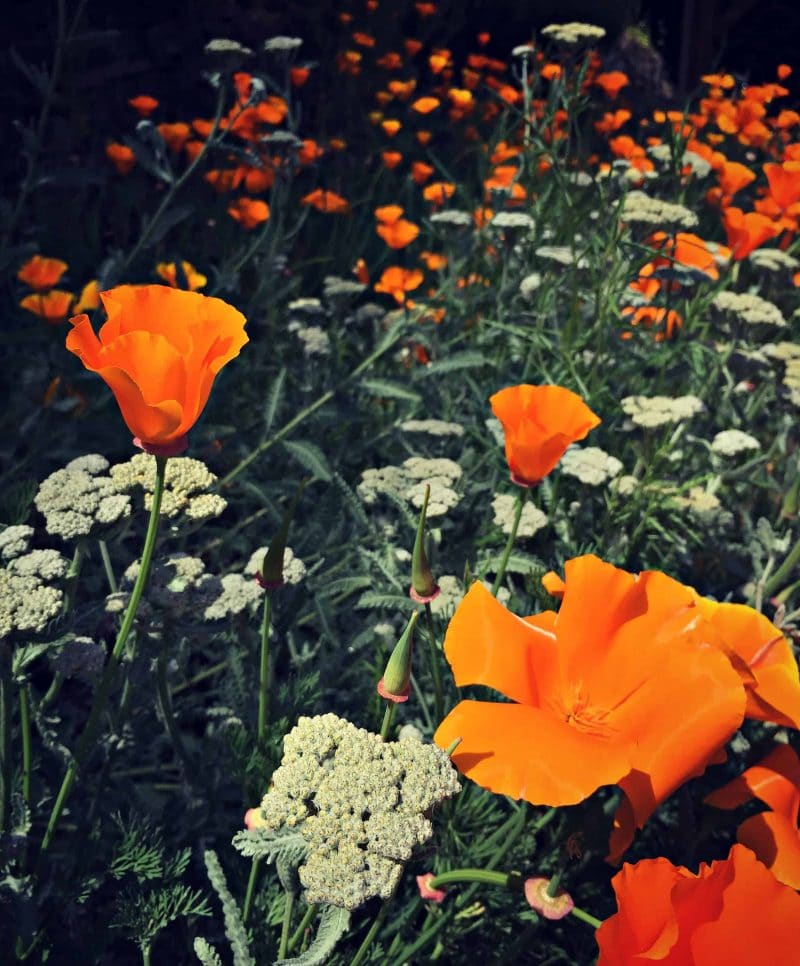 Eschscholzia californica are typically orange in color, but can be varying shades of yellow to reddish-orange.
There is one type that grows around here that is yellow with an orange center. So pretty!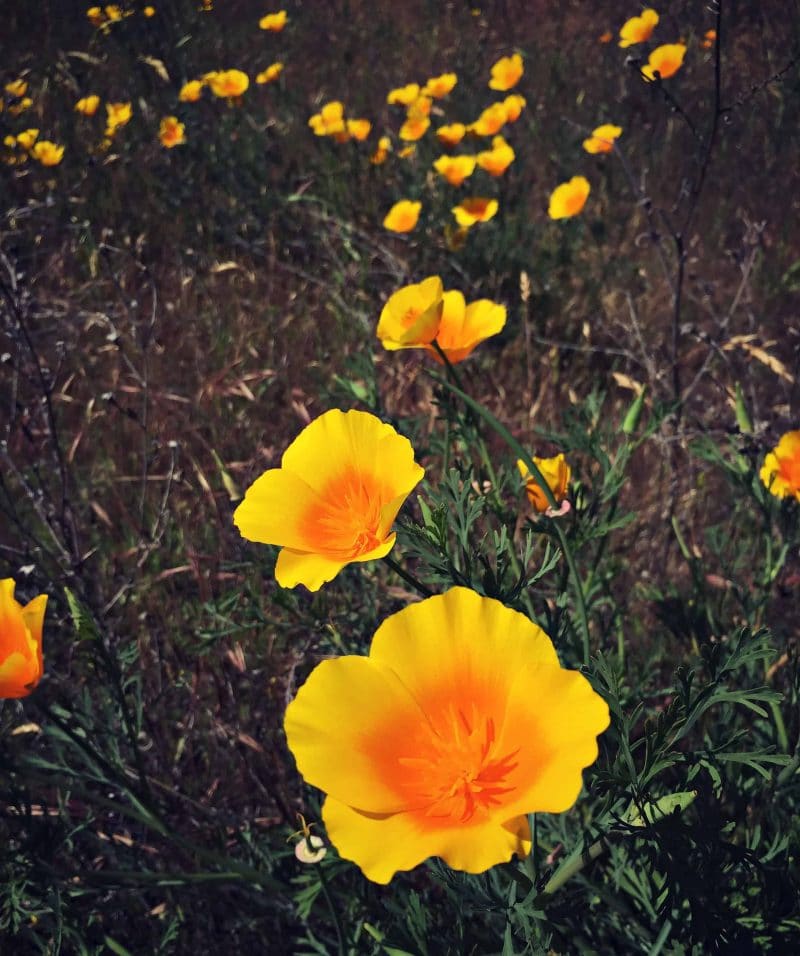 Bees love the wild poppies just as much as us humans!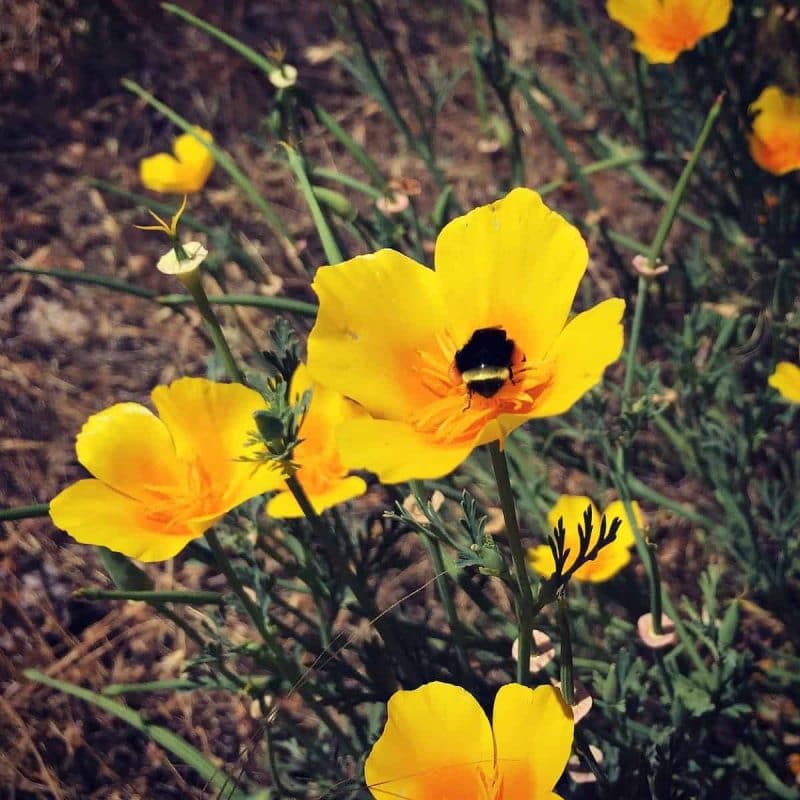 Is it Legal to Pick California Poppies?
One question that comes up over and over again is if it is legal to pick California poppies. It is actually a long running myth that picking them is illegal!
The truth is that there is no law against picking California poppies, even in the state of California where this myth seems to have begun.
What the law does say is that on certain public and government lands it is illegal to pick any wildflower or plant. In California it is not legal to pick any flower, including poppies, on state property.
So as long as you are in an area where wildflower picking is allowed, then it is perfectly fine to forage for California poppies!
California Poppy Uses and Benefits
Wild poppies are edible, the flowers can be used fresh in salads or in baked goods (try them in place of calendula in my calendula and thyme shortbread cookies).
If you are going to use them fresh, it's best to pick them right before use, as they wilt and fall apart very quickly.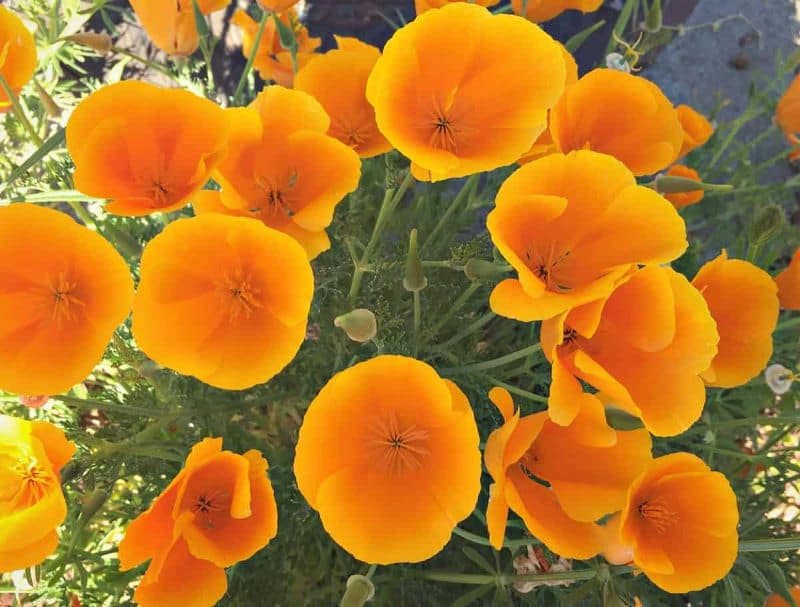 Poppies are also medicinal, the most potent variety being the opium poppy.
The California poppy isn't nearly as strong, however, and does not contain the same type of narcotics.
This makes them a wonderful sedative that helps with sleep, anxiety, nervous tension, and pain relief, without the addictive and disorientating nature of opium.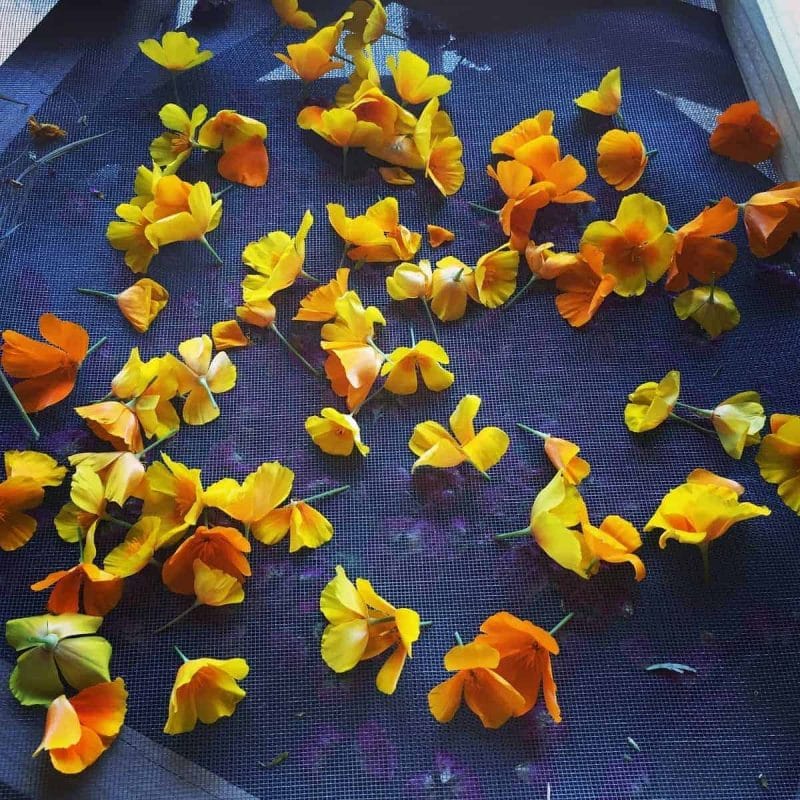 Wild poppies can be dried on a drying screen for future use in making teas, infusions, tinctures, or poultices.
They shrink down considerably when dried, so if you are able to pick a lot of flowers then do so!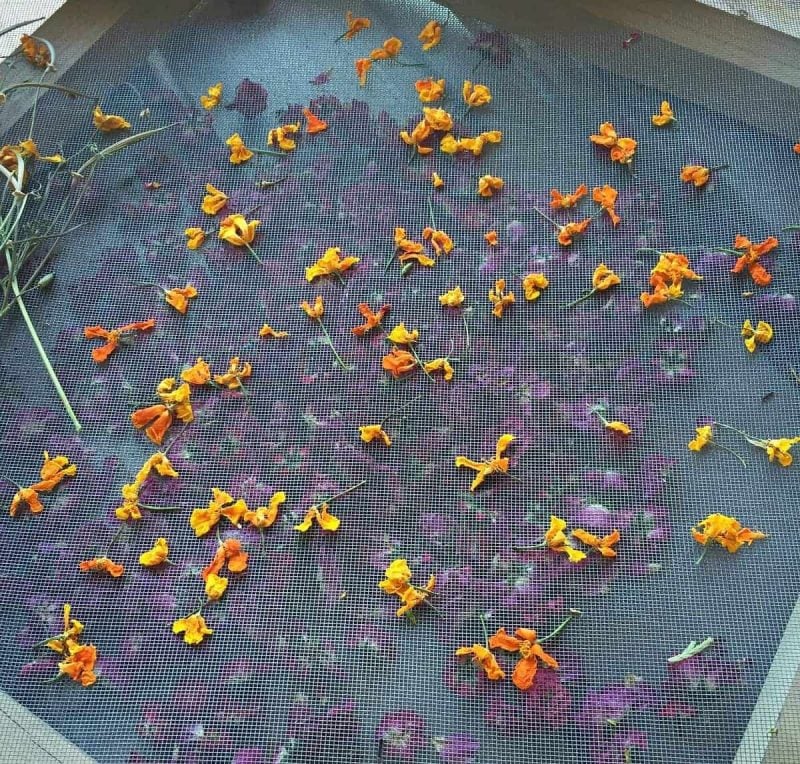 I think I'm going to make a tincture with these poppies, I will let you know how it turns out!
If you can't find any wild poppies, but still want to enjoy their benefits, you can purchase dried California poppies from Mountain Rose Herbs (my favorite place to buy high quality, organic, dried herbs).
Here is a list of other species of wild poppies that you may find:
Field Poppy – Papaver rhoeas – red with a black center
Wind Poppy – Stylomecon heterophylla – orange with a black center
Fire Poppy – Papaver californicum – red or orange, grows in recently burned areas
Prickly Poppies – Argemone genus – all varieties have spiny leaves
What kind of wild poppies grow in your area?
---
More Wildflower Foraging
Check out these other lovely flowers that are good for foraging!
---