I don't think I need to show anyone what dandelions look like. But I bet you don't know all the wonderful uses that they have! They truly are the perfect Grow Forage Cook Ferment plant, and then some. They are so incredibly versatile, yet also plentiful. You know what I mean as I'm sure that your yard has been covered with them at one point or another. Let's go foraging for dandelions!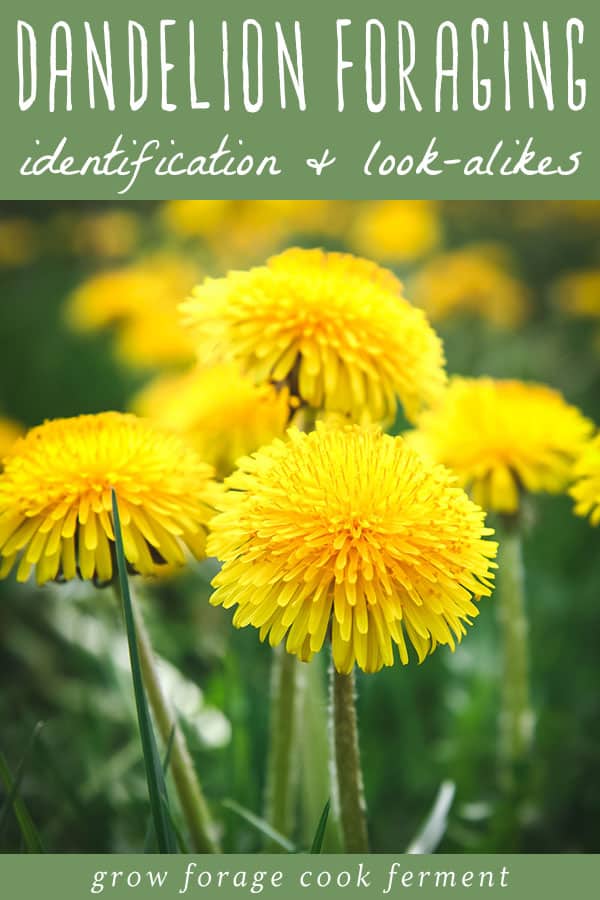 ---
Wildcrafting Weeds
If you want to learn more about the edible and medicinal weeds that surround us and how to use them, check out my eBook: Wildcrafting Weeds: 20 Easy to Forage Edible and Medicinal Plants (that might be growing in your backyard)!
Gather & Root Online Foraging Course
My online foraging course is a great way to learn about wild edible and medicinal plants! Sign up to learn more about the gather + root online foraging course here.
---
All About Dandelion
With their signature sunny flowers and spiky greens, dandelion (Taraxacum officinale) is an instantly recognizable plant that almost everyone is familiar with. All parts of dandelion are edible and medicinal, from the flower to the leaves to the root!
While dandelion is commonly classified as a weed (and often treated as such), it's actually a perennial herb with a long list of culinary and medicinal uses.
Because it's so widely available and familiar, dandelion is one of the best beginner plants for those who are new to foraging.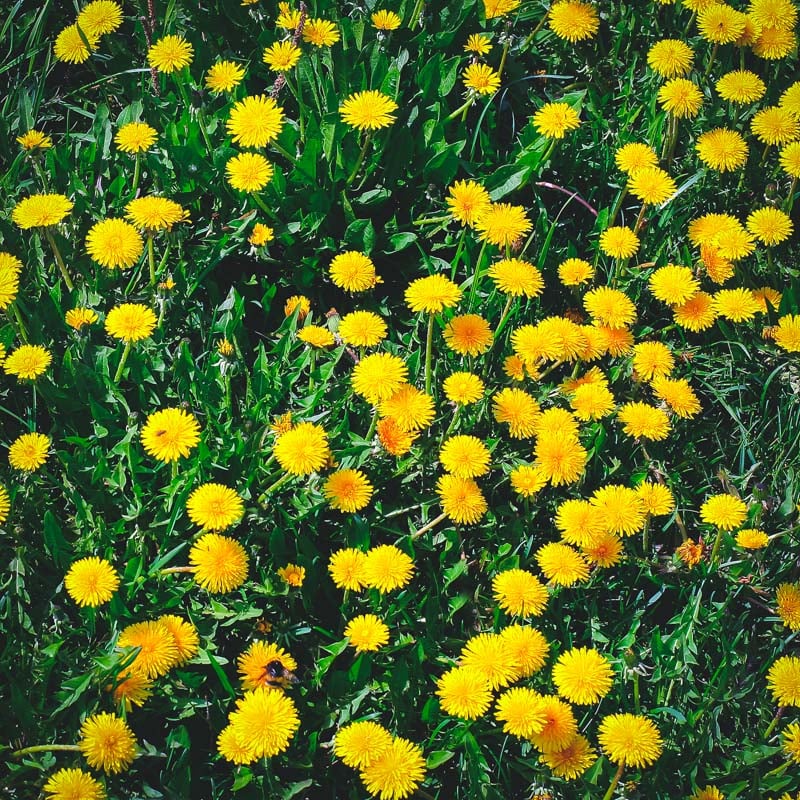 Where and When to Find Dandelions
Finding dandelion is rarely a problem as it grows all over the world (in all seven continents, in fact!) and it thrives in many different types of climates.
Depending on your location, dandelions are at their peak in terms of foraging during the spring and fall (although dandelions will grow year-round in warmer climates).
Dandelions grow on lawns, in gardens, parks, meadows, pastures, and disturbed areas. While dandelions prefer the coolness of the shade, they will still thrive in hotter locations with direct sunlight.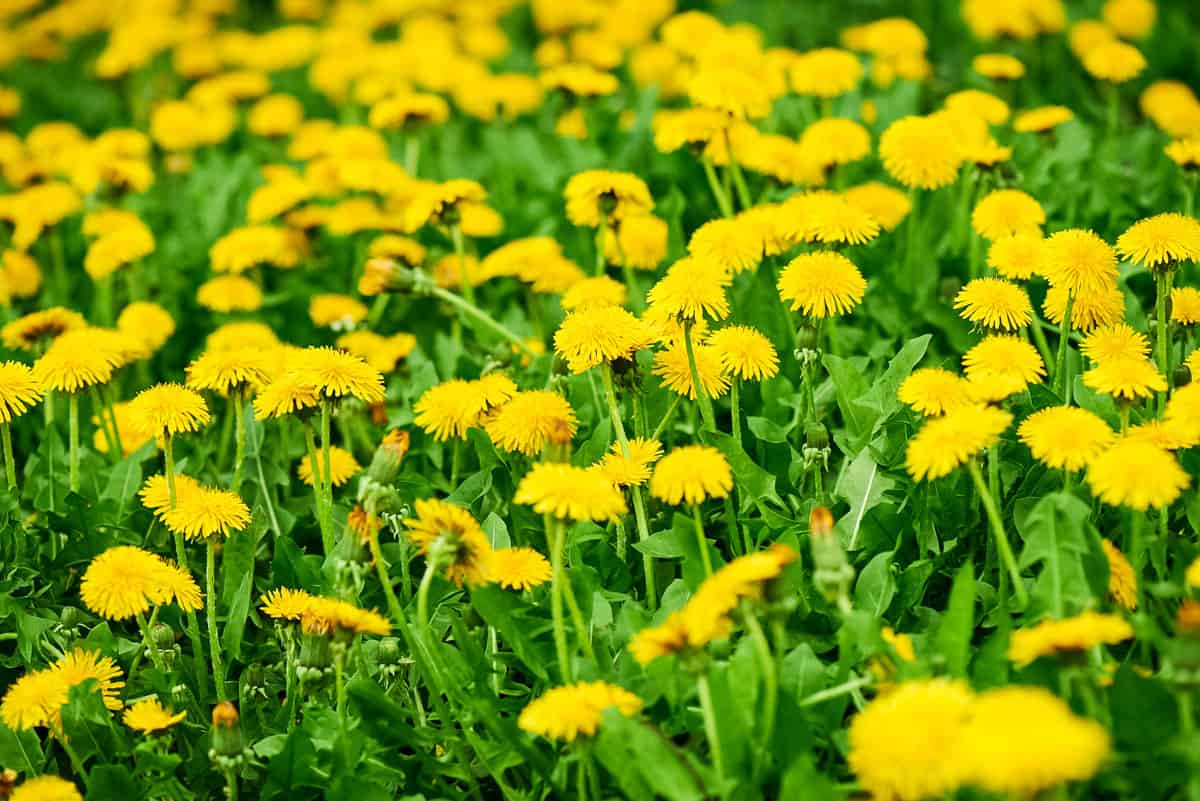 Identifying Dandelion
Dandelions are easily identifiable by their yellow blooms and basal leaves (leaves that grow from the bottom of the stem only).
Dandelion flowers grow on single, unbranching, hollow stems and the leaves are lobed and produce a milky sap.
The seed head is a familiar white puffball, you might remember making a wish and blowing on one of these puffballs as a child!
The root of the dandelion is a long taproot that brings nutrients to other nearby plants. It is often roasted and used as a caffeine-free coffee substitute.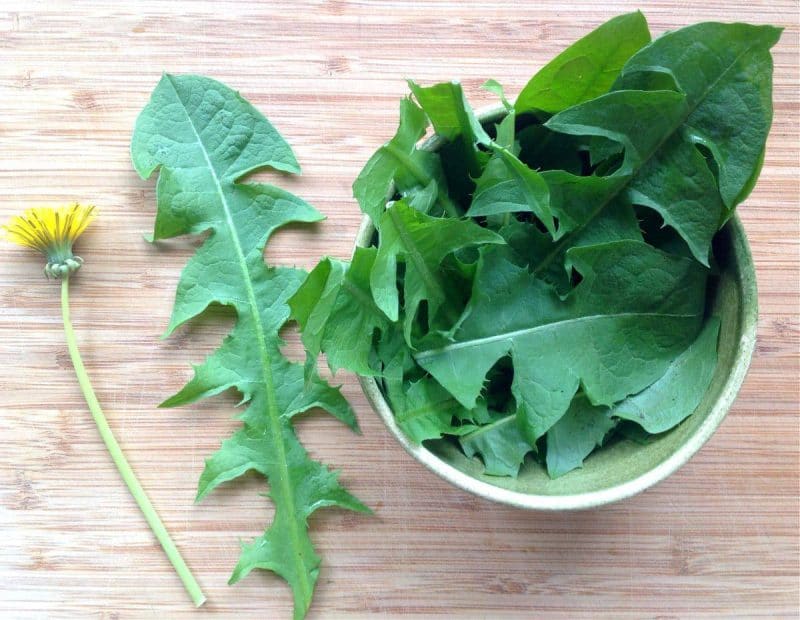 Harvesting Dandelions
From front lawns to parking lots, one of the most appealing aspects of foraging for dandelions is that the plant can be found everywhere and anywhere.
While many people will say that you need to save the dandelions for the bees, especially in early spring, that's actually a bit of a myth. Read more about why you really don't need to save the dandelions for the bees.
Because dandelions have such a pervasive presence, it's incredibly important to be mindful of the potential for herbicide and pesticide usage.
Stick to unsprayed dandelion plants on your own property or ask a friend or neighbor whether they'd be willing to let you forage their unsprayed dandelions.
It's always nice to return the favor if you've been foraging on the neighboring property — I like to show my thanks by gifting something I've made from the foraged material (such as this dandelion soap made with the whole plant!)
Ideally, dandelion flowers should be picked later in the morning when the blooms are completely open and dry.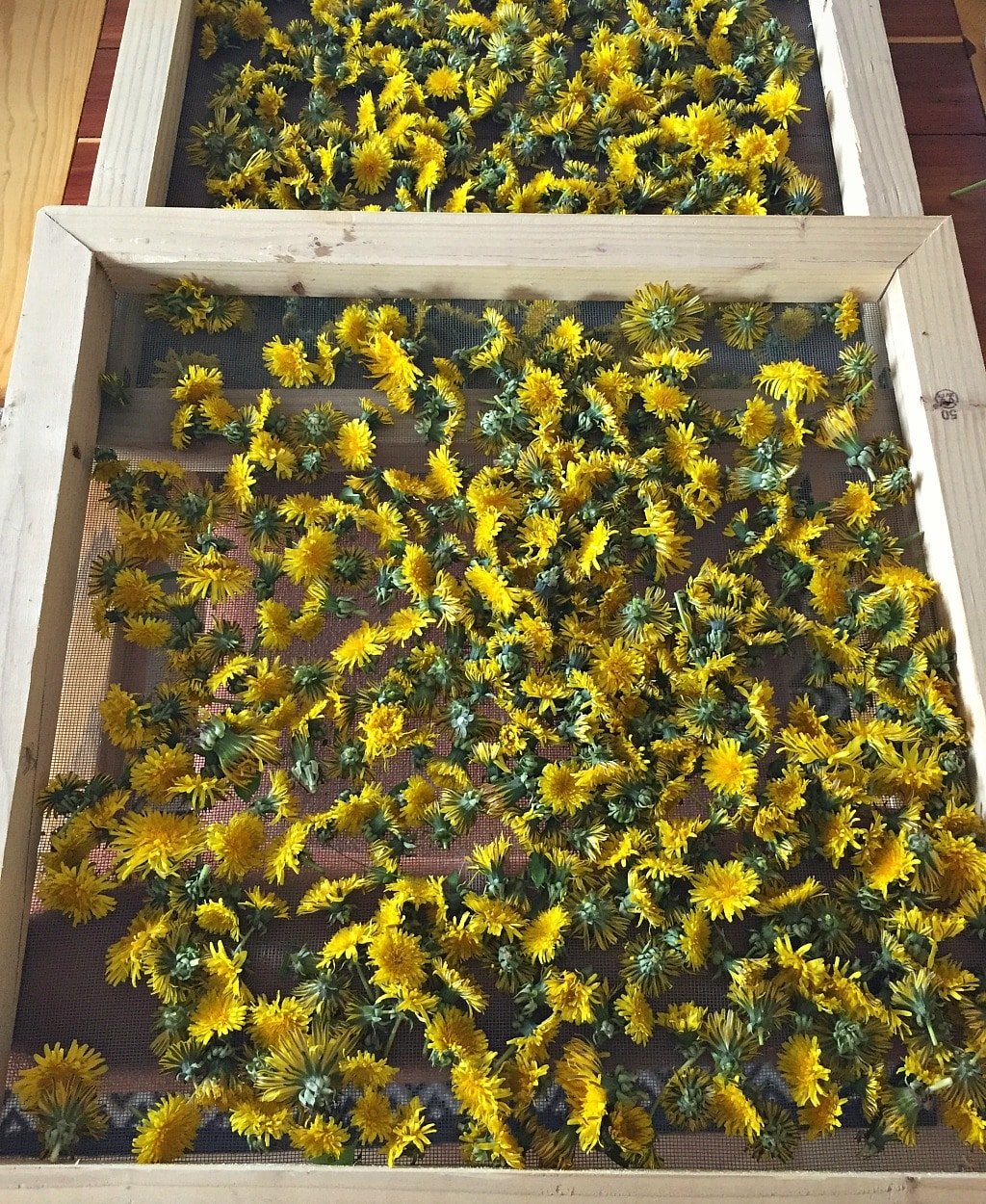 A flower drying screen (you can try making a simple drying screen at home using a few basic materials) is a great tool for removing all remaining moisture from the flowers. Be sure to limit the drying time to a day or two at most to prevent the blooms from becoming puffballs.
If you don't need the dried blooms immediately they can be frozen until ready to use.
Dandelion leaves can be harvested at any time but they're at their most tender during early spring. Look for big leaves with fewer lobes as they're the tastiest — they also tend to be less bitter than leaves harvested during the summertime.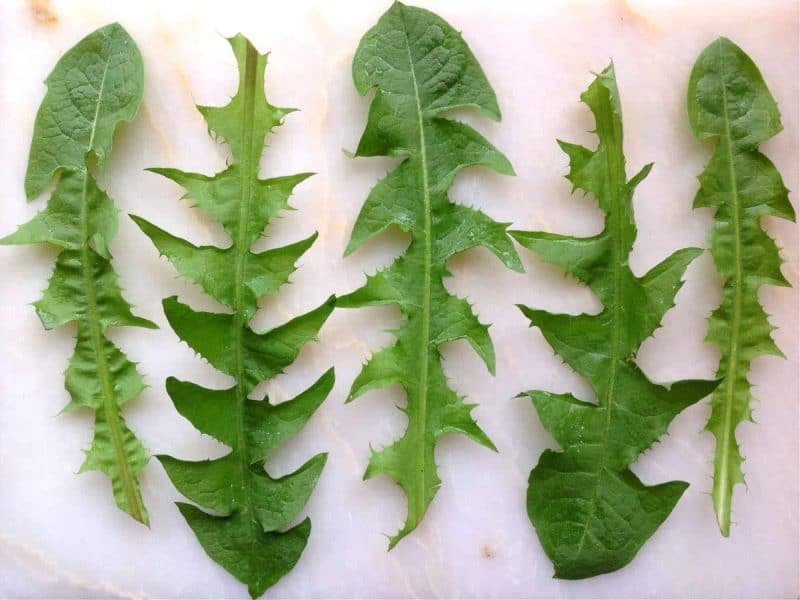 Use a drying screen to dehydrate dandelion leaves for future use.
Fall is the time to harvest the root, and you can see my post about it here: Foraging for Dandelion Root.
Dandelion Look-alikes
Dandelions share a similar appearance with several look-alike plants, none of which are toxic. They even have some of their own unique benefits. This is another reason dandelions are such a beginner-friendly plant to forage!
The differences between dandelions and "false dandelions" are subtle, but will become more easily identifiable with practice.
Here are two commonly found dandelion look-alikes:
Cat's Ear (Hypochaeris radicata) is the most likely to be mistaken for dandelion, as the flower heads look very similar. Cat's Ear do not have hollow stems and their stems are branching. They also have hairy leaves with deep notches.
Sow Thistle (Sonchus spp.) also do not have hollow stems, and the leaves grow up the entire stalk with multiple flowers growing from each stalk. In the thistle family, the mature plant is also has prickly spines.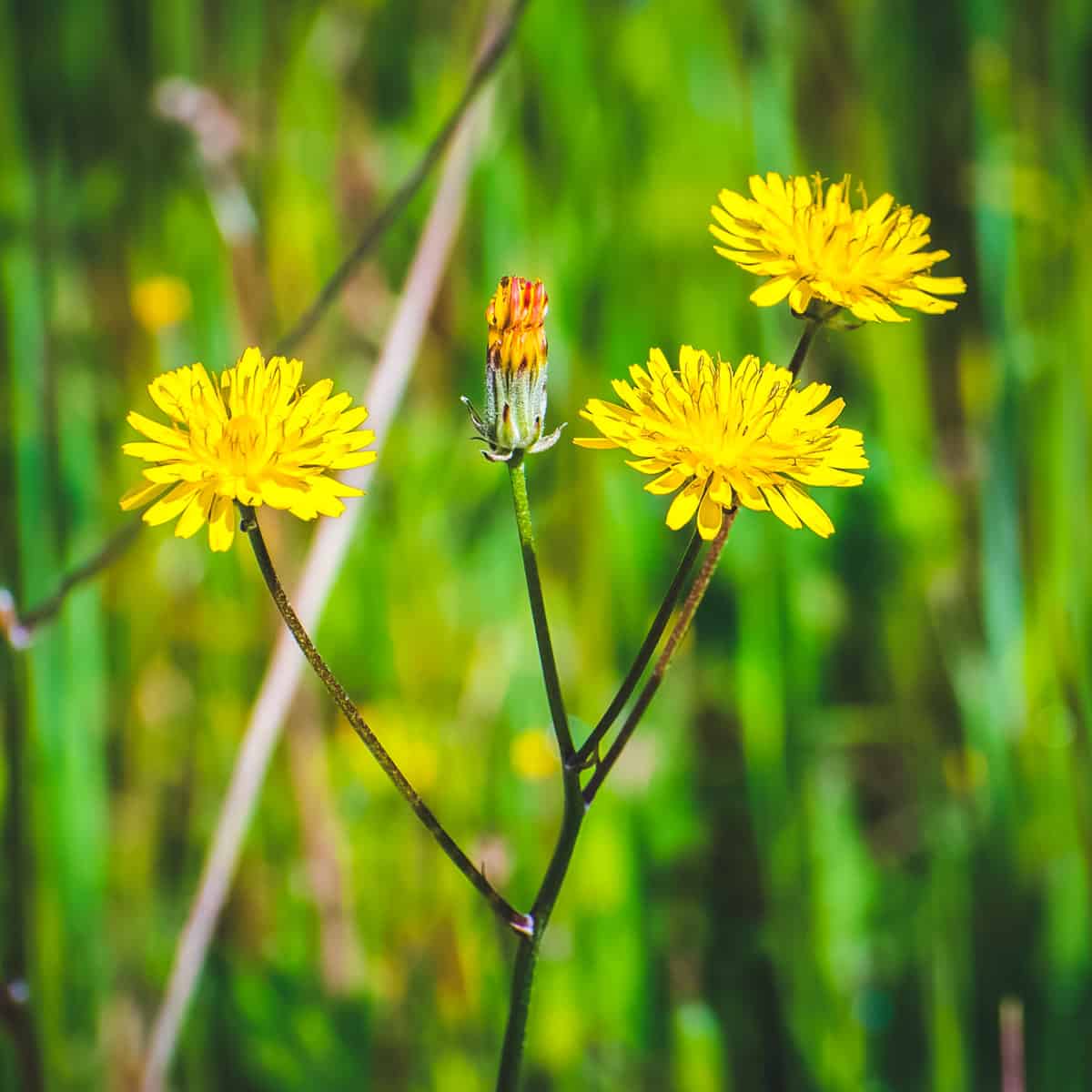 Edible Uses of Dandelion
If you love the peppery taste of arugula or radicchio in your salad, try adding freshly picked and washed dandelion greens in place of these traditional bitter greens.
The leaves can also be ground up to make a snappy dandelion pesto — the recipe calls for lemon juice to help neutralize some of the bitterness from the greens.
They can also be cooked up just like any other dark leafy green. The bold flavor of dandelion greens are delicious when they're paired with eggs, like in this recipe for sautéed dandelion greens with eggs.
In case you need more incentive to cook with dandelion greens, they're also highly nutritious! Dandelion greens are an excellent source of vitamins A, C, and K and are also a source of vitamin E, folate, iron, and calcium.
Unlike dandelion greens, dandelion flowers have a delicate and sweet flavor. They can be used to make dandelion jelly, tea, and even dandelion mead!
They're also a gorgeous addition to sweet and savory baked goods.
Give these recipes featuring dandelion a try the next time you've been out foraging: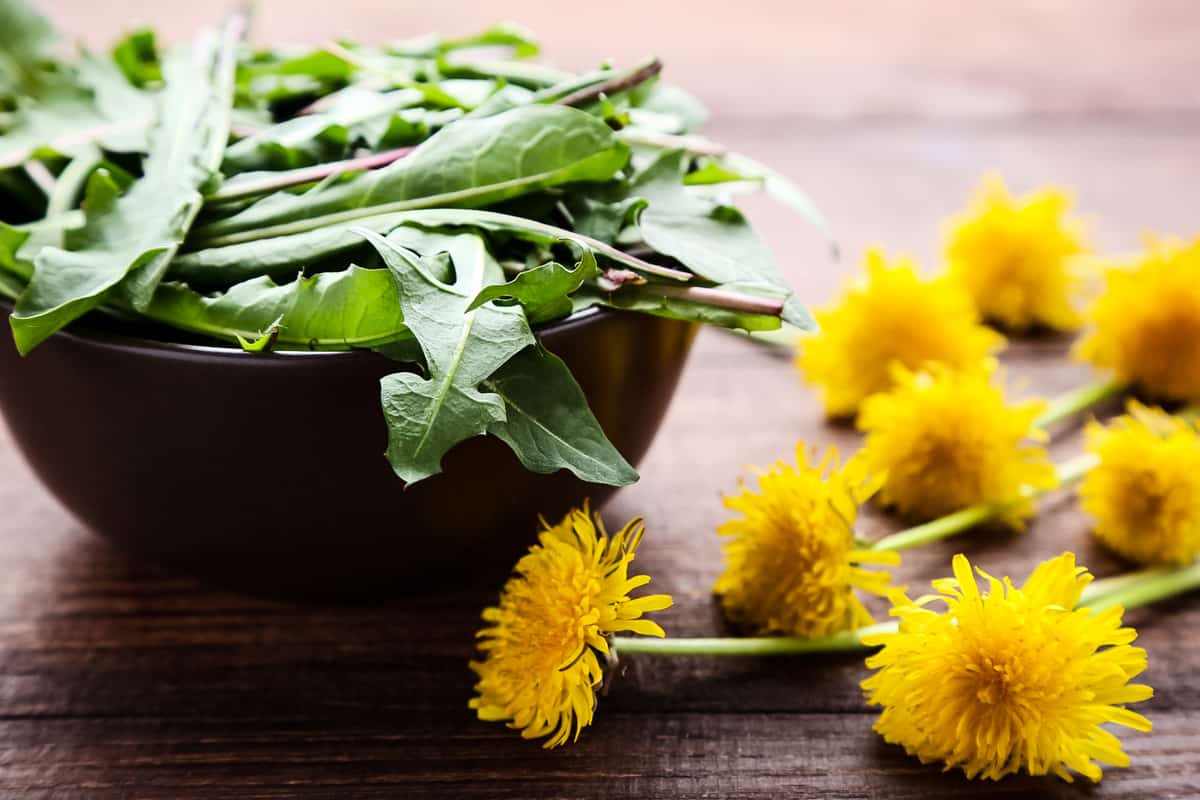 Medicinal Uses of Dandelion
Dandelion has a wide variety of medicinal uses; traditionally the entire plant has been used to aid digestion, help treat UTIs, improve kidney and liver function, and stimulate the appetite.
Try making this soothing dandelion salve (perfect for sore muscles and cracked, dry skin) or a dandelion tincture, which is taken directly or added to water in very small amounts.
You can also use dandelion leaves that have been harvested in early spring to make a delicately sweet dandelion herbal tea.
Want even more dandelion recipes? Here are 50+ Dandelion Recipes (including drinks, sweets, skincare, remedies, & more!)
Hope this inspires you to start thinking about foraging for dandelions rather than thinking of them as merely a pesky weed. Between its edible, medicinal, and fermentable qualities, you have yourself a wonder plant right in your own backyard!
Save
Save