I have an exciting foraged food recipe to share with you today! I've wanted to make dandelion pesto for a long time, but have recently been inspired by a brand new book by Rosalee de la Forêt, Alchemy of Herbs. This book is full of amazing herbal recipes, I really want to try them all! But, I really love pesto and the dandelions are starting to pop up, so this pesto made with bitter dandelion greens was first on my list. It's tasty and gives you some beneficial herbal actions, all at once!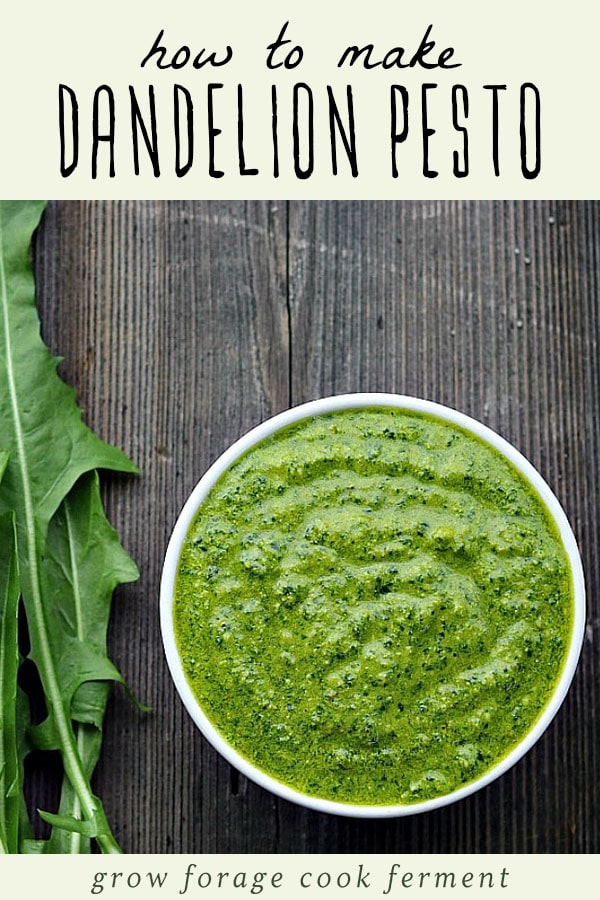 Since it's so early in the year, combined with the fact that we've had a rather cold winter, our local dandelion greens are rather small and not quite abundant yet. They are still around, though.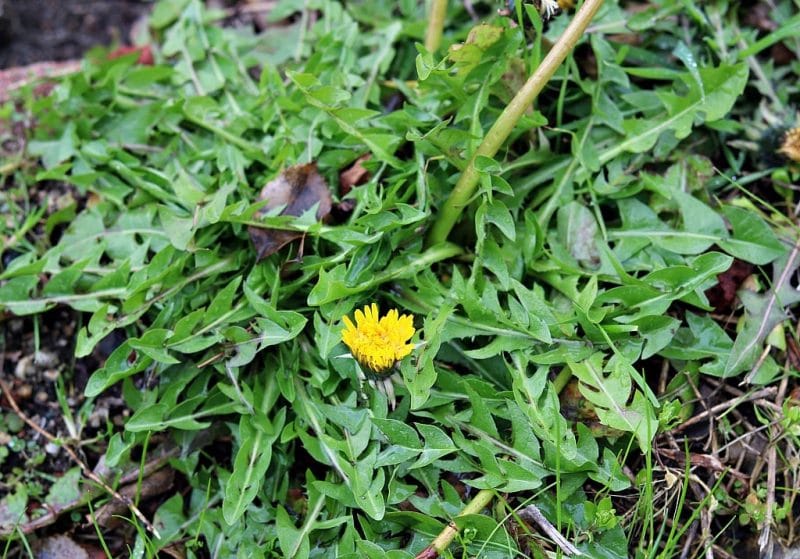 I didn't think I had quite enough to forage for this recipe, so I cheated slightly and bought a beautiful bunch of dandelion greens at my local food co-op. In a month or two there will probably be so many dandelion greens in and around my yard that I won't have to do this, but for now I thought I'd leave them be to grow a bit bigger.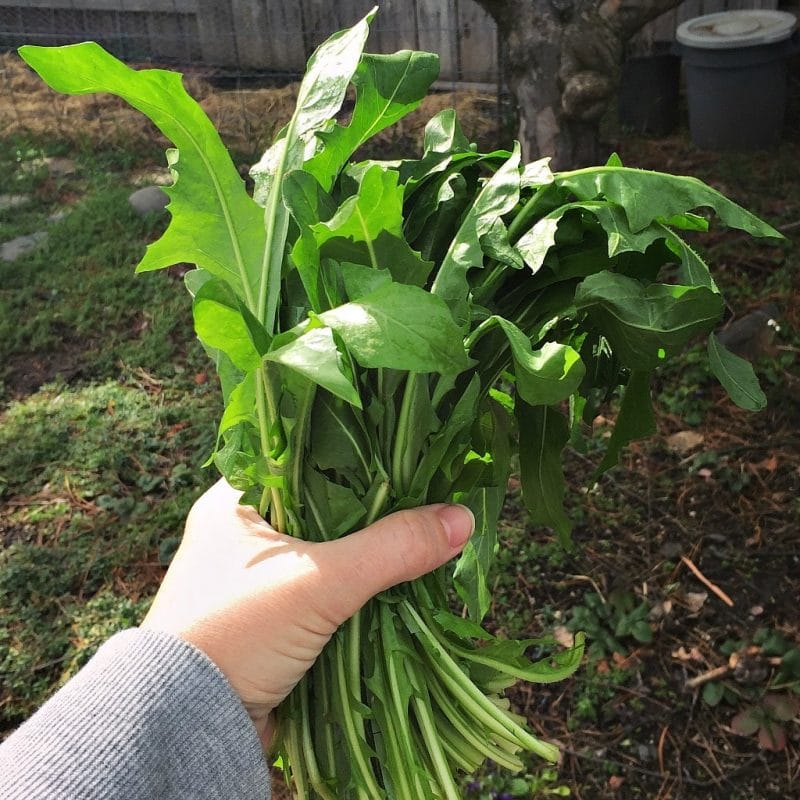 Anyways, I feel lucky to have access to such awesome food in my community! And these dandelion greens are absolutely gorgeous. They must come from a cultivated variety that are grown just for their large greens.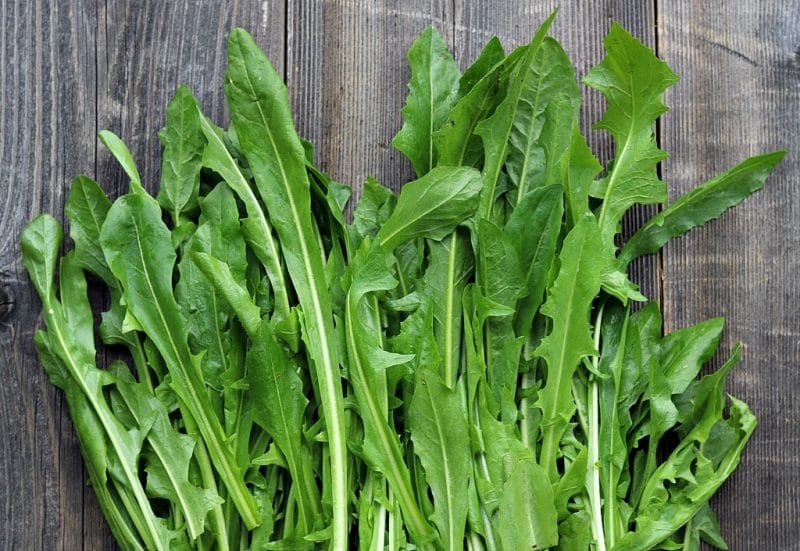 Dandelion Pesto
This dandelion pesto recipe is fairly standard as far as pesto recipes go, with a few minor changes. First, dandelion leaves replace basil, making it great for digestion and for the liver. The addition of lemon zest and juice tempers the bitterness of the dandelion greens, and the turmeric and black pepper gives the pesto anti-inflammatory properties.
If you can't find any dandelion greens, perhaps you'll have better luck making homemade pesto with arugula pesto or chickweed pesto. They're both delicious!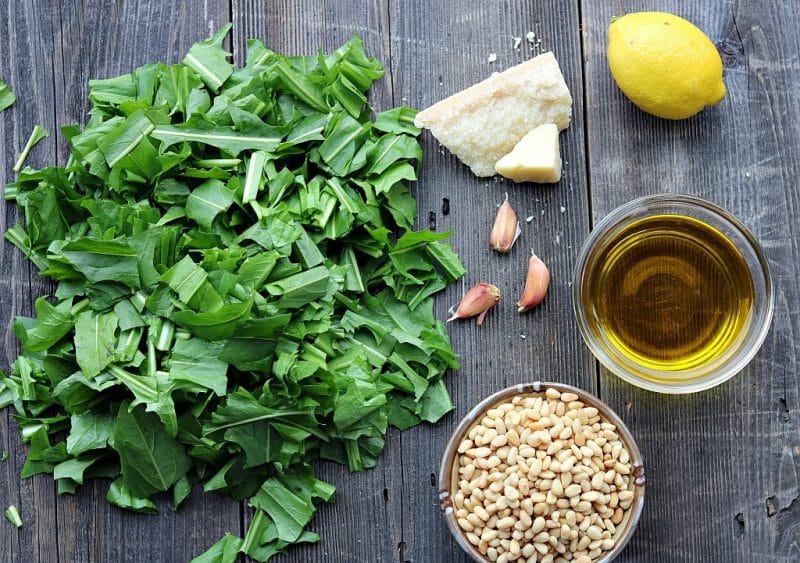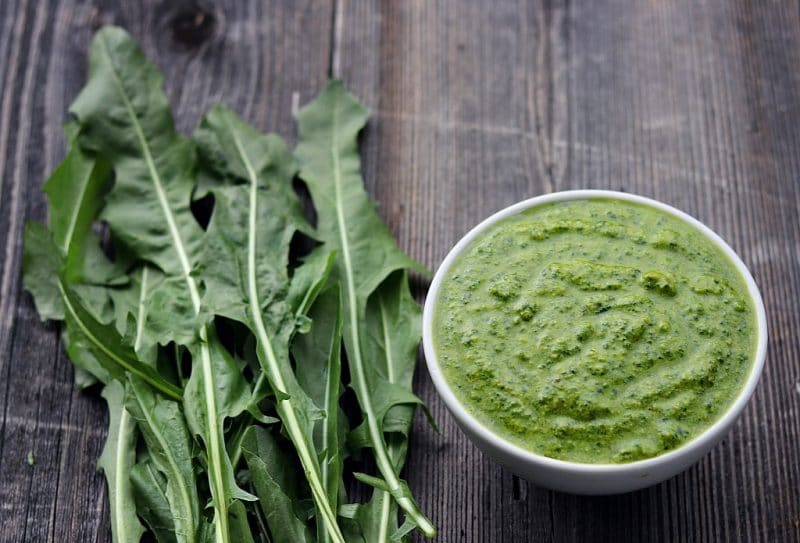 This dandelion pesto is so amazingly delicious! It has a little bite from the dandelion greens, but not overwhelmingly so. It's bright and fresh, and full of nutrition. I even made a double batch and froze some for later!
I highly recommend the Alchemy of Herbs book!
I hope you try this dandelion pesto this spring! I definitely think it's going to be a new favorite in this household.
---
More uses for Foraged Dandelion
Did you know there are over 50 ways to enjoy this amazingly versatile backyard "weed"? I love dandelions and write about then frequently! Here are some of my other dandelion posts: 
---
Do you ever cook with dandelion greens? What is your favorite thing to make?
Dandelion Pesto
Go foraging for dandelion greens, then make this bright and nutritious dandelion pesto!

Instructions
Place all ingredients except the Parmesan into a blender or food processor. Process until smooth. If it's too thick, slowly add a bit more olive oil.

Add the Parmesan and continue to blend until the mixture has a smooth consistency.

Refrigerate, and eat within 3 days.
Notes
This recipe for dandelion pesto is from the Alchemy of Herbs book by Rosalee de la Forêt.
Nutrition
Serving:
1
Tablespoon
|
Calories:
99
kcal
|
Protein:
2
g
|
Fat:
10
g
|
Cholesterol:
3
mg
|
Sodium:
112
mg
|
Potassium:
58
mg
|
Calcium:
40
mg
|
Iron:
0.5
mg