Make dandelion tea for a super simple way to access the power of these humble flowers. With a wide array of health benefits, this dandelion flower tea is the perfect way to enjoy spring to its fullest while also caring for yourself. This is one of the easiest dandelion recipes ever!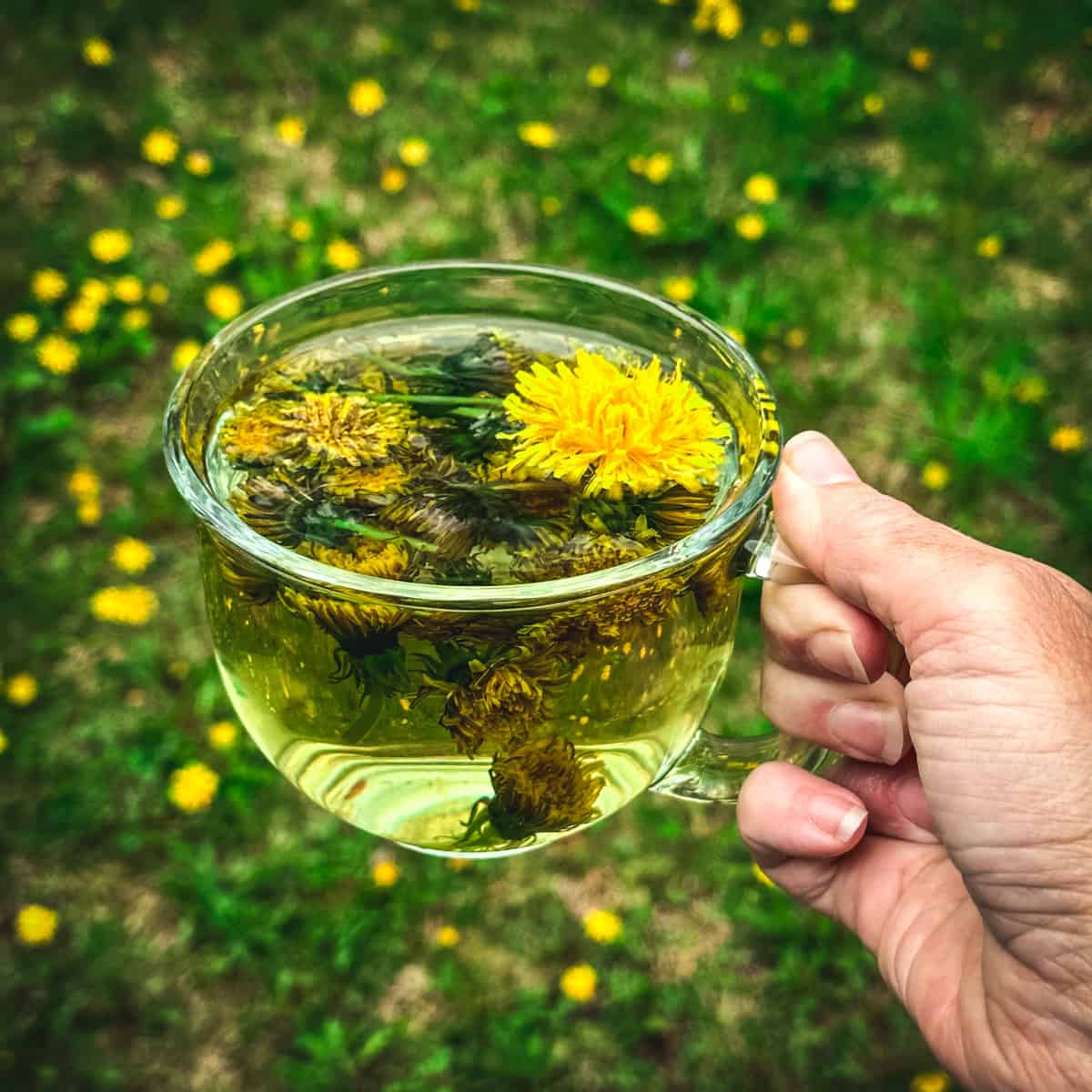 Wildcrafting Weeds
If you want to learn more about the edible and medicinal weeds that surround us and how to use them, check out my eBook: Wildcrafting Weeds: 20 Easy to Forage Edible and Medicinal Plants (that might be growing in your backyard)!
Gather & Root Online Foraging Course
My online foraging course is a great way to learn about wild edible and medicinal plants! Sign up to learn more about the gather + root online foraging course here.
Dandelion Tea Benefits
While seen as a nuisance and a "weed" to many, dandelions are known in the herbalist community as powerful yet humble flowers that resiliently grow in almost any circumstance.
Dandelions are easy to identify and forage for and are edible as well as medicinal. It's important to gather dandelions from an area that isn't sprayed with herbicides or pesticides, is away from busy roadways and walkways, and is free of pet waste.
Can you use dandelions from your yard to make tea? Absolutely! Often our backyards are the safest place to forage wild weeds, knowing we can benefit from them and are assured there aren't any harmful chemicals sprayed.
Related: What to Forage in Spring: 20 Edible and Medicinal Plants and Fungi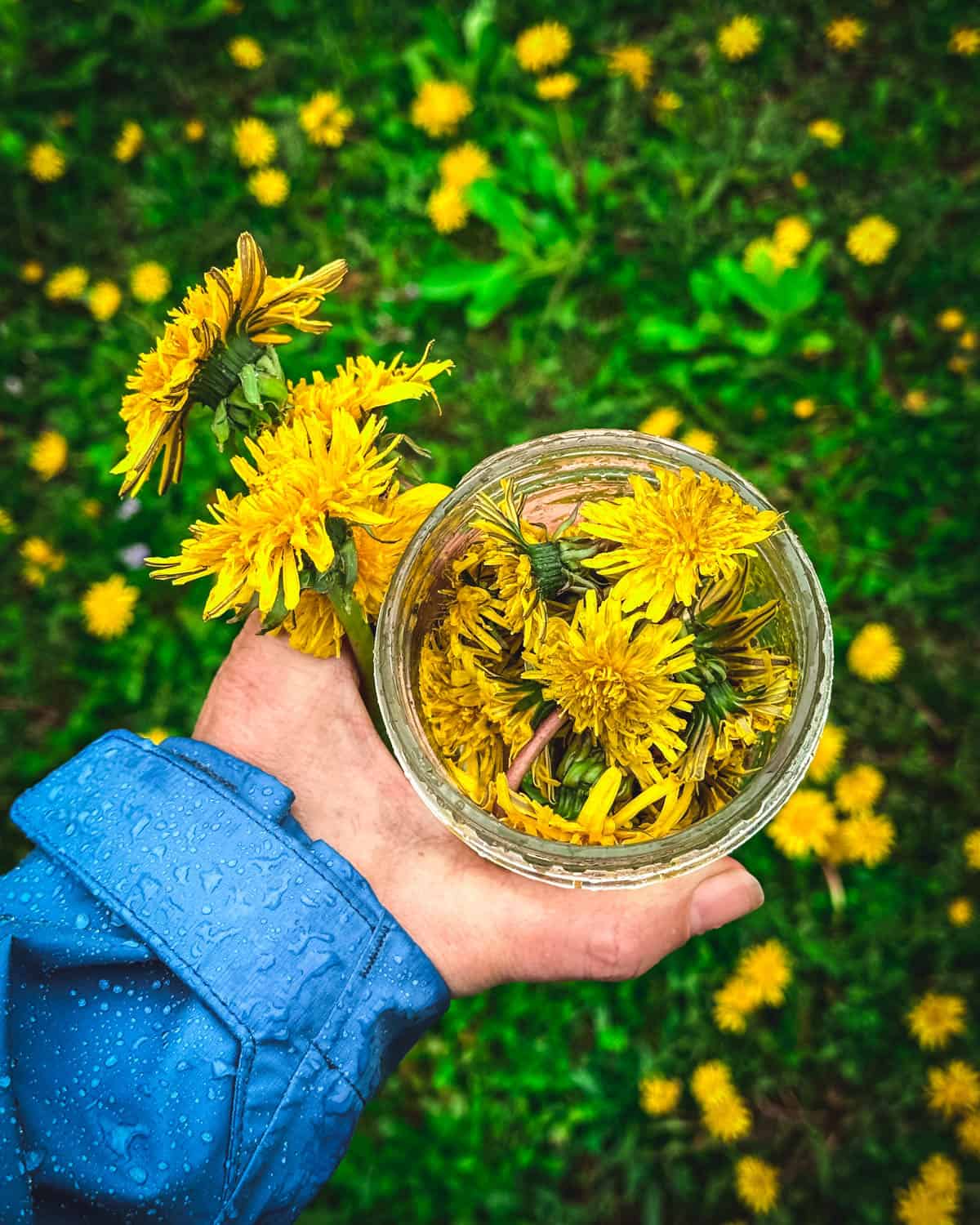 There is a huge array of dandelion recipes out there to choose from, but this is truly the most simple way to access the humble goodness of these flowers.
While the whole dandelion plant from its roots, leaves, and flowers, is edible and has medicinal properties, for this recipe we are just using the flower heads.
Dandelion tea is beneficial for digestion, liver and kidney function, and is also a natural diuretic. Dandelions are high in potassium and vitamins A, C, K, and E. They are also a source of folate, iron, and calcium. Humble and powerful indeed!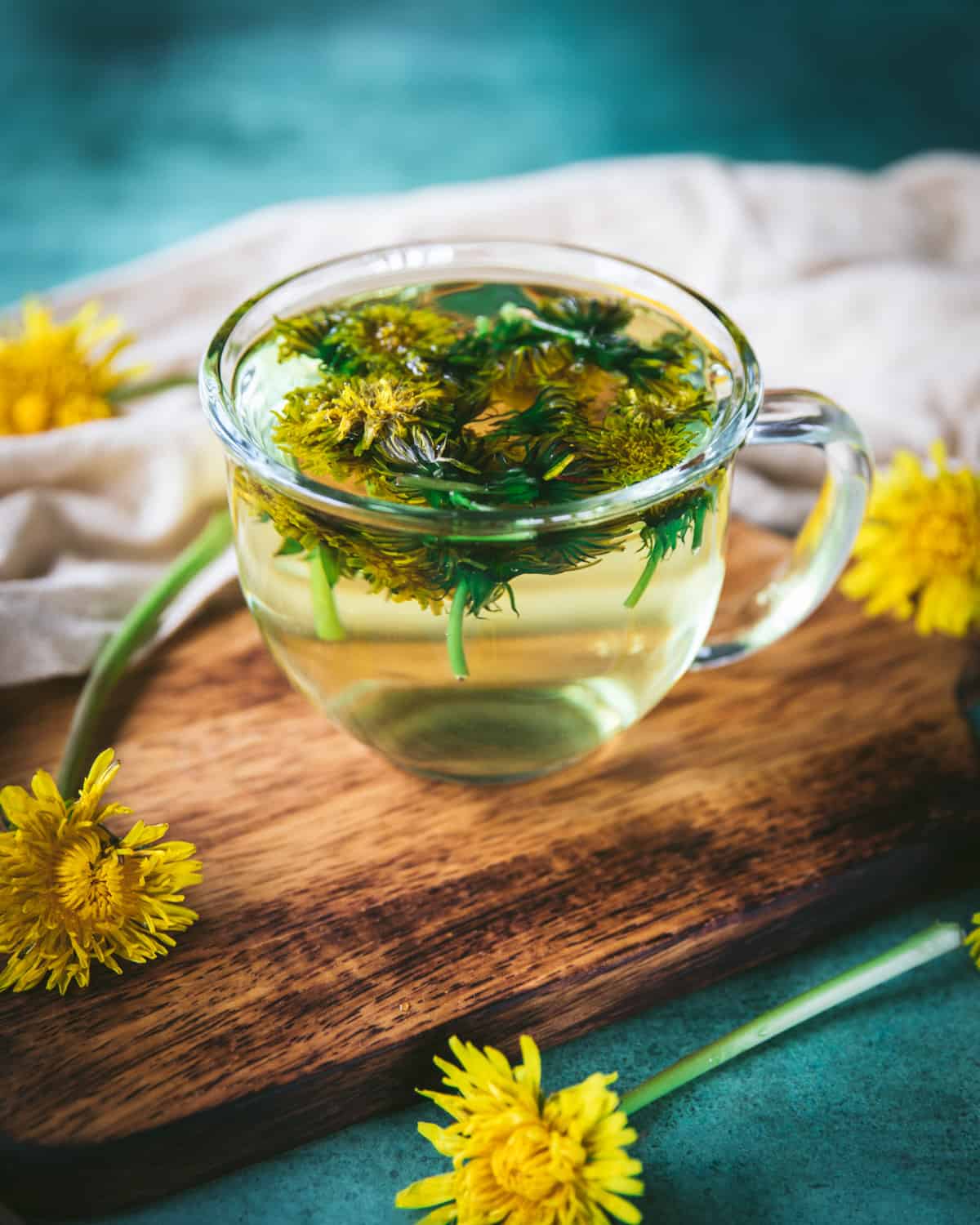 Dandelion Tea Recipe
This is truly the most simple dandelion recipe to make, and it starts off with collecting dandelion flowers which in my opinion is a wonderful way to begin any recipe! This is the best way to make dandelion tea.
Dandelion flower tea tastes slightly bitter due to the green parts being included. It's not overwhelmingly bitter though, it has a faint grassy sweetness that I really enjoy. The flavor is similar to dandelion root tea, but more fresh and not as strong.
Once you have enough dandelion flowers foraged and rinsed briefly if desired, add a handful to a mug and pour boiling water over it. Let it steep for about 5-10 minutes and then it is ready to drink! Straining the flowers before drinking is optional.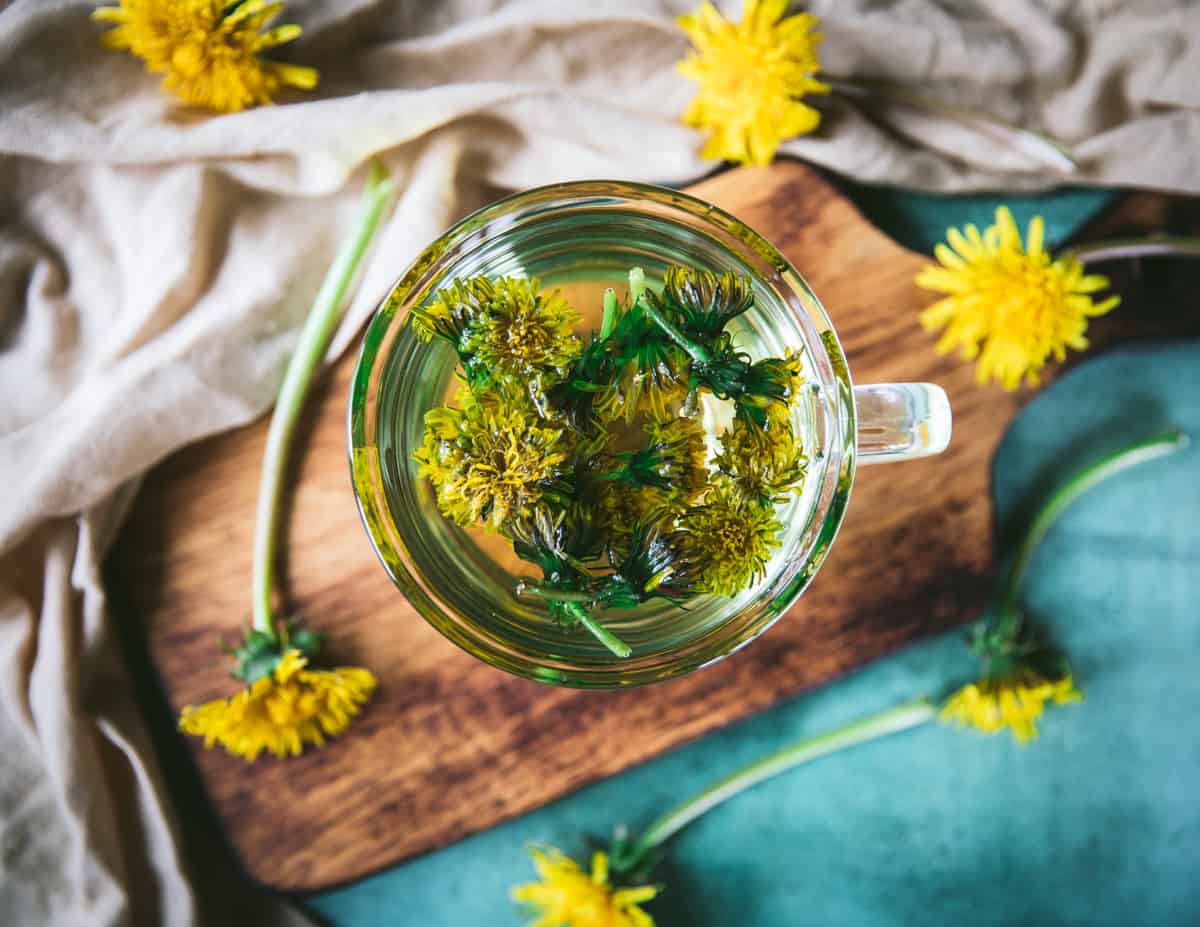 For a less bitter dandelion tea, pluck the flower petals from the green parts and use just the petals. This is a more time-consuming process, but just using the petals without the greens the flower tea will have a honey-sweet flavor. Since dandelion petals are so small, I recommend using a strainer.
If you like a more bitter flavor, add some dandelion leaves in with the flowers. Use honey or another sweetener to increase the sweetness of any dandelion tea method.
Drink Fresh Flower Tea
Drink this tea daily for its health benefits, tasty flavor, and mellow spring vibe! If you find an abundance of dandelion flowers, by all means, make a larger batch of this and keep it in the refrigerator to drink over a few days' time. It's equally delicious served hot or iced!
Although it's been said to not drink dandelion tea before bed, it's truly ok to drink any time. Just like peppermint tea, it's a natural diuretic, so do consider that as far as the time of day.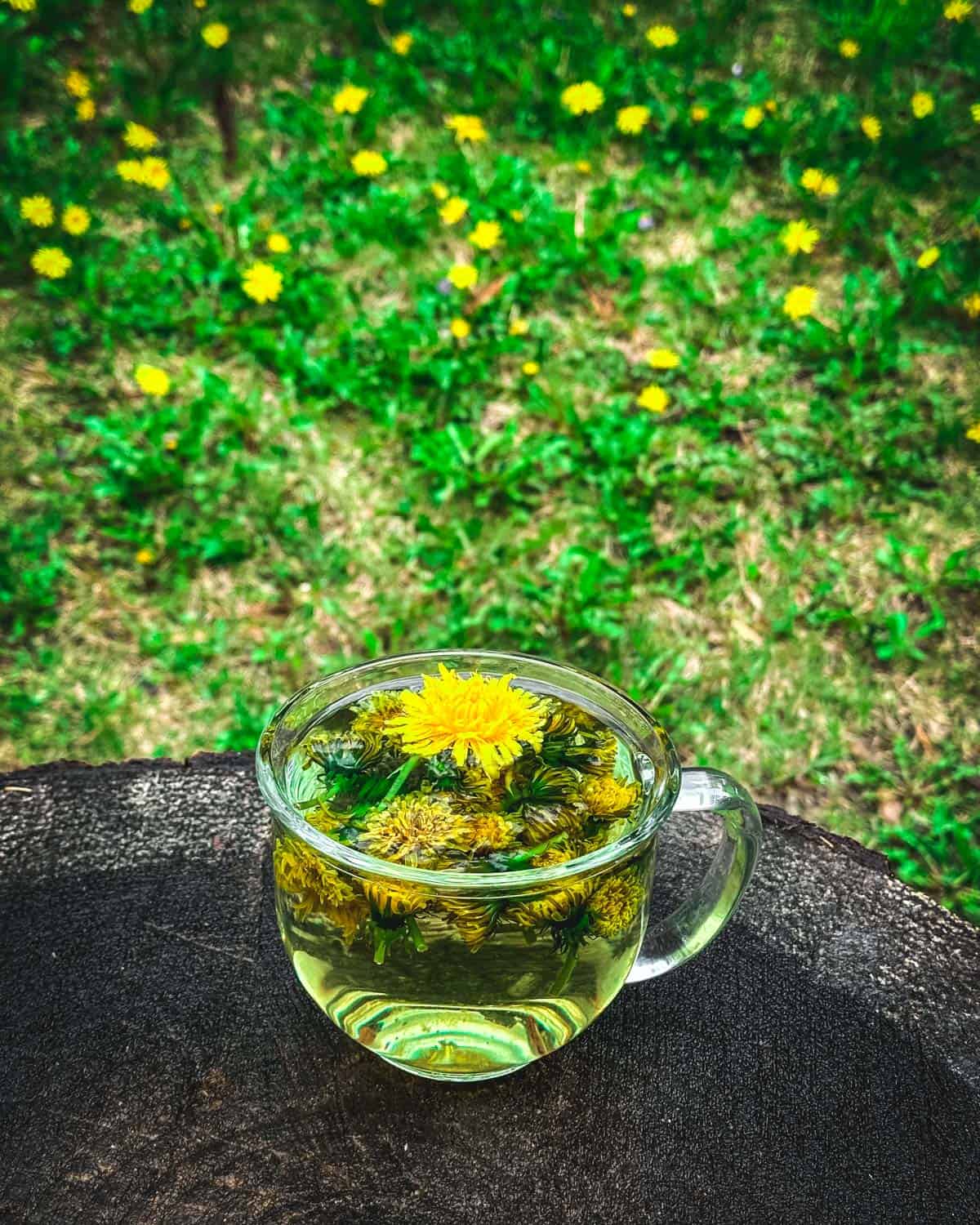 Fresh flower tea is such a wonderful way to appreciate the moment as blooms open for the spring, and the mighty and humble dandelion is a perfect candidate for an easy, healthy, and tasty tea!
More Dandelion Recipes
Dandelion Tea
Make dandelion tea for a super simple way to access the power of these humble flowers. This healthy tea is the perfect way to enjoy spring!
Ingredients
¼

cup

fresh dandelion flowers

or more

1-2

cups

boiling water

honey or maple syrup

to sweeten, optional
Instructions
Quickly rinse dandelion flowers, if desired, and add them to your favorite mug.

Pour boiling water over the top of the dandelion flowers to fill the mug.

Let the tea steep for 5-10 minutes. Strain the flowers if desired, although it's not necessary.
Notes
For a less bitter tea, separate the petals from the flower greens and use only the petals in a strainer. 
For a more bitter tea, add dandelion leaves to steep in the boiling water with the flowers. 
Sweeten with honey or any sweetener of preference for any tea method. 
Nutrition
Serving:
1
cup
|
Calories:
6
kcal