We all know what dandelions are, right? They are the best example of a super easy to forage, edible, and medicinal plant. I've written a post all about foraging for dandelions, but I didn't say too much about foraging for dandelion roots. They deserve a whole post on their own!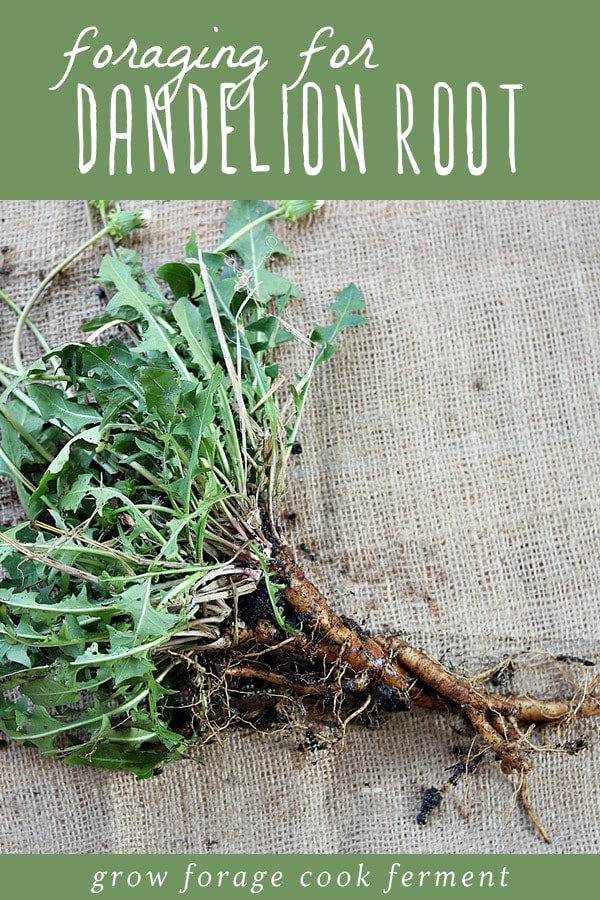 ---
Wildcrafting Weeds
If you want to learn more about the edible and medicinal weeds that surround us and how to use them, check out my eBook: Wildcrafting Weeds: 20 Easy to Forage Edible and Medicinal Plants (that might be growing in your backyard)!
Gather & Root Online Foraging Course
My online foraging course is a great way to learn about wild edible and medicinal plants! Sign up to learn more about the gather + root online foraging course here.
---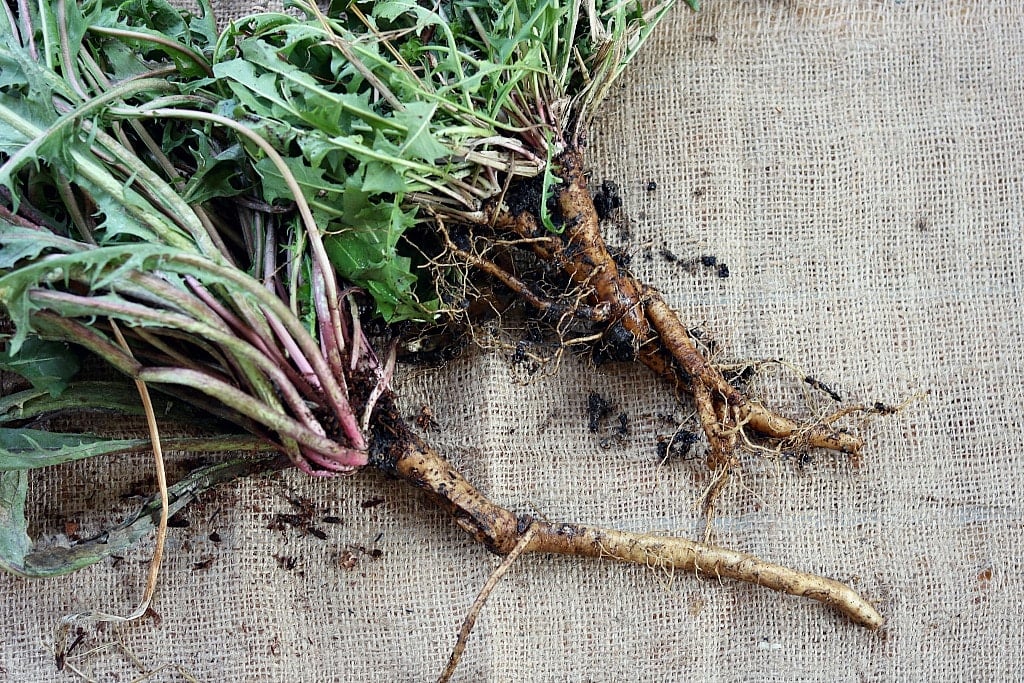 Dandelion Root Foraging in the Fall
Did you know that fall is the best time of year for wildcrafting herbal medicinal roots?
All spring and summer long plants such as burdock, valerian, chicory, comfrey, and dandelion are growing long taproots. Once fall comes and the plants start to die back after a frost, that taproot stores all of the plant's nutrition and medicinal potency.
These roots have a variety of different uses, mostly medicinal, but also culinary.
Today I am going to tell you all about how to go foraging for dandelion root, one of the easiest to find and most common of all medicinal plants.
First, read my post on dandelion foraging so that you can learn more about this amazing plant and how to identify it.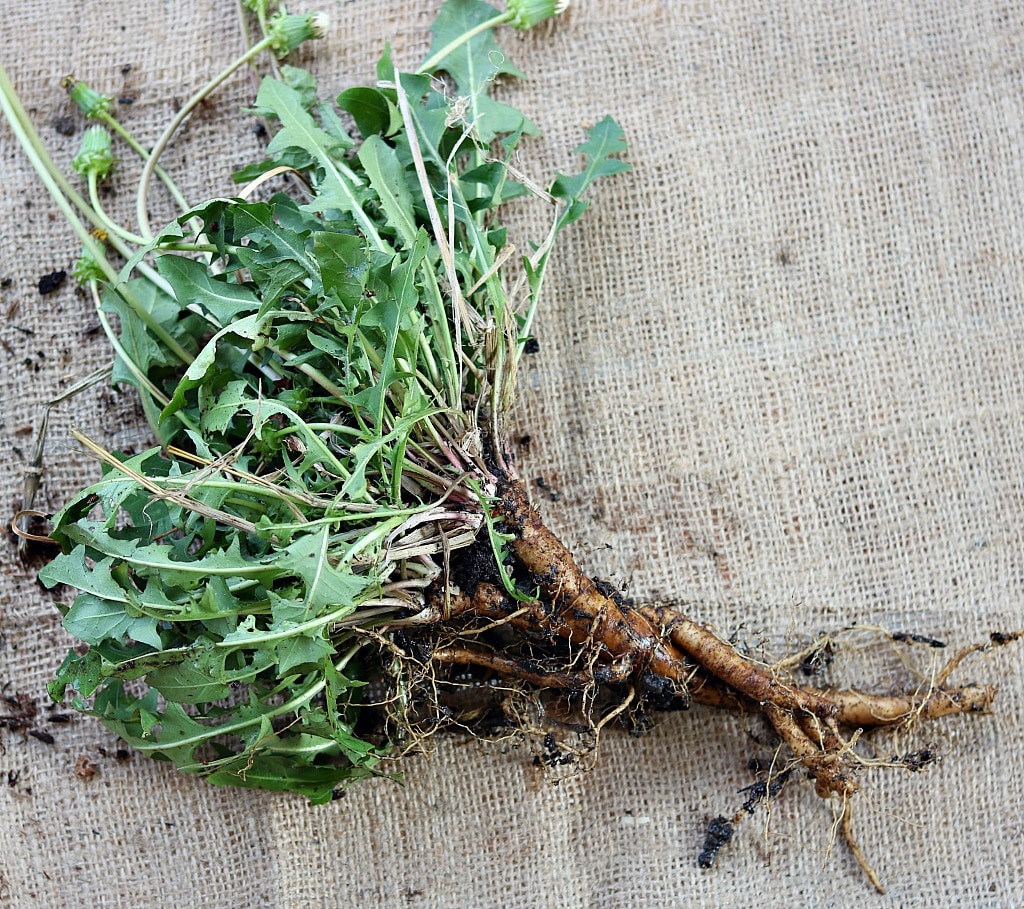 Harvesting Dandelion Root
First, you have to actually get to the roots, which is no easy task.
There are usually quite a few dandelions still hanging around on our property in the fall, so I try to harvest a few of them each year.
There usually won't be many flowers left once it starts getting cold, although ours were still blooming fairly recently. We live in a fairly warm climate, however.
It all depends on your climate, but it is still pretty easy to recognize them from their rosette of leaves (make dandelion pesto with those leaves).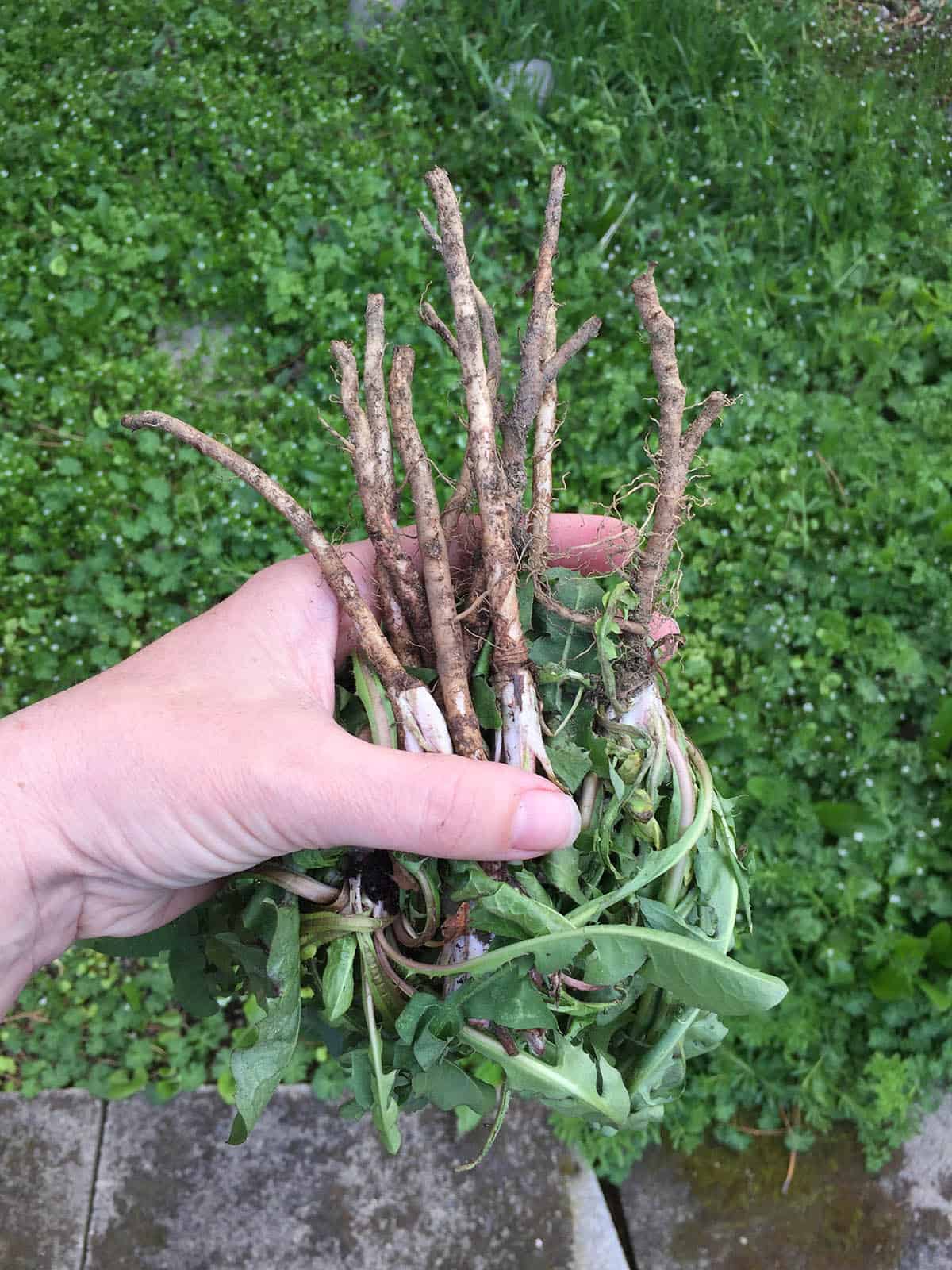 Try harvesting dandelion roots growing in softer soil rather than compacted if possible, it will be much easier.
A garden shovel can help, or this awesome Hori Hori Garden Knife. A lot of it will be done with your hands so you may want to wear some garden gloves.
Many times I will only get part of the root, but that's ok. That means that the dandelion will still come back next year!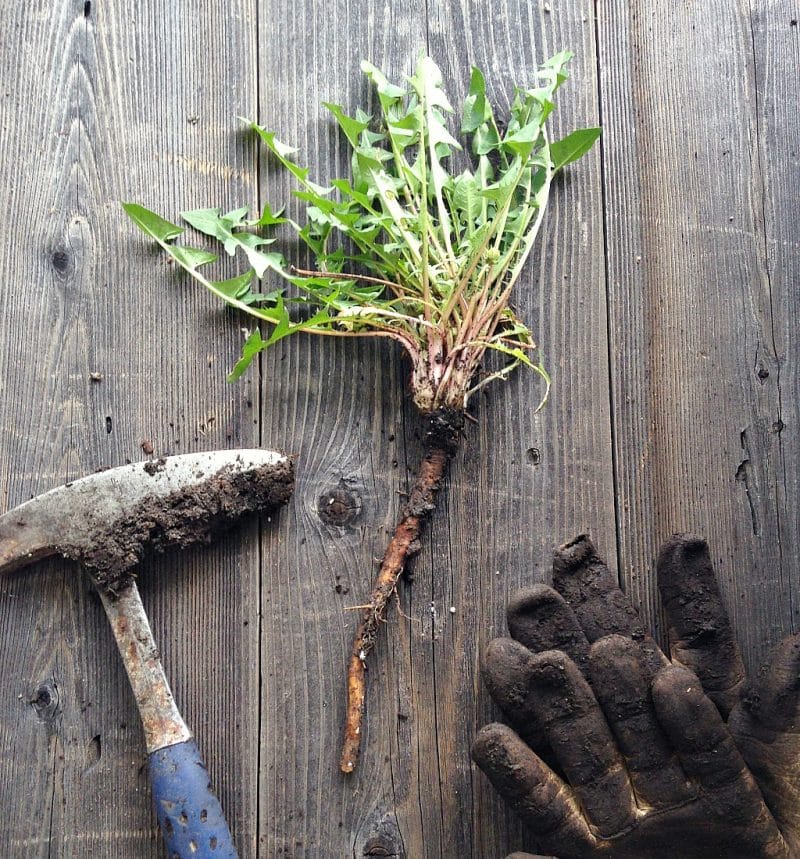 How to Use Dandelion Root
Dandelion root has many health benefits, including being a tonic for the liver and a powerful antioxidant.
It also has a positive effect on the digestive system and contains several vitamins and trace minerals. It makes a nice tea or tincture, or even better, turn it into dandelion root bitters for digestion.
Once you get your foraged dandelion roots home, you will want to trim them up and rinse them well.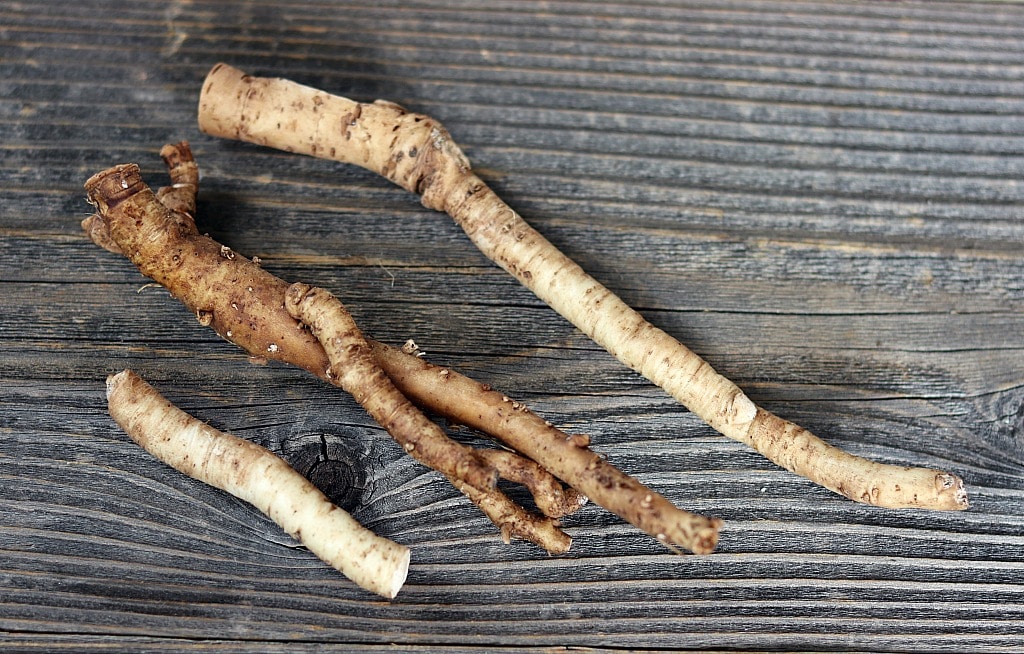 Slice the dandelion roots into smaller pieces for using them fresh in a tea, or dry them in a dehydrator or on an herb drying screen for later use.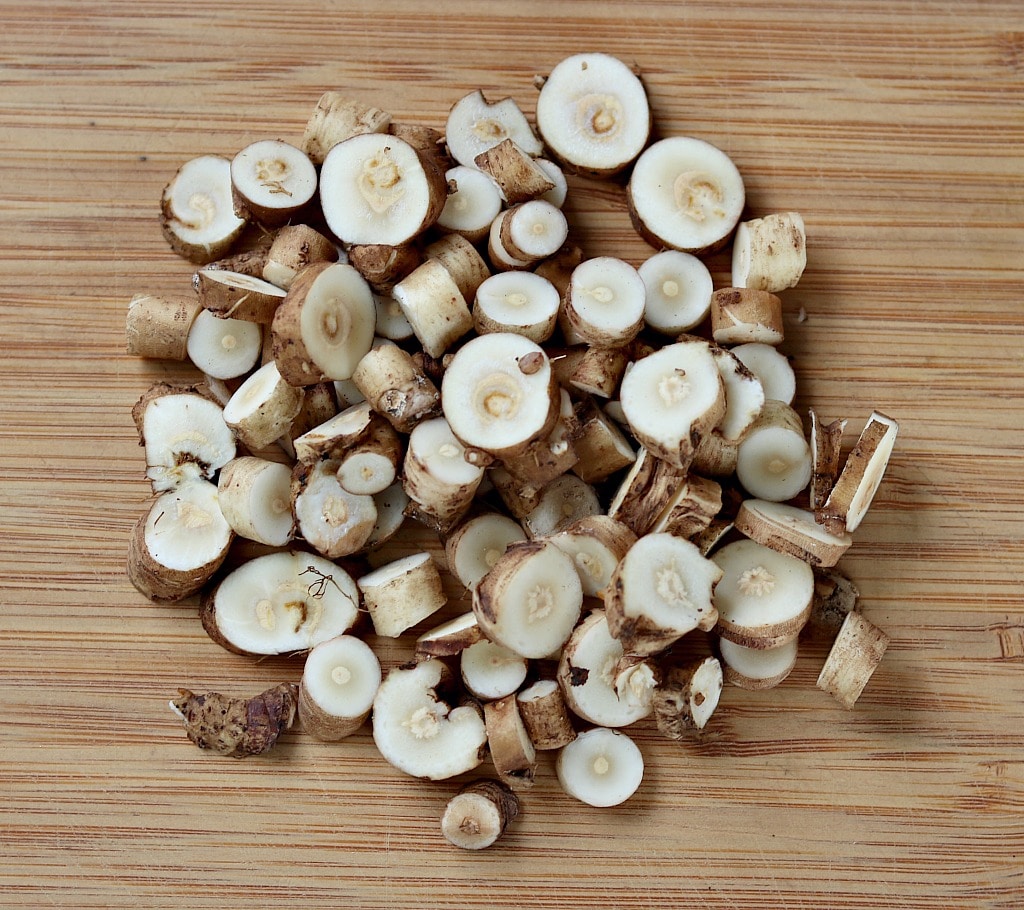 Dandelion Root Recipes
You can roast the dried roots and use them to make a wonderful dandelion coffee, or try them in this roasted dandelion root chai.
You can even use them in handmade dandelion soap!
Here are some other great recipes for dandelion root: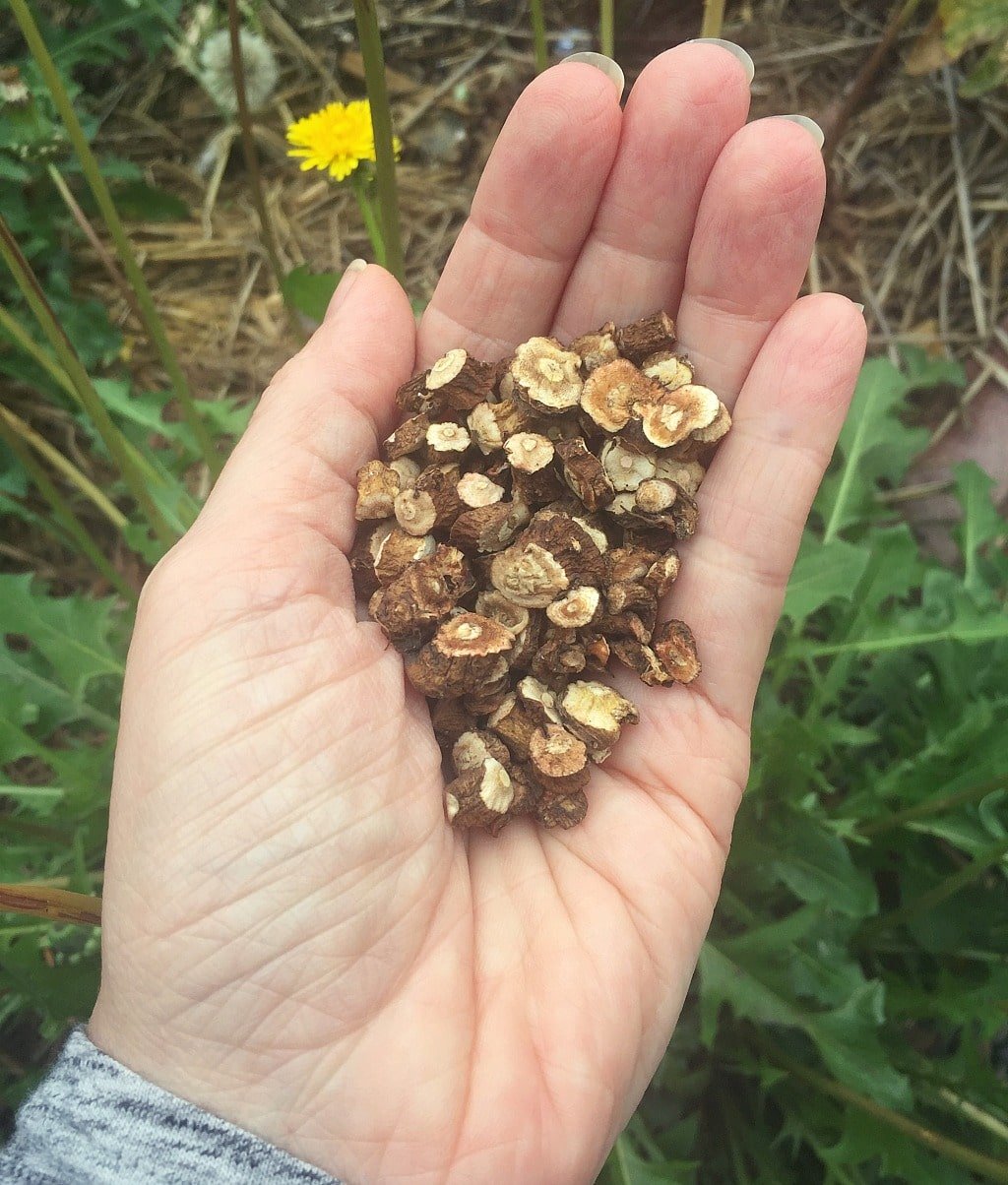 If you can't find any dandelion roots to forage you can buy high quality organic dried dandelion root from Mountain Rose Herbs.
Dandelion really is the wonder plant in so many ways, and the root is no exception. Dandelion root is definitely an herb you should have on hand!
Here are over 50 of my favorite dandelion recipes for food and medicine!
More easy dandelion recipes to try