I have something really exciting for all of you today!  I recently received a copy of Emily Han's new book Wild Drinks and Cocktails, and let me tell you, this book is seriously awesome!  It is all about wildcrafting herbs and plants and then making delicious drinks with them.  Some have alcohol and some are booze-less, but all of the recipes look absolutely divine.  I seriously had a hard time choosing which one I would showcase here, but in the end I decided on Rose Hip Syrup and Rose Hip Whiskey Smash.  You get two recipes in one!
The reason I chose this one out of all the incredible looking recipes in Wild Drinks and Cocktails, is that I've been eyeing a bunch of wild rose hips up the road.  I've been wanting to pick them, and now I have a reason to!
The first step in making this wild drink is to make rose hip syrup.  To do this you will either need to collect some wild rose hips, or find a source of dried rose hips.
I collected about a cup of rose hips.  The recipe in Emily's book calls for 2 cups, so I just scaled it back by half.  Smash the rose hips with a potato masher or other such tool.
Add an equal amount of water to the rose hips collected in a pot, 1 cup in my case.
Cover and bring to a boil, then reduce the heat to low and simmer for 20 minutes.  Next, strain out the solids through a fine mesh strainer.  It is also recommended to strain the rose hips again through a coffee filter to get rid of all the fine hairs that can be upsetting to the stomach.
Then put the rose hip tea back into your pot and add an equal amount of honey.  I used 1/2 cup.
Bring this back to a simmer for 5 minutes, then pour it into a jar and you have rose hip syrup!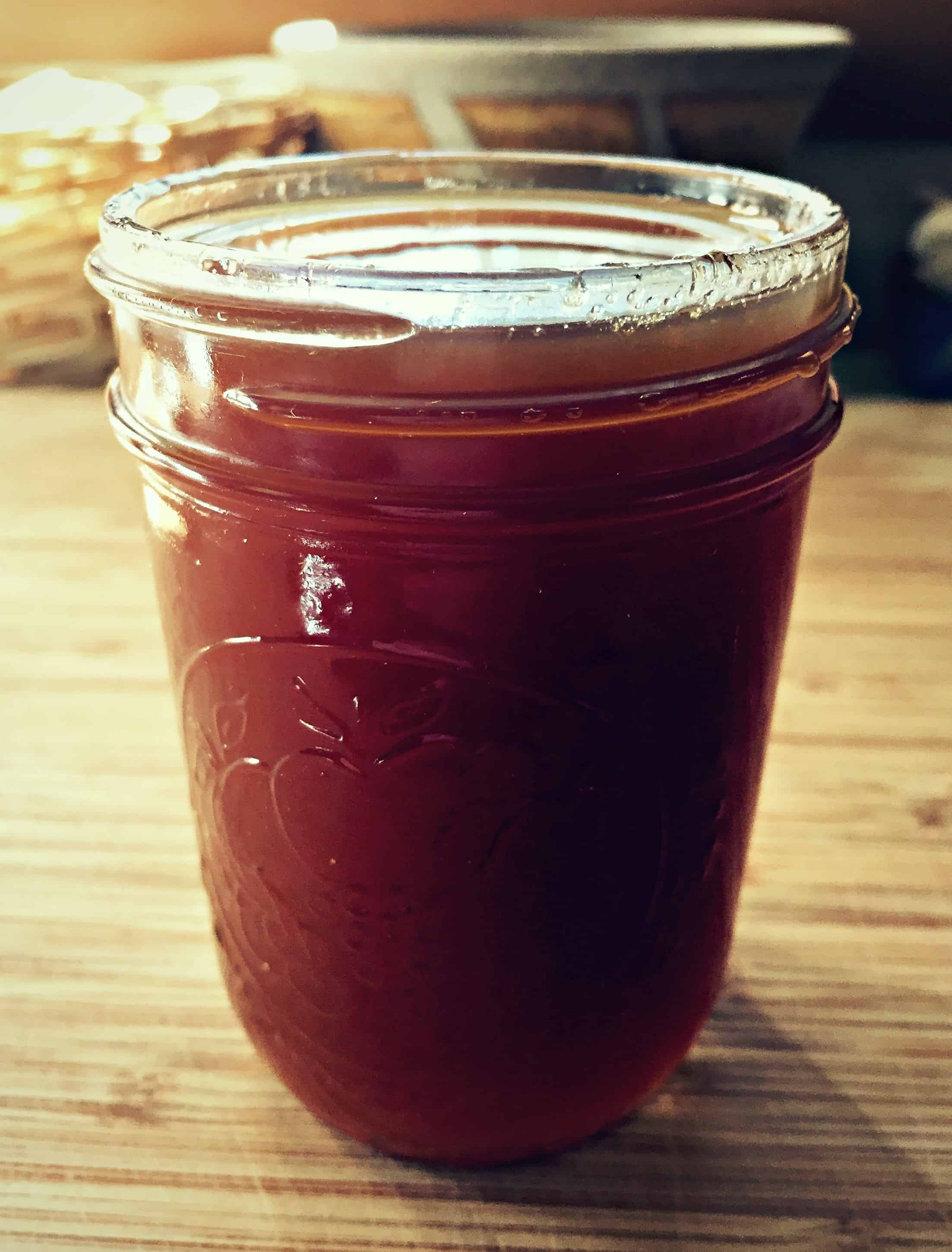 This syrup, in and of itself, is a nice thing to have on hand as it tastes wonderful and has all of the healing properties of rose hips.  You definitely won't get scurvy with this around!  That said, it makes a great addition to cocktails, like this rose hip whiskey smash.
Besides the rose hip syrup, you will need bourbon (I used Bulleit), an orange (the recipe in the book calls for a blood orange, but they aren't quite in season around here yet), and some fresh mint.  For each drink you will want to muddle three orange wedges, one ounce rose hip syrup and about six mint leaves.
Muddle is just a fancy term for smashing it all together.  I wonder if that's why these kind of drink recipes are called smashes?  I don't have fancy cocktail shakers and makers, so I just did it in a glass measuring cup with wooden spoon (hand carved by Joel, of course).  Then pour in two ounces of bourbon and a bit of ice and mix it all together well.
Strain it all over crushed ice into a fancy glass of your choice.
I used a martini glass because that's the only fancy glass that I have.
Garnish with a sprig of mint and an orange slice.  Yes, I used a lime slice because I forgot to save one from the orange.  These are the kind of problems I face in life, ha!
This drink was tart and sweet all at once, and so much better than any regular cocktail!  It's so nice knowing where all of your ingredients come from, especially when they are wildcrafted.  That is what I love so much about this book, the recipes are fun to prepare from foraging for the ingredients to imbibing in the the drinks themselves.  Totally my kind of deal!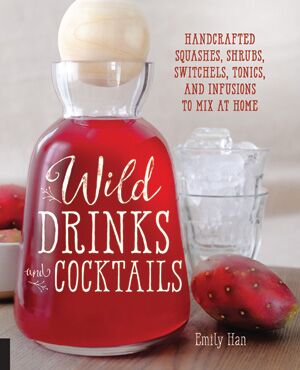 I highly recommend Wild Drinks and Cocktails by Emily Han, you'll love it!
Save
Save