I have something really exciting for all of you today! I recently received a copy of Emily Han's new book Wild Drinks and Cocktails, and let me tell you, this book is seriously awesome! It is all about wildcrafting herbs and plants and then making delicious drinks with them. Some have alcohol and some are booze-less, but all of the recipes look absolutely divine. I had a hard time choosing which one I would showcase here, but in the end I decided on Rose Hip Syrup and Rose Hip Whiskey Smash. You get two recipes in one!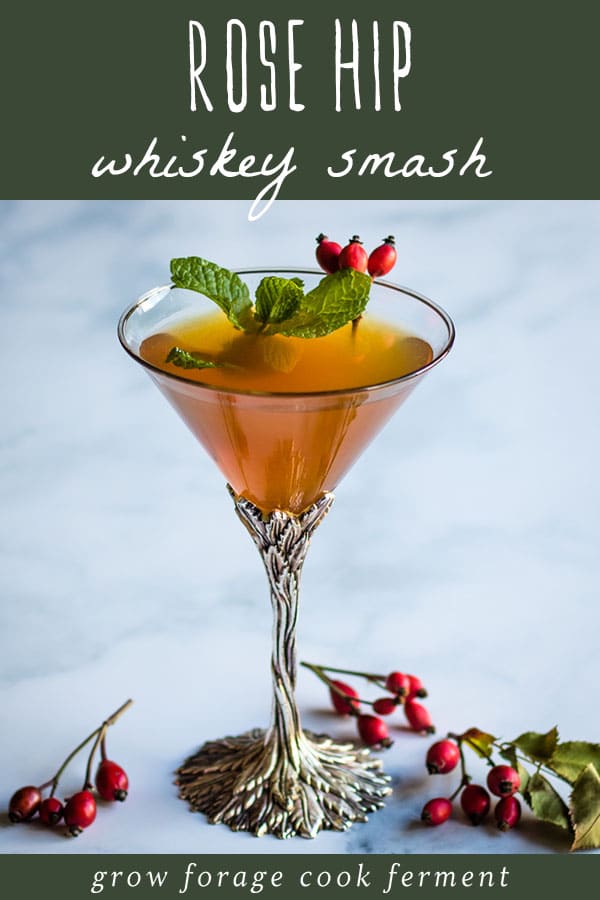 The reason I chose this one out of all the incredible looking recipes in Wild Drinks and Cocktails, is that I've been eyeing a bunch of wild rose hips up the road. I've been wanting to pick them, and now I have a reason to!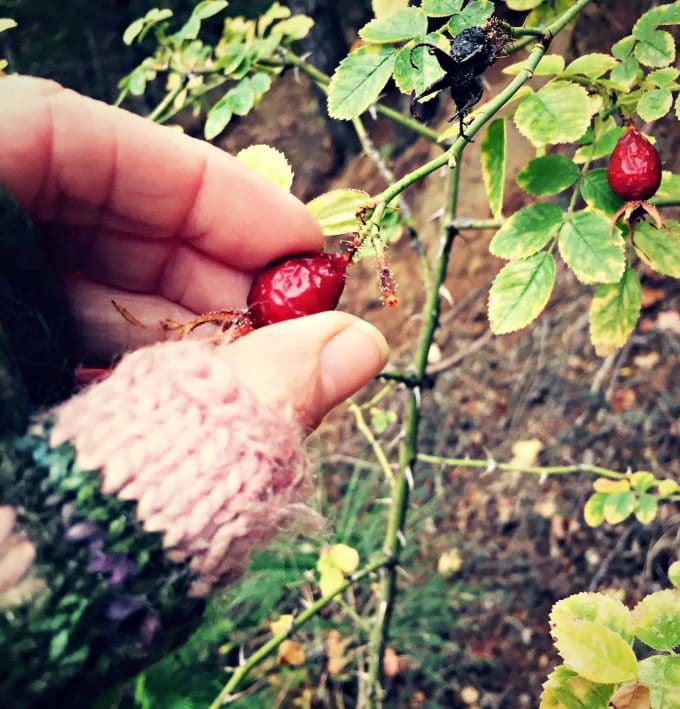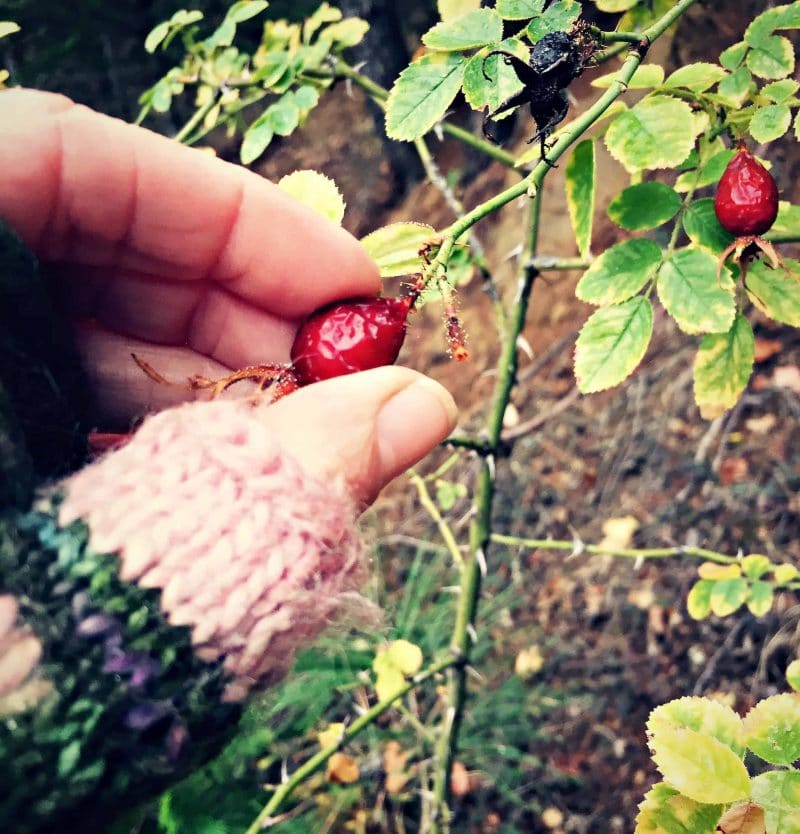 The first step in making this wild drink is to make rose hip syrup. To do this you will either need to collect some wild rose hips, or find a source of dried rose hips.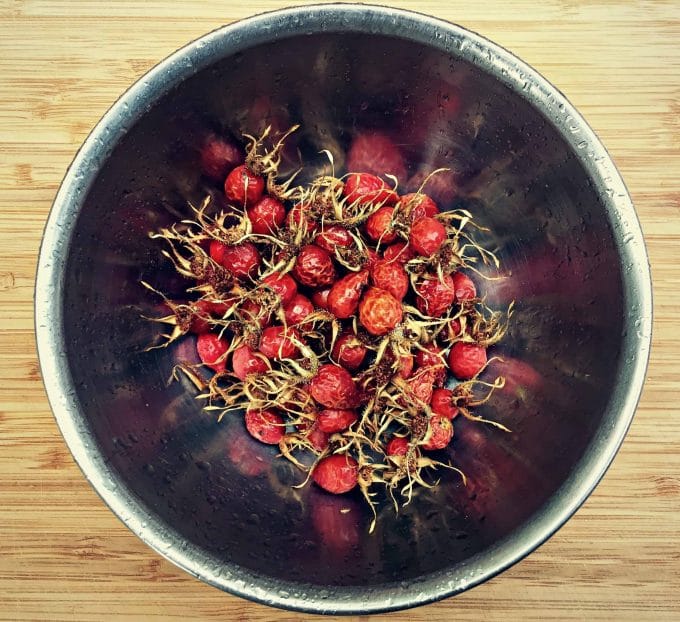 Rose Hip Syrup and Whiskey Smash Recipe
I collected about a cup of rose hips. The original recipe in Emily's book calls for 2 cups, so I just scaled it back by half.
Rose Hip Syrup and Whiskey Smash
Make a syrup from rose hips then use it to make this tasty and festive rose hip whiskey smash! Recipe reprinted with permission from Wild Drinks and Cocktails by Emily Han.

Ingredients
Rose Hip Syrup
1

cup

fresh rose hips

or 1/2 cup dried rise hips

1

cup

water

1/2

cup

honey

or sugar
Whiskey Smash (amounts listed are per drink)
3

orange wedges

preferably blood orange

1

ounce

rose hip syrup

4 to 6

fresh mint leaves

2

ounces

bourbon or whiskey

ice cubes

fresh mint for garnish
Instructions
Rose Hip Syrup
Lightly crush the rose hips using a potato masher or rolling pin.


Combine the rose hips and water in a saucepan. Cover and bring to a boil. Reduce the heat to low and simmer, covered, for 20 minutes. Remove from the heat and mash the rose hips with a potato masher or another mashing tool.


Strain through a fine mesh sieve and discard the solids. Measure the liquid, you should have about 1/2 cup.


Return the liquid to the saucepan and add the honey. Simmer for 5 minutes. Remove from the heat and let cool completely. Strain through a cloth or coffee filter to catch any little hairs which can irritate the digestive system. Store in the refrigerator for up to two weeks.
Rose Hip Whiskey Smash
Muddle the orange wedges with the rose hip syrup in the bottom of a cocktail shaker. Add the mint leaves and lightly bruise with the muddler.


Add the bourbon and ice and shake well. Strain into a glass and garnish with the mint sprig.

This rose hip syrup, in and of itself, is a nice thing to have on hand as it tastes wonderful and has all of the healing properties of rose hips. You definitely won't get scurvy with this around! That said, it makes a great addition to cocktails, like this rose hip whiskey smash.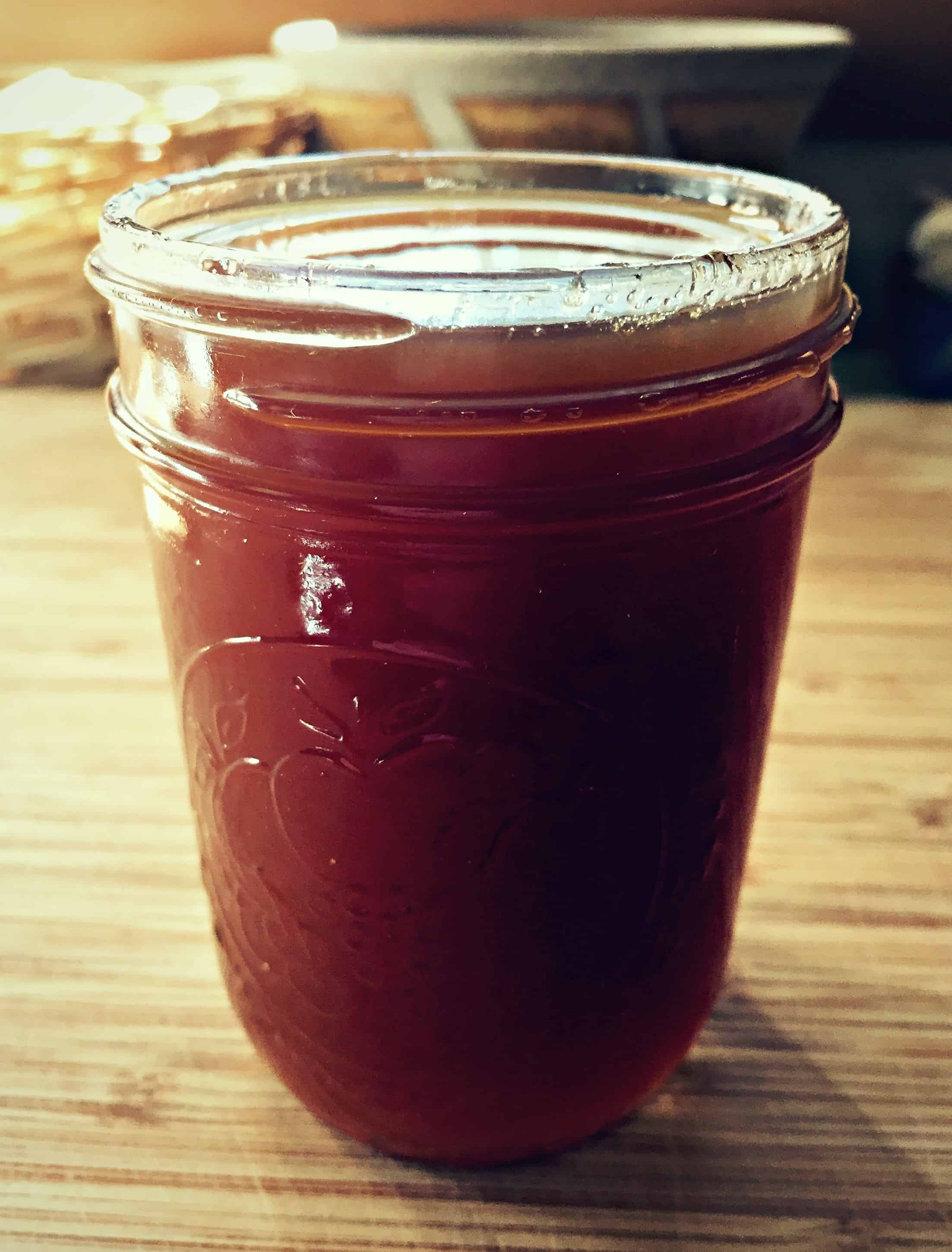 Muddle is just a fancy term for smashing it all together. I wonder if that's why these kind of drink recipes are called smashes? I don't have fancy cocktail shakers and makers, so I just did it in a glass measuring cup with wooden spoon (hand carved by Joel, of course).
I used a martini glass because that's the only fancy glass that I have. Isn't is gorgeous?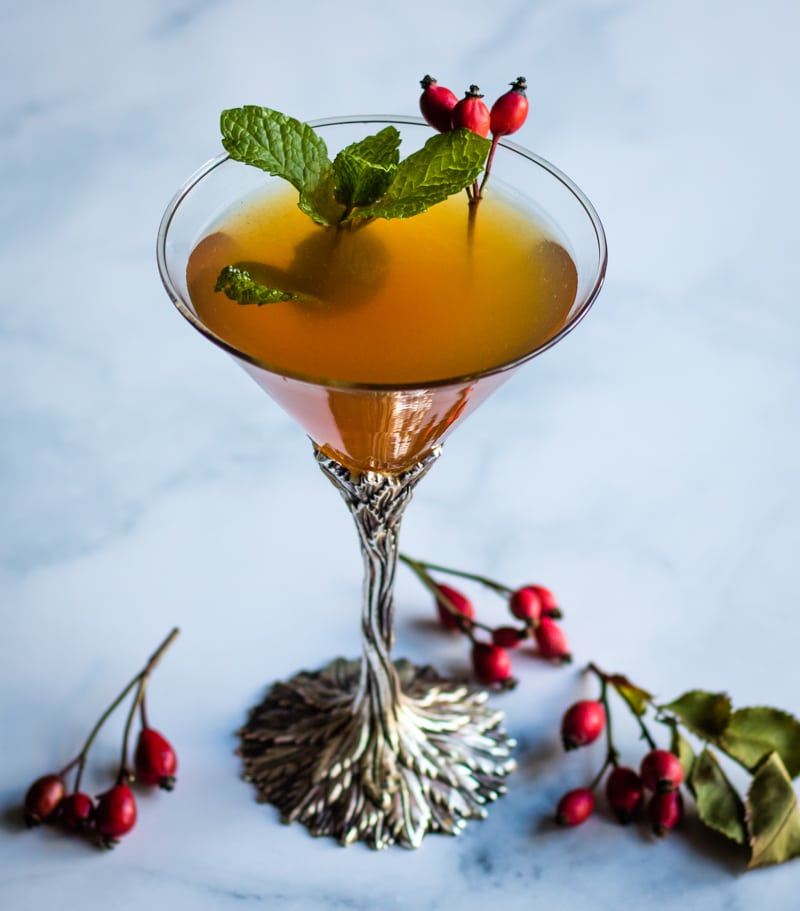 This drink was tart and sweet all at once, and so much better than any regular cocktail! It's so nice knowing where all of your ingredients come from, especially when they are wildcrafted. That is what I love so much about this book, the recipes are fun to prepare from foraging for the ingredients to imbibing in the the drinks themselves. Totally my kind of deal!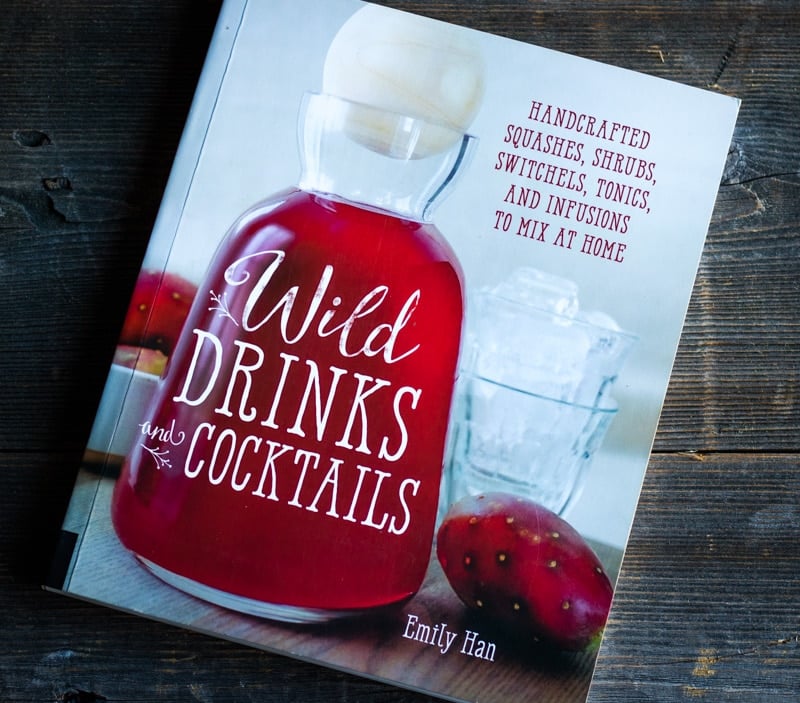 I highly recommend Wild Drinks and Cocktails by Emily Han, you'll love it. And you will definitely love this rose hip whiskey smash recipe!
Save
Save