Hello there! This is a post I recently wrote for the Herbal Academy, and thought my readers would like it, too! This dandelion and fennel kombucha turned out so tasty, I definitely recommend giving it a try. The link at the bottom of this post will take you to the recipe. Also, be sure to check out the Herbal Academy's new Herbal Fermentation mini course!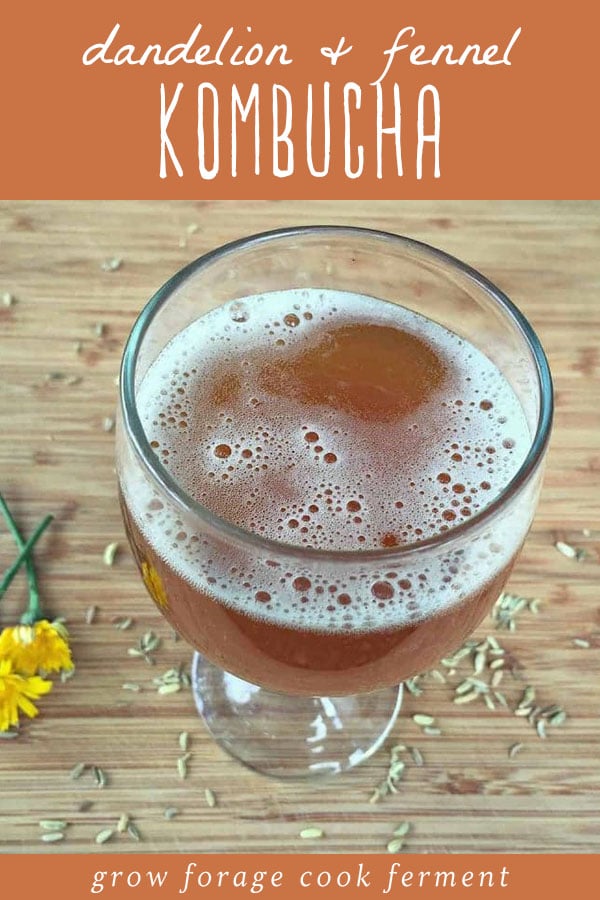 You may have heard about kombucha in recent years, as this fermented drink has become quite popular. What you may not know, however, is how easy it is to make at home.
The best part is that you can flavor it to your own liking (or not flavor it at all), and you will know exactly what is going into it. I've experimented with adding different kinds of herbal teas to kombucha after the fermentation process with great results.
One of my personal favorites is hibiscus kombucha, which has become a summertime staple in our house. This dandelion and fennel kombucha turned out just as wonderful, with the added benefit of being great for the entire digestive system.
Related: 50+ Dandelion Recipes for Food and Medicine
What is Kombucha?
Kombucha is a fermented probiotic drink that is thought to be originated in China. It is made using a kombucha mother, also called a SCOBY (symbiotic colony of bacteria and yeast).
The mother feeds on black tea and sugar, and produces another SCOBY "baby" at the same time. The result is a somewhat sour and vinegary like liquid that is great for your entire digestive system.
Kombucha is easy to make at home, with the most difficult part being obtaining a mother SCOBY. If you know someone who brews their own kombucha, they should have one to give you, as a new one forms with every batch that is made. You can also purchase a SCOBY online.
Read the rest of this article on the Herbal Academy blog:
---
More Kombucha Flavors
A cold glass of this hibiscus kombucha on a hot day really hits the spot, that's for sure! It's starting to make me think about new flavors… Hmm, I wonder what lemon balm or rose hip kombucha would be like? I just might have to try it!
---
More Dandelion Recipes