What would a blog that includes fermenting be without the requisite kombucha post? I must admit that I became a kombucha junkie many years ago, even before it was a "thing". People thought I was crazy, but it made me feel good and soon everyone caught on. The price tag, however, made me wonder if I could make it myself. I got the book Wild Fermentation by Sandor Katz and soon I was brewing my own 'booch!
Because there are a million and a half blog posts on how to make kombucha (this one from Bonzai Aphrodite is one of my faves), I'm going to do an overview here on the basic process. The real part I will focus on is how to make hibiscus kombucha via a second ferment.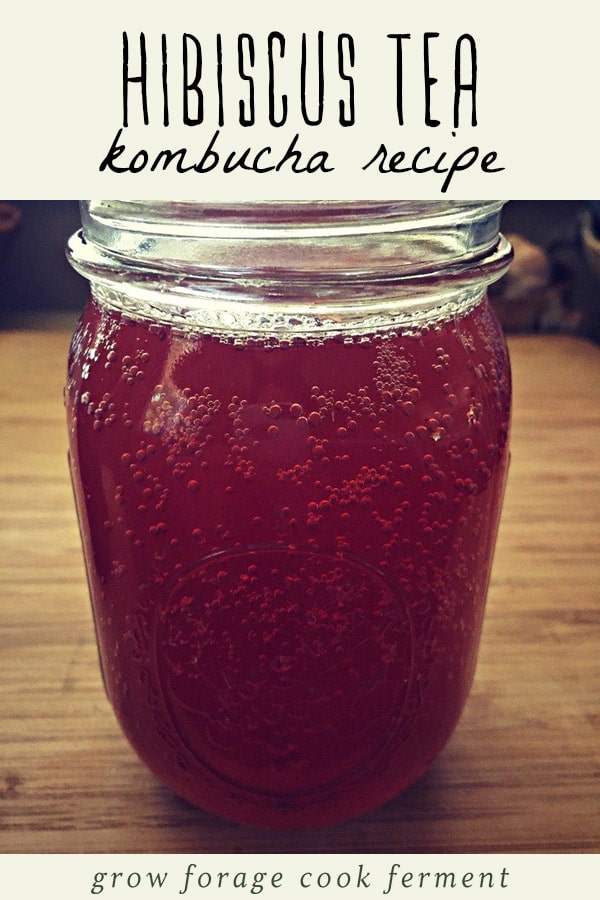 The first thing that you need to start a batch of kombucha is a SCOBY, which stands for Symbiotic Culture Of Bacteria and Yeast. Sounds weird, I know, but trust me, it's a good thing! Luckily for you it's pretty easy these days to acquire one. The best way is to get a SCOBY baby from a friend who is already brewing kombucha, but if you don't know anyone who has one you can always order one online from Kombucha Kamp or Amazon. What a lucky world we live in today!
It is a weird looking thing, that's for sure. It sort of looks like a pancake. You will also need about 2 cups of starter kombucha liquid. You can get it from the person that you get the SCOBY from, or if you order one online it should come with some kombucha liquid. If it doesn't, or if it only comes with a small amount, you can always run to the store and buy a bottle of plain raw kombucha to use as your starter.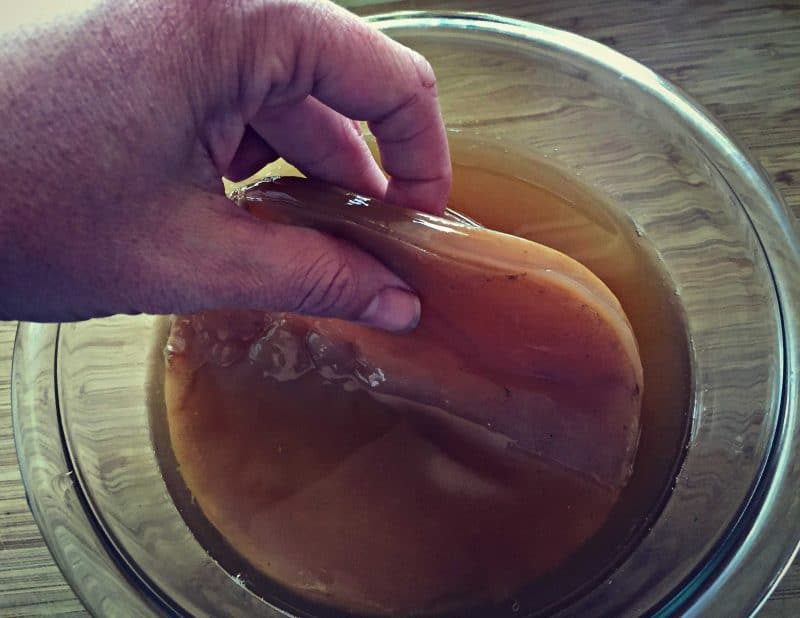 To make a gallon batch of kombucha, start by brewing about a half gallon or a little more of black tea. I like to make it pretty strong by adding several spoonfuls of loose leaf tea to the hot water, but you can also use tea bags if you wish. Just make sure that it's plain black tea, no flavorings.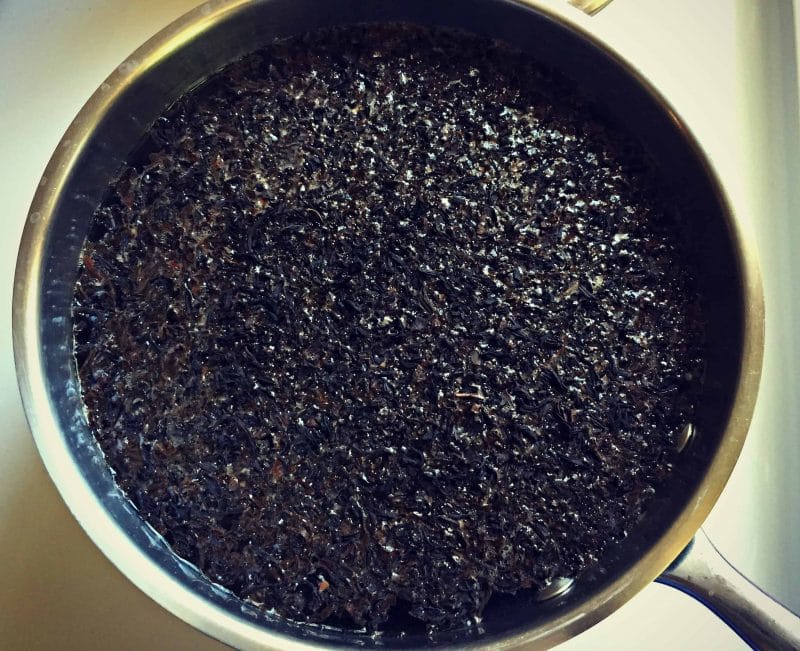 Let it steep for a little while, then strain the tea into a gallon glass jar.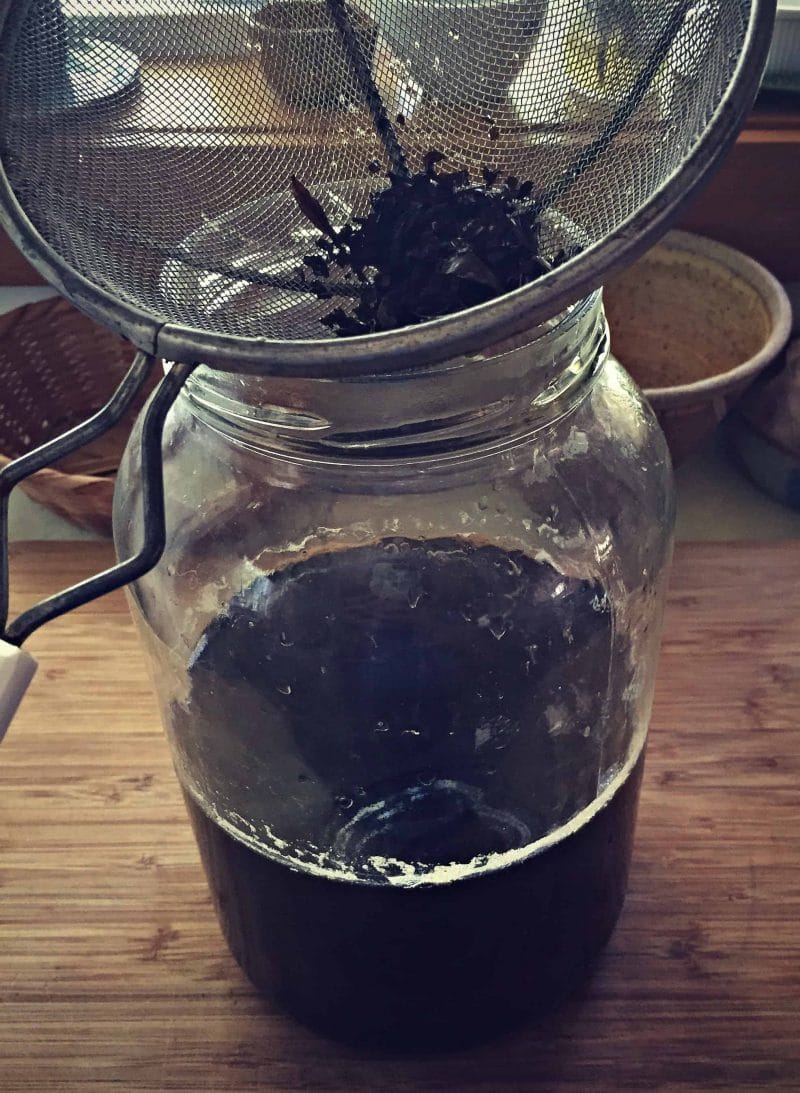 While it's still warm, add 1 cup of sugar to the tea and stir to dissolve. Many recipes I see online call for white sugar, but I've always used raw sugar with no problem. Add cold water until the jar is about 3/4 full. The next step is to add your SCOBY and starter kombucha, but you need to make sure that your tea isn't too hot or else you'll kill your SCOBY! Room temperature or slightly warmer is perfect. If it feels a little too warm you can always toss in a few ice cubes to help cool it down, then add your SCOBY and starter liquid.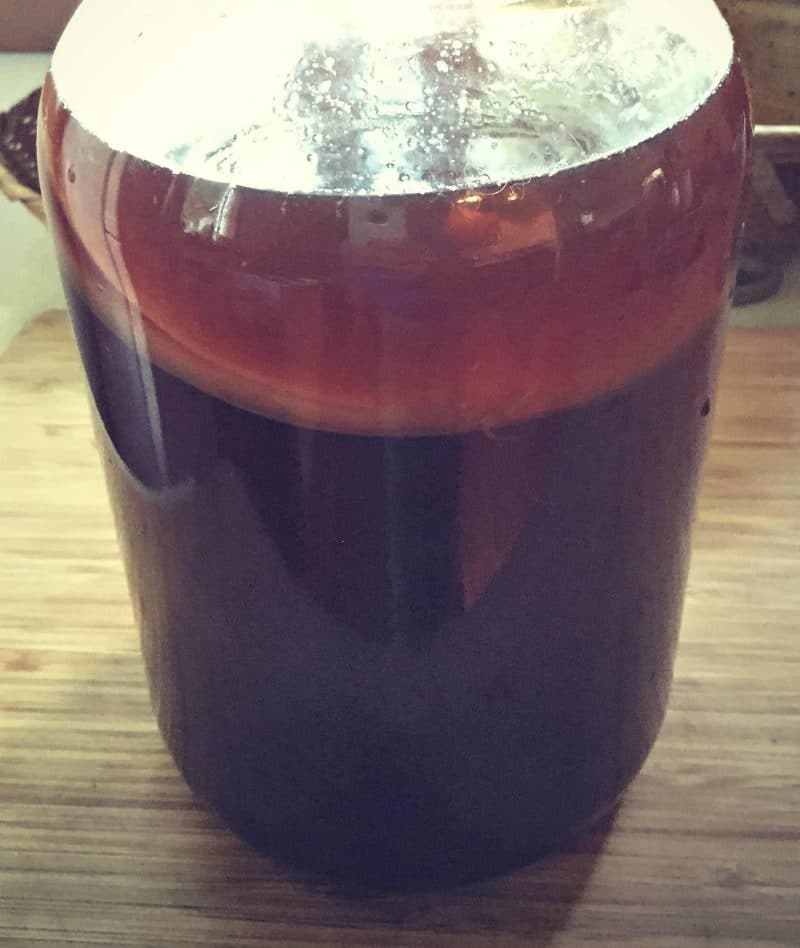 Your SCOBY will probably float towards the top, but don't worry if it doesn't. Cover the jar with a clean towel or cheesecloth and a rubber band and put in a warm and out of the way spot in your kitchen. Try not to disturb it too much while it's fermenting. After a week or two a whole new SCOBY baby will have formed on the surface and the liquid should taste somewhat vinegary, just like kombucha!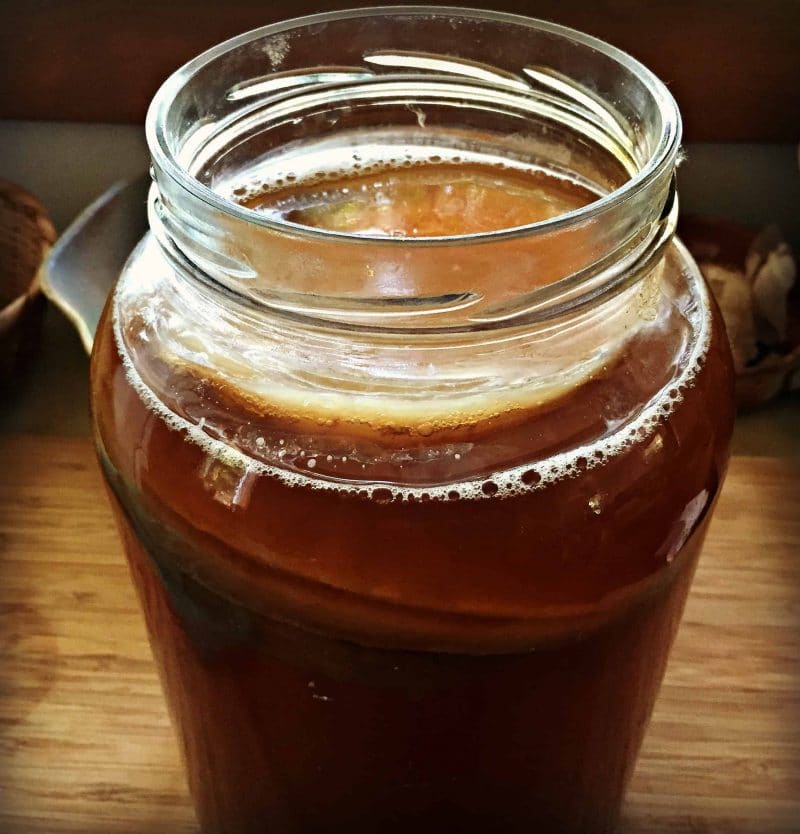 Pretty cool! Give the baby away to a friend who wants to brew their own kombucha, or continue to brew yours with an extra SCOBY. Now you'll want to set aside your SCOBY and 2 cups of liquid for your next batch. You can go ahead and drink this batch as is, but to make it even better you'll want to do what's called a second ferment. This is where you get to add your flavorings of choice.
I decided to use hibiscus because it's a wonderful flavor and it also lowers blood pressure. I made a strong tea using Red Zinger tea from Celestial Seasonings, which are made with hibiscus, but you could also buy dried hibiscus flowers from Mountain Rose Herbs (my favorite place to buy high quality, organic dried herbs) and make a tea from them.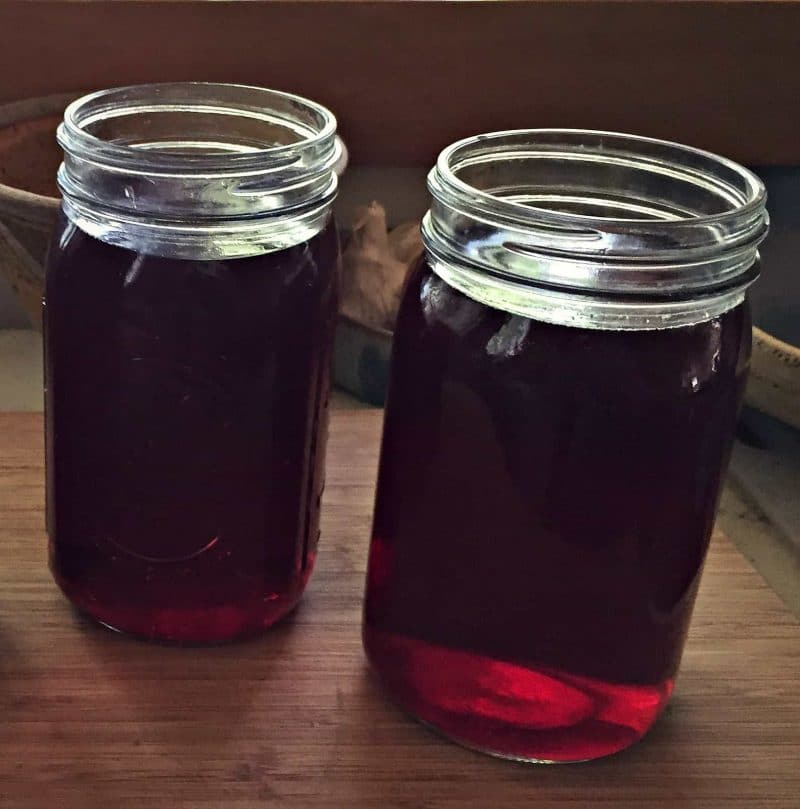 Add the hibiscus tea to the kombucha.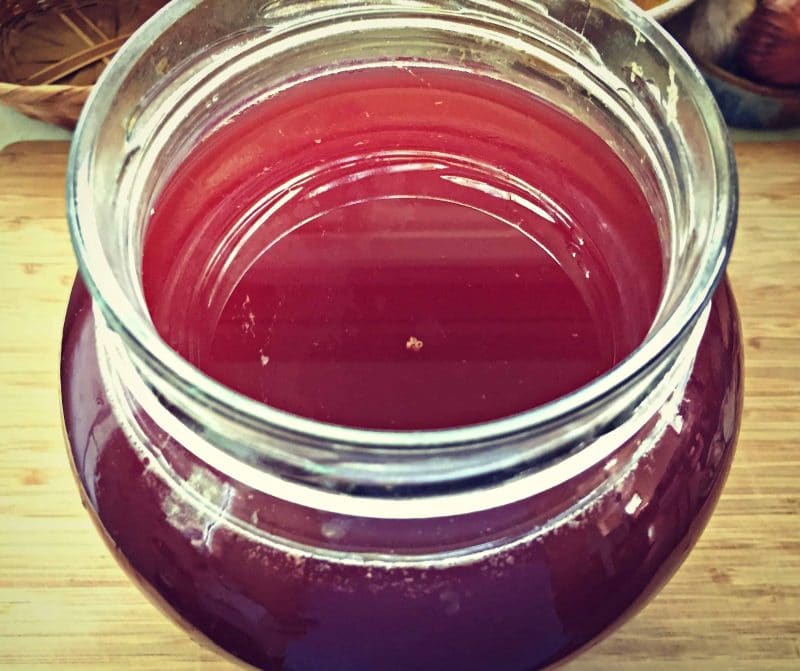 Then transfer the hibiscus kombucha mix into flip top bottles using a small funnel.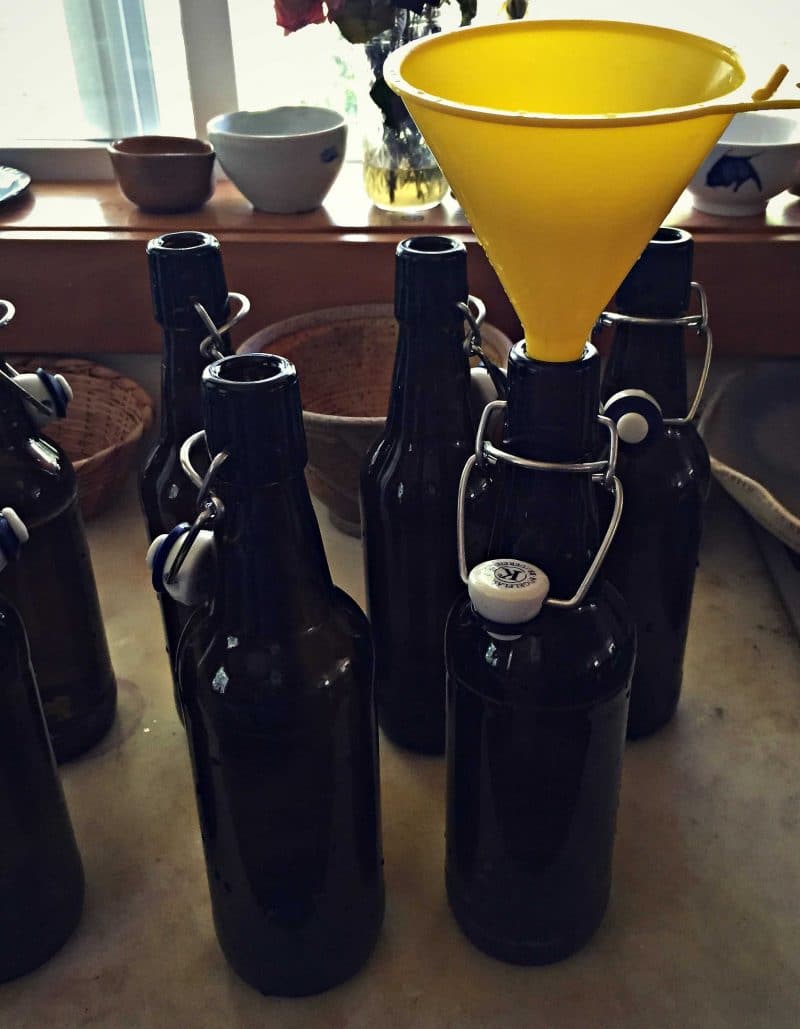 Seal the bottles and let them sit at room temperature for a few days. This is what's called the second ferment. Test one out to see how bubbly it is, and let them go a little longer if need be.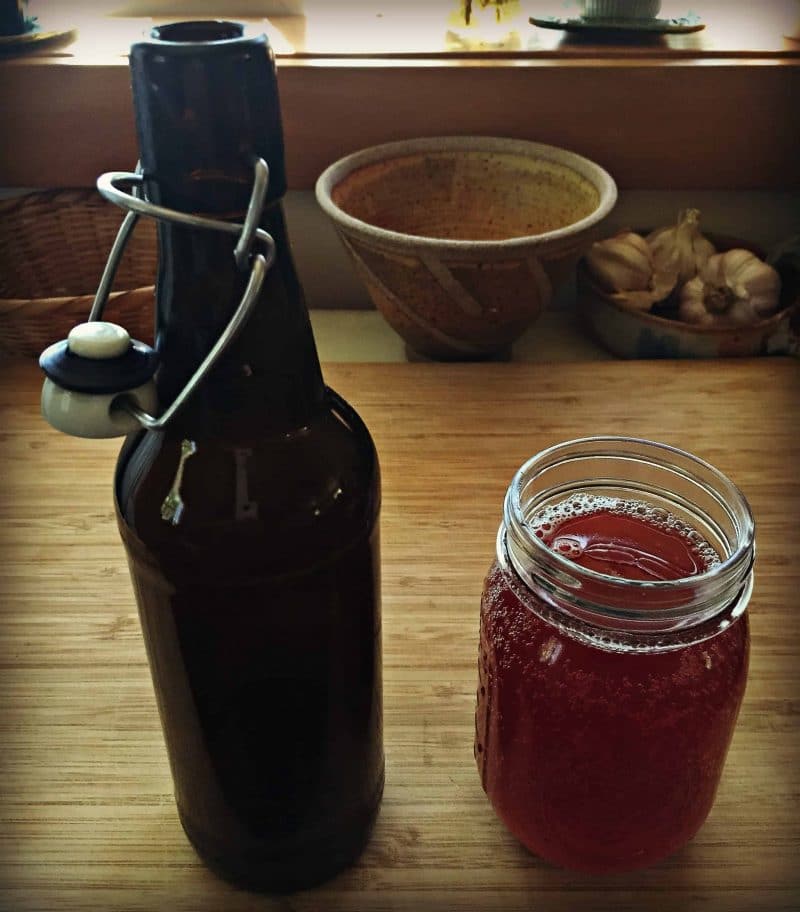 Once it is nice a bubbly to your liking, put the bottles in the fridge and drink whenever!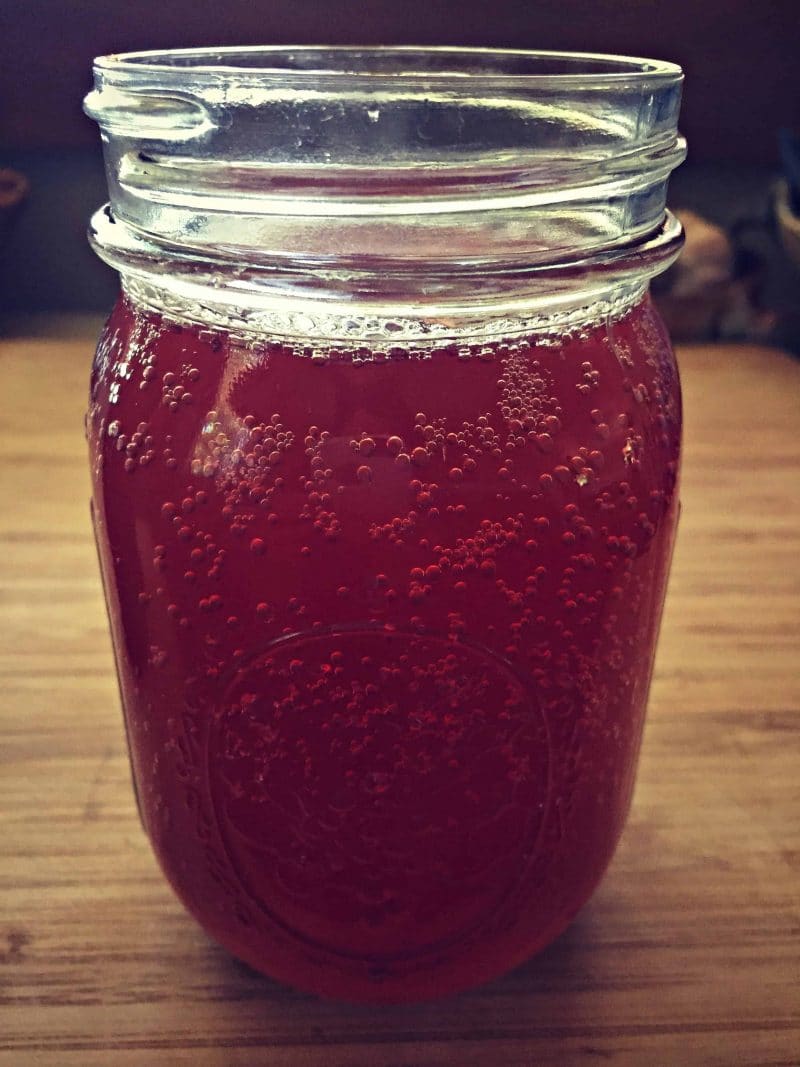 Like I said before, I've been brewing kombucha for quite a while, but have only gotten into the second ferment more recently. I love this idea because you can use all sorts of flavors from juices to teas to make your 'booch even tastier. A cold glass of this hibiscus kombucha on a hot day really hits the spot, that's for sure! It's starting to make me think about new flavors… Hmm, I wonder what lemon balm or rose hip kombucha would be like? I just might have to try it!
Save
Save