This, my friends, will change you. I know this because it has changed me! I am now a different person after tasting this wonderful kimchi that magically happened (yay, fermentation!). I have made sauerkraut many times and have always loved it, but if you can believe it, this was my first attempt at kimchi. It is similar, but yet oh so different, and the flavor is out of this world! Today I will show you how to make kimchi, the famous spicy Korean fermented condiment!

Kimchi Recipe

I pretty much followed the kimchi recipe exactly in Sandor Katz's book, Wild Fermentation. That book, along with his The Art of Fermentation, are always my go to guides for my first try at anything fermented.
Ingredients
Napa cabbage
Daikon radish (or any other type of radishes)
Carrots
Salt (Kosher, canning & pickling, or sea salt, do not use iodized)
Onion
Garlic
Ginger
Hot red peppers
Fish sauce (without preservatives, Red Boat brand is best), optional but recommended
Big wide mouth jar, at least 1/2 gallon size (I used a gallon)
Directions
Kimchi is a little different than other veggie ferments in that you soak the rough chopped veggies in a brine before adding the aromatics paste. First you put the chopped Napa cabbage and sliced radish and carrots into your vessel.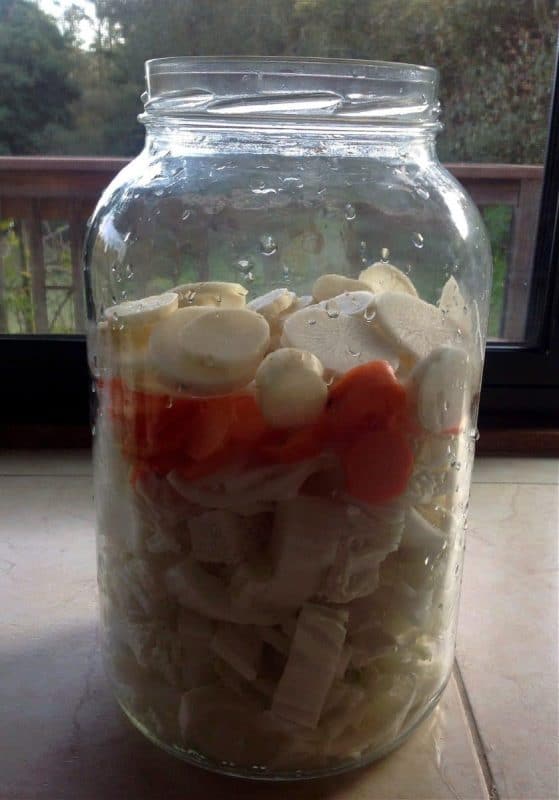 Mix a brine of 1 Tbsp salt to 1 cup water, you'll need at least 4 cups total, possibly a little more. You'll want the brine to completely cover the veggies.

MY LATEST VIDEOS
After you add the brine, weigh the veggies down with something so that they stay under the liquid as much a possible. I found a pint jar of pickles that fit nicely into the jar and I tied a string around it so that I could get it out easily. Work with what you have!
Let that sit overnight, the next day it will look like this: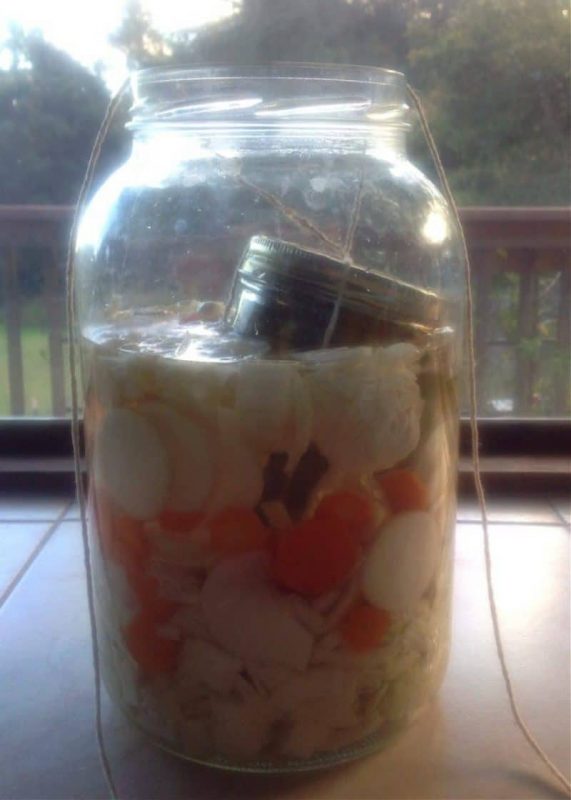 The veggies will be softer after the brining. Strain out most of the brine, but save a few cups. Rinse the salted veggies well.
In a food processor or blender add the chopped onion, a bunch of garlic cloves, a big hunk of ginger, hot peppers (more or less, depending on how much heat you like) and a few splashes of fish sauce. Process until a paste forms. This will smell righteous!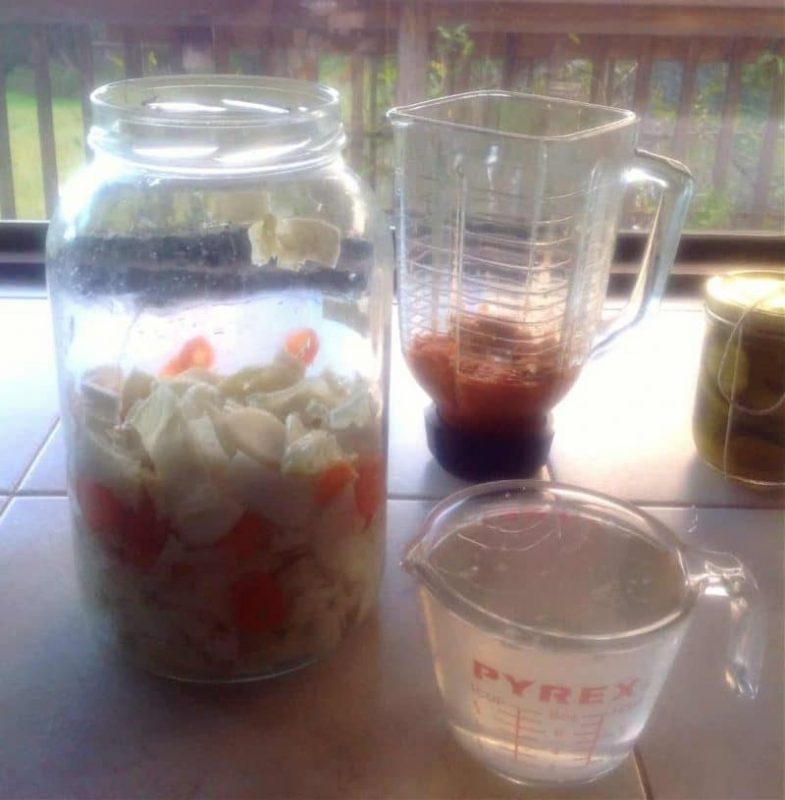 Stir the paste into the veggies and add just enough of the brine to cover everything well.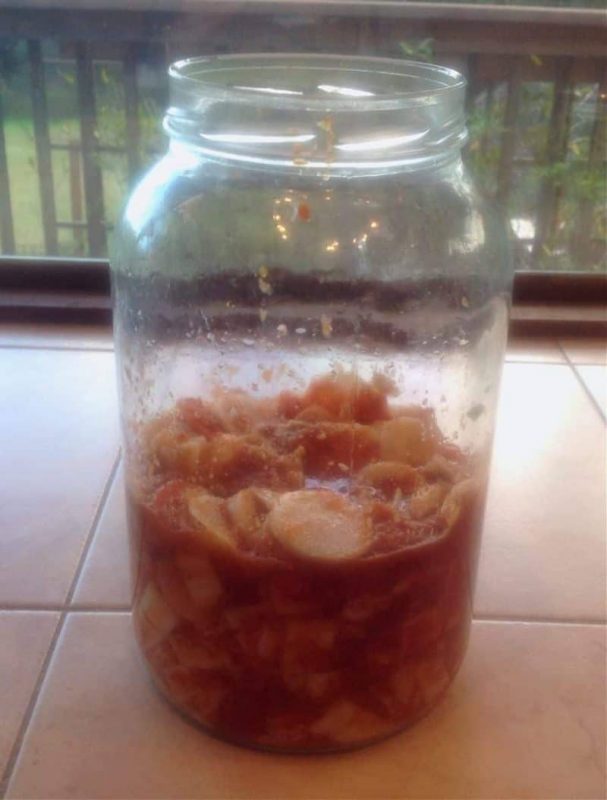 Put your weight back in to push the veggies under the brine.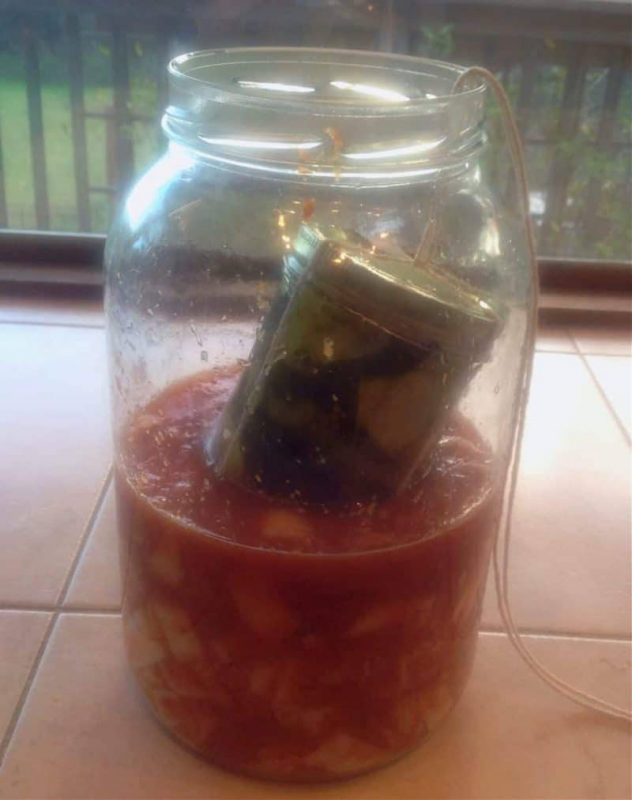 Cover the jar with a towel and put in a warm place in your kitchen for about a week or so, stirring occasionally. This is different than sauerkraut, which likes a longer and much cooler ferment. Kimchi likes it fairly warm and is done pretty quickly (by fermentation standards, anyways). The smell will radiate from the jar every time you are near, and eventually you will have this wonderfulness: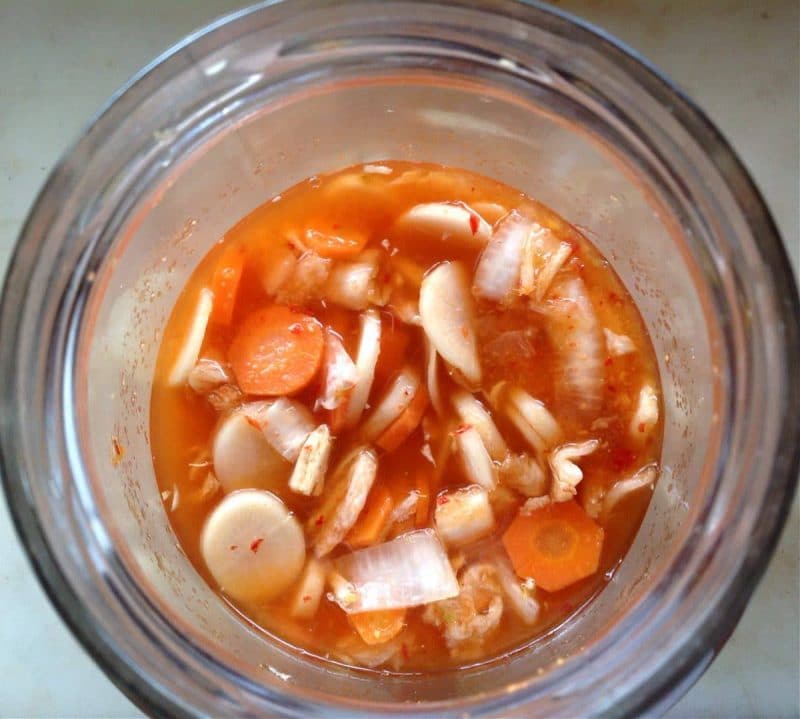 The smell, and most importantly, the taste, is more than I can even begin to describe! So I won't even try. I'm going to trust that you will make this so that you can experience it for yourself!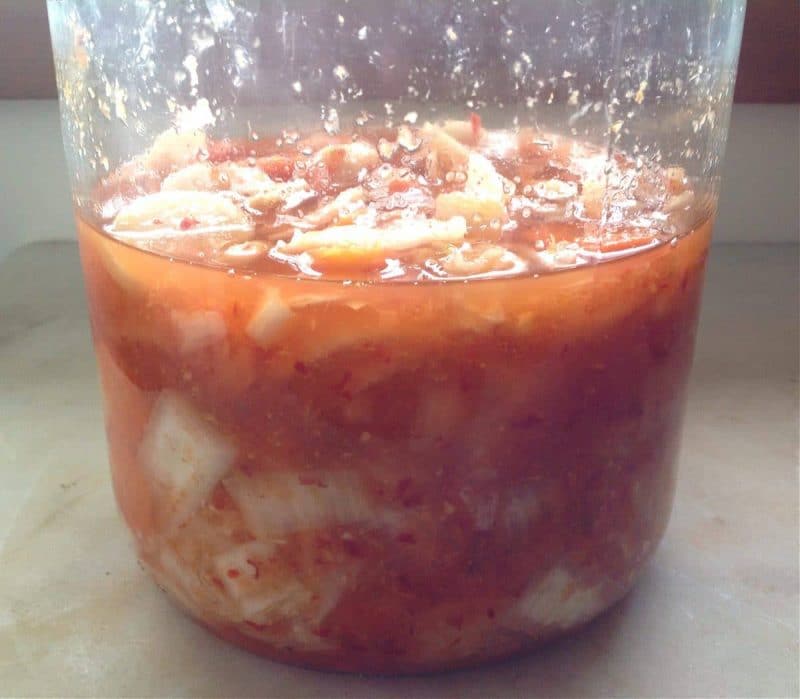 Love in a jar. One thing that has really intrigued me in my kimchi research is that the same two people can make the same exact recipe for kimchi, but the end result will taste slightly different because of the individual bacteria on each person hands. So, when you natually ferment kimchi you are actually cultivating your own unique healthy bacteria. So cool!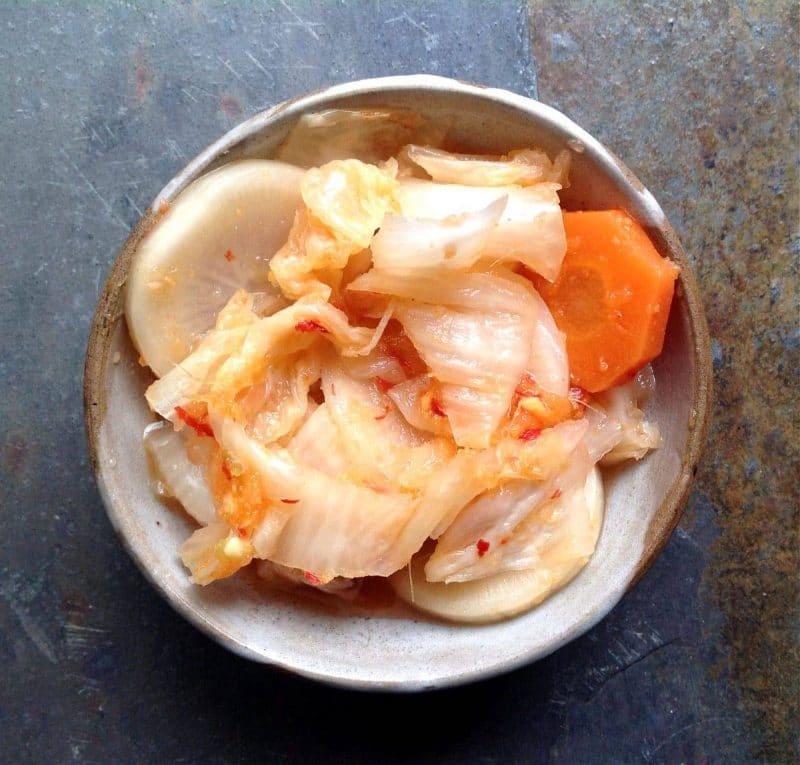 I literally want to eat this with every meal! I can't wait to make kimchi eggs. Or kimchi anything! I've become a kimchi convert, I think I even prefer it to sauerkraut. Kimchi Reuben, anyone??? You know I'll be making that as soon as I can!
Save
Save