Fermenting is a great way to preserve foods and drinks in a delicious and fun way. Here are the 12 best books on fermenting and homebrewing. These books will give you a great start on how to make your own fermented veggies, kombucha, miso, tempeh, mead, and homebrew!
Simple Mead Making eBook
Before I get to the 12 best fermenting books, I want to let you know that I have my own eBook on how to make your own mead (honey wine)!
Simple Mead Making: A Beginner's Guide to One Gallon Batches teaches aspiring home brewers how to make their own one gallon batch of mead. You'll learn how to make your own homemade honey wine without complicated processes and expensive equipment!
12 Best Fermenting & Homebrewing Books
Fermented vegetables are full of healthy probiotics, kombucha is all the rage, and homebrewing your own mead, hard cider, wine, or beer brings a little cheer into your life!
For beginners, fermentation might seem a little daunting, however. It's definitely a learning process, but thankfully it's not hard at all!
The way that I (and probably most others) began was by reading some great books on fermentation. Here I'm going to share with you what I think are the 12 best fermenting books to help you get started!
These are my favorite fermenting and homebrewing books, from fermenting vegetables, to making tempeh, miso, and yogurt, to making kombucha, mead, and country wine. I think you will love these books!
Be sure to check out my other book guides here:
Related: Gift Guide for Fermenters and Homebrewers
Wild Fermentation and The Art of Fermentation
These two books by Sandor Katz are the first ones that I always recommend to beginning fermenters.
I got my start in the fermentation world with the original edition of Wild Fermentation, and now I also own the new updated version. It was probably the first book that really brought fermentation into popularity. It is such an amazing resource, and if you want to only buy one book on fermentation then this is the one!
The Art of Fermentation is Sandor's 2nd book on the subject, and it is what I call the fermentation bible!
This is a big book that is packed full of useful information and goes into much more detail than his first book. For that reason I think it's better for people who have done a little fermenting before and want to explore the topic more fully.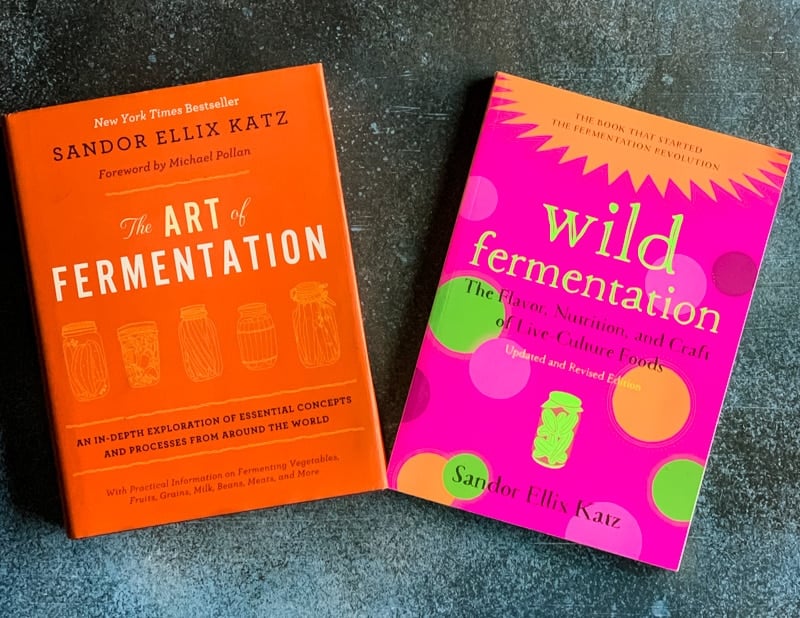 Fermented Vegetables is an in depth guide to just that, making your own lacto-fermented vegetables! You would think a topic like this would be simple enough, but there is so much to cover and they do it so well. My favorite part about this book is the step by step visual guides for the basic types of vegetable ferments.
I've made two delicious recipes from Fermented Vegetables here on the blog: Fermented Cherry Tomato Bombs and Fermented Dilly Beans.
Miso, Tempeh, Natto is all about fermenting grains and beans. This is a great book for more experienced fermenters who want to explore all that there is in the wonderful world of fermentation! Making miso and tempeh is a little more complicated than fermenting vegetables, but totally worth it!
The Shockey's also have a third book titled Fiery Ferments that is all about making fermented hot sauces and condiments! (See my post on fermented hot sauce here).