We have so many cherry tomatoes in the garden this year, it's ridiculous. This isn't necessarily a bad thing, as they are super sweet and delicious, but it's becoming hard for us to consume them all! What makes it even more difficult is that cherry tomatoes aren't usually preserved in the same manner as larger tomatoes, such as canning. But what about fermenting? I flipped through my copy of Fermented Vegetables by Kirsten and Christopher Shockey of FermentWorks, and was happy to find a recipe for fermented cherry tomato bombs! They have kindly given me permission to include that recipe here.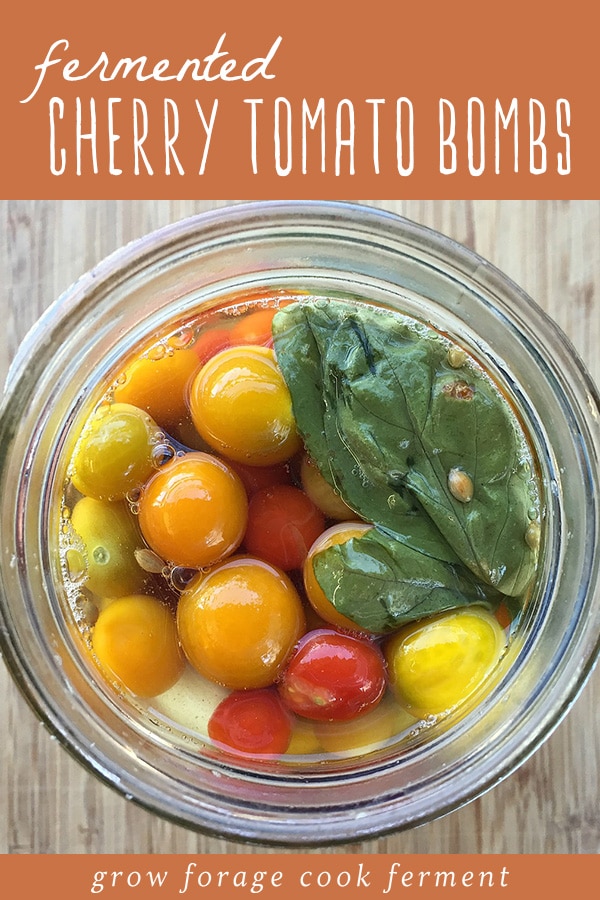 The main trick to this recipe is to use tomatoes that are not fully ripe. The problem with fermenting ripe tomatoes is that the sugars in them want to turn to alcohol. Tomato wine, anyone? While a boozy effervescent tomato drink does sound intriguing in a bloody mary kind of way (and may be something that I try one of these days), that's not what I was going for this time around.
Picking a bunch of under ripe cherry tomatoes took me no time at all. It's even ok if the tomatoes are mostly red, as long as they are still quite firm. You do want to avoid using totally green tomatoes that haven't even begun to ripen yet. For those you can use my fermented green tomatoes recipe.
Fermented Cherry Tomato Bombs
Ingredients
4 cups under ripe cherry tomatoes
1 sprig fresh parsley
2 stems fresh basil
4 cloves garlic, peeled
1/4 tsp peppercorns
1/4 tsp coriander seeds
1/4 tsp mustard seeds
4 cups unchlorinated water
3 Tbsp Kosher, pickling, or sea salt (not iodized)
Directions
Put the peppercorns, coriander seeds, and mustard seeds into the bottom of a quart sized jar, then layer in the tomatoes, parsley, basil, and garlic.
Mix together the water and salt to make a brine, and pour over the tomatoes, making sure to cover them completely.
Use a weight to keep the tomatoes under the brine, and cover the jar with a towel.
Put in a cool and dark corner to ferment for 6-8 days.
Taste them along the way. When the tomatoes are finished fermenting they will burst with a champagne like effervescence in your mouth.
Cover with a lid and store in the fridge. They are best after 1 to 2 weeks.
These cherry bombs will continue to gain effervescence even under refrigeration. The pressure is not in the jar, but in the tomatoes themselves!

MY LATEST VIDEOS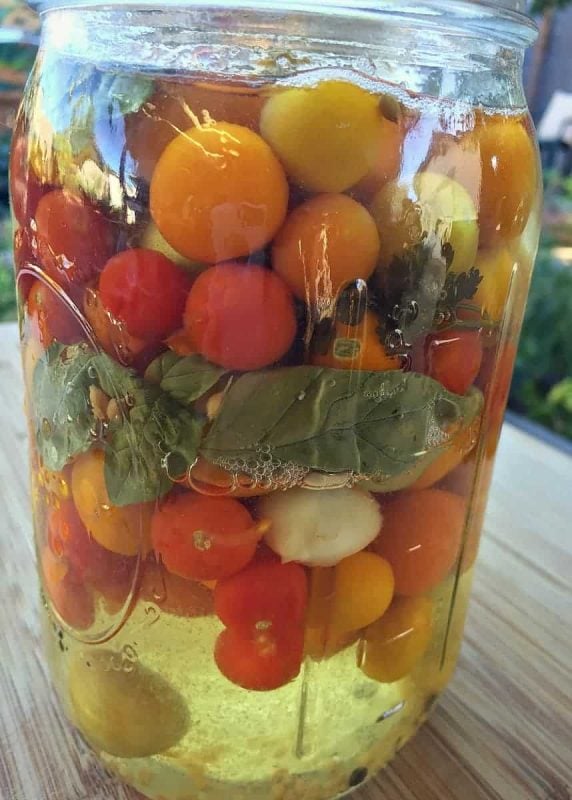 My jar did produce some nice bubbles, probably because several of my tomatoes burst during the process, emitting their sweetness.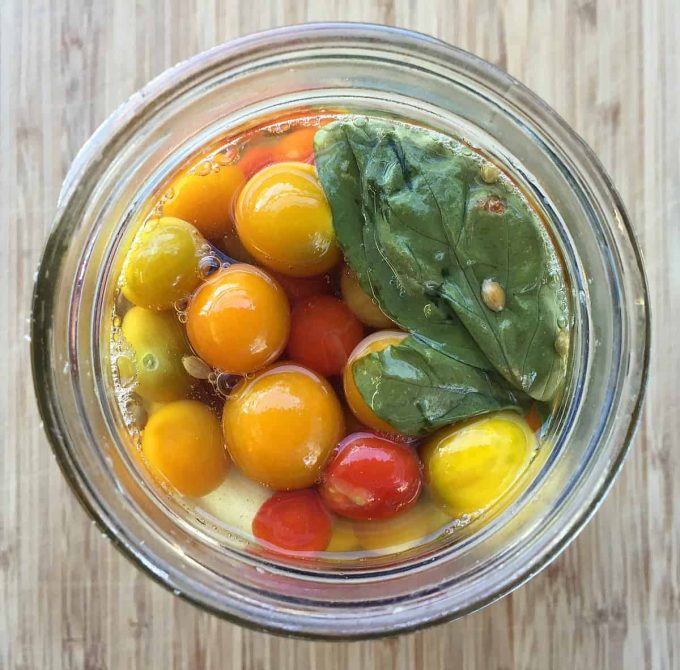 These fermented cherry tomato bombs turned out super delicious! I loved the slight effervescence in them, and the fresh herbs added nice flavor as well.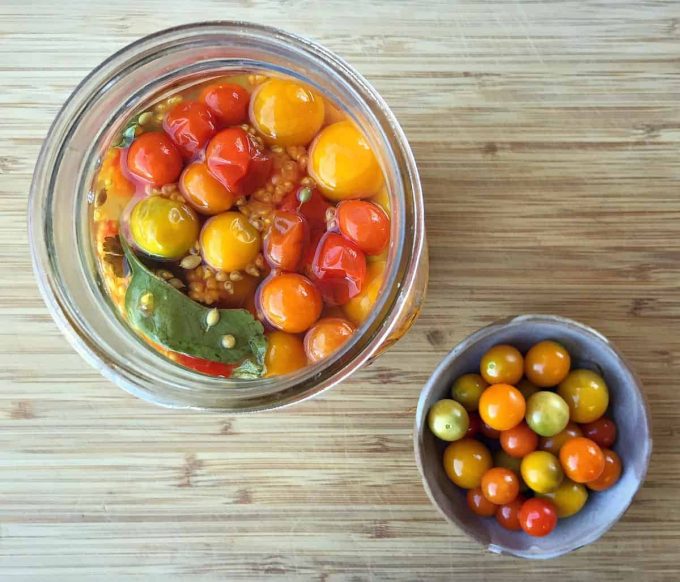 This is a perfect way to use up cherry tomatoes at the end of the season. They will last for about 6 months in the fridge.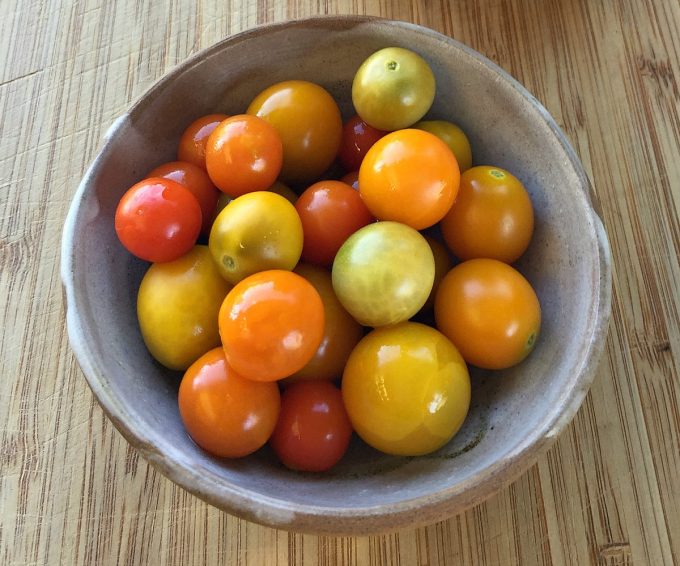 They are beautiful during fermentation and afterward! They do lose their color slightly, but will still make a lovely addition to an appetizer platter. Or just pop them in your mouth whenever you feel the need for a cherry tomato bomb!
If you don't have the book Fermented Vegetables yet, this is the perfect time to get it. There are so many great recipes for fermenting the harvest, and I have to say that it's my favorite book on the subject!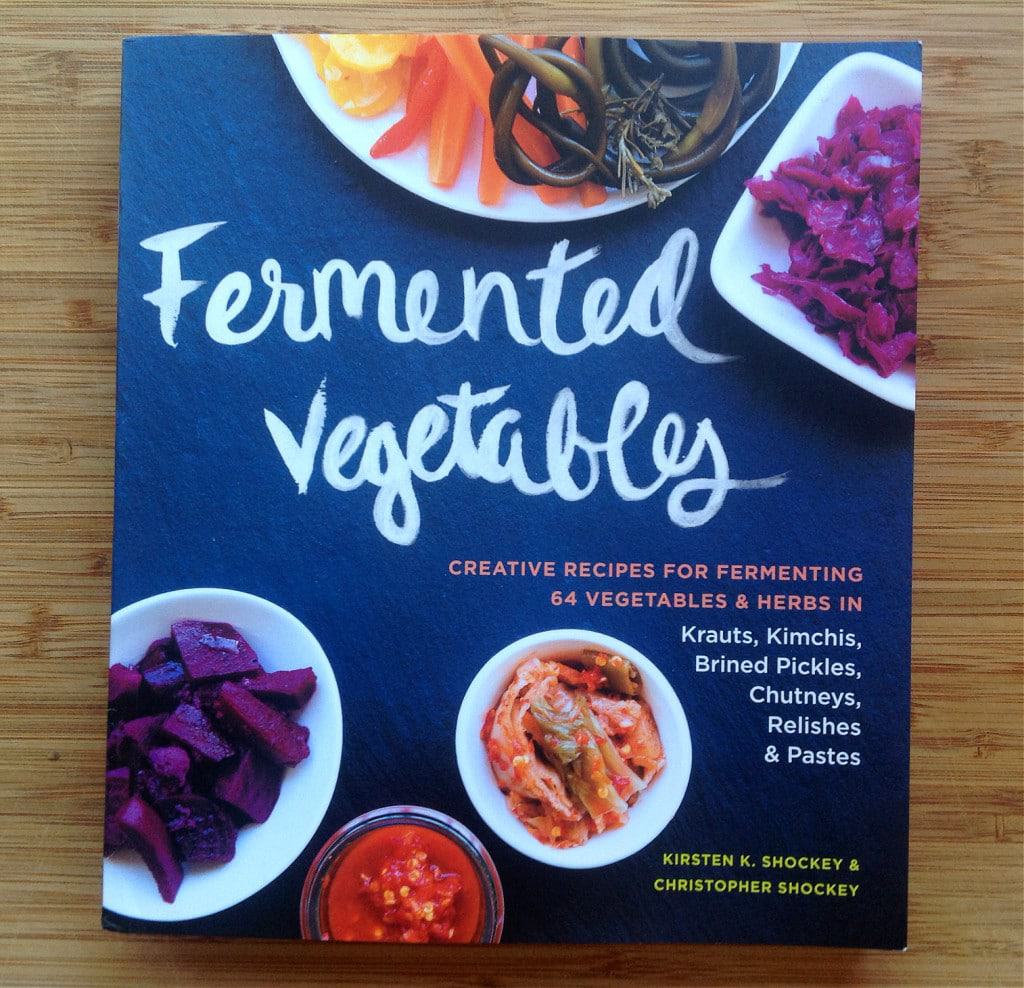 I hope you give these fermented cherry tomato bombs a try, I think you will love them!
What is your favorite vegetable to ferment?

Save
Save
Save