Green tomatoes are an inevitable part of homegrown tomato plants, as there always seem to be some that haven't quite ripened before it gets too cold. While you can pick them green and bring them inside to ripen, sometimes there are so many green ones it makes sense to utilize them as they are. Of course, fried green tomatoes are an option that everyone should try at least once, as they are amazing. But, these fermented green tomatoes are pretty darn good as well!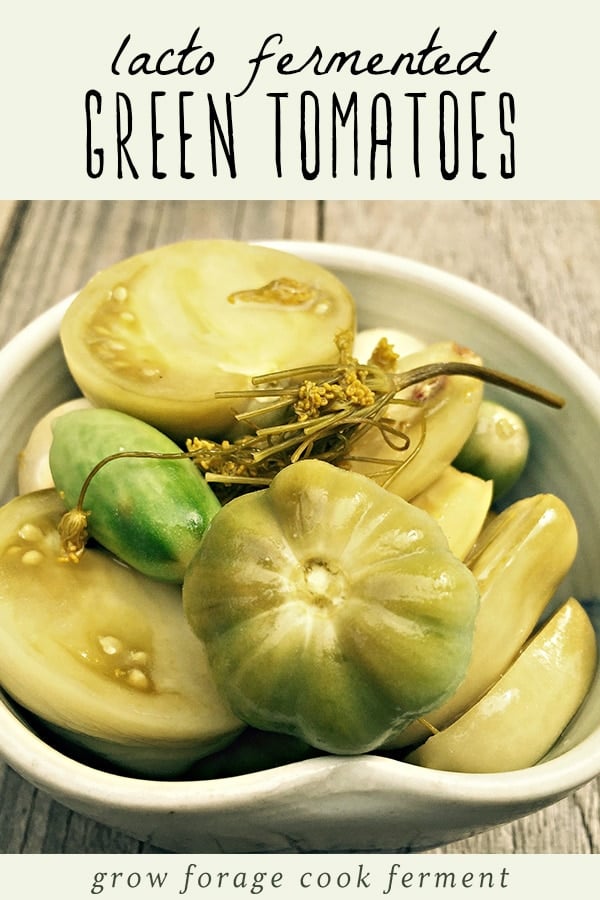 Oh Lardy Guide to Fermenting Fruits & Vegetables
I got this fermented green tomatoes recipe from Oh Lardy's Guide to Fermenting Fruits & Vegetables eBook by Kelly Liston and Tamara Mannelly, writers of the amazing blog Oh Lardy.
This eBook is an awesome guide to get you started in the world of fermenting. It's extremely thorough and has a whole bunch of great recipes to boot!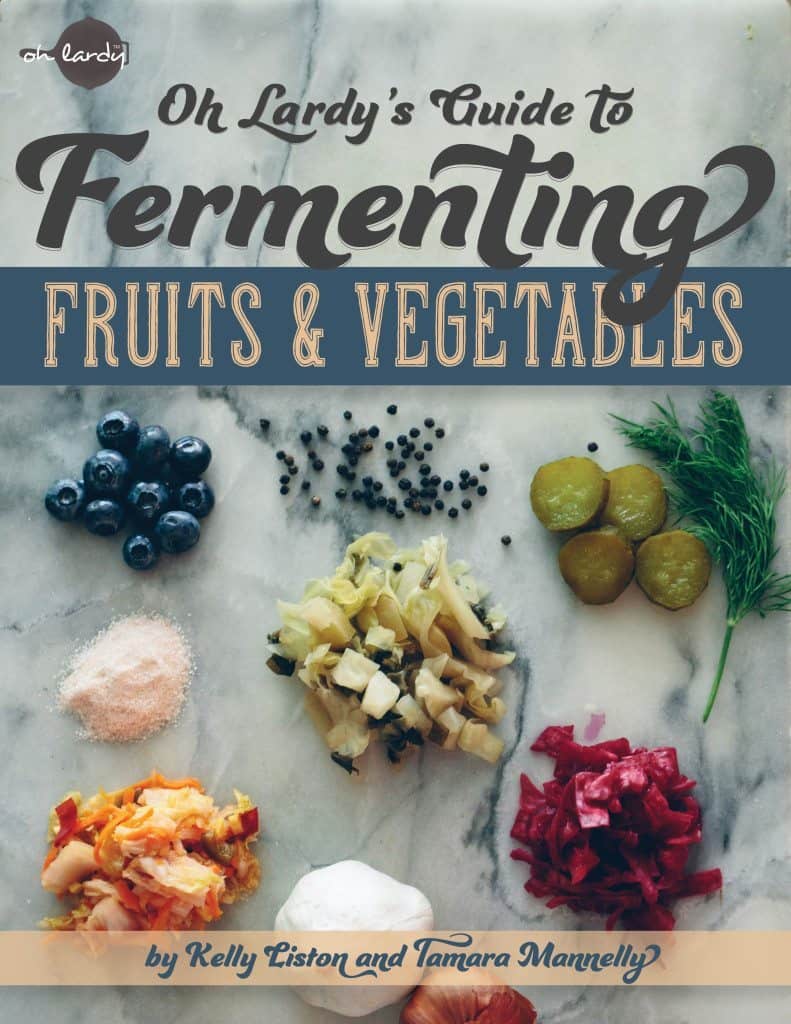 I'm not a newcomer to fermented foods, but I was really surprised at how in-depth this eBook is. It's laid out beautifully and has a ton of really great pictures. It is like reading a real book!
It also covers a bunch of frequently asked questions about fermenting that newcomers usually have (what about mold? etc.).
I got excited when I saw a recipe for lacto-fermented green tomatoes because I have a ton of them and wasn't sure what to do with them all!
Ferment them, of course, what was I thinking?
Related: Refrigerator Pickled Green Tomatoes, Green Tomato Recipes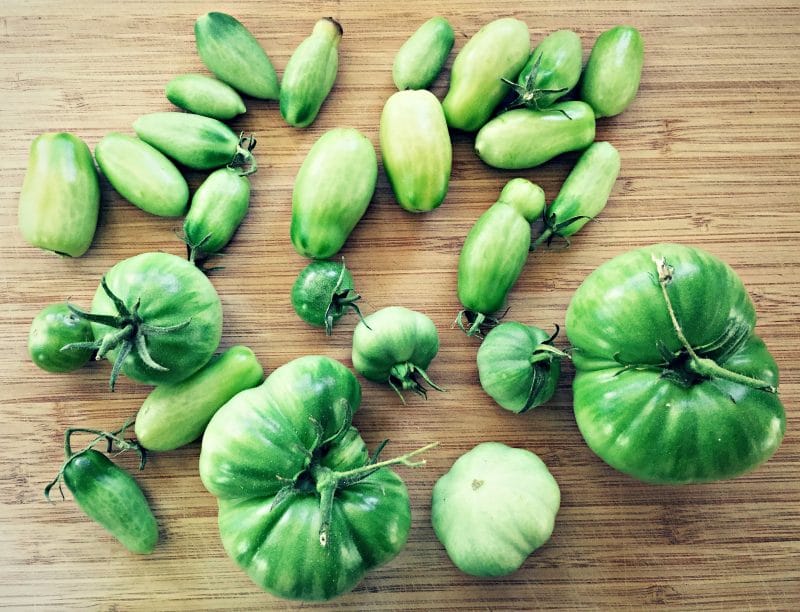 How to Make Lacto-Fermented Green Tomatoes
I adapted this recipe just a bit from the original, mainly by adding fresh dill sprigs because I had them.
Also, instead of the whey or culture starter, I just used a bit of brine from my fermented dilly beans to get things going but to be honest you don't even need it.
First, you'll want to cut your green tomatoes into roughly equal-sized chunks. The smaller ones I just left whole.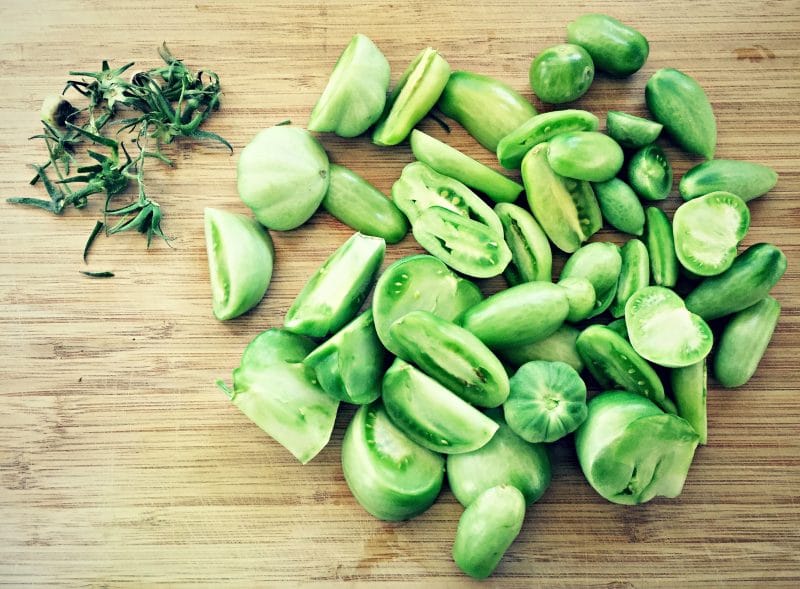 Then put everything into a quart jar except the water.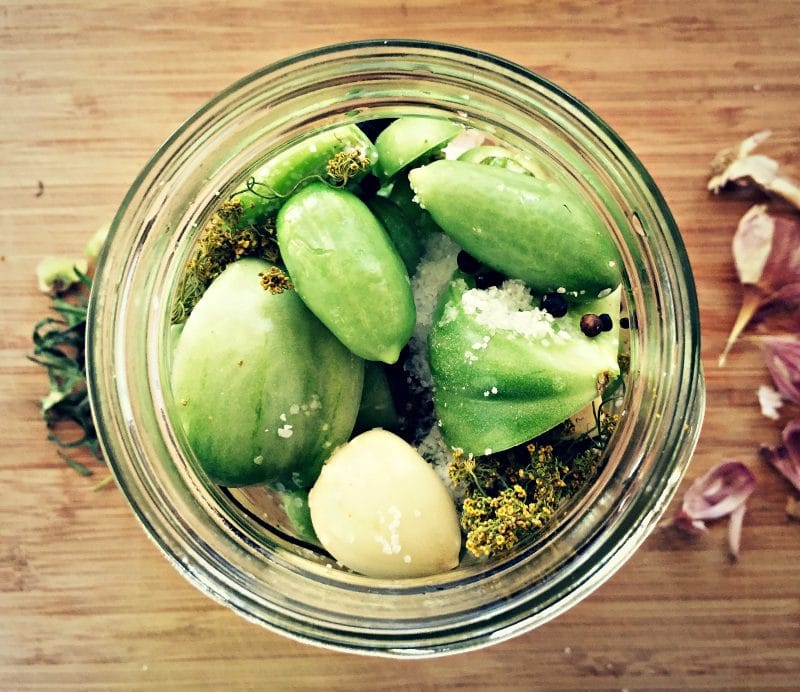 Add the water, leaving an inch or so of head space, cover with a lid, and give a shake or two to dissolve the salt. Then take the lid off and weigh the veggies down with something to keep them under the brine.
The eBook has many different recommendations for this, my favorite of which is a river rock that has been sterilized in boiling water. So much better than a plastic bag full of water!
I used my trusty Ferment'n weight (they don't exist anymore, unfortunately, but these fermenting weights look good!)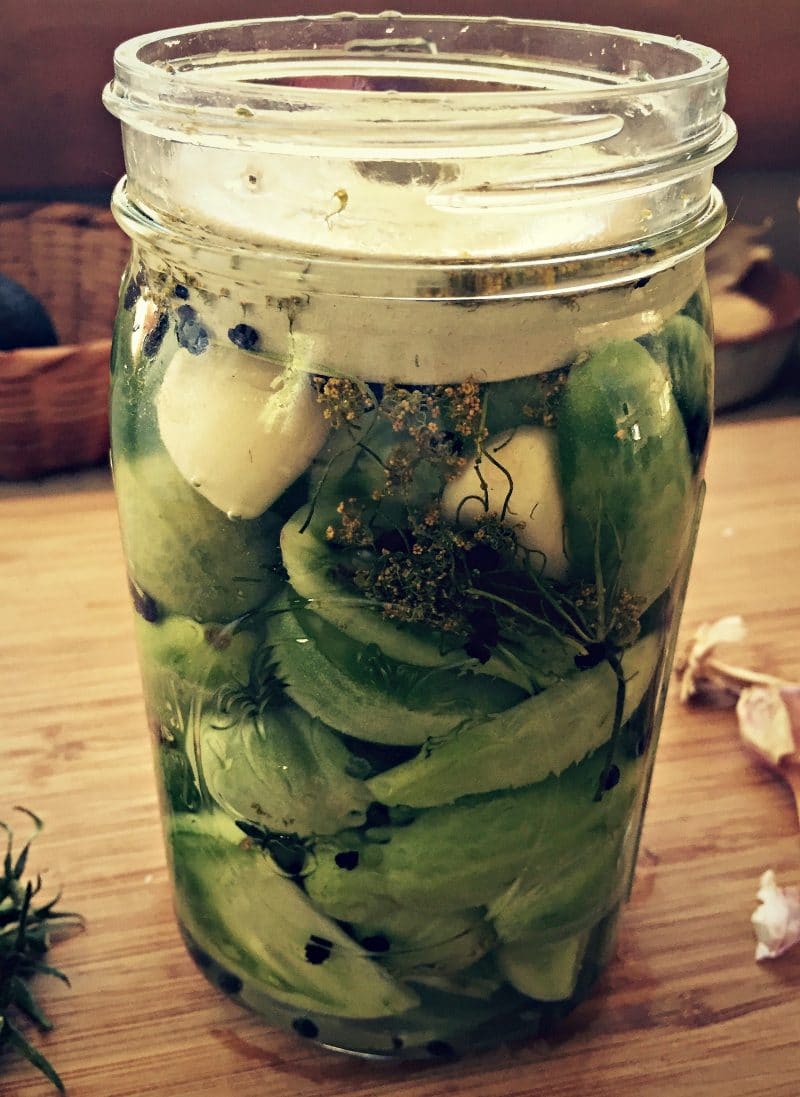 Cover the jar with a towel and rubber band (or if you have a fermenting airlock system you can use that, but it's not necessary), and put in a quiet corner of your kitchen for 4 to 7 days.
It's okay to taste them as the days go by to see if they are fermented to your liking. Soon they will look like this: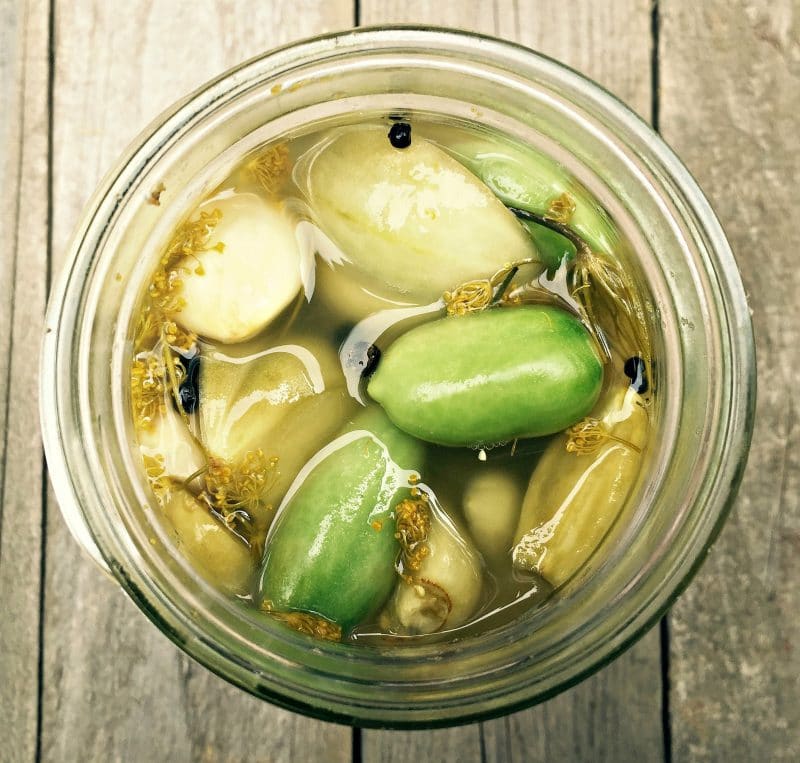 The whole tomatoes were less fermented than the cut ones, which is why they're greener in color, but I thought it was kind of nice to have differing flavors and textures.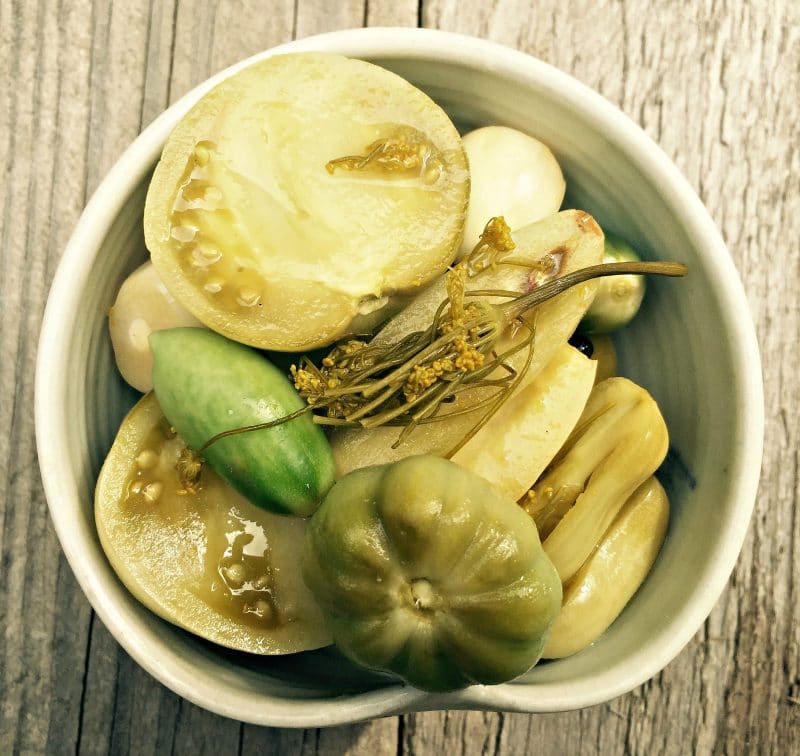 Though, these babies are darn tasty! Like dill pickles, but with a little more tartness.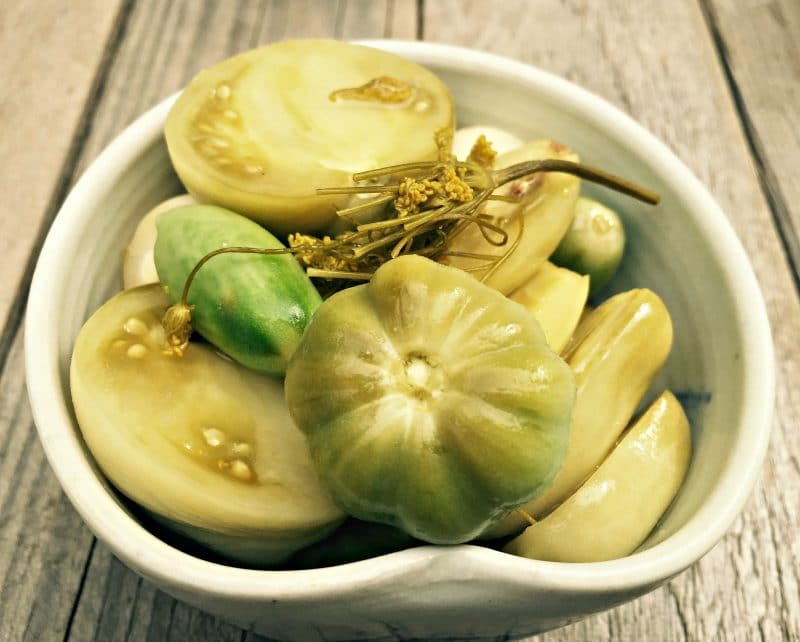 Plus they're a fun addition to your appetizer plate!
I highly recommend you make these, especially if you have an abundance of green tomatoes at the end of your growing season.
Also, be sure to check out Oh Lardy's Guide to Fermenting Fruits and Vegetables, you won't be disappointed! It is a great resource, not to mention the wonderful collection of recipes it contains.
---
More Fermented Vegetables
Dig a little deeper and find recipes for even more of our favorite fermented vegetables!
---
Now it's time to get your fermentation on!
Fermented Green Tomatoes Recipe
Fermented green tomatoes are a very easy beginning ferment recipe. They're delicious, full of healthy gut healing probiotics, and simply perfect for preserving and canning the late summer harvest!
Ingredients
green tomatoes

enough to fill a quart jar

4

cloves

garlic

peeled

1

Tbsp

peppercorns

3

sprigs

fresh dill

1

Tbsp

kosher, pickling, or sea salt

non-iodized

2

Tbsp

whey

or 1/2 tsp culture starter, optional

non chlorinated water
Instructions
Slice the green tomatoes into roughly equal sized chunks.

Place the green tomatoes into a quart sized jar, along with the garlic, peppercorns, dill, salt, and whey or starter (if using). Add the water to the jar, leaving an inch or so of head space.

Place the lid on the jar, then shake to dissolve the salt. Remove the lid, then place a fermenting weight on top to weigh down the vegetables. Cover the jar with a towel and secure with a rubber brand.

Place the jar into a quiet corner of your kitchen for 4-7 days. Taste as you go, and when they're to your liking, place a lid on the jar and store in the fridge.
Notes
Store fermented green tomatoes in the refrigerator. 
Nutrition