I love all kinds of pickles, always have. I was one of those kids who would eat dill pickles and briny olives straight out of the jar. Dilly beans, however, are somewhat new to me. My Mom has been growing green beans for the past few years in her garden and making dilly beans out of them that we enjoy year round when we go to visit. It's such a great little happy hour (or any time of the day) snack. The sourness from the vinegar, the flavor from the dill and garlic, and the crunch from the beans. So awesome! All of this got me thinking, though… what about making lacto fermented dilly beans? I did a little research, and of course it can be done!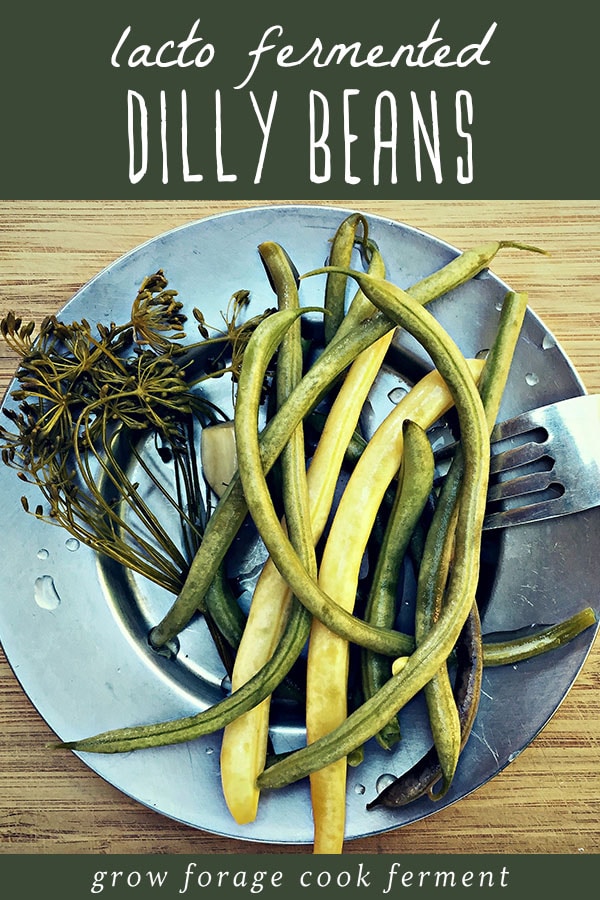 The great thing about making lacto fermented dilly beans versus the canned vinegar kind is that you can make them in single jar batches as you harvest the beans. This is part of why I love fermenting, it's so easy! No canning required to put up your harvest. For this recipe, first you need to acquire some green beans. Some of these are from our garden and some are from our CSA veggie box.
I used a mix of green and yellow beans, with a few purple thrown in for good luck. The recipe I based this on is from the book Fermented Vegetables by Kirsten and Christopher Shockey.

This is a super awesome book and is highly recommended for anyone wanting to explore veggie ferments further.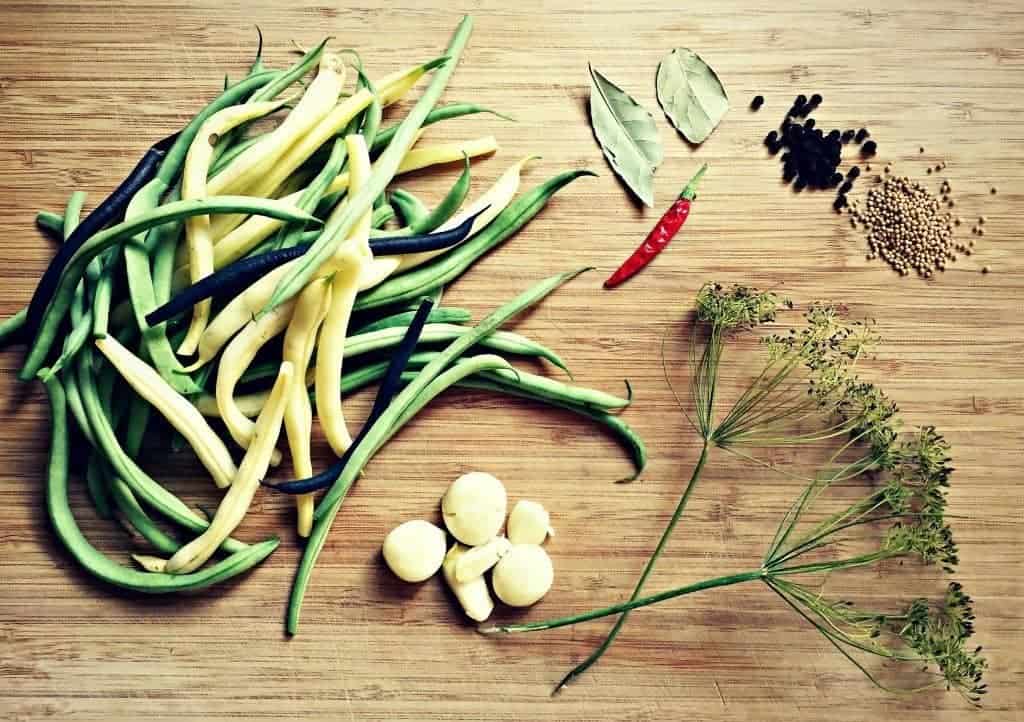 Here is what you will need to get started with these lacto fermented dilly beans:
Fresh green beans to fill a quart jar
4-5 garlic cloves
2 whole flower heads of pickling dill, or 2 sprigs fresh dill and 1 Tbsp dill seeds
1-2 bay leaves
1 tsp. mustard seeds
1 tsp. black peppercorns
1 small hot pepper (optional)
Put all of these ingredients into a quart jar.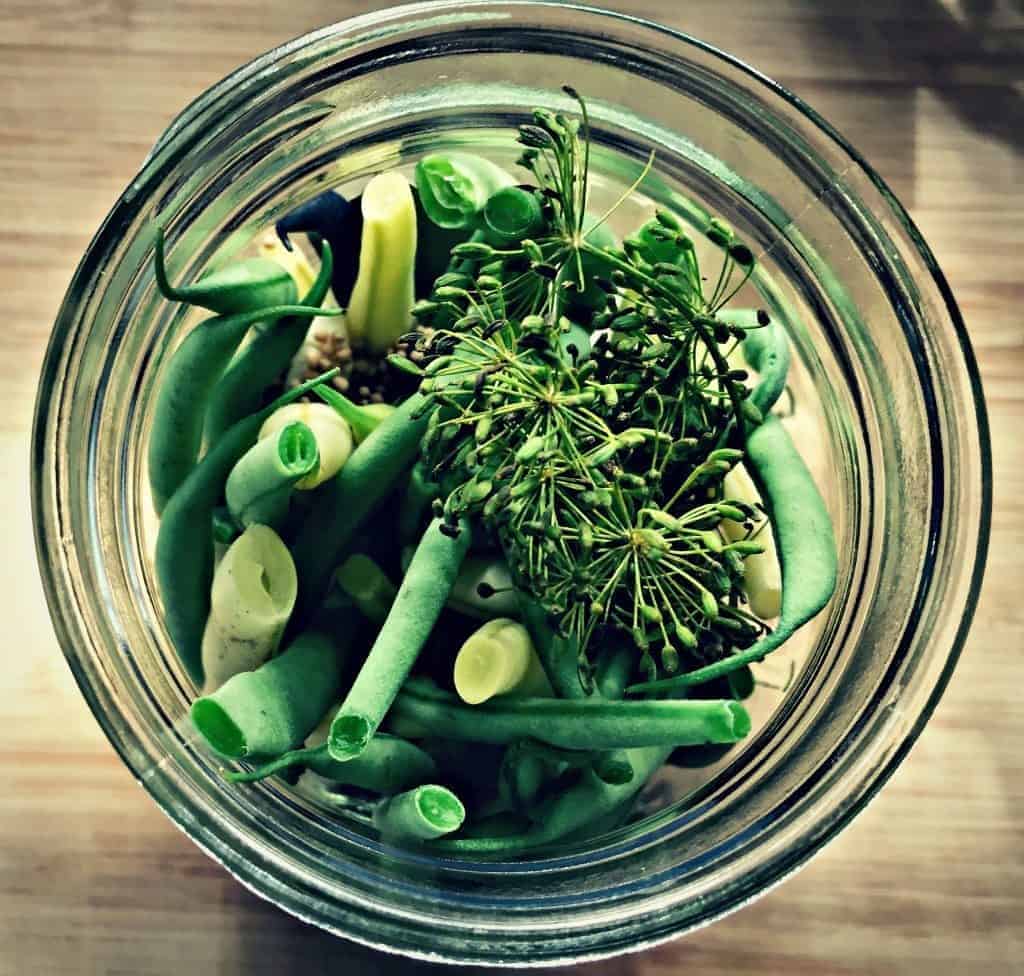 Putting the beans in lengthwise makes it look beautiful, and it also allows you to stuff in as many beans as possible.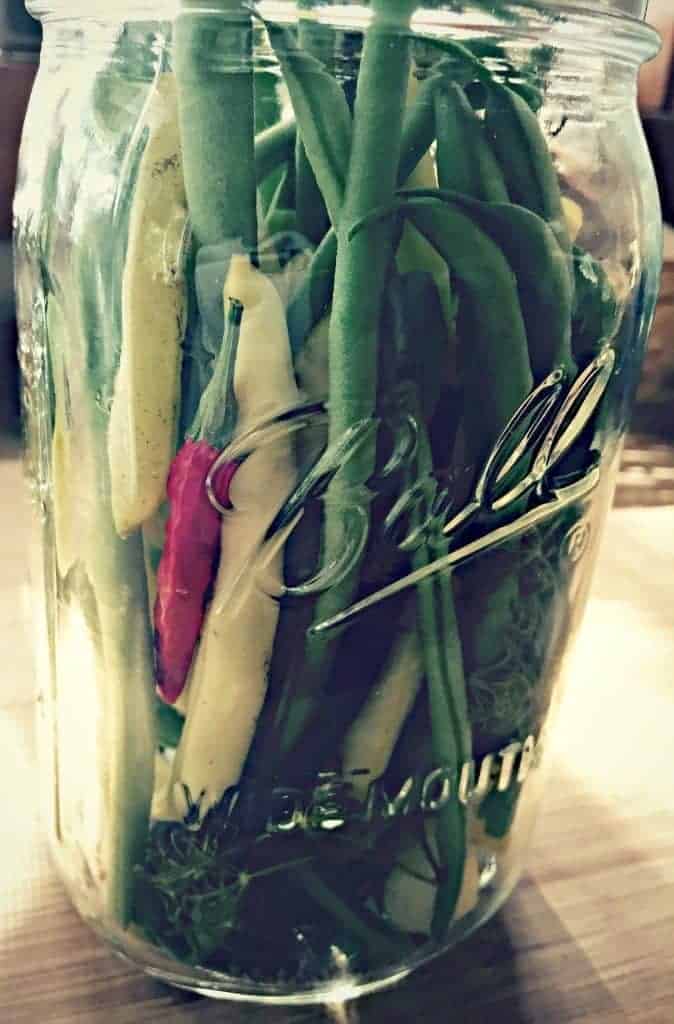 Next, mix up a brine of 1 Tbsp. Kosher or picking salt (not iodized) to 2 cups water.
Pour that brine over the beans in the jar.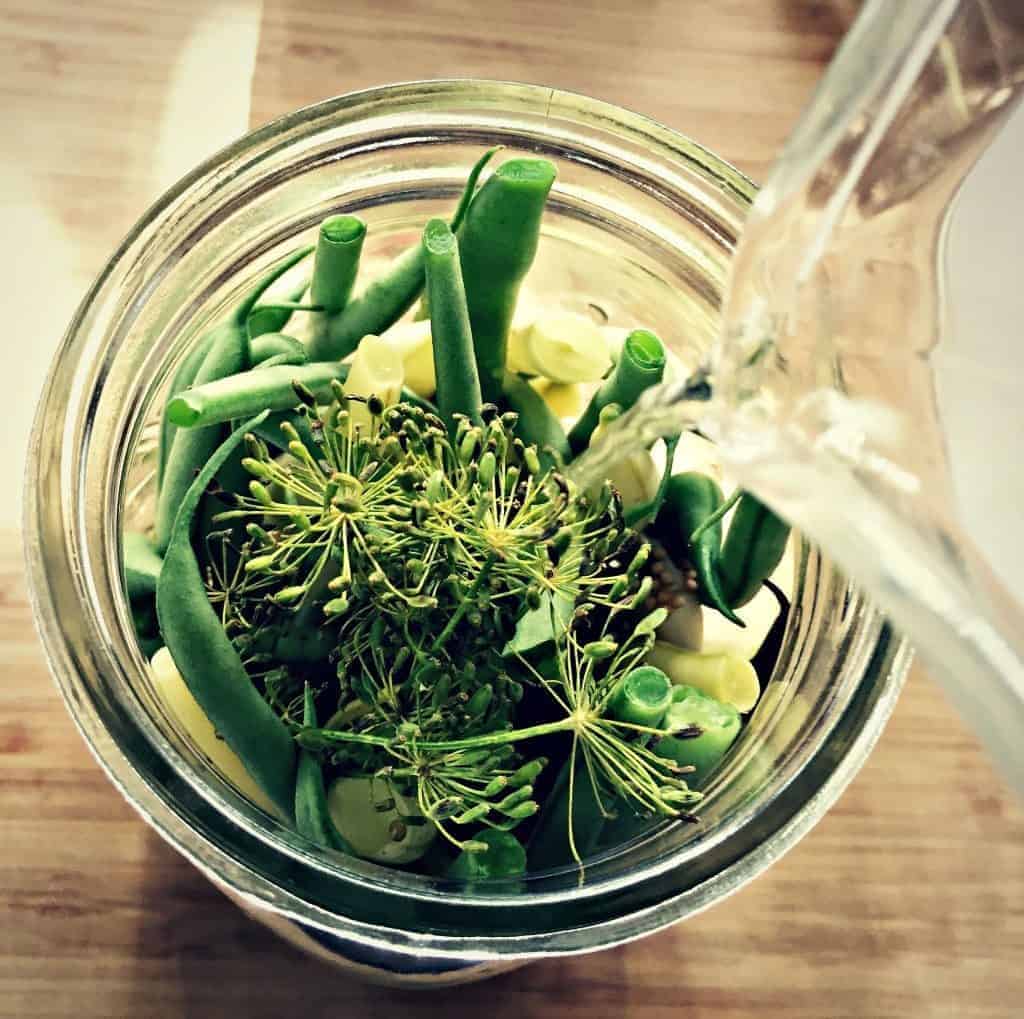 Make sure all the veggies are covered with the brine and weigh them down with a weight. You can use a bag full of water as a weight, or get something like the awesome kit from Ferment'n.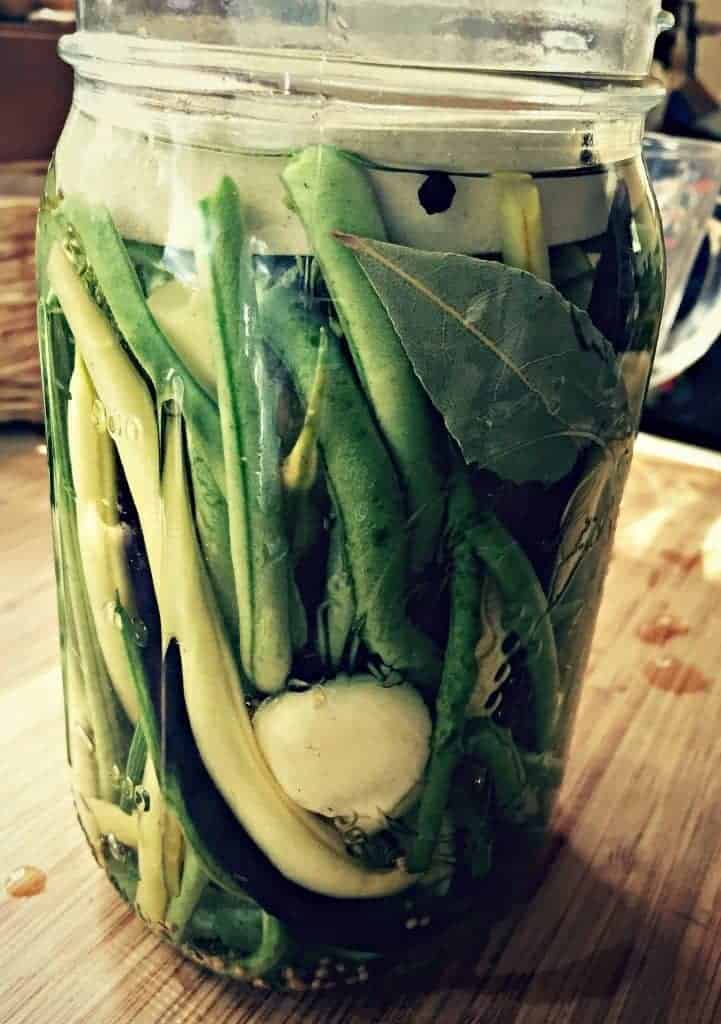 Cover the jar with a clean cloth secured with a rubber band and put in a dark place in your kitchen. Take a quick look at it every day or two to make sure it's ok (I'm sure it will be, but it's always nice to keep an eye on it!). After a week taste the beans and see if they're to your liking.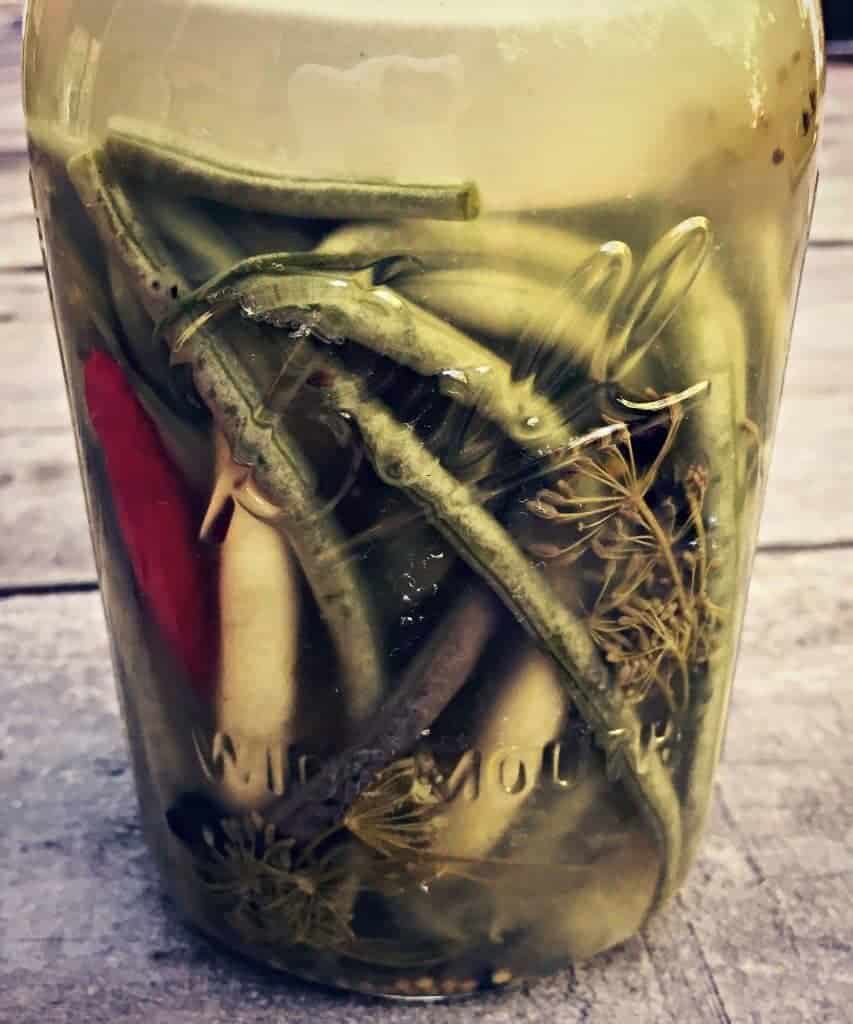 If they're still too crunchy, let them ferment longer, up to another week. If it's really cold in your kitchen, it may take even longer than that.
Once they are ready, it's time to eat! They should be delightfully salty and crunchy, the perfect addition to your next appetizer.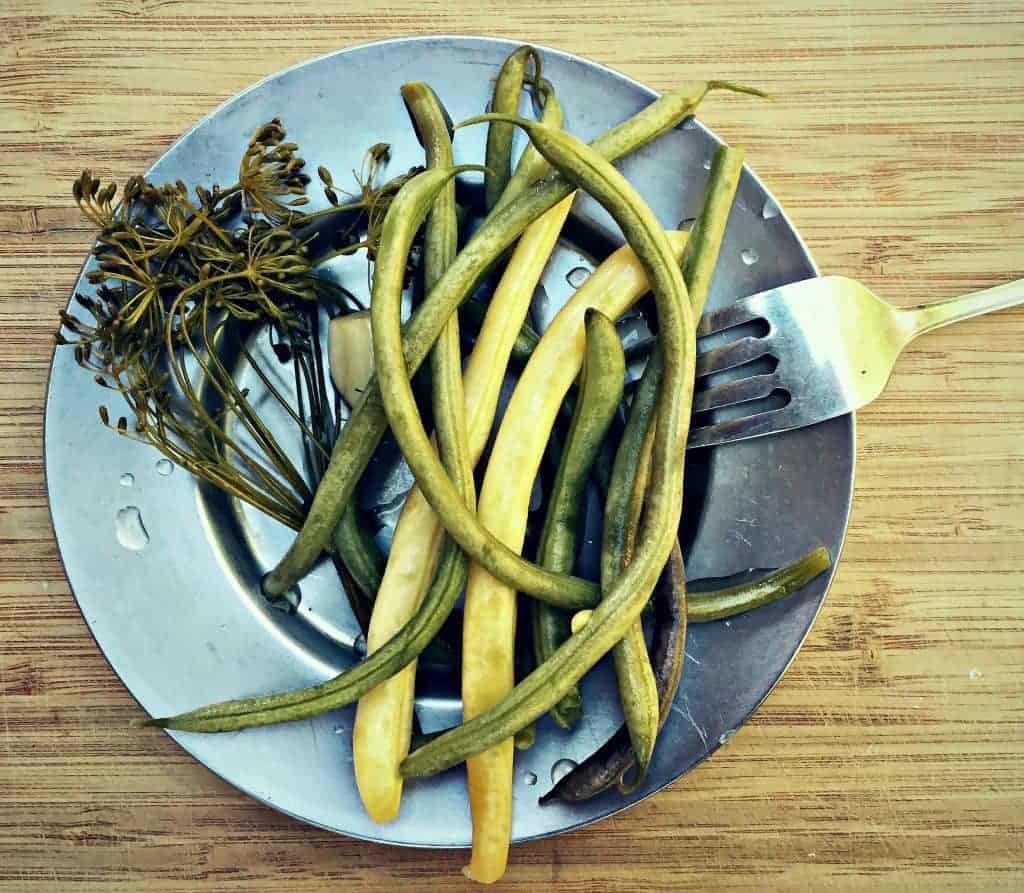 Lacto fermented dilly beans are the perfect (and easy) way to preserve your harvest! Not only are they tasty, but full of gut healthy probiotics. Keep them in the fridge or a cool cellar for months, and reach for them whenever you need a few dilly beans. We all need them from time to time!
Save