Fermenting foods is one of my favorite pastimes, and I've been especially fond of naturally fermented sodas recently. This fermented turmeric soda I made recently really got me hooked! They are so easy to make and can be flavored any way you like, plus they are actually good for you. I had heard of sweet potato kvass (also called sweet potato fly) before and had been wanting to try it for some time, as I absolutely love sweet potatoes. So when I got the chance to look over Shannon Stronger's new book Traditionally Fermented Foods, I knew that I had to make the fermented sweet potato kvass recipe right away!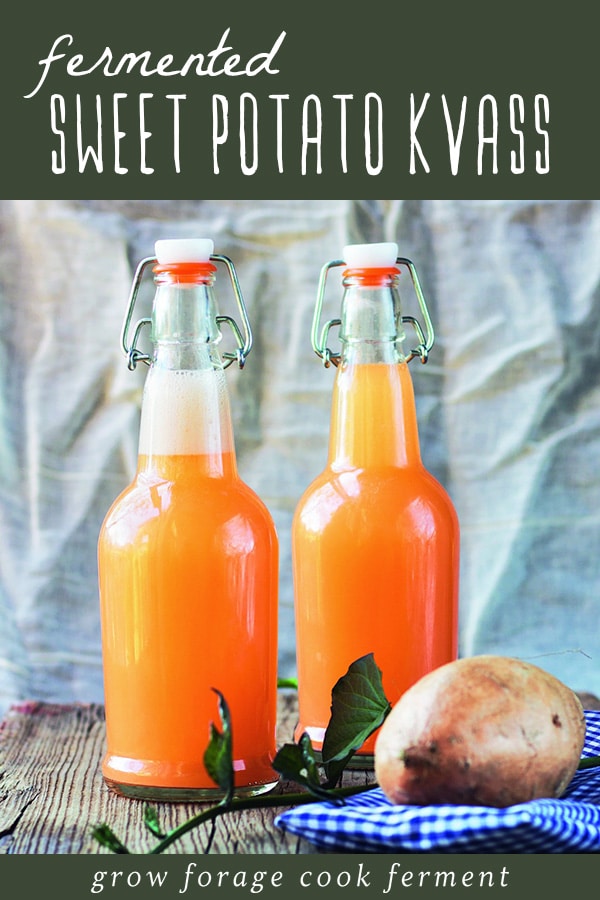 Because most fruits and vegetables have a natural yeast bloom on them, they will often readily ferment on their own, with maybe a bit of added sugar to help the yeast along. This is how a ginger bug (or turmeric bug) works, and also why you can make hard cider without the addition of yeast if you use freshly pressed apple juice.
Sweet potatoes are naturally sweet (hence the name), and even though it's not a common flavor for a soda, it actually works really well. Sweet potatoes ferment very easily, and I had a super bubbly probiotic soda in no time with this sweet potato kvass recipe!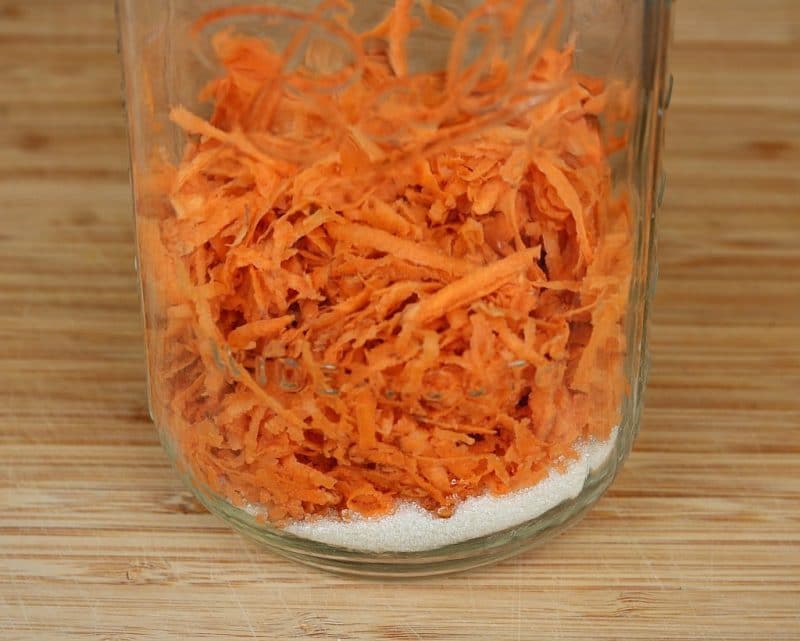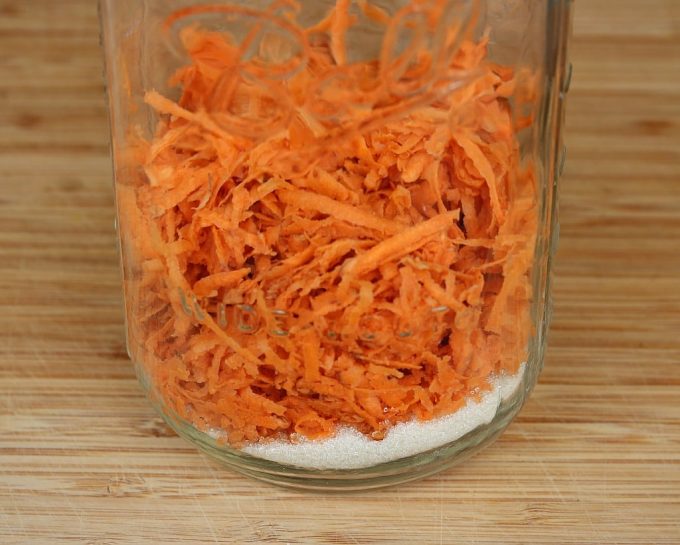 Fermented Sweet Potato Kvass Recipe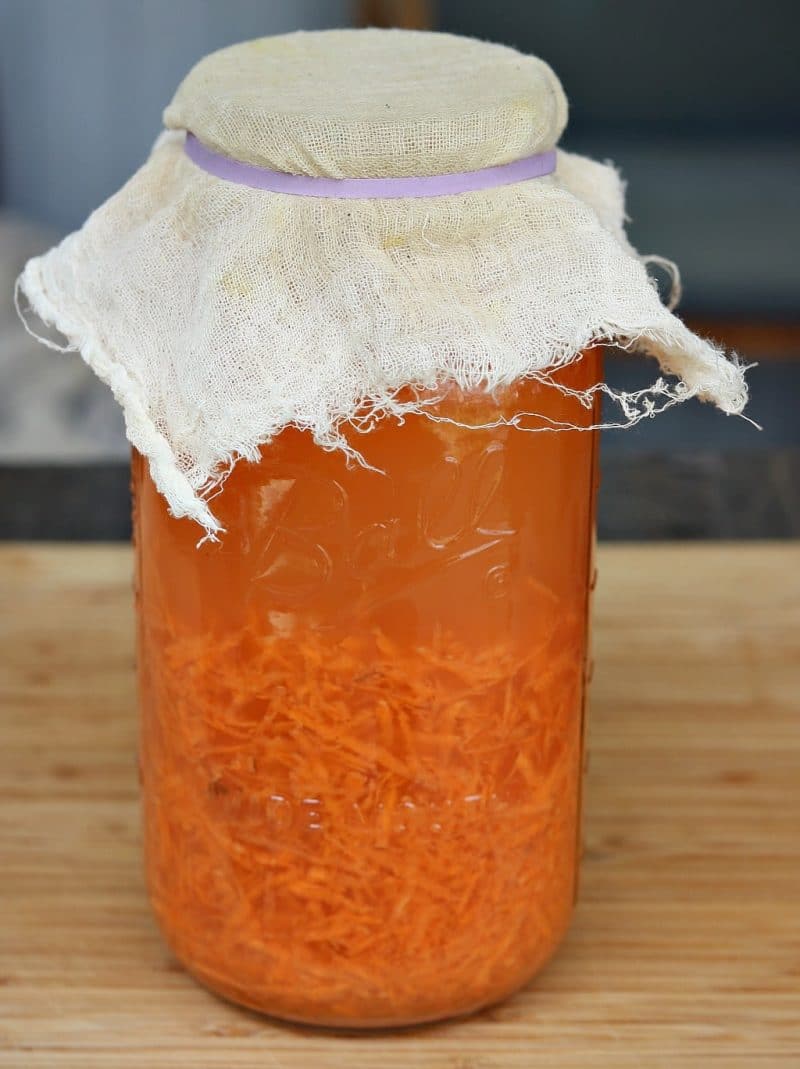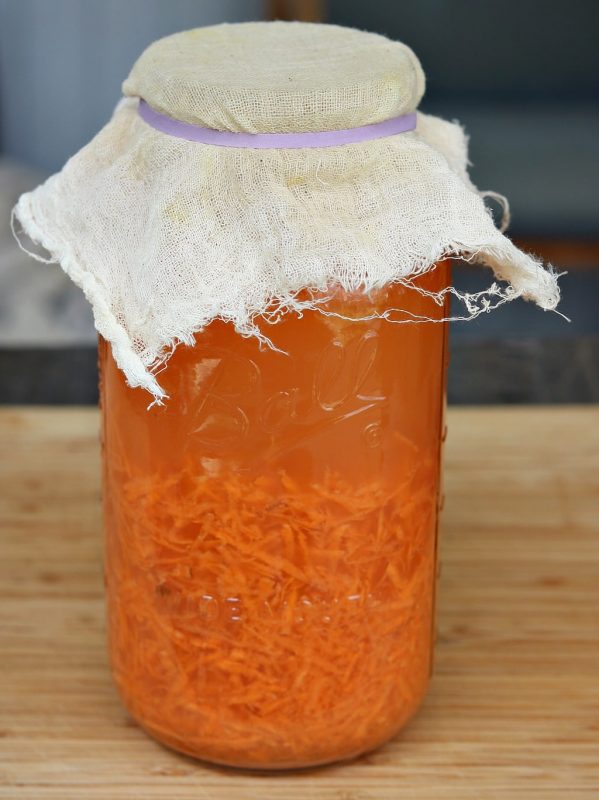 It didn't take long, just a few days, for the shredded sweet potato mixture to get little bubbles on the surface. I recommend that you give the mixture a stir every day or two to make sure that all of the shredded bits stay under the liquid, and to keep the natural yeast happy.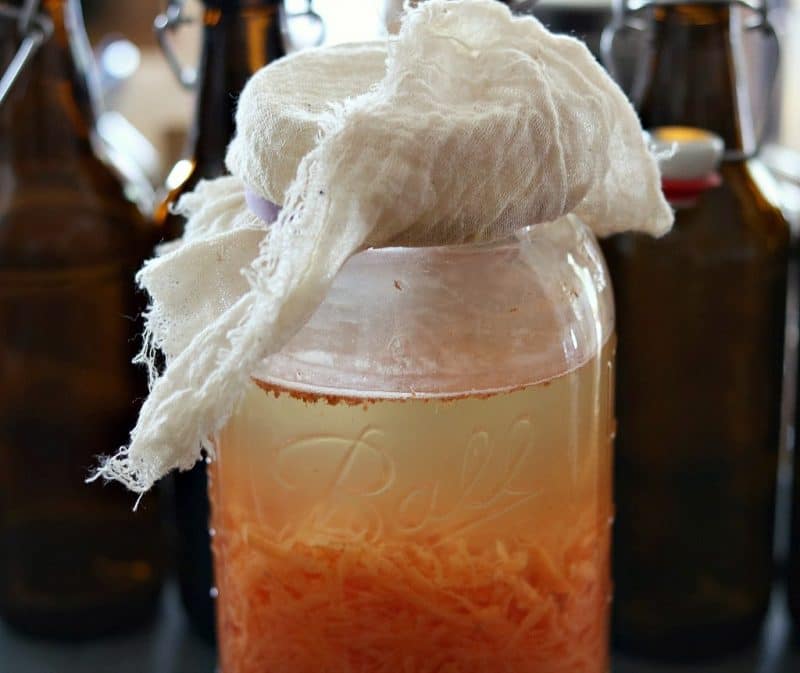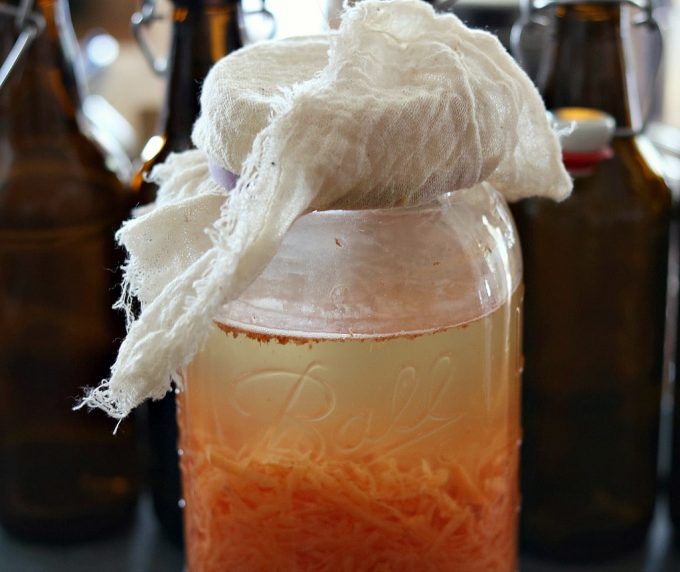 Use a funnel to transfer the liquid to flip top bottles after straining out all of the sweet potato. I was surprised by how much pressure built up in the bottles, so if it makes you feel better you may want to burp them once or twice. I don't think it's absolutely necessary, though, and I love really fizzy natural soda!
I love this sweet potato kvass recipe so much! It was incredibly easy to make, and is definitely one that I'm going to keep in rotation around here.
I highly recommend Shannon Stronger's book Traditionally Fermented Foods. It has a lot of old fashioned fermented food recipes, which I love! It covers fermented vegetables, grains, dairy, beverages, and condiments. I am especially impressed with the number of sourdough recipes in this book, including gluten free sourdough recipes!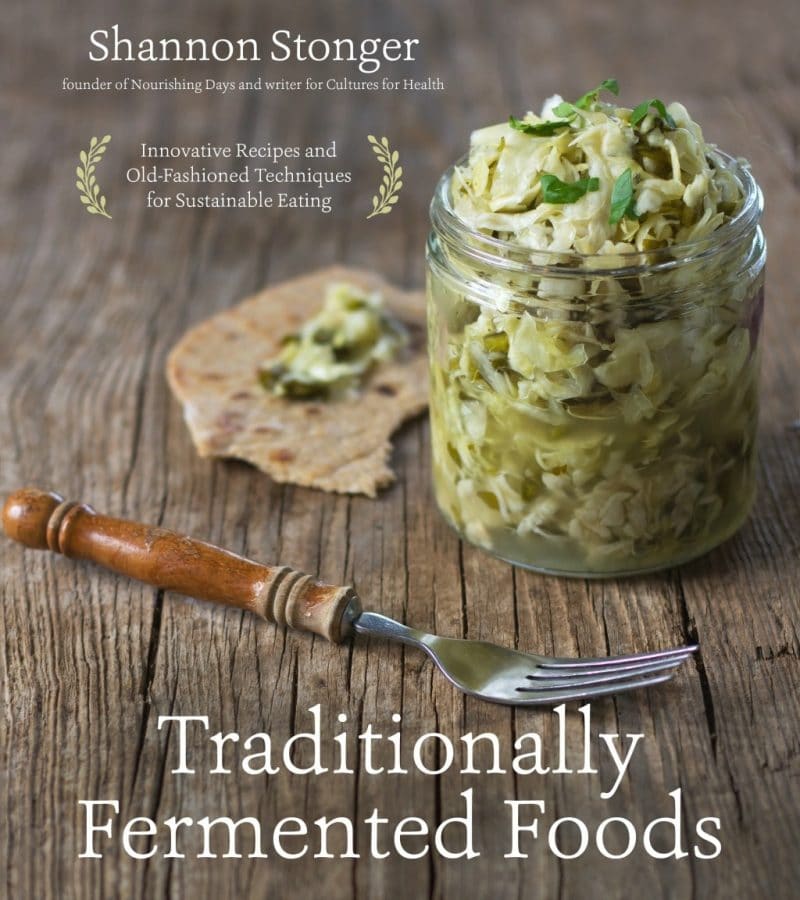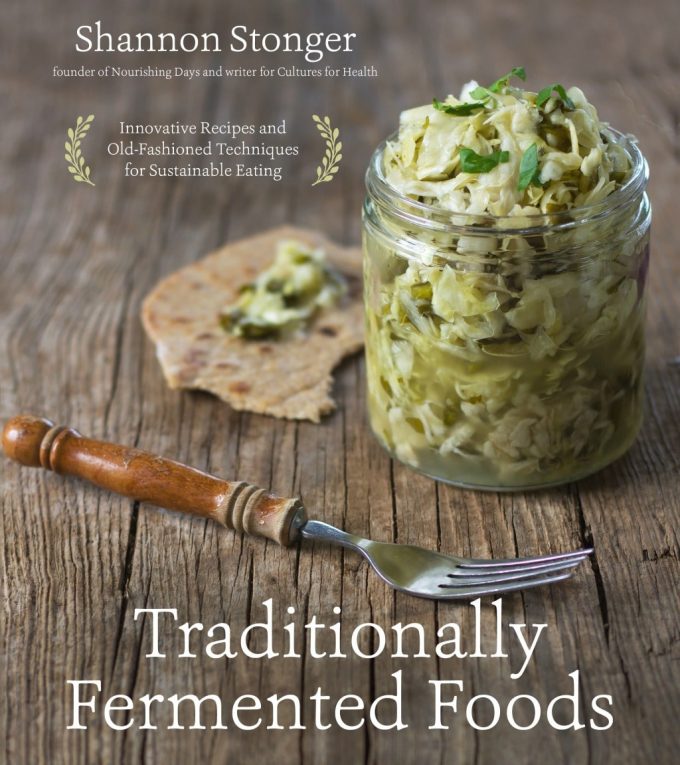 What is your favorite naturally fermented soda? Have you ever tried sweet potato kvass or sweet potato fly?
---
Naturally Fermented Soda Recipes
Here are some more naturally fermented soda recipes for you to try.
---
Sweet Potato Kvass (Sweet Potato Fly)
Learn how to make your own homemade naturally fermented sweet potato soda. Sweet potato kvass, also known as sweet potato fly.

Ingredients
2

cups

shredded sweet potatoes (1 medium)

360 g

¾

cup

sugar

144 g

Water

as needed
Instructions
Combine the shredded sweet potato and sugar in a half-gallon (2-L) vessel. Fill the rest of the vessel with water, leaving 1 inch (25 mm) of headspace. Cover with a permeable lid such as a coffee filter or clean cloth secured with a rubber band or canning ring.

Set at room temperature to ferment for 3 to 5 days or until it is bubbly and beginning to get tangy. During this time, yeast may accumulate on the surface of the ferment. If it does, you can simply scoop it out. It will abate during the second fermentation.

Once the initial fermentation is underway, strain the sweet potato from the kvass and transfer the liquid to airtight bottles, leaving a bit of headspace, because the carbonation should be strong. Once bottled, leave to ferment at room temperature for at least 2 to 4 days, or until the beverage has a bit of tang and is carbonated.

Consume within a few days if storing at room temperature. Or, refrigerate for 1 to 2 weeks, checking the carbonation frequently to avoid the buildup of too much pressure.
Notes
This recipe was reprinted with permission from Traditionally Fermented Foods by Shannon Stonger, Page Street Publishing Co. 2017
Makes: Approximately 3 pints (1.4 L)
Fermentation Time: 5 to 9 days
Storage Time: Several days at room temperature, 1 to 2 weeks in the refrigerator
Nutrition
Serving:
12
ounces
|
Calories:
153
kcal
|
Carbohydrates:
38
g
|
Sodium:
14
mg
|
Potassium:
411
mg
|
Fiber:
2
g
|
Sugar:
25
g
|
Calcium:
10
mg
|
Iron:
0.4
mg