Elderberry season is always an exciting time. I love watching the local elderberry trees come into flower in the summer, then slowly start producing berries as fall approaches. Fall is by far my favorite season, so this is the beginning of wonderful things to come in my mind! Elderberries are amazing for the immune system, so this is the perfect time of year to make up a batch of immune boosting elderberry syrup. But, I had something else in mind this time. Lately I've been loving making naturally fermented sodas, either with a wild yeast starter or with a ginger bug. Because the blue elderberries that we get here in the western states have a natural yeast bloom on them, I decided to make a wild fermented elderberry soda!

Making the Wild Yeast Starter
The first step in making this fermented elderberry soda is to make a wild yeast starter. I used the same basic recipe as I did in my How to Make a Wild Yeast Starter, but I used elderberries instead of juniper berries. It worked perfectly, and within about four days I had a nice bubbly starter!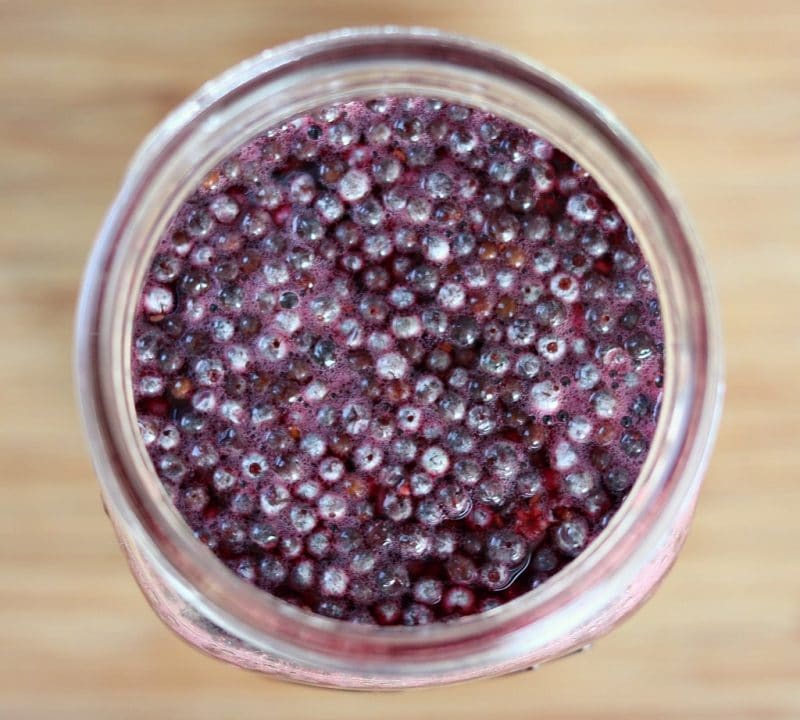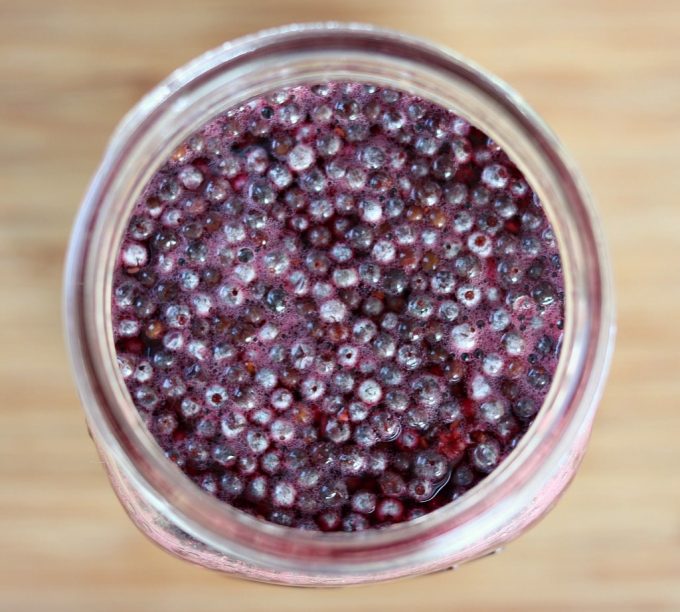 If your elderberries don't have much of a wild yeast bloom on them, or you want to do it a different way, you can also make this soda with a ginger bug instead. Simply replace the wild yeast starter in the recipe with an active ginger bug.
Fermented Elderberry Soda Recipe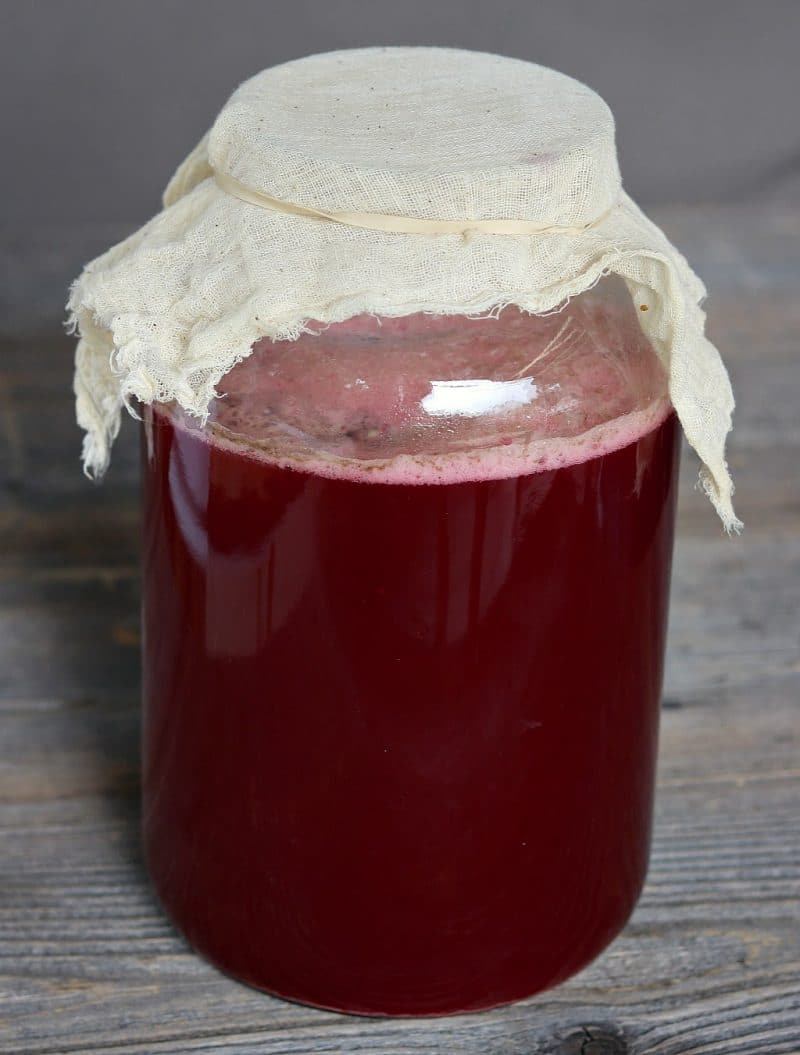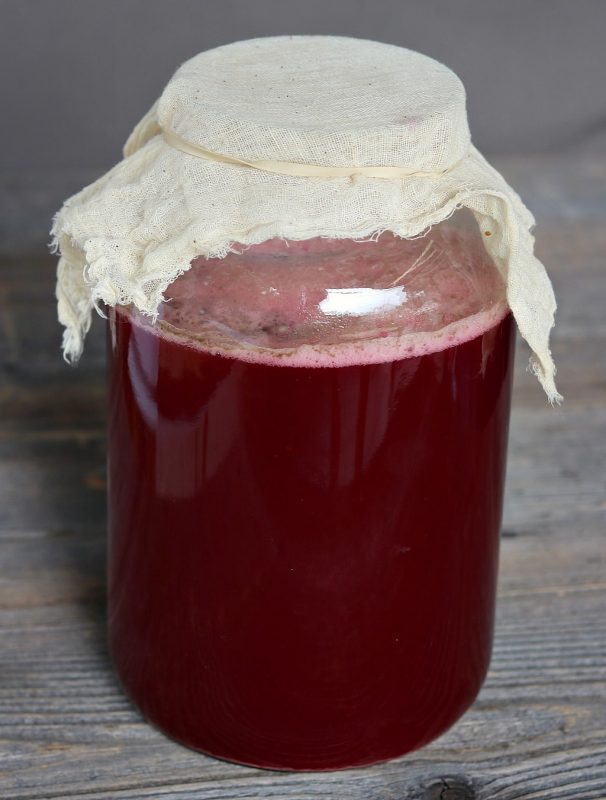 Be extra careful not to bottle too soon so that you don't get exploding bottles. If fermentation hasn't died down after a week I would wait a little bit longer before you transfer to bottles.
My favorite place to buy bottles and jars is Fillmore Container. They have an awesome selection of all kinds of cool jars!
I am so happy with how this elderberry soda turned out! Pleasantly tart and gingery, with a hint of cinnamon. It's super fizzy and delicious!
Be aware, as with any ferment, that there is a small amount of alcohol present in this elderberry soda, and that amount can vary depending on the fermenting conditions. It should be relatively low, however.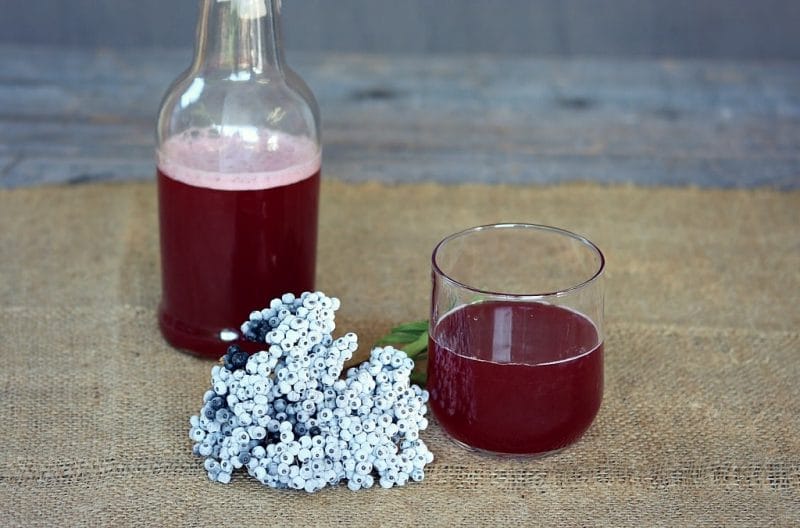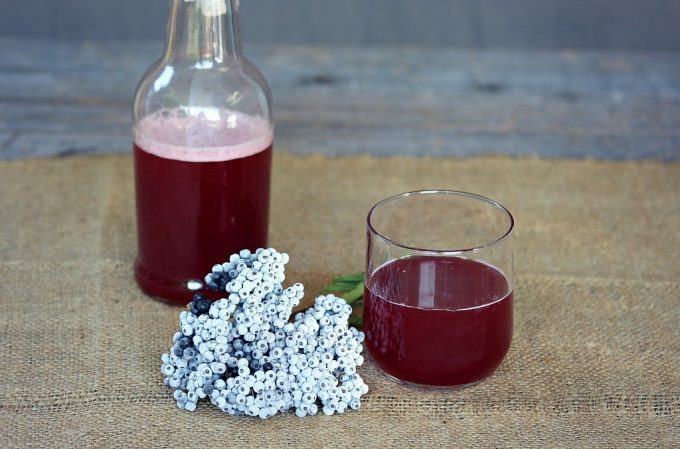 This wild elderberry soda is so great for your health because it's full of immune boosting goodness with elderberries, ginger, cinnamon, and honey. And, best of all, it's naturally fermented!
Another fun thing to make with elderberries is elderberry mead, or if you really want to boost your immune system you can make an elderberry tincture or elderberry syrup.
Cheers to your health!
Naturally Fermented Soda Recipes
Here are some more naturally fermented soda recipes for you to try.
Fermented Elderberry Soda with Ginger and Honey
Make your own homemade fermented elderberry soda with ginger and honey from wild foraged elderberries!

Ingredients
Wild Yeast Starter
3/4

cup

fresh elderberries

1/2

cup

sugar

2

cups

non-chlorinated water
Elderberry Soda
3

quarts

water

2

cups

fresh elderberries

or 1 cup dried

1/4

cup

sliced ginger

1

cup

honey
Instructions
Wild Yeast Starter
To make the wild yeast starter, combine the elderberries, sugar, and water in a quart sized jar covered with a tea towel and rubber band, or a fermenting airlock system such as a Pickle Pipe. Stir vigorously three times per day, and within 4-5 days you should start to see bubbles forming. Strain out the elderberries when you are ready to make the soda.
Elderberry Soda
Once your starter is going, it's time to make the soda. Combine the water, elderberries, ginger, and cinnamon stick in a large pot and bring to a boil. Turn the heat down to medium and simmer for 20 minutes. Turn off the heat and let the mixture come to room temperature.

Strain the elderberry/ginger mixture into a wide mouth gallon jar and stir in the honey.

Add the strained elderberry starter (or ginger bug) to the gallon jar, then cover the jar with a cheesecloth and rubber band. Put in a cool and dark place to ferment, stirring vigorously daily.

You should start to see active fermentation in the jug after only a day or two. Let it ferment for 5-7 days, then transfer into flip top bottles.

Let the bottles sit at room temperature for a day or two to build up carbonation, then refrigerate.
Notes
If you would rather use a ginger bug, you can skip making the wild elderberry starter and use about one cup of active ginger bug when making the soda instead.
Nutrition
Serving:
12
ounces
|
Calories:
112
kcal
|
Carbohydrates:
30
g
|
Potassium:
119
mg
|
Sugar:
23
g
|
Calcium:
20
mg
|
Iron:
0.7
mg