Most of us in the fermenting world know all about kombucha, whether we've made it ourselves or just purchase it at our local health food store. What I've only recently learned is that kombucha is also great for the skin and makes a wonderful soap! This kombucha soap face bar recipe comes from a brand new book by Kelly Cable of Simple Life Mom called The Natural Soapmaking Book for Beginners. This is an awesome book that is perfect for those of you who want to learn how to make your own natural soap!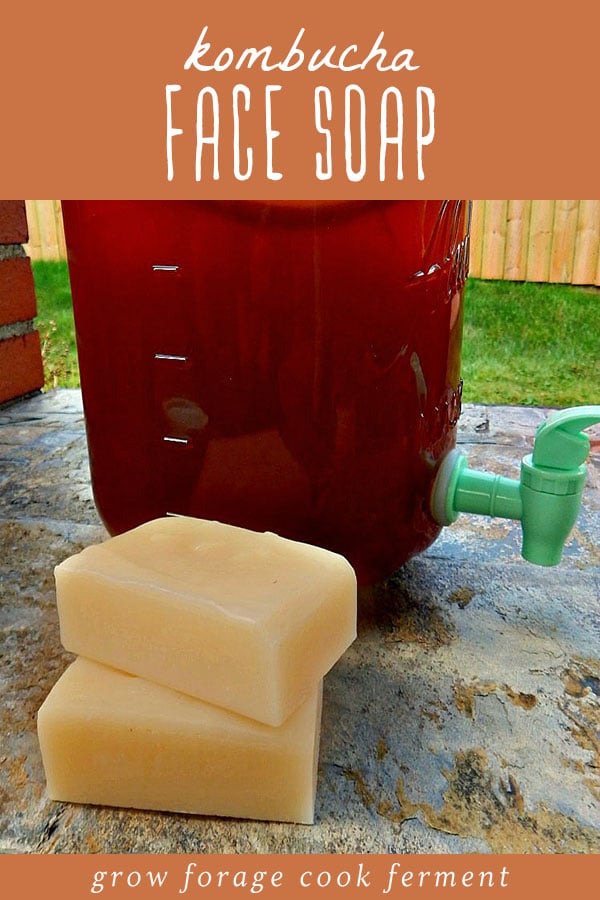 Kombucha Soap Recipe
Kelly says, "If you know what kombucha is, then you already know it is wonderful for the body, inside and out. Kombucha is a fermented tea that is full of probiotics and vitamins. It has more vitamin C than orange juice. Crazy thing is, those nutrients can be passed to you through soap. It's a clean feeling soap that rinses well. It has a light natural herbal scent that I like, so I've left this recipe unscented. Though, feel free to add up to 1 ounce of an essential oil of your choice."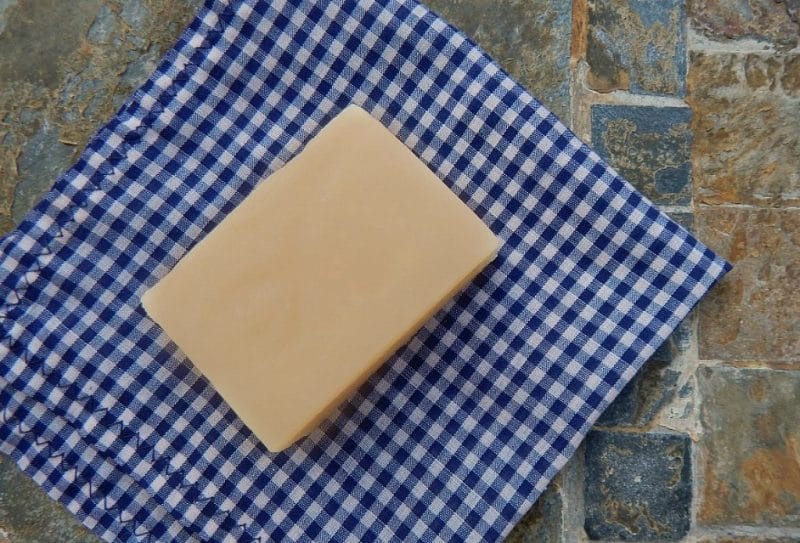 Making this kombucha face bar is also the perfect way to use up any extra kombucha that you might have sitting around after making, say, Dandelion & Fennel Kombucha or Hibiscius Kombucha.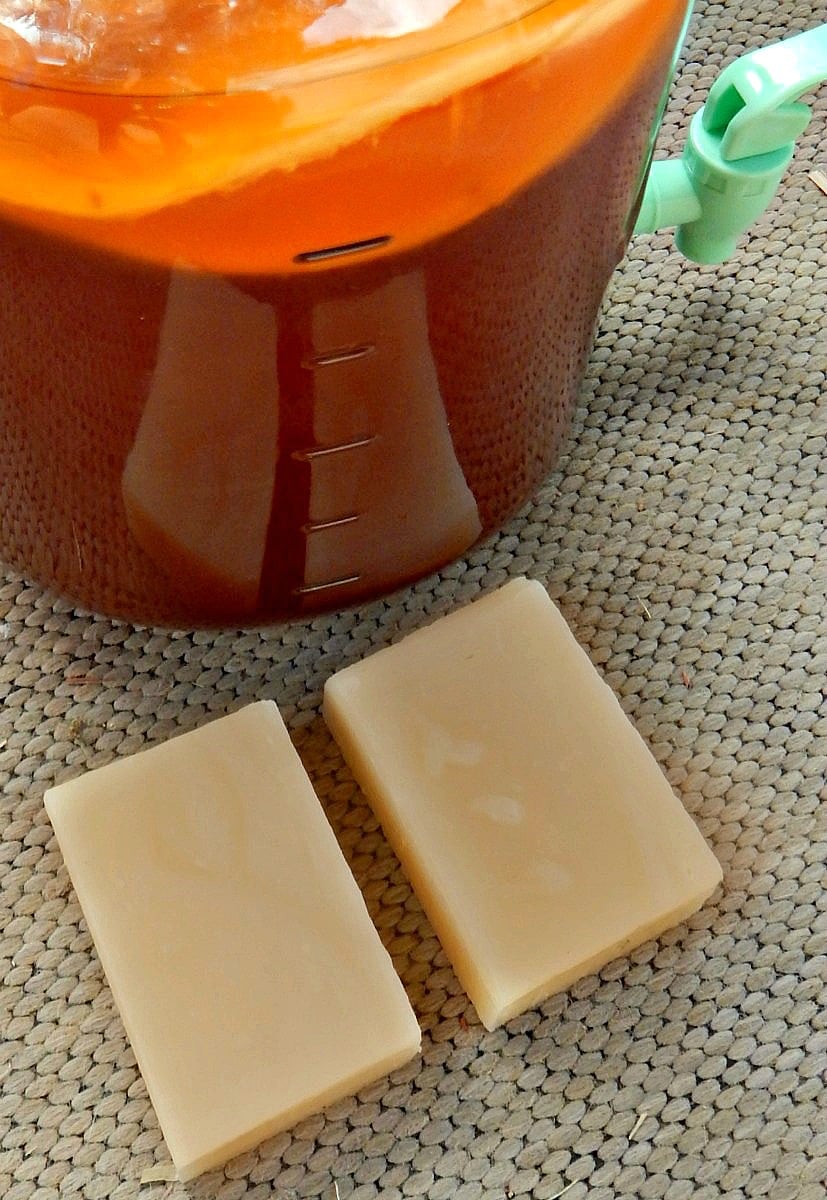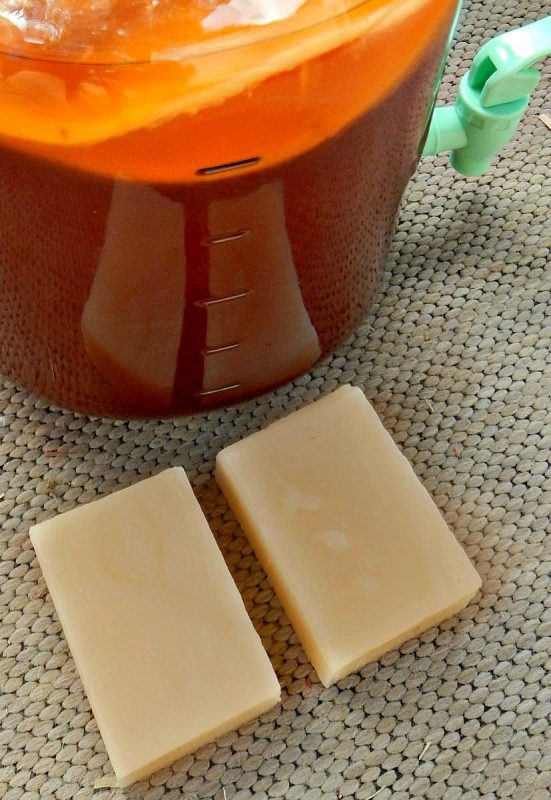 The Natural Soapmaking Book for Beginners
I love this book! It is full of great natural recipes like this kombucha soap, plus basic information on soapmaking that is geared towards beginners. All of the recipes sound wonderful, top on my list to make are Chamomile Tea Soap with Chamomile Flowers, Cederwood and Fir Soap, and Aloe and Nettle Herbal Soap. Kelly tells us how to use natural colorants and even has a super cool natural fragrance wheel!
I highly recommend The Natural Soapmaking Book for Beginners! And, for a limited time, if you order the book you'll get a bunch of super cool bonuses as a thank you from Kelly!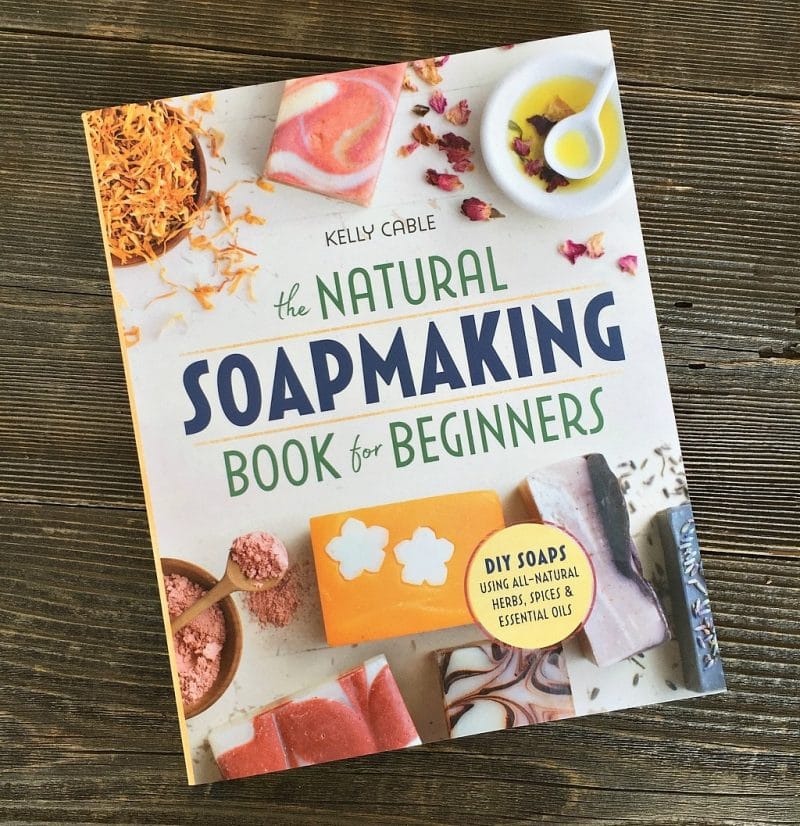 This kombucha soap, though… it's amazing! I think you will love it.
If you want to learn more about how to make your own soap, check out my post on How to Make Soap for Beginners.
---
Natural Soap Recipes
Once you start making homemade soap, you'll never be able to go back to store bought bar soap again. Have some fun and try these other soap recipes too!
---
Kombucha Soap: Natural Face Bar
Kombucha is terrific for the skin, so it makes a great addition to homemade soap. Learn how to make this all natural, healthy kombucha face soap recipe.

Instructions
Safety First! Remember to wear your safety equipment and mix the lye water outside.Tell everyone you live with that where you're working is off limits. `Give yourself enough time to complete the recipe.

Prep Ahead: Combine water and kombucha and chill in the refrigerator.

Heat the Fats/Oils: In a large pot over medium-low heat, combine tallow, coconut oil, olive oil, argan oil, and mango butter. Heat until they are melted and incorporated. Remove from heat and allow to cool to 100-110°F.

Mix the Lye-Water: Put on protective gear including a mask, gloves, and long sleeves. Outside, carefully add the lye crystals to the kombucha water and stir until dissolved. Allow to cool to 100-110°F. If oil or lye water cool at different, you can use a cold or hot water bath in the sink.

Prepare the Mold: While the oils and lye water cool, line the mold with parchment paper.

Combine and Bring to Trace: When both oils and lye water are around 100 to 110°F, pour the lye water into the pot of oils. Use a stick blender or hand mixer to mix for 1 to 2 minutes and then let the mixture rest for 4 to 5 minutes. Repeat mixing and resting until light trace.

Mold the Soap: Pour the soap mixture into the mold, cover with a lid or parchment paper and insulate with a blanket for 24 hours.

Cut and Cure: Remove soap from the mold. If it seems too soft to remove, wait another 12 to 24 hours before removing. Cut the soap into twelve 4-ounce bars. Allow the bars to cure for 4 to 6 weeks.