I'm really excited to share this post with you because of how wonderful, and surprisingly easy this is to make! You may or may not have heard of water kefir, but let me tell you, it has changed my world. It is similar to kombucha, but easier to make, in my opinion, as well as more versatile. Yet, it's still naturally fermented like kombucha is, so it has all of the good bacteria that our bodies need. There are many different variations you can do for flavoring the soda, but making an herbal tea is my favorite way. It makes me feel like I am giving my body a double duty benefit by adding in healthful herbs, plus it tastes wonderful. Here is how to make herbal water kefir soda, with a tutorial on how to make water kefir if you are unfamiliar with that process. Don't worry, it's easy!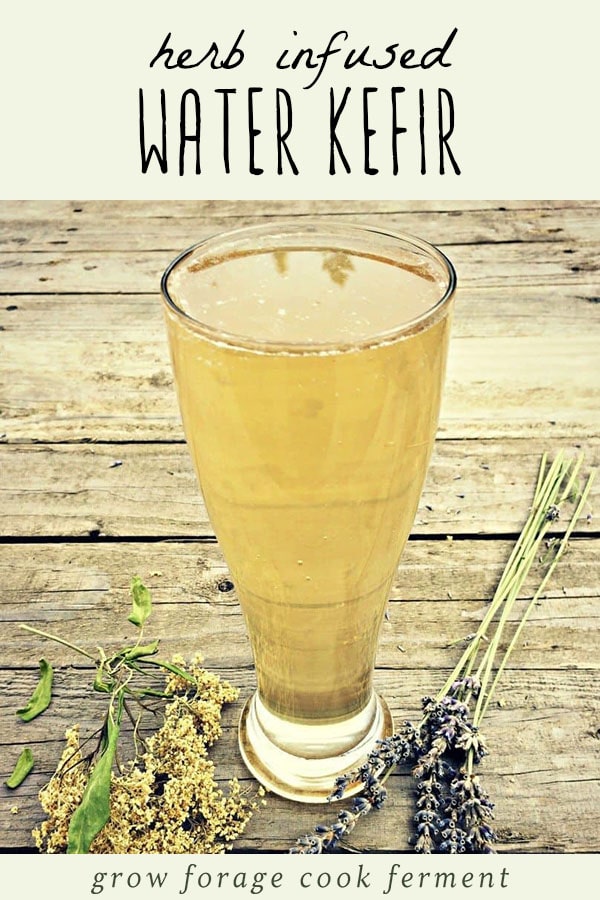 The first thing that you will need is to acquire water kefir grains, also called tibicos. Not really a grain, these are symbiotic culture of bacteria and yeasts, just like a kombucha SCOBY. Get them from a friend if you know someone who makes water kefir, or order them online from Kombucha Kamp.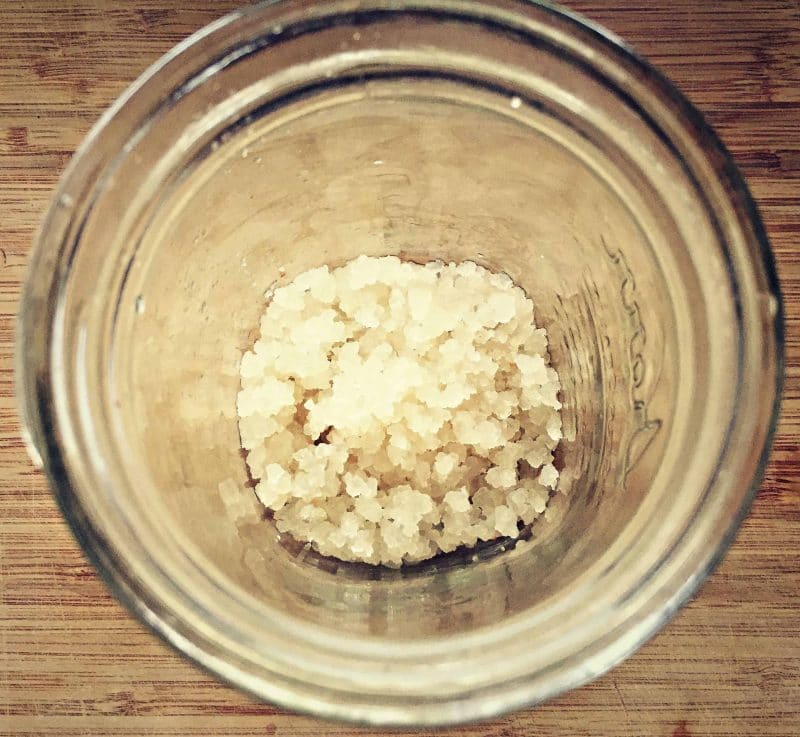 Once you have your tibicos, start by putting a few tablespoons of them into the bottom of a quart jar.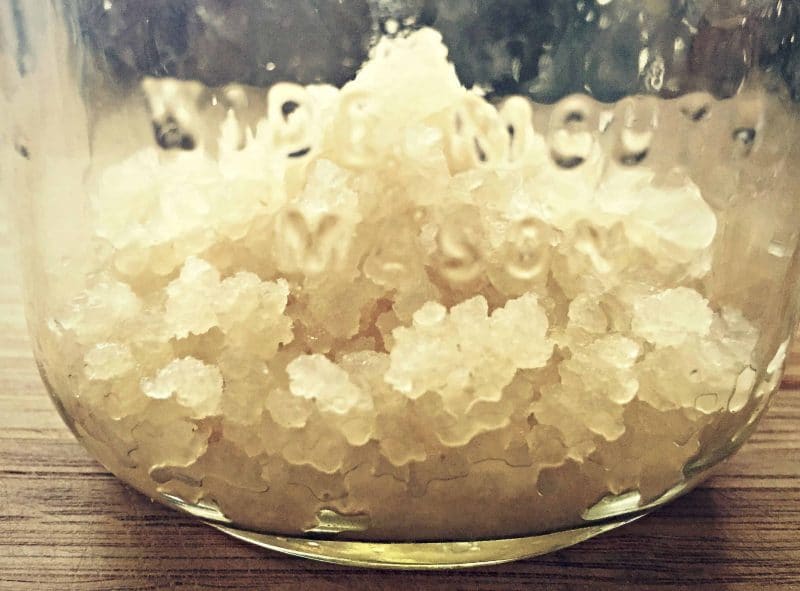 Then add 1/4 cup of sugar, preferably raw, even brown sugar works. Tibicos need extra nutrients, so they prefer a sugar that has a little bit of it's molasses intact. It's also good to add a few raisins for nutrients.

MY LATEST VIDEOS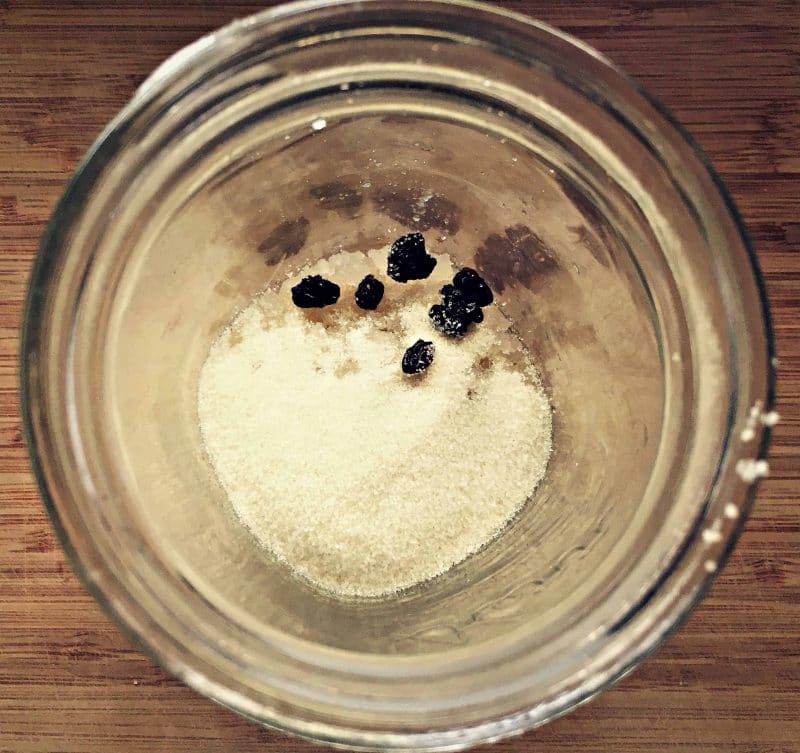 Then fill up your jar with unchlorinated water, leaving about an inch of space at the top. Stir gently with a long spoon to dissolve the sugar, being careful not to break up the tibicos.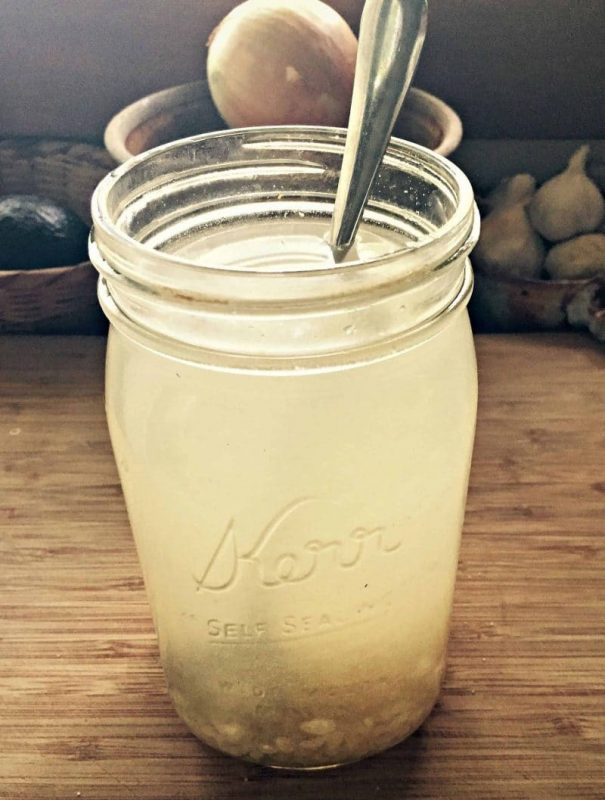 Cover the jar with a lid and set in a dark and out of the way spot for a few days. Stir it occasionally, and start checking the sweetness level after 2 days. I don't like mine very sweet, so I generally let it go for 3-4 days. You should see little bubbles floating to the top.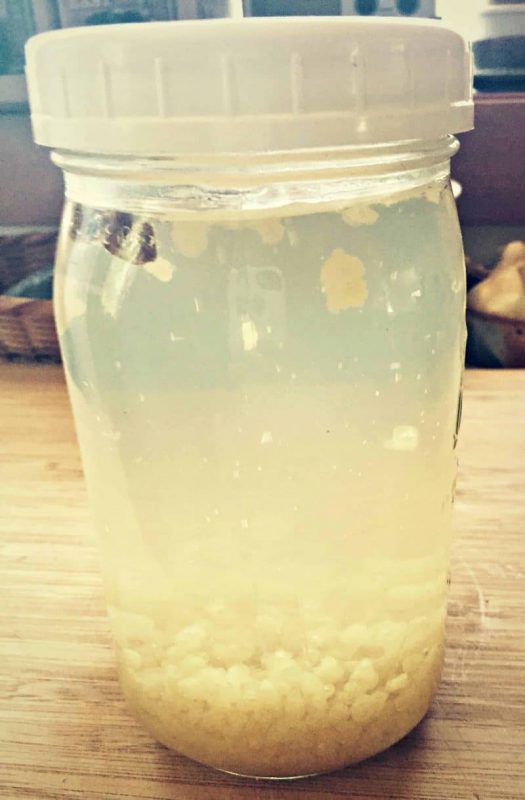 Once it's at the sweetness level you desire it's time to think about the flavoring you would like for you soda. You can use fruit juice, flavored teas, or anything you think would make a good soda! For this one I'm using lavender and elderflowers. Start by bringing a quart of water to a boil and steeping the flowers.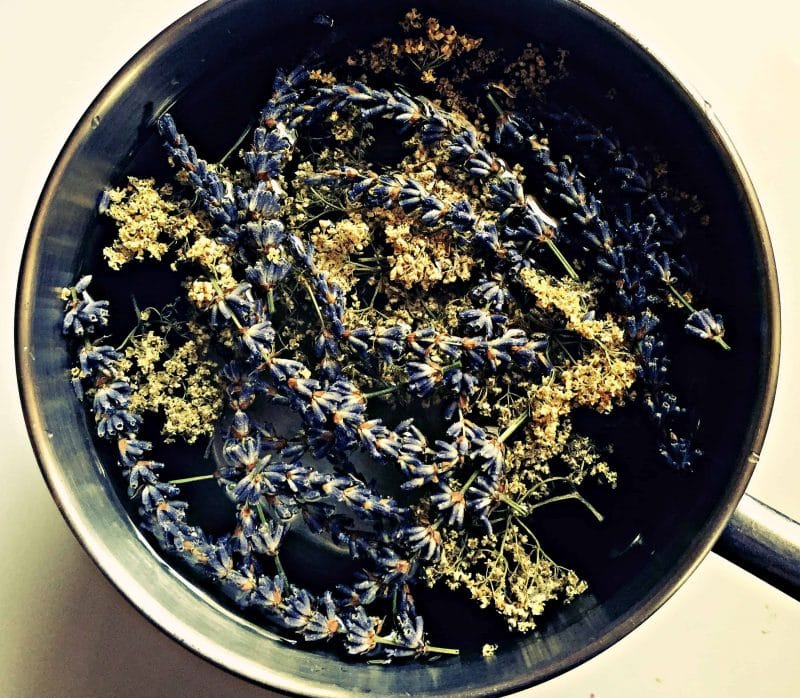 I steeped my for several hours as I wanted a strong tea. Once the water has cooled to room temperature strain out the flowers into a large jar (at least a half gallon).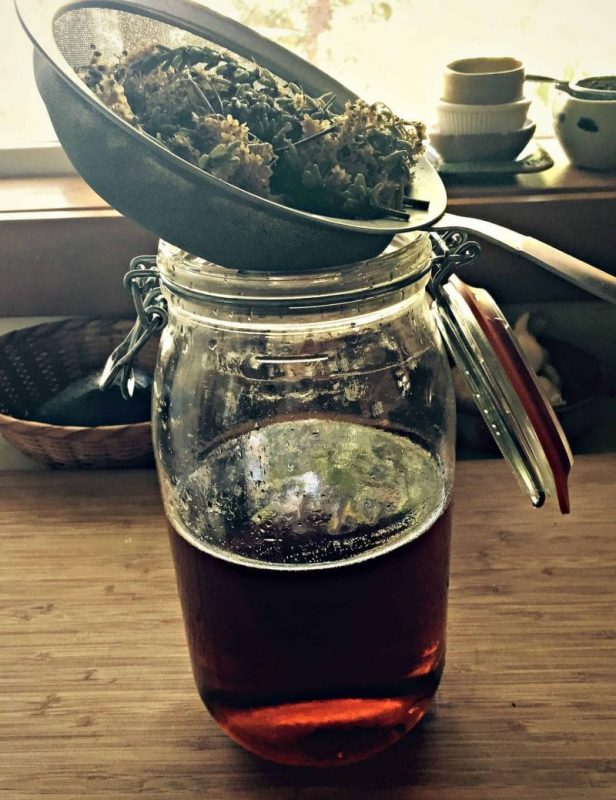 Then strain your water kefir directly into the tea.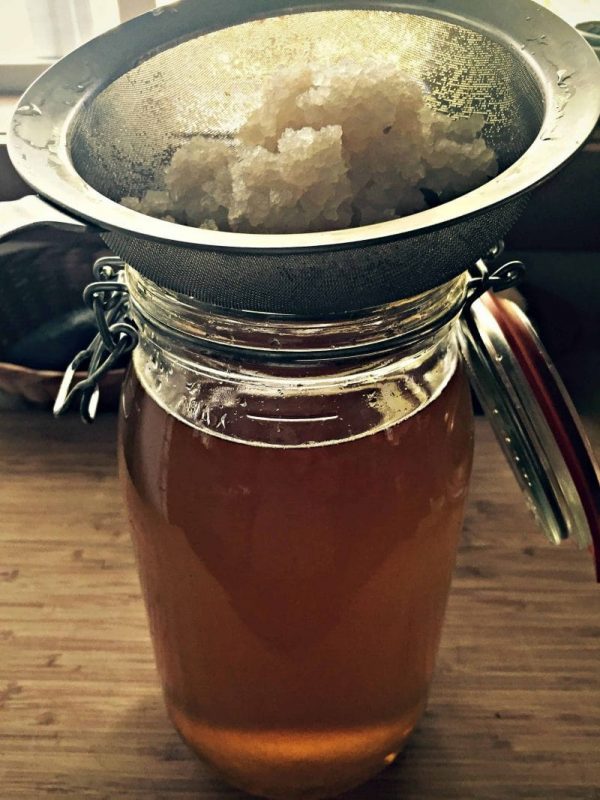 Save the tibicos for your next batch of water kefir. It's an endless cycle! To make your soda bubbly you'll need to seal the container. My half gallon jar has a flip top lid, so I just used that, but you can also bottle your soda into regular sized flip top bottles (reuse beer bottles with flip top lids, or buy from amazon).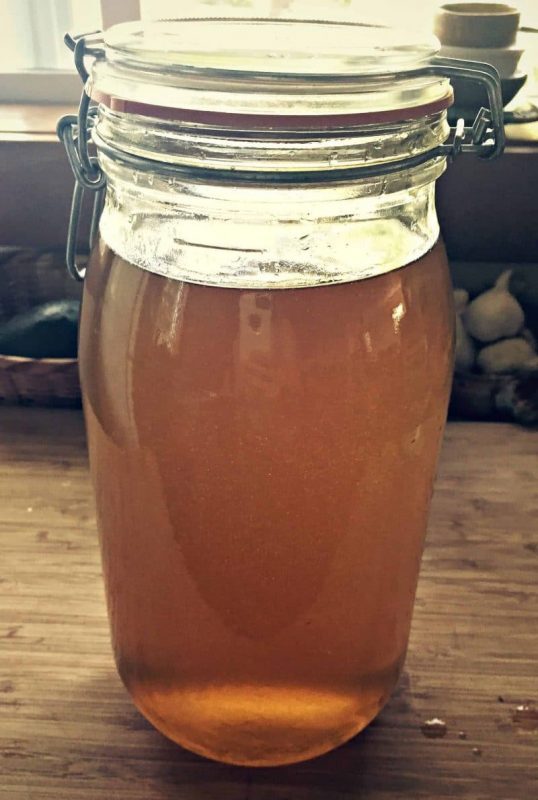 Leave the sealed bottles out at room temperature for a day or two, then refrigerate before opening. Careful when you open it as it will be carbonated and might be explosive! It probably won't, especially if your flavoring isn't sugary as that feeds the carbonation.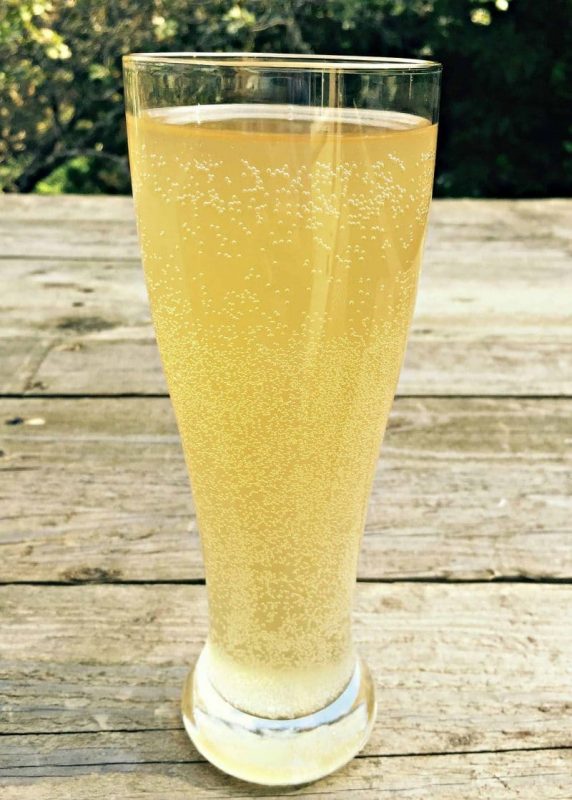 It will most likely be fizzy and wonderful, just like a soda should be, but without all the bad stuff!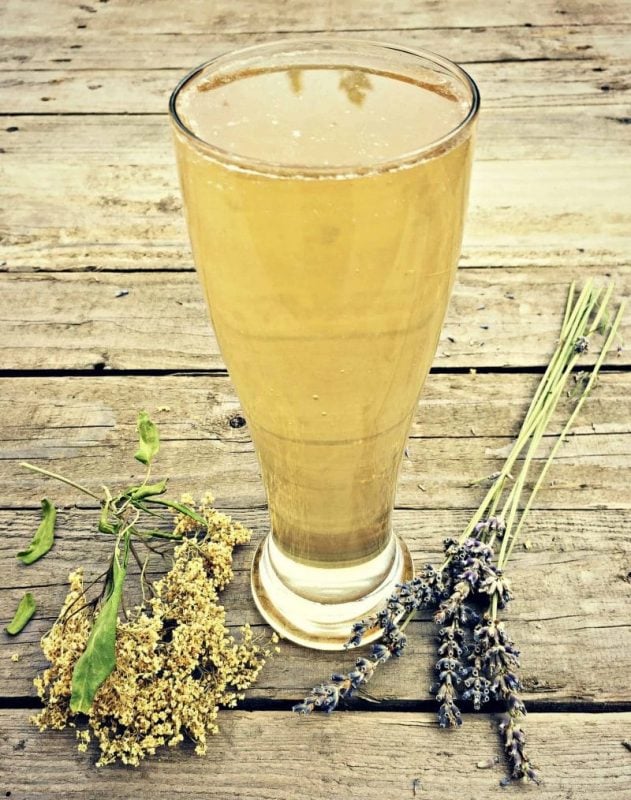 Just all the good healthy stuff that we should be consuming, like probiotics and herbs.
This soda turned out really good, I was impressed! I've done it with hibiscus tea and it was also delicious. Any flavor will probably be good, and you don't even have to add a flavor, as it tastes quite good plain as well. Experiment!
Happy kefir making!
Save