I love cooking with foraged ingredients, but I especially love it when I can do something fun with wildflowers (wildflower mead, anyone?)  While the season for fresh wildflowers is generally pretty short, they are easy to dry on a drying screen and store for use throughout the year. Dried edible flowers are perfect for using in an wildflower herbal infusion, and when I came across the recipe for "Flower Power" tea in the book Foraging & Feasting: A Field Guide and Wild Food Cookbook by Dina Falconi, I knew I had to make it!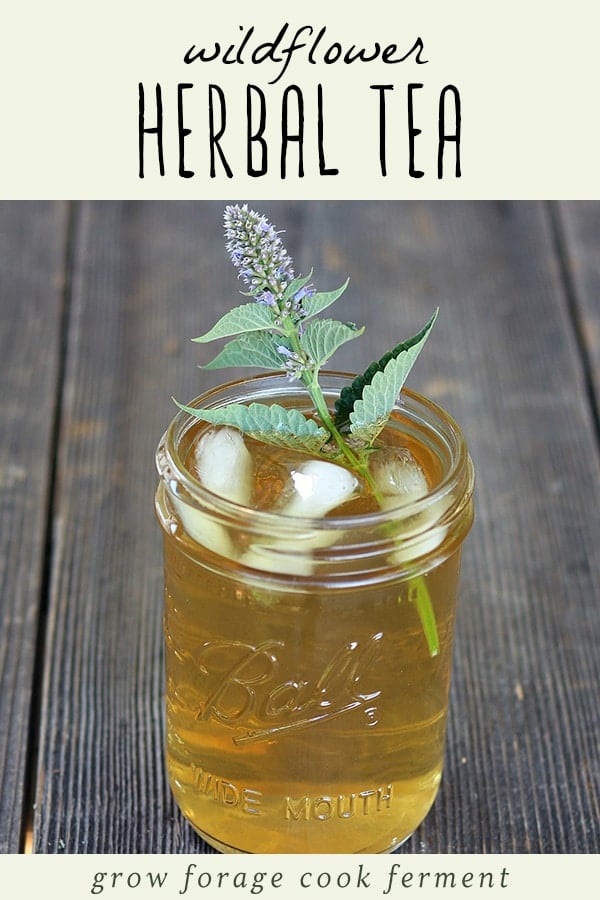 This wildflower herbal infusion tea recipe calls for four different flowers: elderflower, wild rose, red clover, and anise hyssop. I had all of them dried already, with the exception of anise hyssop, which I had growing fresh in my herb garden.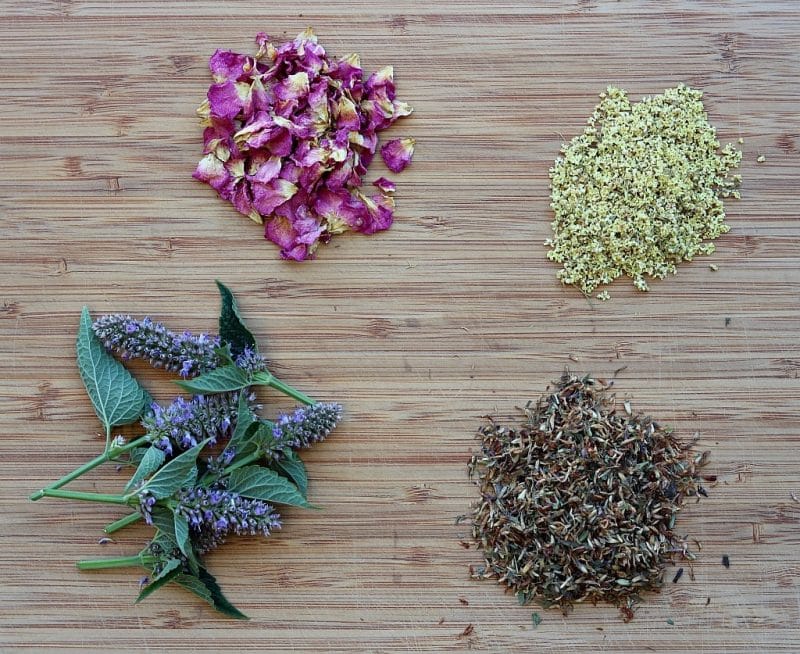 Many different flower varieties can be used if you don't have these particular ones on hand. Some examples of other flowers that would work well in this recipe are chamomile, bee balm, dandelion, violet, wild bergamot, lemon balm, and wild mint.
Herbal infusions are generally made with dried herbs and flowers, as that will make a more potent tea. That said, fresh herbs and flowers do add aromatics which can be quite nice. The fresh anise hyssop really made this flower infusion shine!
The Foraging & Feasting book also includes an entire section of gorgeous plant maps of all kinds of wild edibles, illustrated by Wendy Hollender. Here is one for anise hyssop.
Wildflower Herbal Infusion Tea Recipe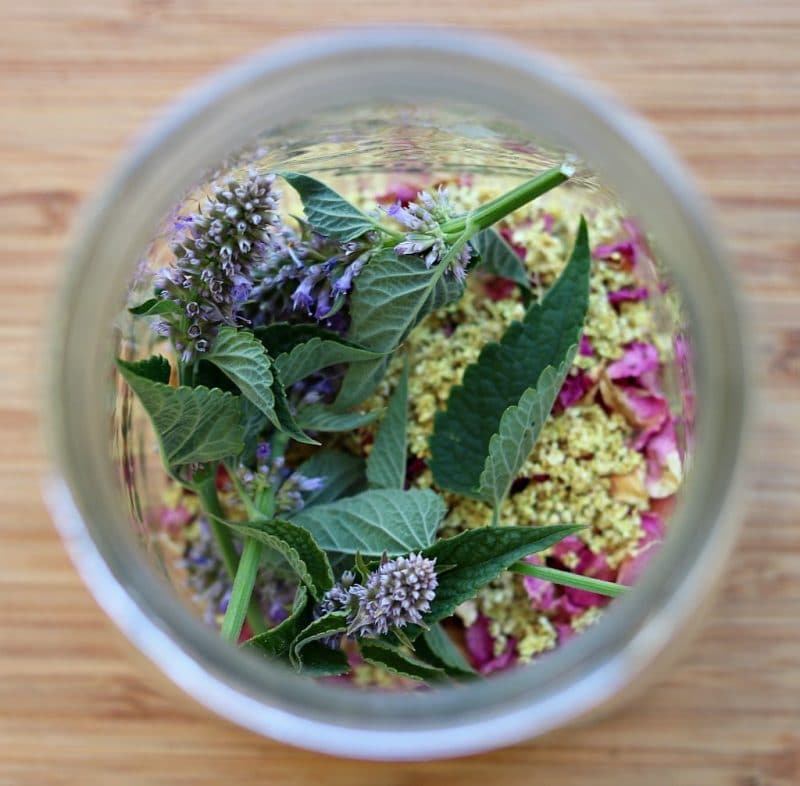 This recipe couldn't be easier as long as you have the wildflowers on hand. If you don't have the herbs and aren't able to forage them, you can always purchase them from Mountain Rose Herbs, my favorite place to buy organic, high quality, dried herbs.
I enjoyed simply pouring this wildflower herbal infusion over ice and drinking it on a hot day. The fresh anise hyssop that I used when making this recipe really made it special. This is a tea that I'll make again and again during the wildflower season!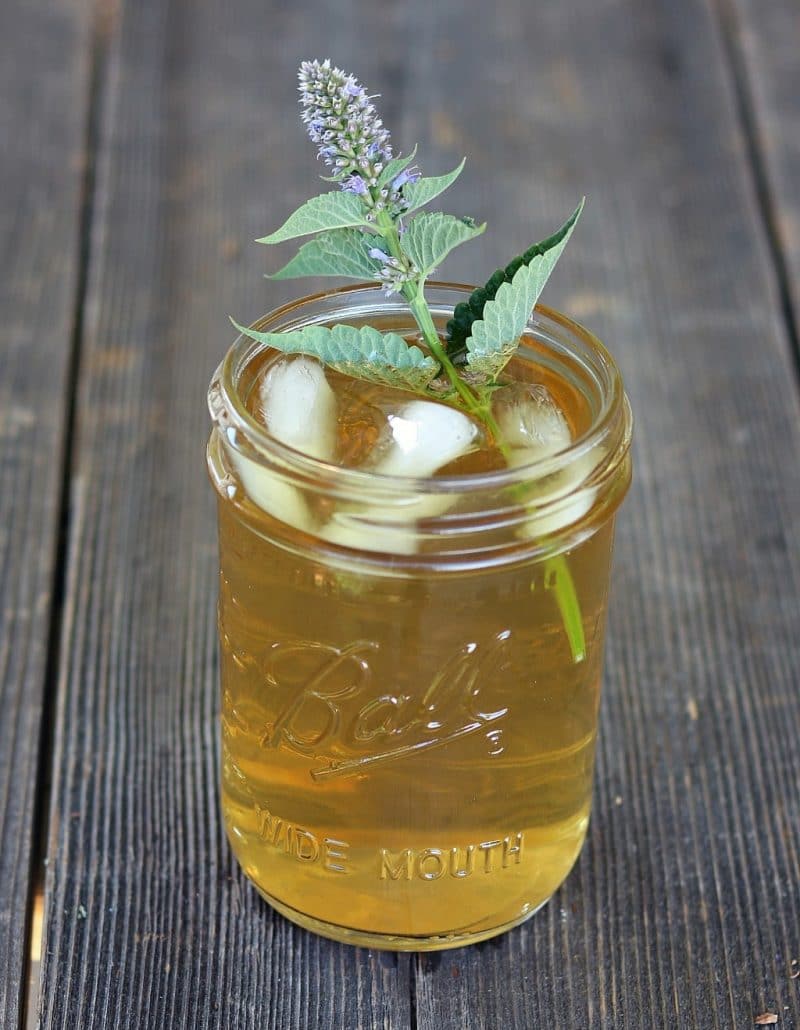 I really love Dina Falconi's book, Foraging & Feasting. There are so many recipes that I want to try, I had a hard time choosing which one to make first! The illustrated plant maps are beautiful, and the recipes are in depth and with endless variations. It's different than any other wildcrafted food recipe book that I've encountered, and should be a part of every forager's library!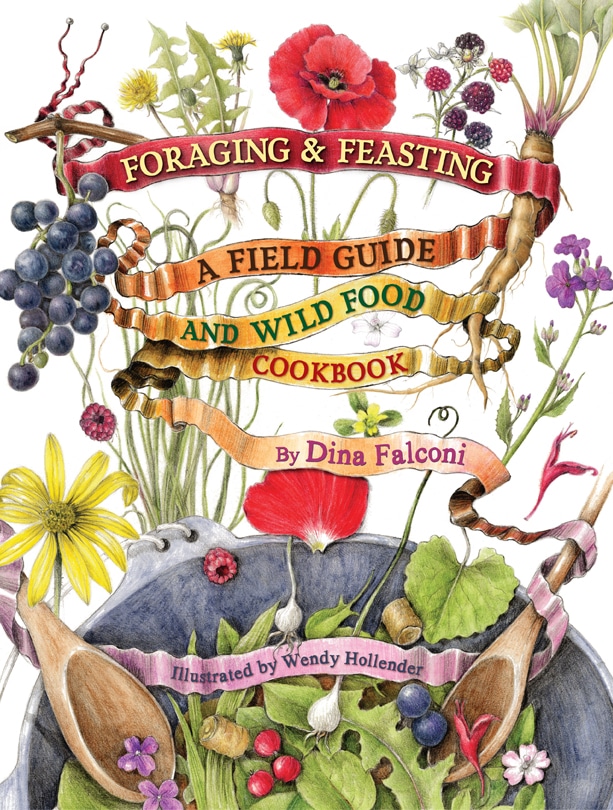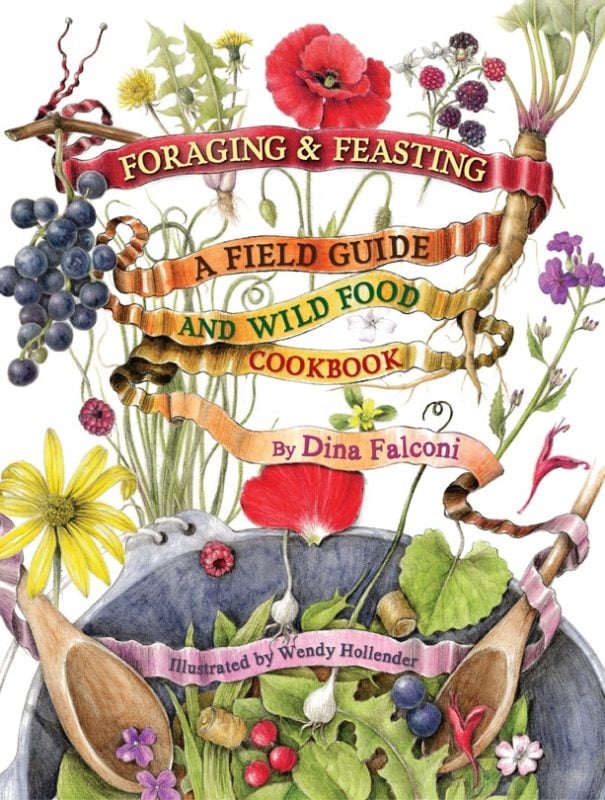 What is your favorite thing to make with edible wildflowers?
---
Herbal Tea Recipes
Here are a few more of my favorite herbal tea recipes for you to enjoy!
---
Wildflower "Flower Power" Herbal Infusion Tea
Dried edible flowers are perfect for using in an wildflower herbal infusion. Make this recipe for "Flower Power" Wildflower Herbal Infusion Tea from the Foraging & Feasting book!

Ingredients
Elderflowers

Wild rose petals

Red clover flowers

Anise hyssop leaf with flowering tops
Instructions
If all of the flowers are dried, mix one large handful of each in a jar (see notes for using fresh flowers). This mixture can be stored for later use.

When you are ready to make the infusion, put one large handful of the dried flower mixture into a quart sized jar, and slowly add boiling water until the jar is full.

Cap the jar and let steep for 10 minutes to 1 hour.

After steeping, strain the infusion through a fine mesh sieve, squeezing out all of the liquid from the plant material.

Serve, or blend into other recipes as desired.
Nutrition
Serving:
8
ounces
|
Calories:
1
kcal