I love herbal medicine, and when I first got really into it I was surprised and pleased to learn that so many common herbs and spices are medicinal. Many herbs and spices that most of us already have in our spice racks do double duty as powerful healers. I'm going to go over five of the most common medicinal herbs in your spice rack here.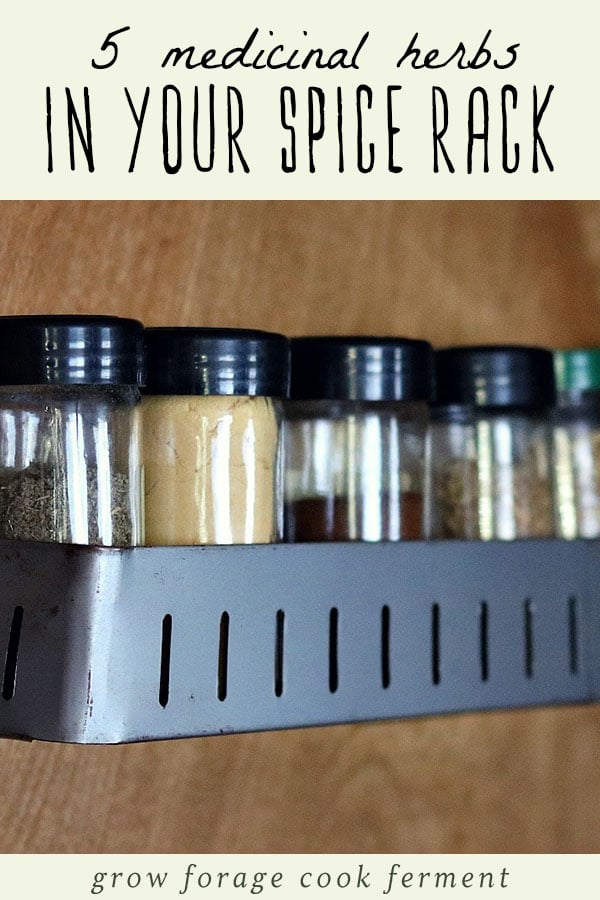 5 Medicinal Herbs in Your Spice Rack
Thyme
Thyme is one of my very favorite herbs. Thyme is a wonderful medicinal herb that is antiseptic, disinfectent, astringent, decongestant, and aids with digestion. Thyme contains thymol, which is  antibacterial as well as an antioxidant. Thyme is one of my favorite savory herbs to use in the kitchen, and I love knowing that it's helping to keep me healthy as well.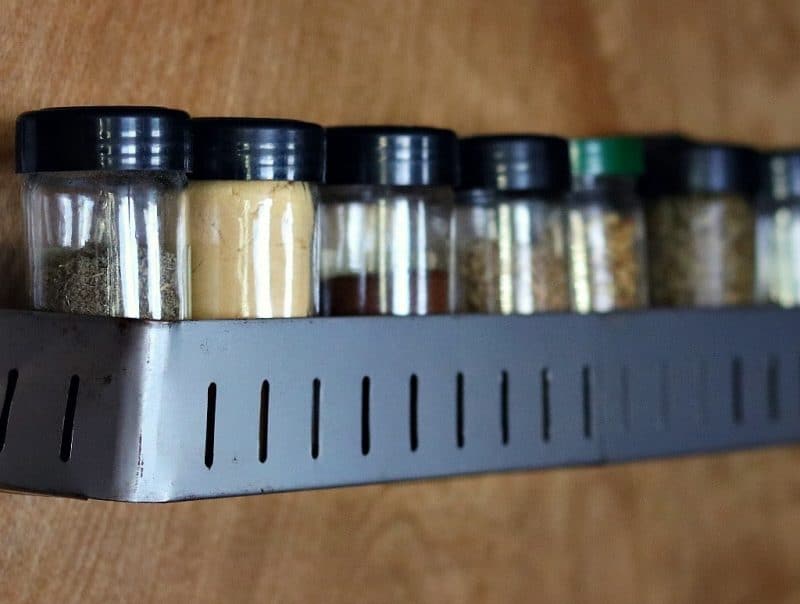 Sage
Sage is an herb that I always like to have on hand. Sage is antibacterial, anti-inflammatory, antiseptic, and is beneficial for sore throats and gastrointestinal upset. It is a relaxing herb that helps to alleviate muscle tension. Sage also has been known to reduce menopausal symptoms. The smell and taste of sage is reminiscent of fall, which is a great time of year to use it in your cooking to help keep your immunity up.
Rosemary
Rosemary is an herb that I always have growing in my herb garden (along with thyme and sage), and I use it all the time. Rosemary is well known to be great for the hair and scalp (and beards!). A rosemary rinse is said to do wonders for the hair follicles, and it is a common ingredient in many hair care products, like these Rosemary Mint Shampoo Bars.
Also try rosemary in Rosemary Champagne Cocktail, Lemon Rosemary Shortbread, or Winter Kvass.
Rosemary is antibacterial, antioxidant, is known as a brain tonic, and is good for boosting memory and concentration. It is also used for easing headaches and migraines, as well as being great for the circulatory system.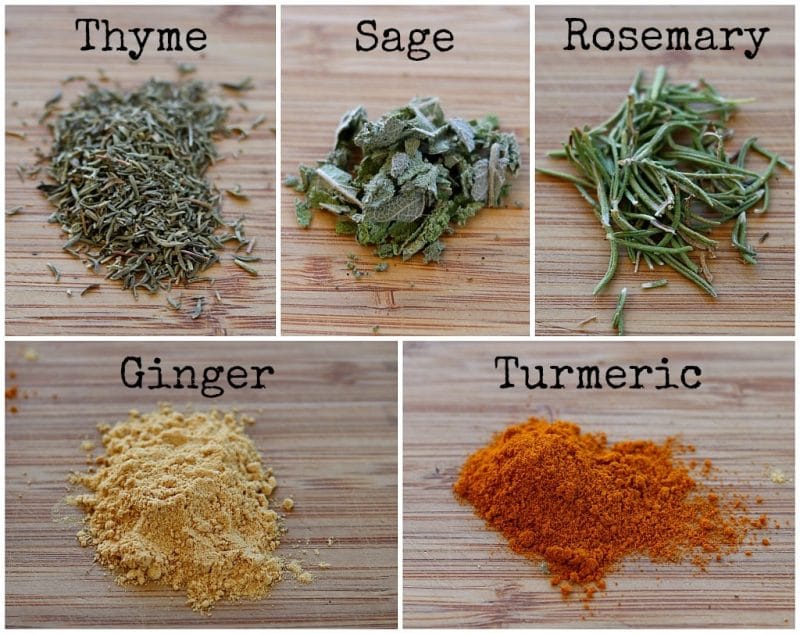 Ginger
Ginger is a wonderful herb for boosting the immune system. It is an anti-inflammatory, anti-viral, and decongesting herb that is beneficial for colds and flus, respiratory congestion, and sore throats. Ginger is well known for its anti-nausea and digestive properties, and is also antispasmodic, diaphoretic, a circulatory stimulant, and an appetite stimulant.
You can also enjoy ginger in your beverages such as Ginger Bug or Apple Ginger Beer. 
Turmeric
Turmeric is a vibrant herb that is often used in curries. Like most of the herbs I've discussed here, turmeric is also antibacterial, anti-inflammatory, and antioxidant. Turmeric has become quite popular lately as an inflammation reducer, and it may be helpful for arthritis. It also aids digestion like its cousin ginger, and is good for the heart and the brain.
I like to use turmeric in a Turmeric Bug for making Turmeric Soda!
Many herbs that you use everyday in the kitchen are also medicinal, and that is so cool! I hope you learned something new about these five medicinal herbs in your spice rack.
Save