Thyme is an amazing herb that has culinary and medicinal uses as well as being good for the garden. Learn all the reasons to grow thyme for food, health, and your garden!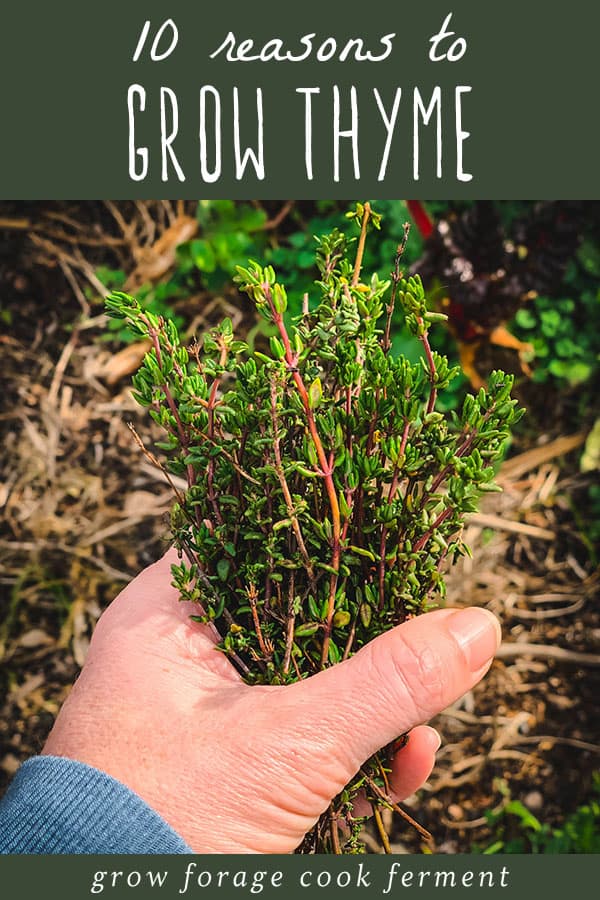 ---
Healing Kitchen Herbs eBook
Did you know that most of the herbs you use in your kitchen also have medicinal uses?
My eBook Healing Kitchen Herbs: 12 Common Herbs with Powerful Medicinal Benefits will teach you how to grow and use these amazing herbs. You'll learn the benefits of each plant and how to maximize their herbal power in your kitchen!
---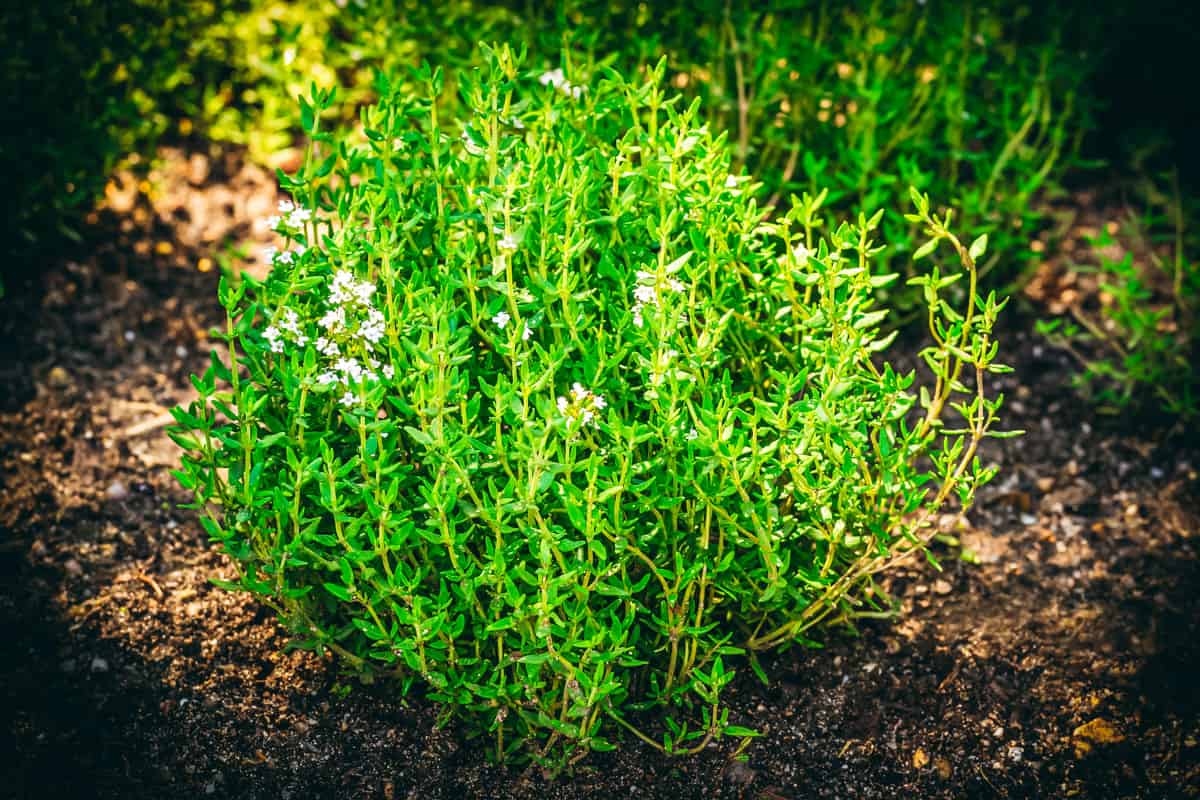 Thyme in the Herb Garden
Is there a wrong time, for thyme?
Considering how much I use it in the kitchen and for its myriad of medicinal uses, I can't think of a time when I haven't reached for thyme on an almost daily basis.
Thyme couldn't be easier to grow in your garden (in fact, it's much harder to kill thyme than it is to cultivate thyme).
When it comes to growing fresh herbs — even in less than stellar soil conditions — thyme is always on your side!
Read on for 10 reasons to grow thyme in your herb garden.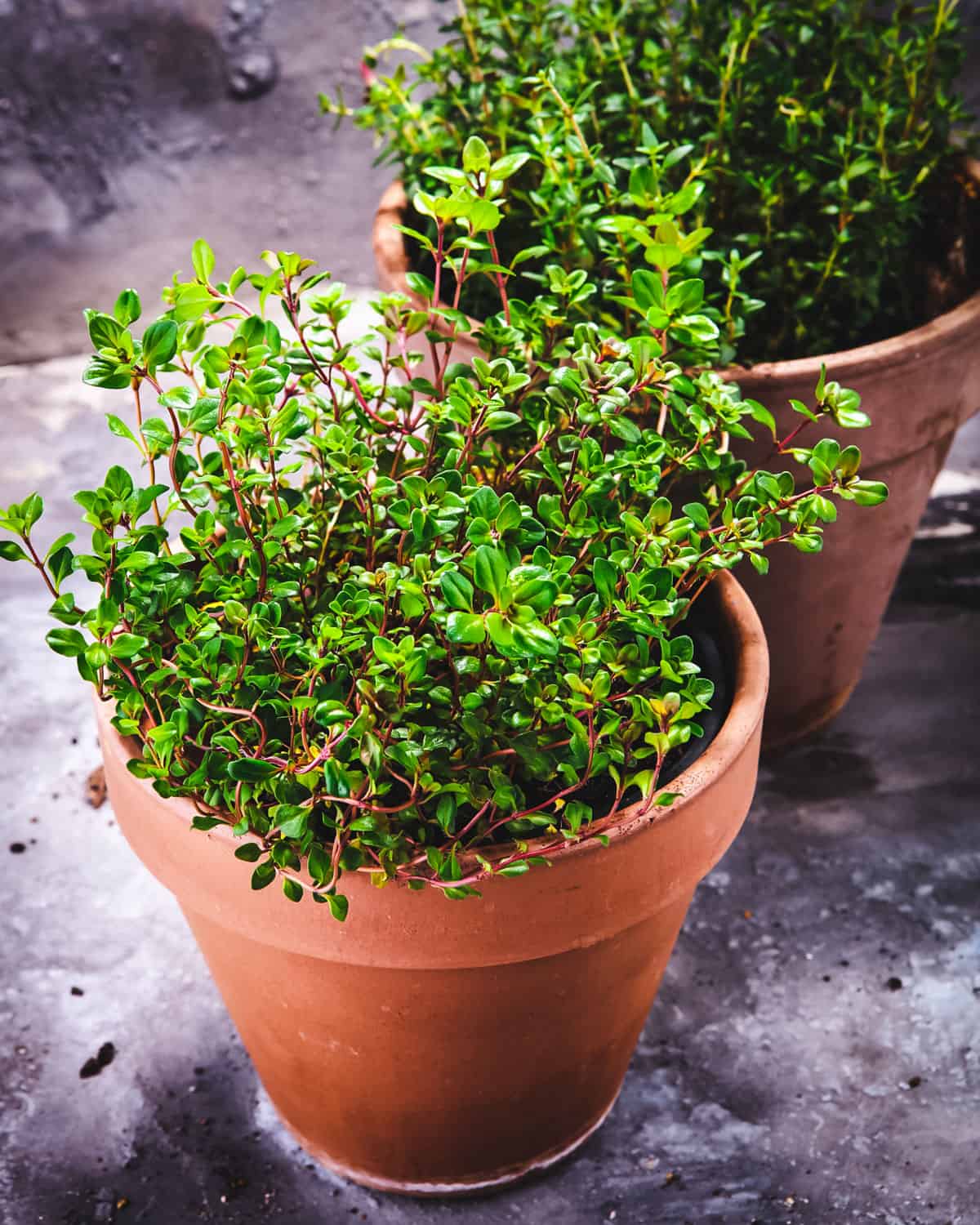 Thyme is a Low Maintenance Hardy Perennial
Thyme is a wonderful low maintenance plant to have in your garden.
Thyme thrives in dry and rocky areas, helps with soil erosion, and can easily withstand drought and below freezing temperatures.
Depending on your growing location, you might even be able to harvest fresh thyme well into the winter months.
It is also a great plant to grow in a pot, either outdoors or in a sunny windowsill.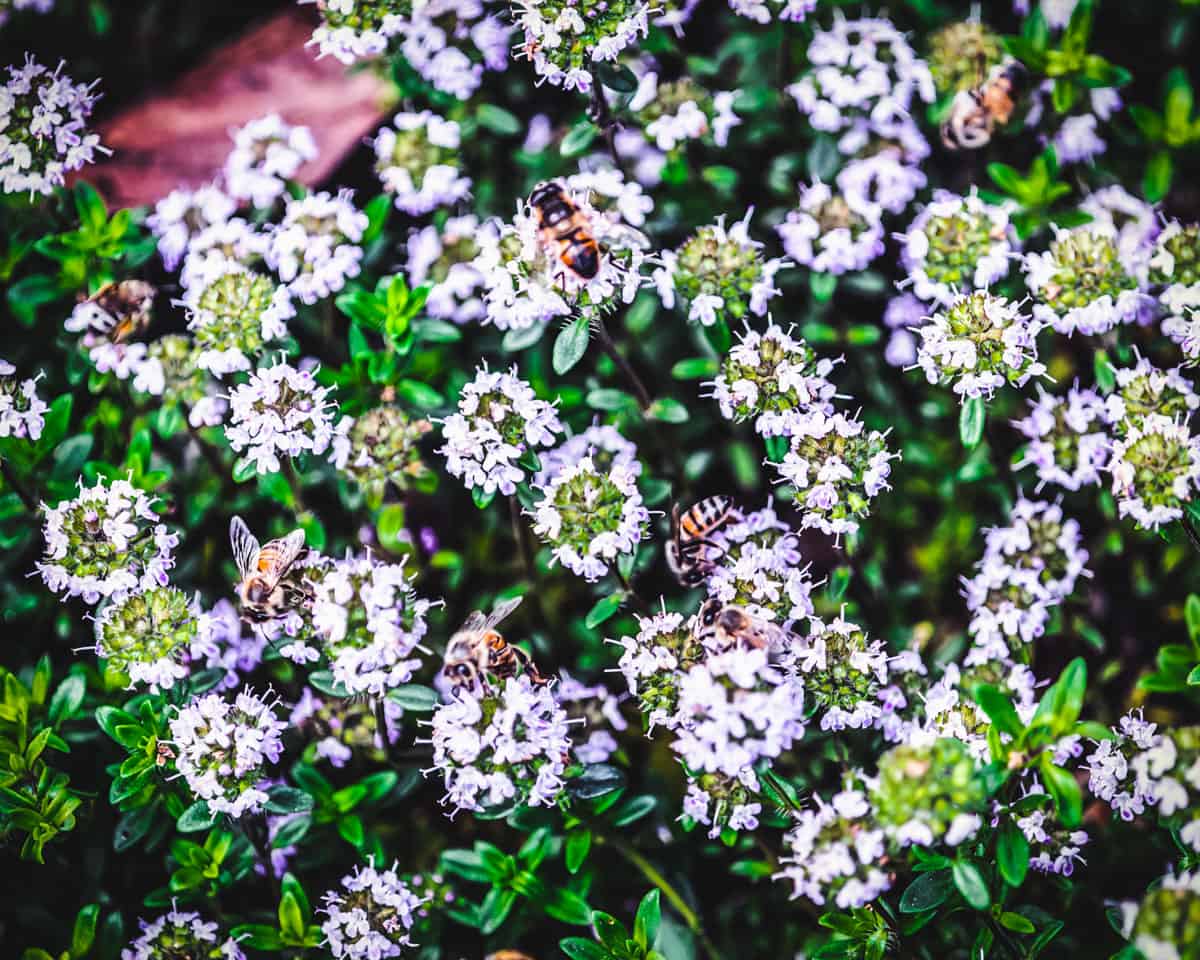 Thyme Attracts Pollinators
Thyme grows beautiful white, pink, or lavender-colored flowers which makes them attractive to a wide variety of pollinators.
Bumblebees, honey bees, mason bees, and leafcutter bees love to visit flowering thyme plants.
Related: 12 Common Flowers to Plant for the Bees (that are good for us too!)
Thyme is a Natural Pest Repellent
Lacewings love to lay their eggs on the leaves of thyme plants!
Adult lacewings feed on the nectar found in thyme blossoms, but lacewing larvae eat common garden pests such as cabbage moth caterpillars, aphids, and whiteflies (it's easy to see why lacewing larvae are sometimes referred to as "aphid lions").
Thyme essential oil can be used to repel mosquitos and ticks when applied topically.
This recipe for Homemade All-Natural Tick and Bug Spray is a good one to try (never apply essential oils directly onto the skin without a carrier solution).
Related: DIY Herbal No Bug Balm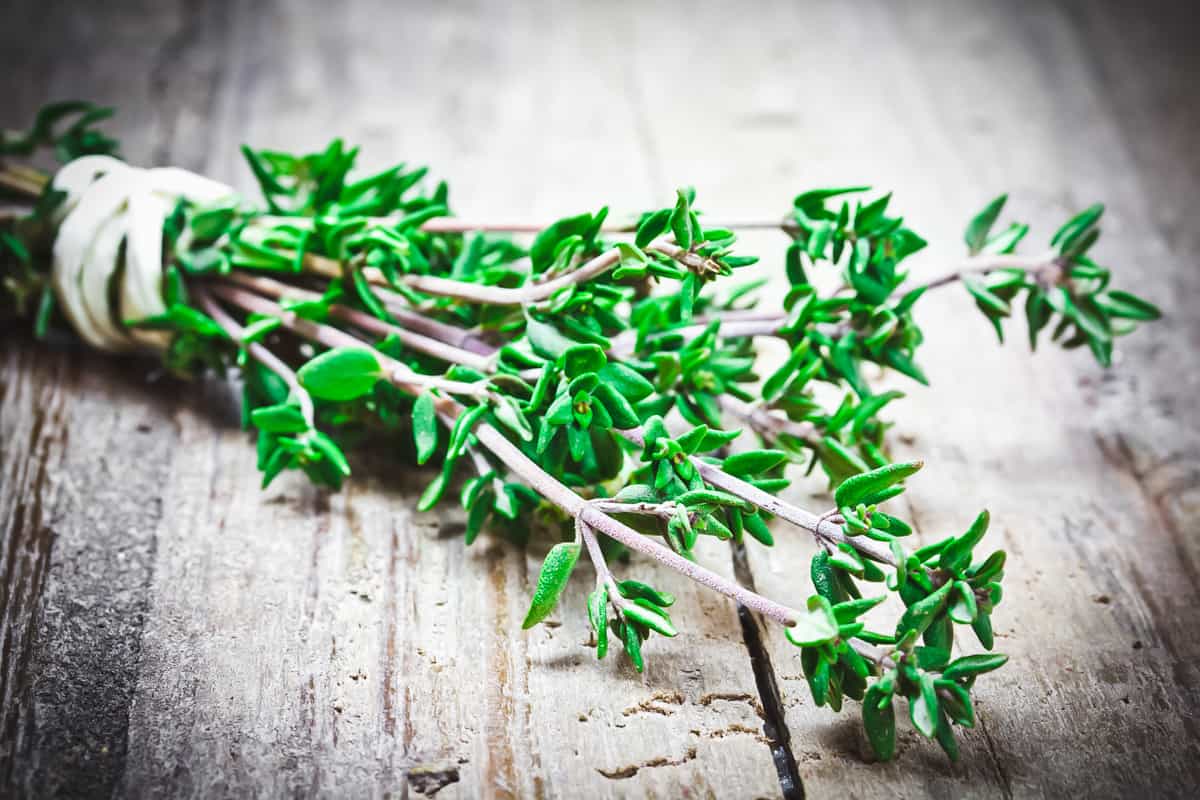 Thyme Pairs Well with Savory Flavors
Thyme can be used as a backdrop for flavorful ingredients, or it can take on a starring role of its own.
I can't think of a better use for fresh thyme than in a recipe for roasted chicken with herbs.
Or with lemon, like in this recipe for Linguine with Lemon, Garlic and Thyme Mushrooms.
The delicate flavor of White Fish Baked with Lemon Thyme and Garlic is also a classic.
Fattier fish such as salmon and trout also both pair well with thyme, feel free to add extra to match the stronger flavor of the fish.
Mushrooms and thyme go well together, especially foraged mushrooms like chanterelles.
Whenever I'm flush with extra thyme I like to make an herbal compound butter to keep in the freezer  — you never know when you might need it!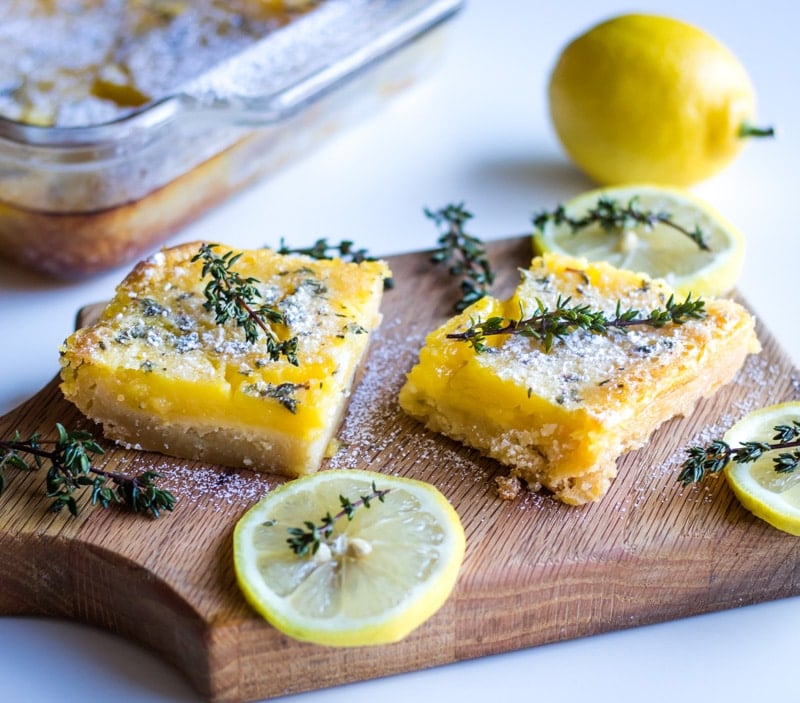 Thyme Ban be Used in Sweet Baked Goods
Fresh thyme is one of my favorite herbs to use when I'm baking, strangely enough. It has a citrus-like herbaceous flavor is a natural pairing with sweet ingredients.
When used judiciously, it's mild enough that it won't overpower the subtle taste of baked goods but has enough flavor to add a touch of brightness to the finished product.
I especially like to add fresh thyme to lemon dessert recipes, such as these gluten-free Lemon Bars with Honey and Fresh Thyme.
You can also try my Calendula and Thyme Shortbread Cookies and this super-simple Wild Berry and Nectarine Galette with Goat Cheese and Fresh Thyme for more thyme-flavored baked goods!
Thyme Supports the Immune System
The next time you feel a cold coming on try reaching for the thyme! It is an excellent herb for winter health.
Thyme is an excellent source of vitamin C and vitamin A, both of which play a critical role in immune function.
This recipe for Fermented Honey with Red Onions and Thyme is my go-to remedy during cold and flu season — and it also makes a deliciously tangy condiment and salad-dressing starter.
That recipe comes from my book Healing Herbal Infusions where you will find more recipes that include thyme and many other herbs!
Thyme Promotes Healthy Digestion
Thyme has long been recognized for its ability to promote healthy digestion and appetite.
Thyme can also be used to counteract gas, diarrhea, nausea, and colic, especially when ingested in the form of a Homemade Immune-Boosting Digestive Tonic.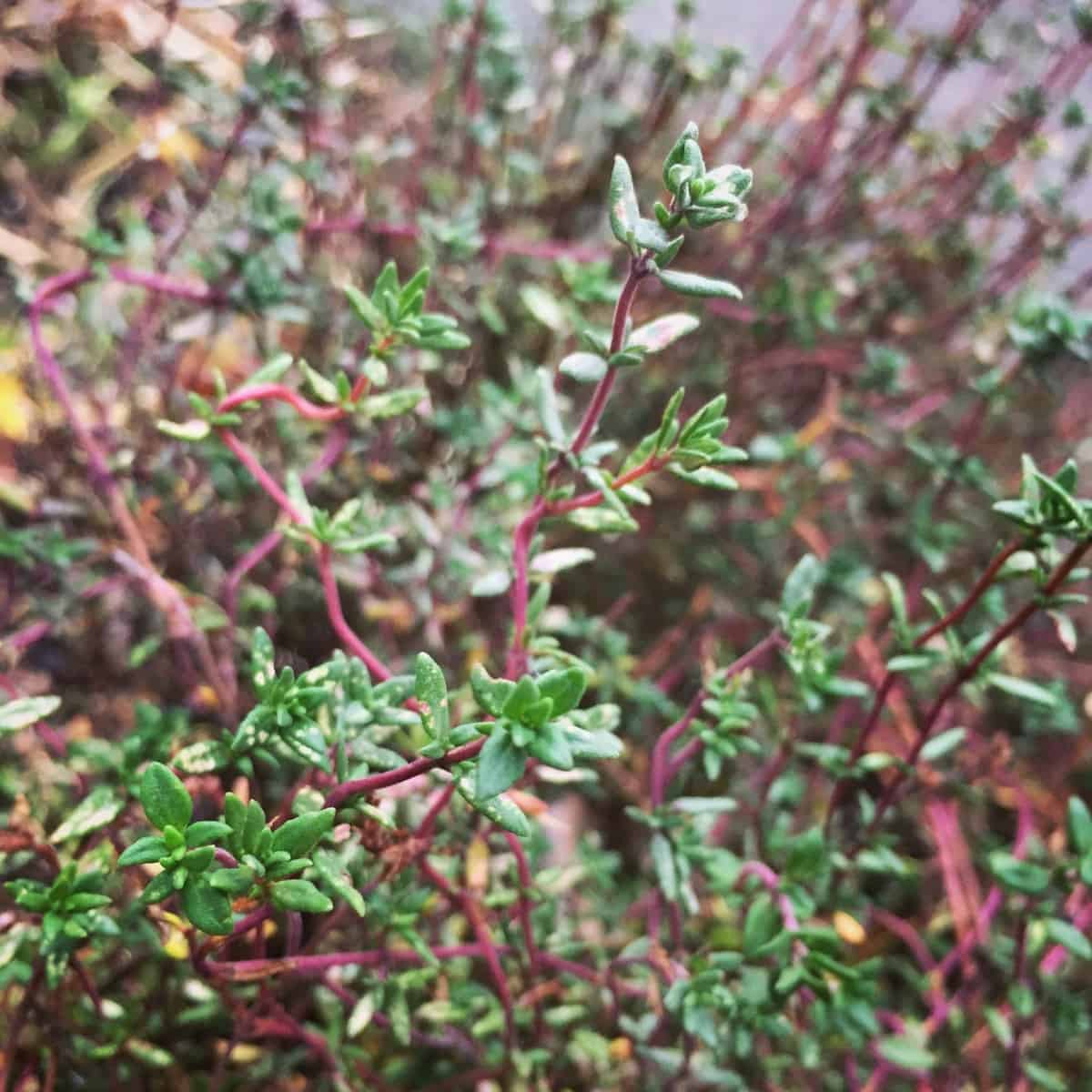 Thyme is Antimicrobial and Antifungal
Did you know that before the invention of antibiotics thyme was used to medicate bandages?
This is because thyme is a natural source of thymol, a chemical compound with strong antiseptic properties.
When combined with a carrier oil, thyme essential oil can be used to treat common fungal growths such as toenail fungus, ringworm, and athlete's foot.
My instructions for How to Make an Herbal Salve can be used to create a soothing thyme-based salve for itchy skin.
Thyme Soothes Sore Throats and Coughs
Another reason to grab the thyme when you feel a cold or flu coming on!
Thyme has natural antispasmodic and bronchodilator properties (in other words, it's particularly soothing for persistent coughs).
This pleasant-tasting Homemade Cough Syrup with Thyme will also help calm sore throats due to coughing, laryngitis, and tonsillitis.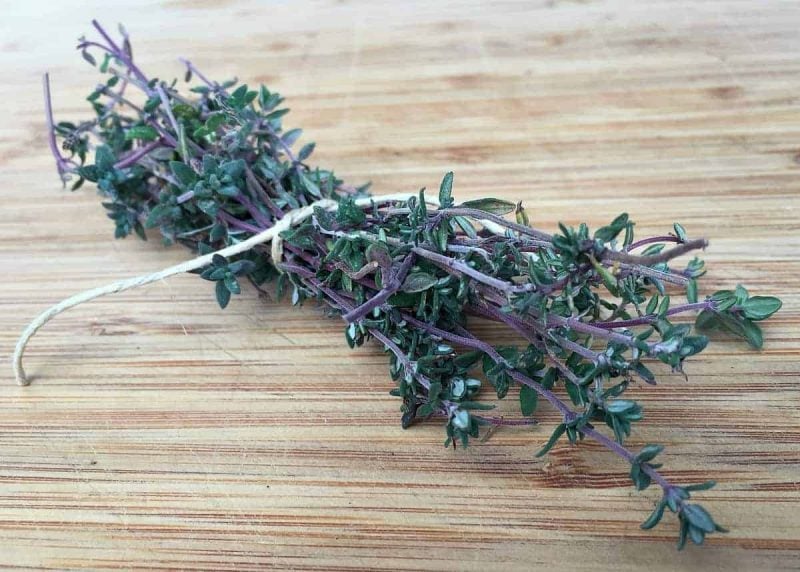 Thyme is Good for Oral Health
Many commercially made mouthwashes already contain thymol, which means you might already be reaping the oral health benefits of thyme!
Thyme has historically been used to treat symptoms of gingivitis, tooth decay, and plaque formation.
You can make your own refreshing DIY Herbal Mouthwash using thyme essential oil (as well as peppermint, oregano, and tea tree oil).
---
More Herb Guides
Learn 10 reasons to grow all of these common herbs in your garden!
---
I hope this inspires you to grow thyme in your herb garden! There are so many uses and benefits to this wonderful, easy to grow plant.