Radishes are a vegetable that are sometimes hard for people to get excited about. The truth is that radishes are amazing! Not only that, but they are a tasty treat straight from the dirt, no processing required. The best part is you get two veggies in one, the root and the greens – yes you can eat radish greens! Here are eight different ways to eat radishes and radish greens.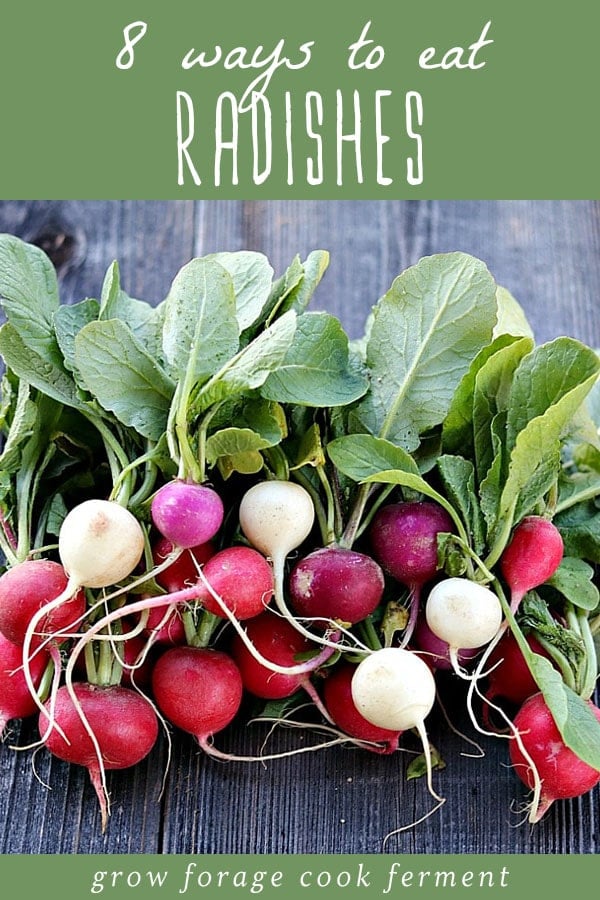 How to Eat Radishes and Radish Greens
I love radishes for so many reasons!
Firstly, radishes are easy to grow. They germinate in no time, even in cold weather, and are on your dinner table before any other plant in your garden has time to think about producing.
Radishes are also delicious and both the roots and the leaves can be eaten in many different ways!
You may be surprised to learn that you can eat radish leaves as it's not something people usually think of, but they are totally edible!
The greens don't stay fresh as long as the roots do, though, so if they are looking wilted the other option is to feed them to your chickens or throw them in the compost. My chickens get really excited over radish greens!
Here are my favorite ways to eat radishes and radish greens.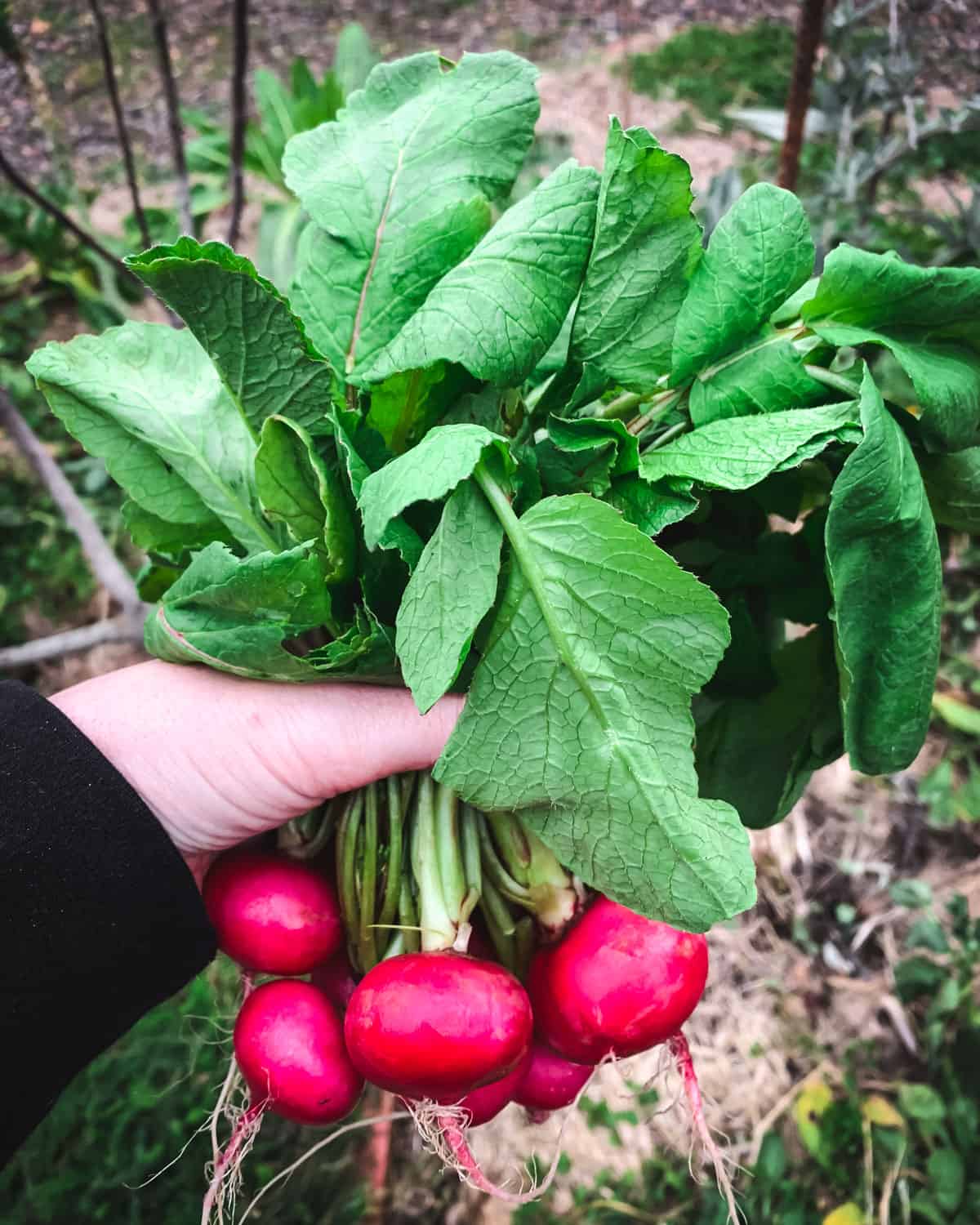 Radish Salads
The most obvious way to eat radishes and their greens is raw in a salad. This is how I most often eat them, probably because it's the easiest!
Fresh radish greens have a nice flavor and are great mixed in with other salad greens. They are best when they are small and tender.
I like to add radishes to a fresh Grilled Corn Salad.
This Asian Cucumber and Radish Salad sounds wonderful, too.
If you have large daikon type radishes to use, try this Italian Daikon Radish Salad.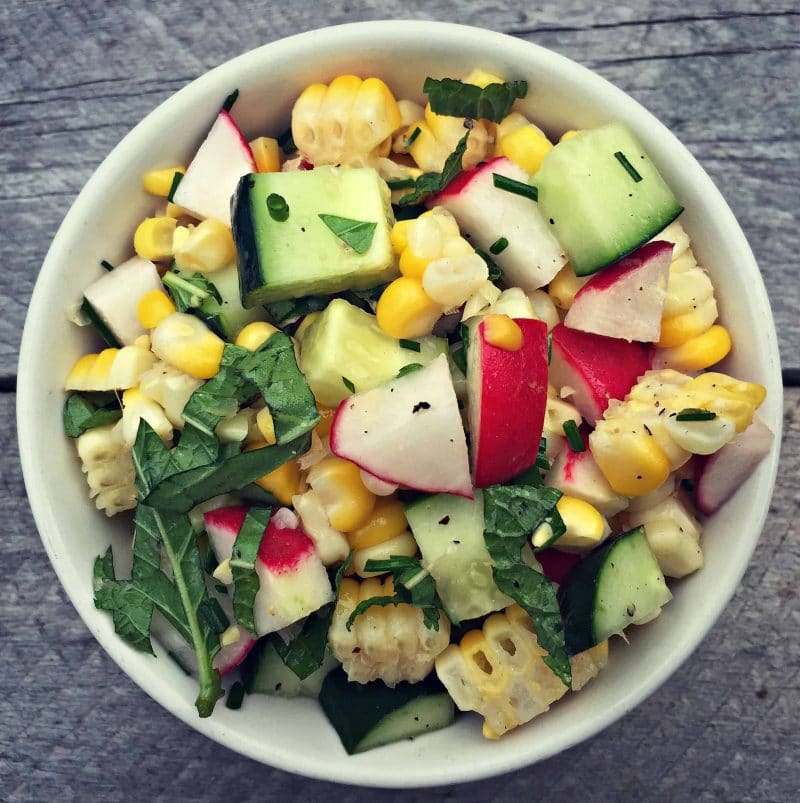 Radish Sandwiches
Beyond salads, sliced raw radishes are perfect for adding to sandwiches.
With all the different and beautiful varieties of radishes, such as these purple and watermelon daikon, you can even make beautiful open face tea sandwiches.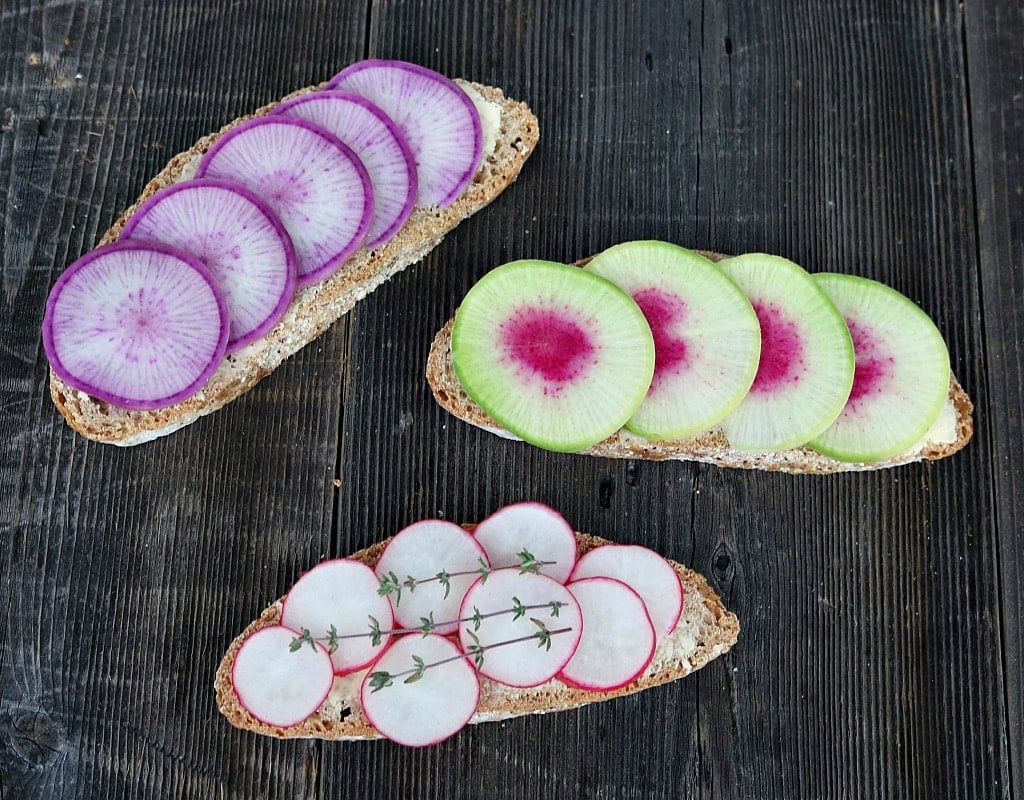 This recipe for Radish Chive Tea Sandwiches looks very tasty, as do these Radish Tea Sandwiches with Creamy Dill Spread.
But, you can always keep it simple and slather some butter on homemade sourdough bread, then top with radish slices and fresh herbs. Perfection!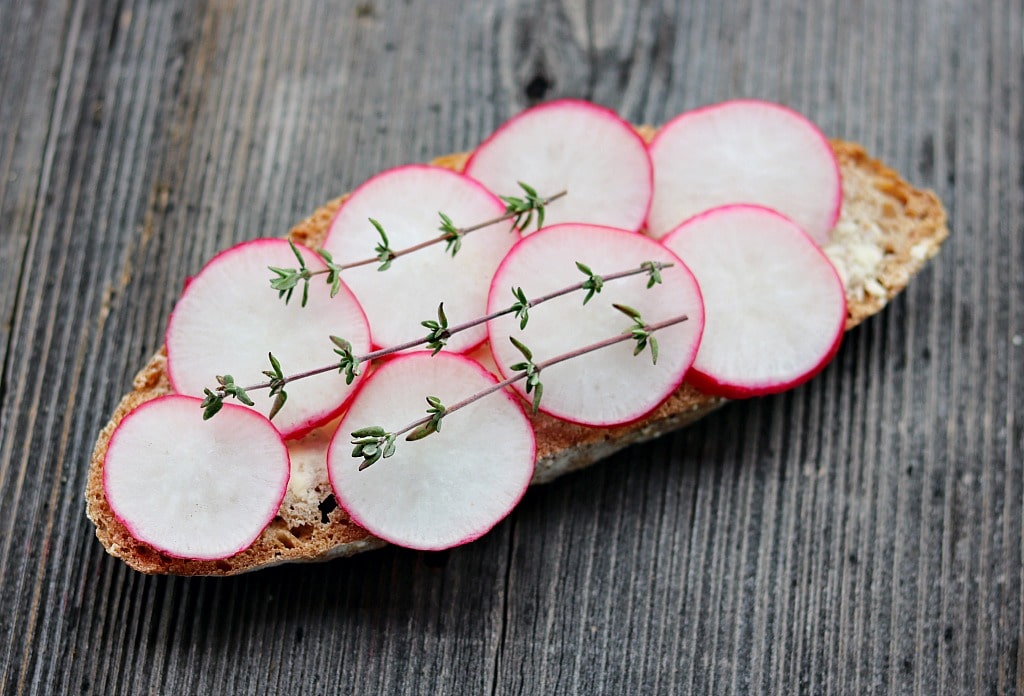 Fermented Radishes
I love fermented radishes! Although they usually tend to lose their vibrant color, the taste is out of this world.
Here is a recipe for Lacto Fermented Radishes with Garlic and Dill that sounds nice.
Combine radishes with turnips to make Lacto Fermented Radish and Turnip Roots.
You can even ferment radish greens! Check out this recipe for Fermented Radish Tops.
I included radishes in my recipe for Fermented Cattail Shoots, and they turned out lovely!
Daikon radishes are also a common ingredient in homemade kimchi.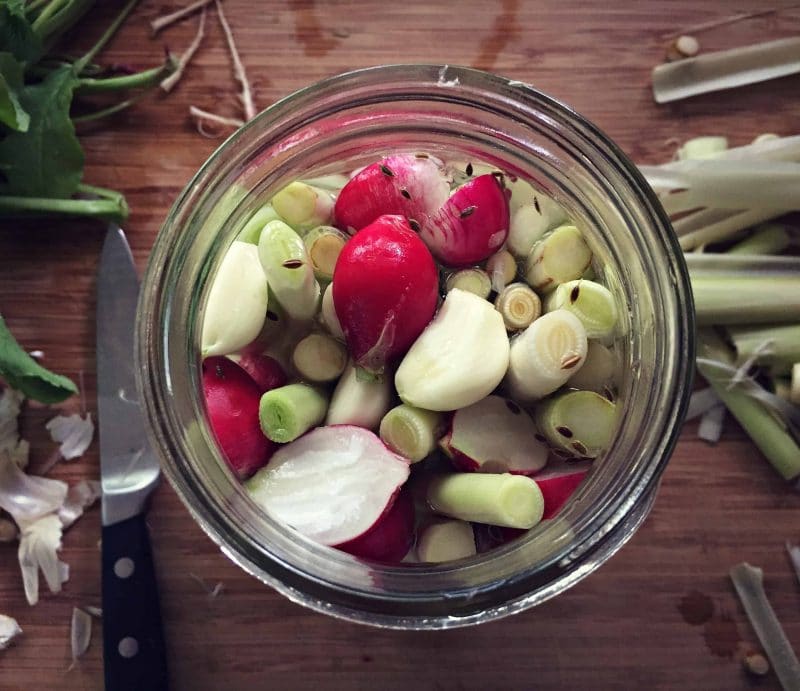 Pickled Radishes
You can also pickle radishes if you are craving that vinegar flavor.
These Spicy Quick Pickled Spring Radishes will be ready to eat in no time.
These Pickled Radishes for Tacos sound perfect for summertime taco nights!
Pickled radishes are common in Korean cuisine, try this recipe for Korean Style Pink Radish Pickles.
Sautéed Radishes
You may not immediately think of cooking radishes on the stove top, but they can be sauteed just like any other vegetable!
This recipe for Sauteed Radishes with Vinegar and Herbs looks delicious.
Radish greens can be sauteed just like any other green! Try this recipe for Sauteed Radishes and Radish Greens.
Of course you can't ever go wrong with Fried Radishes. Doesn't that sound amazing?
Roasted Radishes
Of all the ways to eat radishes, this one is probably my favorite. Roasted radishes will become your new best friend, I guarantee it!
I don't know why it took me so long to discover this, as I'm the queen of roasting veggies.
Toss them in with other root veggies and roast at 400ºF for 30-40 minutes for a beautiful and easy side dish. The radishes get creamy and delicious!
Try these Crispy Roasted Radishes, or these Roasted Radishes with Garlic Browned Butter which sound incredible!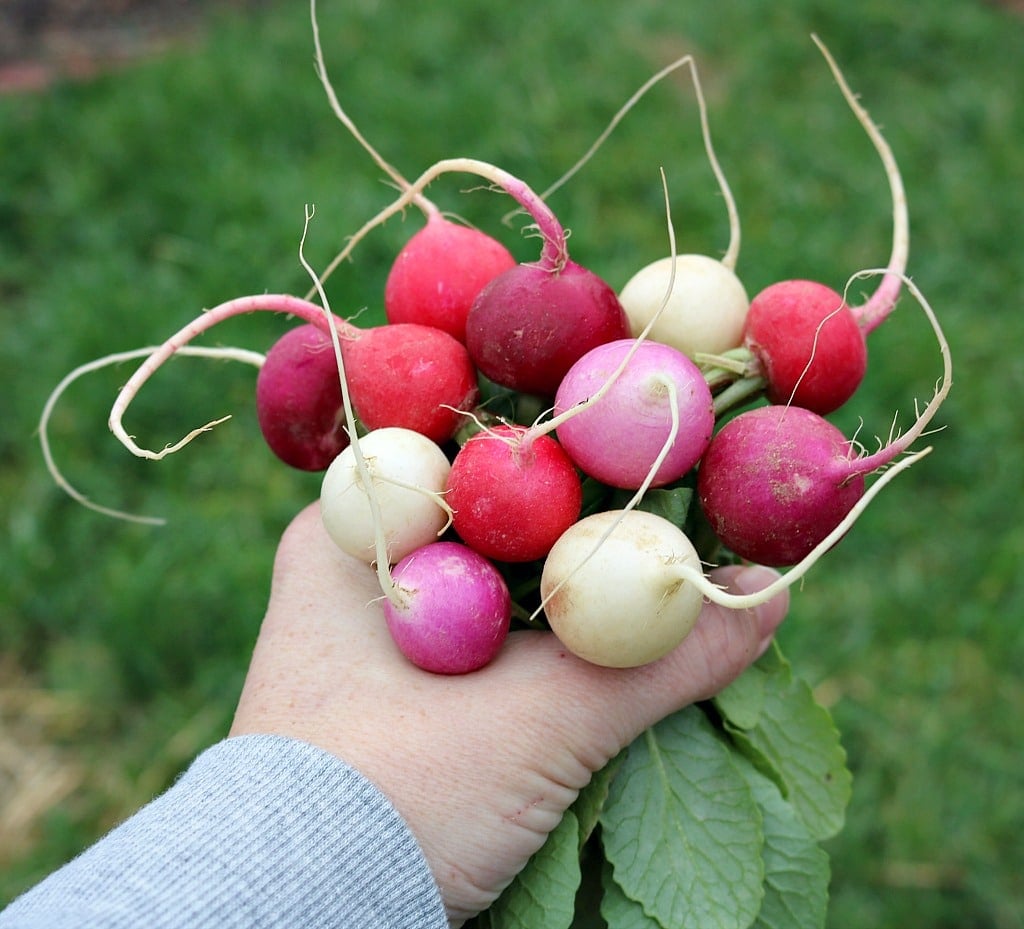 Radish Chips
Radish chips are new to me, but something that I really want to try as they look awesome! I'm always down for any kind of chip, no matter what vegetable they are made from.
Try these Roasted Salt and Pepper Radish Chips for a change of pace from regular potato chips.
These Cinnamon Sugar Radish Chips sound especially yummy for a healthy sweet treat.
Radish Leaf Pesto
If you have a whole bunch of nice radish greens to use up, this Radish Leaf Pesto is definitely something you'll want to try!
You can even mix the radish greens with half basil to keep it a little bit on the traditional side if you like.
That's all of the ways to eat radishes and radish greens that I have for you today! I hope this gets you excited for all those spring radishes that will be coming soon.
What is your favorite way to enjoy radishes?
---
Learn How to Cook Other Vegetables
Here are a few other not-so-usual vegetables you may need a little help learning to prepare in a way that makes you fall in love with them at first bite!
---