Turnips are a vegetable people love to hate.  This is something that I don't understand, because I think they are awesome!  (No, I didn't just fall off the turnip truck).  They are cheap, easy to cook, easy to grow, and just like beets, you get two tasty vegetables in one.  Turnip greens are actually one of my favorite of the winter greens, and they are particularly tasty in soups.  Turnip root can be used just like any root vegetable.  Read on and I will show you how to cook turnips and their greens!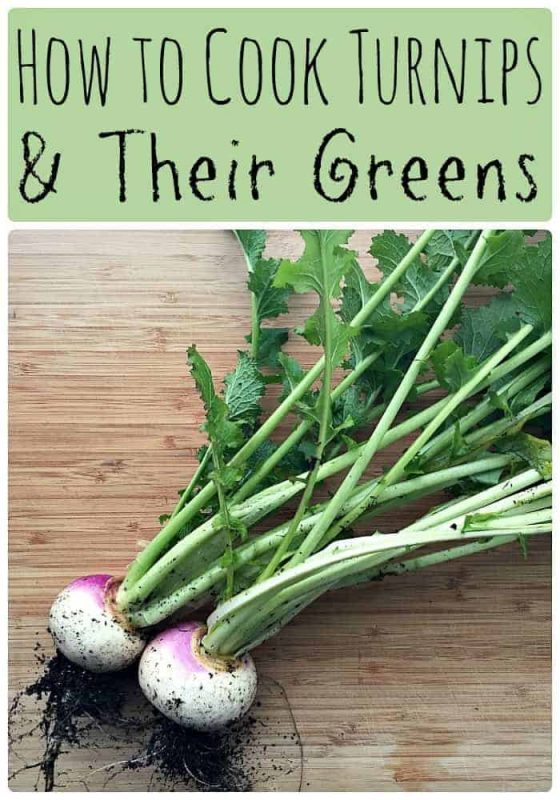 Turnips are a brassica, which is the same family that cabbage, broccoli, cauliflower, kale, and radishes are in.  They are easy to grow, especially in cooler climates, and do well in a fall garden.  I harvested these turnips from our hoop house in January!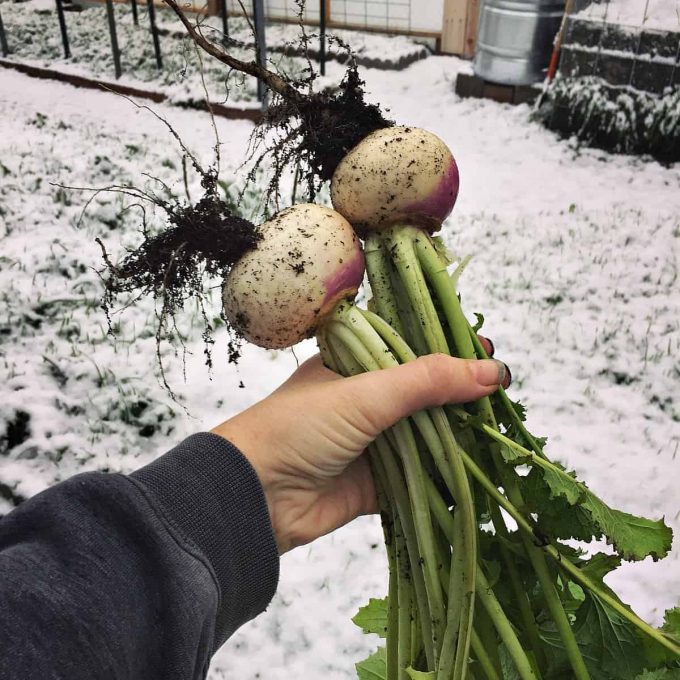 The most common part of the turnip to be eaten is the root.  It has less starch than a potato, and tastes a little bit like a cross between a radish and a cabbage.  I think it's delicious, especially when homegrown!
The greens should not be ignored, as they are very tasty on their own.  They cook down quite a bit and are great to throw into soups or stews.  They have a nice flavor that is somewhat like a mild mustard green.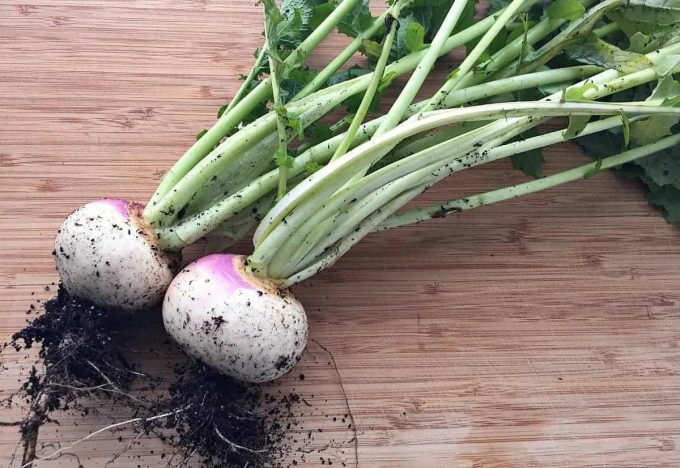 How to Cook Turnip Roots
My favorite way to cook turnip roots is to roast them.  This is how I most often cook any root vegetable (like beets and Jerusalem artichokes), mainly because it's easy and the results are always amazing.
Simply cube up the roots, no need to peel, and toss them with a little bit of olive oil, salt and pepper.  Spread them on a baking sheet and cook at 400°F for 20-30 minutes, flipping halfway through.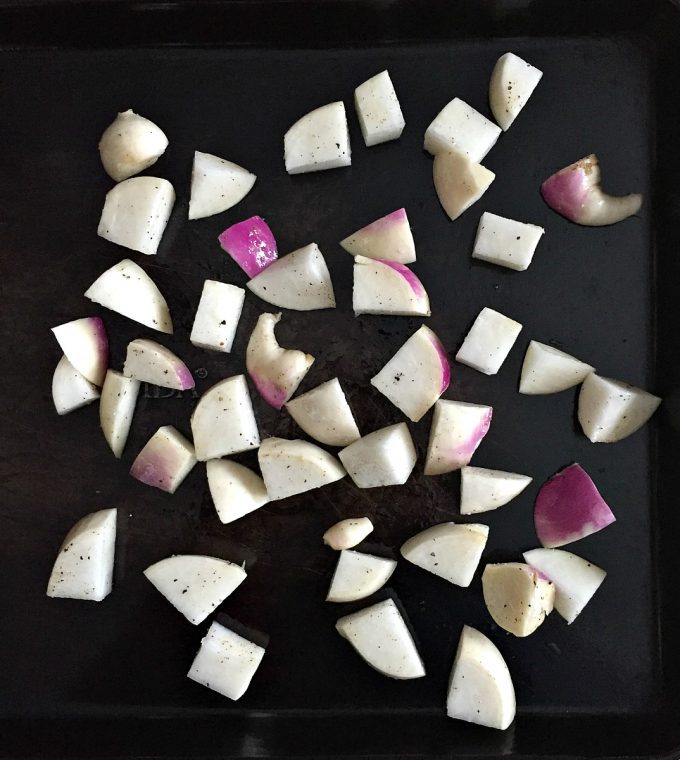 When they are done they will be nice and golden brown.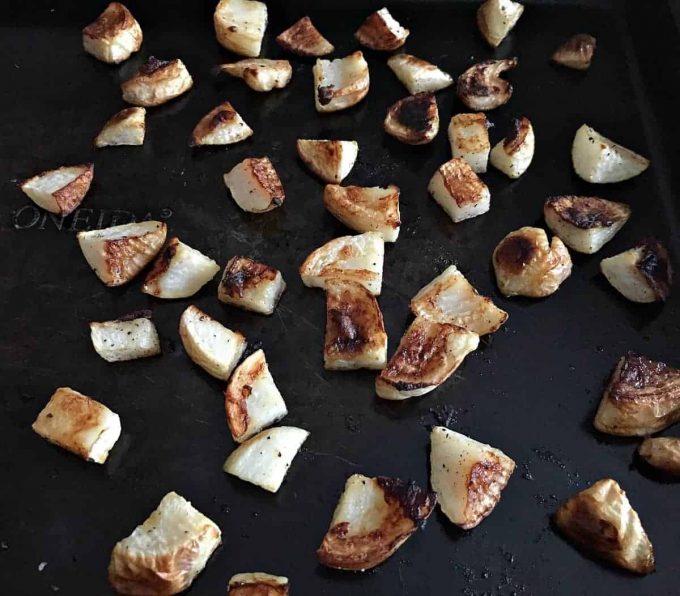 Roasting them caramelizes them a bit which really brings out their sweetness.  You can also roast other root vegetables such as sweet potatoes, rutabaga, parsnips, and carrots mixed with the turnips to make a wonderful root veggie medley.
Besides roasting, you can also boil and mash the roots like you would mashed potatoes, turn them into root veggie chips, add them to a gratin, or even blend them into a creamy soup.
Here are some other great turnip root recipes for you to try:
How to Cook Turnip Greens
The most common ways that I cook turnip greens is to either add them to a soup or saute them with onions in bacon fat.  You really can't go wrong with either of these methods!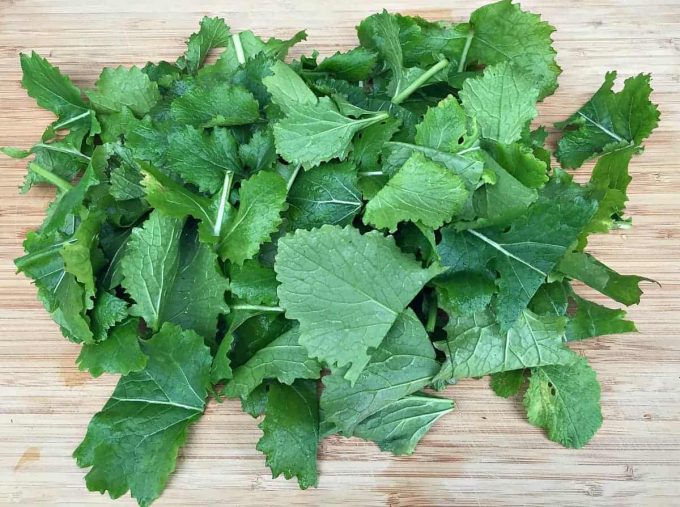 Roughly chop the leaves and they are ready for anything!  Saute some onions in bacon fat (or another fat of your choice), then add the turnip greens and cook until soft.  I like to do this in my cast iron skillet.
That's it!  Sometimes we add a splash of red wine vinegar towards the end of cooking, but it's not absolutely necessary.  The greens become velvety and have a really great flavor that I prefer over other dark leafy greens.
Here are some other great turnip green recipes for you to try:
Learning how to cook turnips and their greens really is that easy!  If you were a turnip hater in the past, I hope you will give this a try.  I think you will be surprised by how good they actually can be!
Do you like turnips?  What is your favorite way to cook turnips and turnip greens?