Artichokes are a strange vegetable for the uninitiated, but an absolute delight for those of us who love them!  When I was a kid, it was always an exciting night in our household when we had artichokes with dinner.  I must admit that I wasn't a kid who liked a whole lot of vegetables, but I always loved artichokes!  It was so much fun to eat them leaf by leaf, the perfect little handheld morsel for small fingers.  But, if you've never cooked or eaten one, to see them in the grocery store can be quite daunting.  What on earth do you do with this crazy looking thistle?  Here I will show you how to cook and eat artichokes!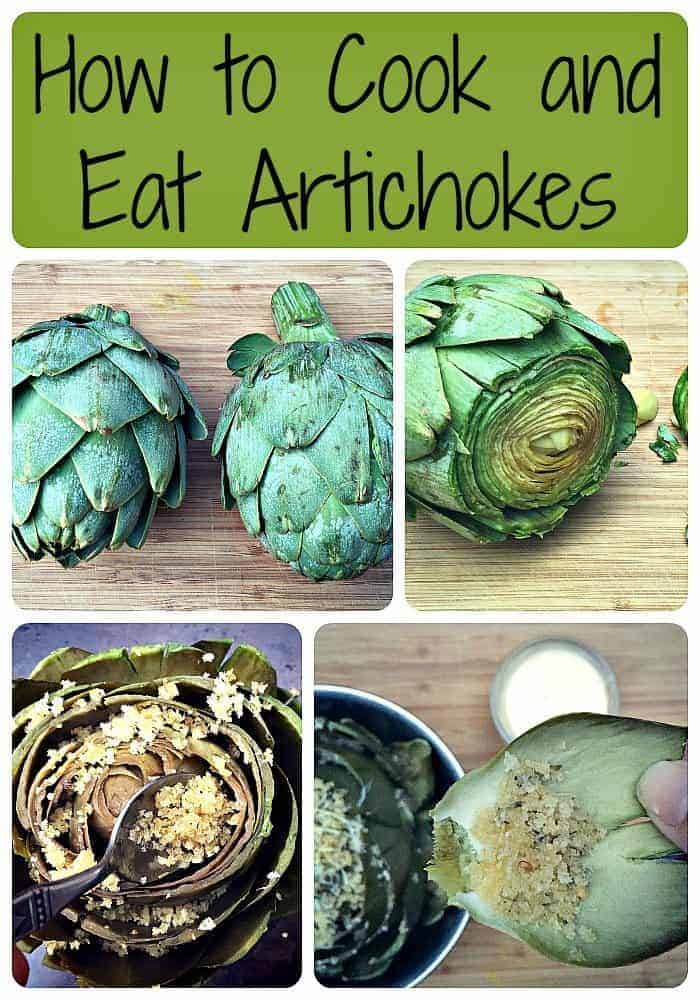 Artichokes are in season in the springtime, and have just started to show up in local grocery stores in my area.  That said, they grow almost year round on the central California coast, which is where most of them come from.  They like the mild temperatures and fog of that region.
They are in the thistle family, and each leaf has a little spine on the end of it.  While artichokes do take a little bit of preparation and time to cook, in my mind it is totally worth it!  The taste is beyond comparison.
To just look at them, you may wonder what in the heck to do with them.  I'm here to help you out!  It's actually quite easy.  First, wash the chokes well under running water, making sure to rinse between all of the leaves.  Then use a sharp knife to cut off the top inch or so of the pointy end.
This next part is a trick I learned from my grandma.  Cut the tips of the remaining leaves with kitchen shears to eliminate the sharp points.  My Mom doesn't bother with it because she has calloused fingers, probably from eating artichokes her whole life!  Do it if you feel like it, but it's definitely not necessary.
Then remove the smallest leaves near the stem.  Cut the very end of the stem off, then use a paring knife to peel off the outer layer on the stem.  This is one thing that not many people know about – the stem is just a tasty extension of the heart, once you trim off the outer layer.  So I always leave the stem on.  Put the trimmed artichokes in 3-4 inches of water in a large pot.
Bring to a boil, then turn the heat down to medium, cover and simmer for about 30-60 minutes.  The time largely depends on the size of your artichokes.  These were quite large and took about 45 minutes.  Check them for doneness by sticking a paring knife into the choke right where the stem meets the base – it should go in easily without any resistance.  Once they are fully cooked, take them out using tongs, and put them upside down in a colander in the sink to drain and cool.
At this stage they are totally ready to eat, and this is how we often prepare them.  Just put out a dipping sauce of some kind like mayo, melted butter, or blue cheese dressing (our favorite) and you're good to go.  Cut of the stems and eat them first, then dip the juicy end of each leaf into your sauce and scrape off the artichoke "meat" with your teeth.  I know, it doesn't sound too classy, but trust me, it is!
I do have a fancier way for you to make artichokes, however.  We only do this every once in a while, but when we do we're never disappointed as it's so incredibly delicious!  We stuff them with seasoned breadcrumbs and bake them until crispy.  While your chokes are draining, mix together some breadcrumbs, olive oil, minced garlic, salt, pepper, thyme and oregano.  I don't have exact amounts because, well… I didn't measure them!  Just wing it and go with what looks right for the amount of artichoke you have.
Once the artichokes are cool enough to handle, cut off the stems (and eat them!), and put them onto a baking sheet.  Gently spread out the leaves, and use a spoon to put the breadcrumb mixture in between all the leaves as best as you can.
Top the chokes with the remaining breadcrumbs, and grate some parmesan cheese on top.  Bake in a 350°F oven until the stuffing mixture is golden brown, 10 minutes or so.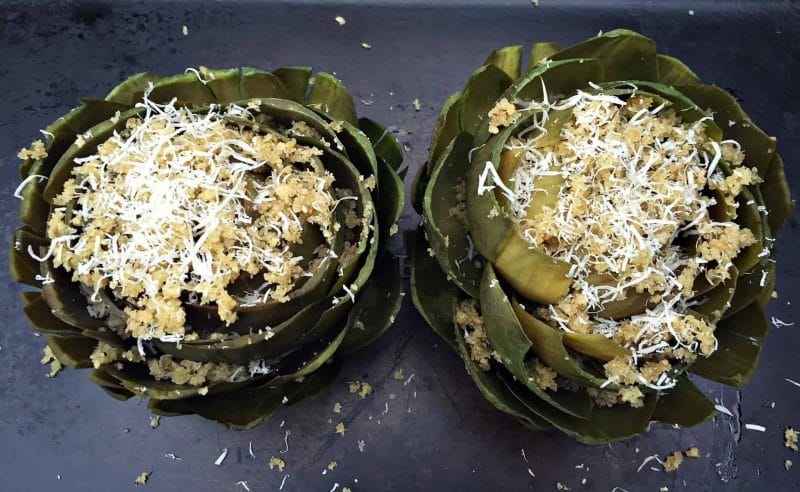 This right here is one of my favorite foods ever!  Every leaf will have a little bit of the breadcrumb mixture, and is so incredibly tasty.
Once you get through all of the leaves, you will get to the hairy choke.  Scoop out this fuzz with a spoon or paring knife (or use your fingers if you're hardcore like my Mom.  I think she was born with an artichoke in her hand).
Then you've reached nirvana, aka the heart of the artichoke.  This is to be savored like a fine wine!  Really, though, the flavor is incomparable and can't be described in words.
You're just going to have to try it for yourself if you never have!  It's such a tasty treat, and I've recently learned about how healthy they are for you.  Did you know that artichokes have one of the highest antioxident levels of any vegetable?  Guess that means I'll need to start eating more of them!
Go ahead and give artichokes a try if you haven't before.  And if you have, try my recipe for stuffed artichokes, they are so good!  I know you'll love them.
Save
Save