I'm the first to admit that blue cheese is not my favorite.  This is strange, because I'm a total cheese lover, but something about blue cheese has never quite done it for me.  It's a little too funky, a little too stinky, and well… a little too blue, if you know what I mean.  I've always used balsamic vinaigrette on my salads, and if I was going to add cheese it would have been feta or chèvre.  Enter this blue cheese dressing into my life a few years ago, and I instantly became a convert!  This is a recipe that I was introduced to by my Mom and her husband Don, and is one that he has been making and tweaking for many years.  It's a staple at their house, and is used on many things besides just salad.  Joel says that he would eat it on a leather boot!  I don't know if I would go that far, but I definitely understand his sentiments.  Here I will show you how to make blue cheese salad dressing.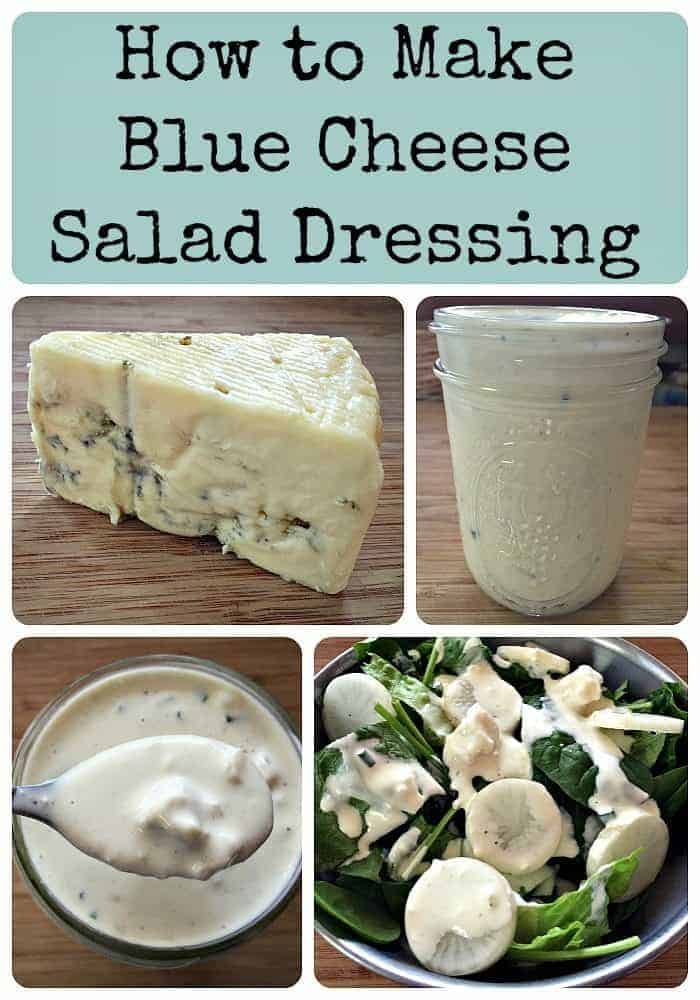 Have you ever looked at the ingredients list on store bought blue cheese dressing?  It's scary!  All kinds of weird stuff in there, which is often the case with all varieties of commercial salad dressing.  That is why I started making my own balsamic vinaigrette, and I couldn't believe how easy and absolutely delicious it was.  This blue cheese salad dressing is the same, easy to make and way better than anything that you can buy in the store.  Here is what you will need (makes about 2 cups):
1/4 cup whole milk
1 tsp red wine vinegar
1 cup mayonnaise (I use Sir Kensington's brand)
1/2 cup sour cream
1/2 tsp prepared horseradish
1/4 tsp worcestershire sauce
1-2 cloves (or more!) pressed garlic
2 Tbsp minced fresh chives
5 oz blue cheese, crumbled (ok to buy pre-crumbled)
A quick word on the ingredients.  I highly recommend using good quality ingredients, as it's only going to make your blue cheese dressing that much better.  Worcestershire and prepared horseradish often have strange things in them that aren't necessary (I use Bubbies brand horseradish and The Wizard's brand worcestershire
).  My Mom swears by using regular mayo for this recipe (Best Foods or Hellman's, depending on your locale), so do that if you must, and I promise I won't judge.  But, I will say that it turned out extremely delicious with the Sir Kensington's Brand mayo which has a much better ingredient list.  Of course, you can always try your hand at making your own mayo, which is a whole other recipe for another day!
Then there is the blue cheese.
I find myself truly lucky to live near the Rouge Creamery, which is an award winning local cheese producer.  While they make many types of amazing cheese, they are especially known for their blue cheeses and have many different varieties (their Smokey Blue is to die for).  For this recipe I chose to use the Crater Lake Blue and a little bit of the Oregonzola.  While you may not be able to find Rogue Creamery cheeses where you live, it's still fairly easy to find high quality blue cheese at most stores.
Ok, now on to making this blue cheese dressing!  It's so easy that you're not going to believe it.  First put the milk and the red wine vinegar in a small bowl and let sit for a few minutes.  This makes the milk sour a bit, which is what we want.
Then add all of the ingredients into a bowl.
Don't forget the crumbled blue cheese!
Stir it all together with a rubber spatula.
And that's it!  Totally easy once you have all the ingredients.  Use a wide mouth funnel to make pouring it into a pint jar easier.
It's a beautiful sight!
I must admit that I often make this right in the jar itself… less dishes to clean!  I love the big chunks of blue cheese in it.
This is so incredibly tasty you won't believe it.  I'd even bet it would turn most blue cheese haters into blue cheese lovers.  I like it best on salad, but it goes great with many things.
We dip our artichoke leaves in it, spread it on crusty french bread, and use it as a sauce for meat or vegetables.  It is really more than just salad dressing!
It's one of those things that gets better as it sits in the fridge for a couple of days, as the flavors meld with each other.  It goes quickly, though, so keep your ingredients on hand… or make a double batch!
Please let me know if you make this blue cheese dressing and how you like it.  You won't be disappointed!