The artichoke plant is a uniquely beautiful and edible plant that is a hardy addition to any yard or garden. A large thistle with firey purple blooms, growing artichokes is easy. Artichoke season will have you cooking artichokes in a variety of ways and enjoying delicious artichoke hearts!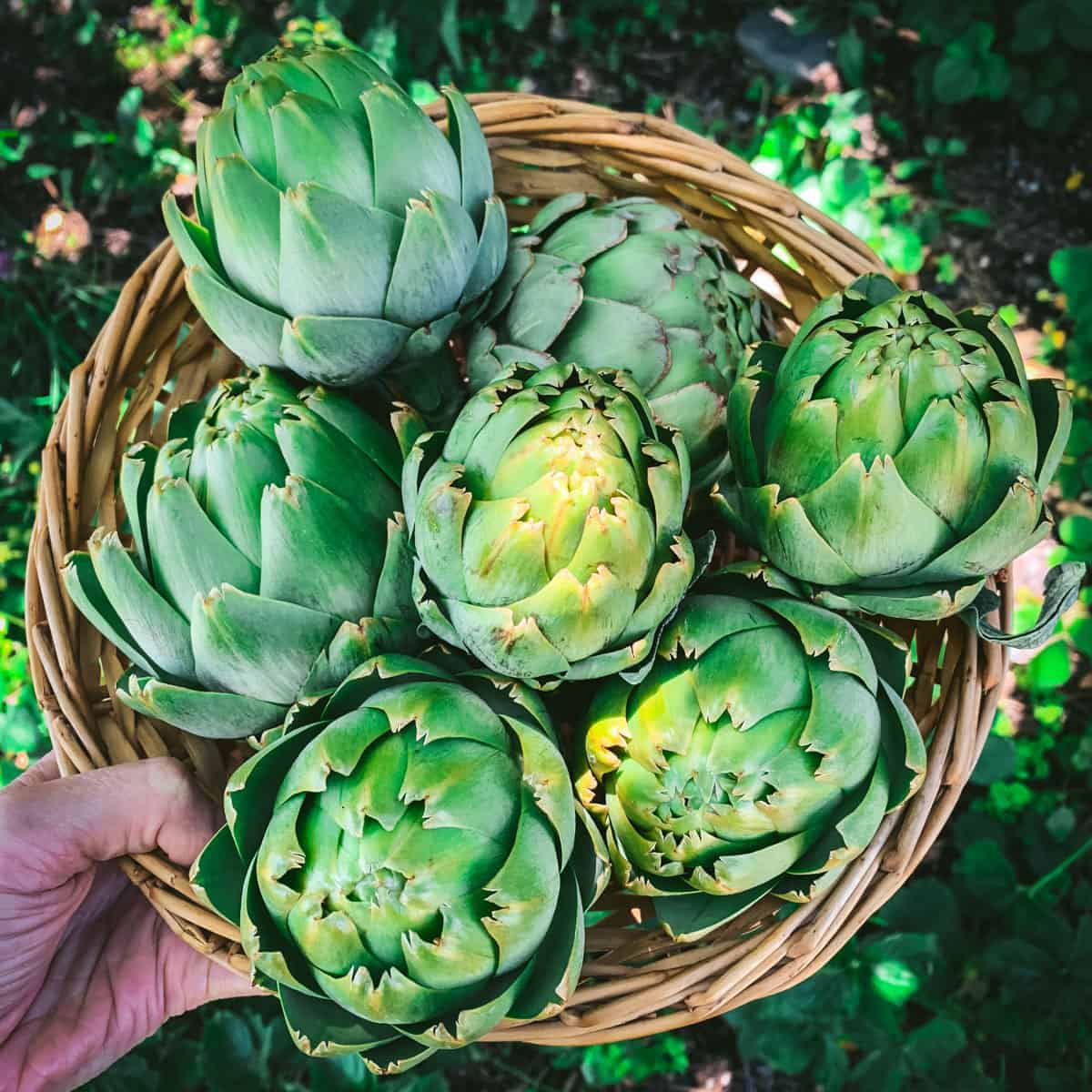 About Artichoke Plants
Artichokes (Cynara cardunculus var. scolymus) are a plant in the thistle family that have been cultivated for food. They are closely related to and descended from cardoons, which grow wild in the Mediterranean region.
Grow artichoke plants as perennials in zones 7-9, and as annuals in cooler regions. Grown as perennials, artichokes will come back each year on their own.
Artichoke plants grow quite large, with a leaf spread of both 5 feet wide and tall, so be sure to have adequate space for them to grow. 
Artichoke flowers are purple and uniquely spikey looking. They look like other thistle flowers but are bigger than other thistle varieties. An artichoke plant is quite beautiful, and bees love the flowers!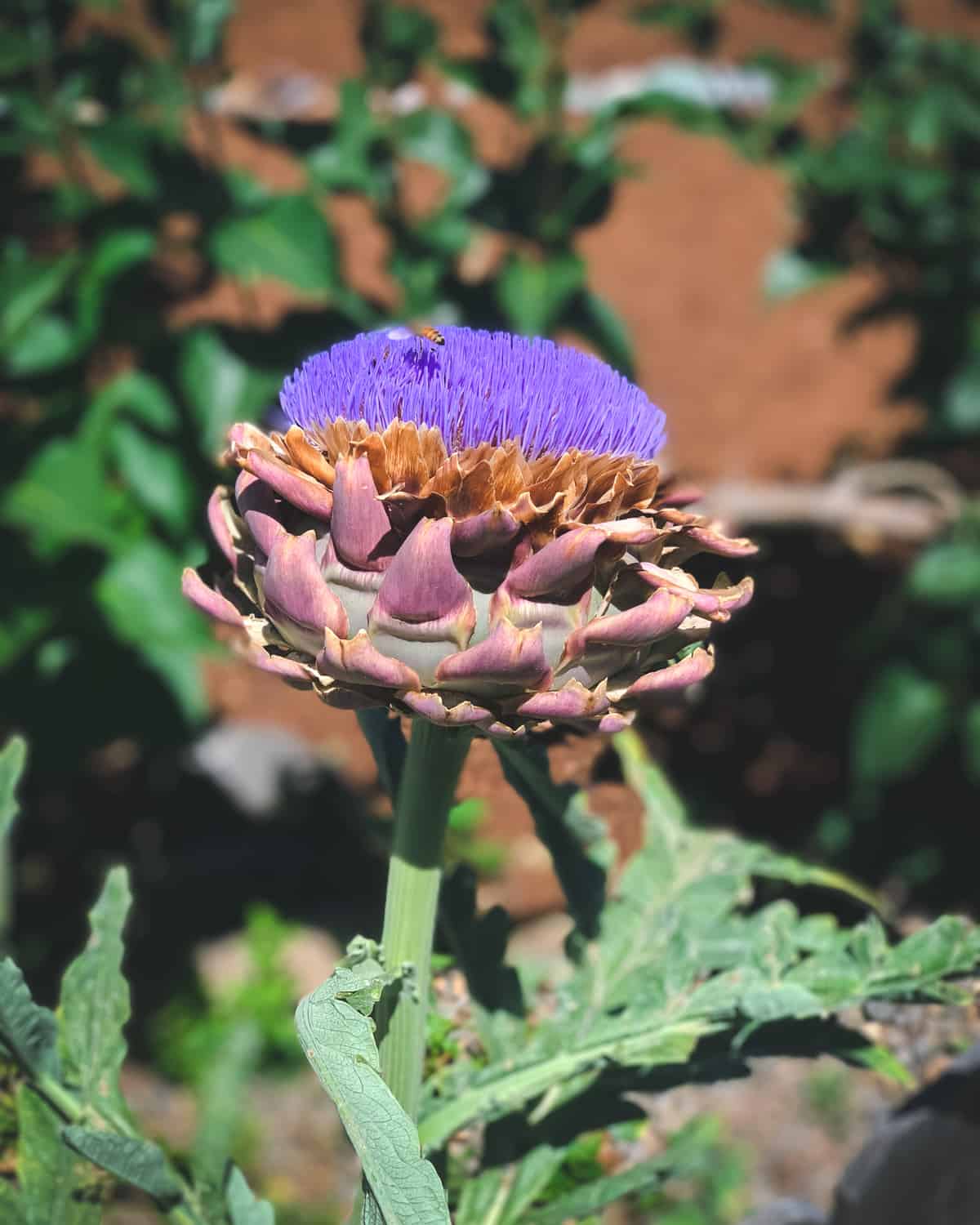 Artichoke buds are edible before they flower and can be eaten in a variety of ways. Grow an artichoke plant for its taste and healthy qualities! Cooking artichokes adds a delicious variety to your meals.
Another great reason for growing artichokes is for their tall, beautiful, and unique-looking flowers that only a thistle can provide. They really are a two-for-one!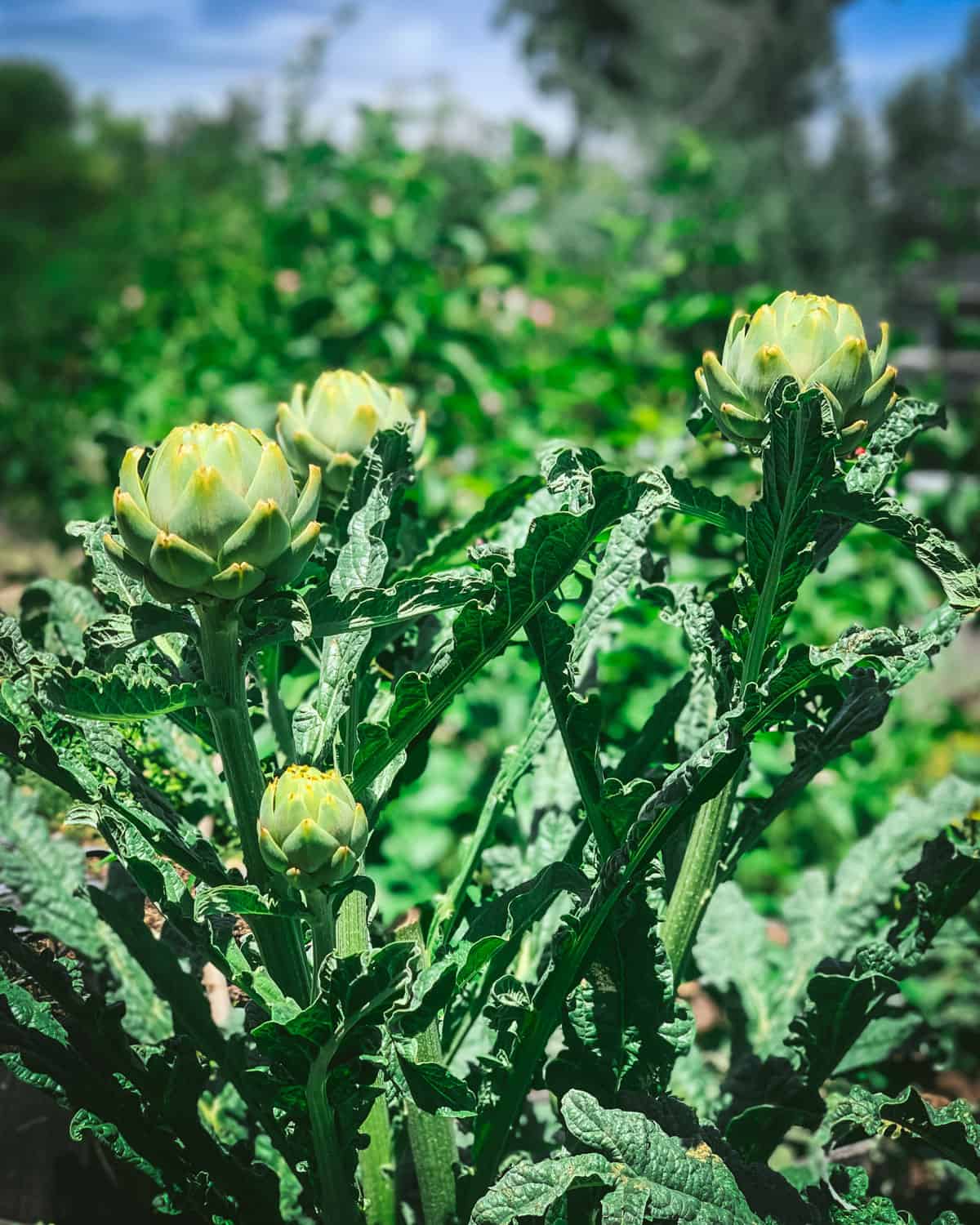 Types of Artichokes
There are three main varieties of artichoke:
Green Globe is the hardiest variety of artichokes. It's edible and has a beautiful bloom that makes for an ornamental plant as well.
Imperial Star is spineless and slow to grow in the first year. However, it's worth the wait as it yields a sweet and mild-tasting flower bud.
Violetto is a purple heirloom from Italy that is small and oval in shape and is a really tasty variety.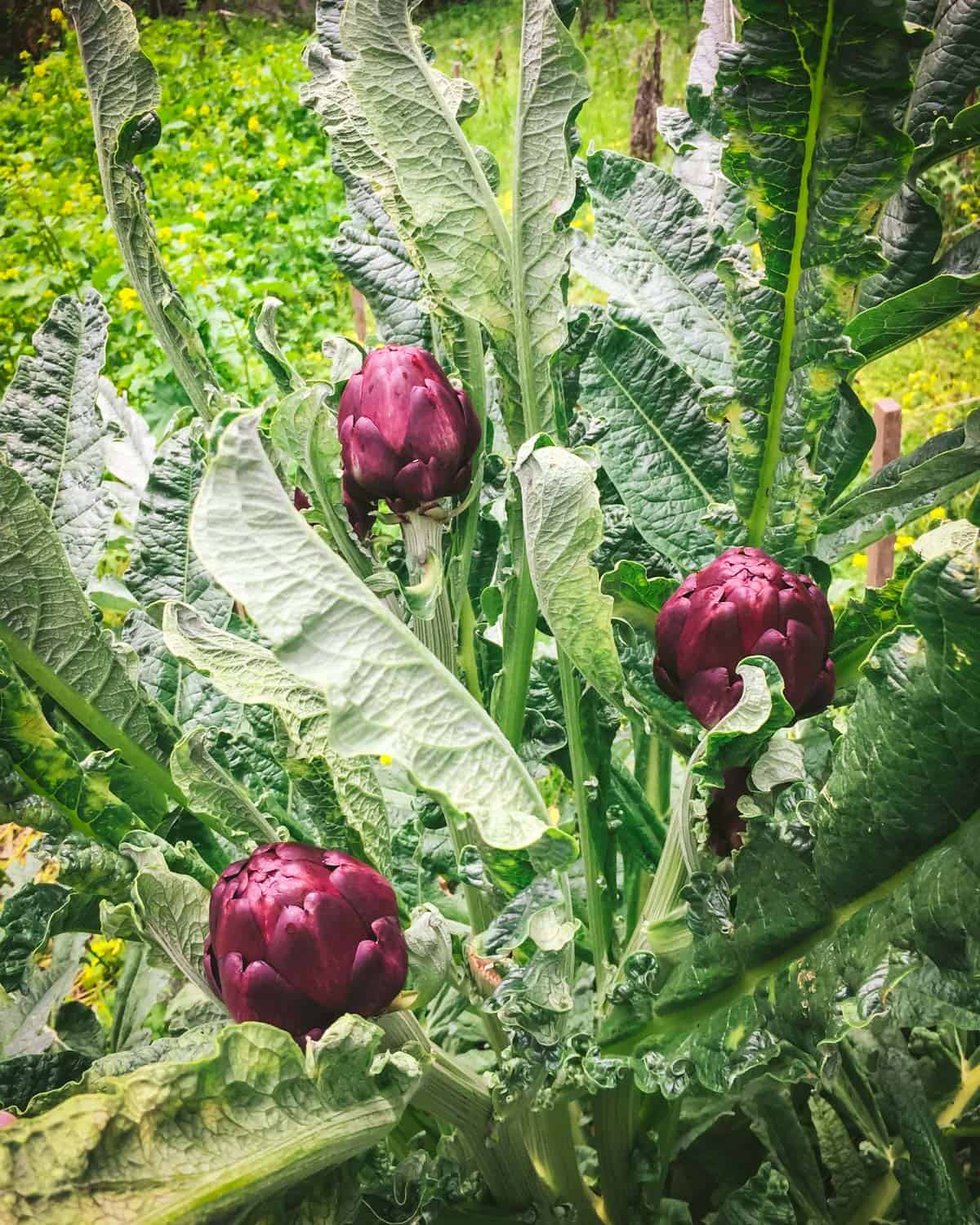 Growing Artichokes
To grow artichokes, start seeds in the winter under lights inside. Be aware that not all seeds will grow true to type, so plant more than you need to ensure success. 
If you have a neighbor with an established plant (bonus!), you can dig up a small new shoot in early spring and transplant it into your garden. Dormant roots will also work to grow new plants each year since they are perennial.
Artichokes can also be planted from starts purchased from your local nursery.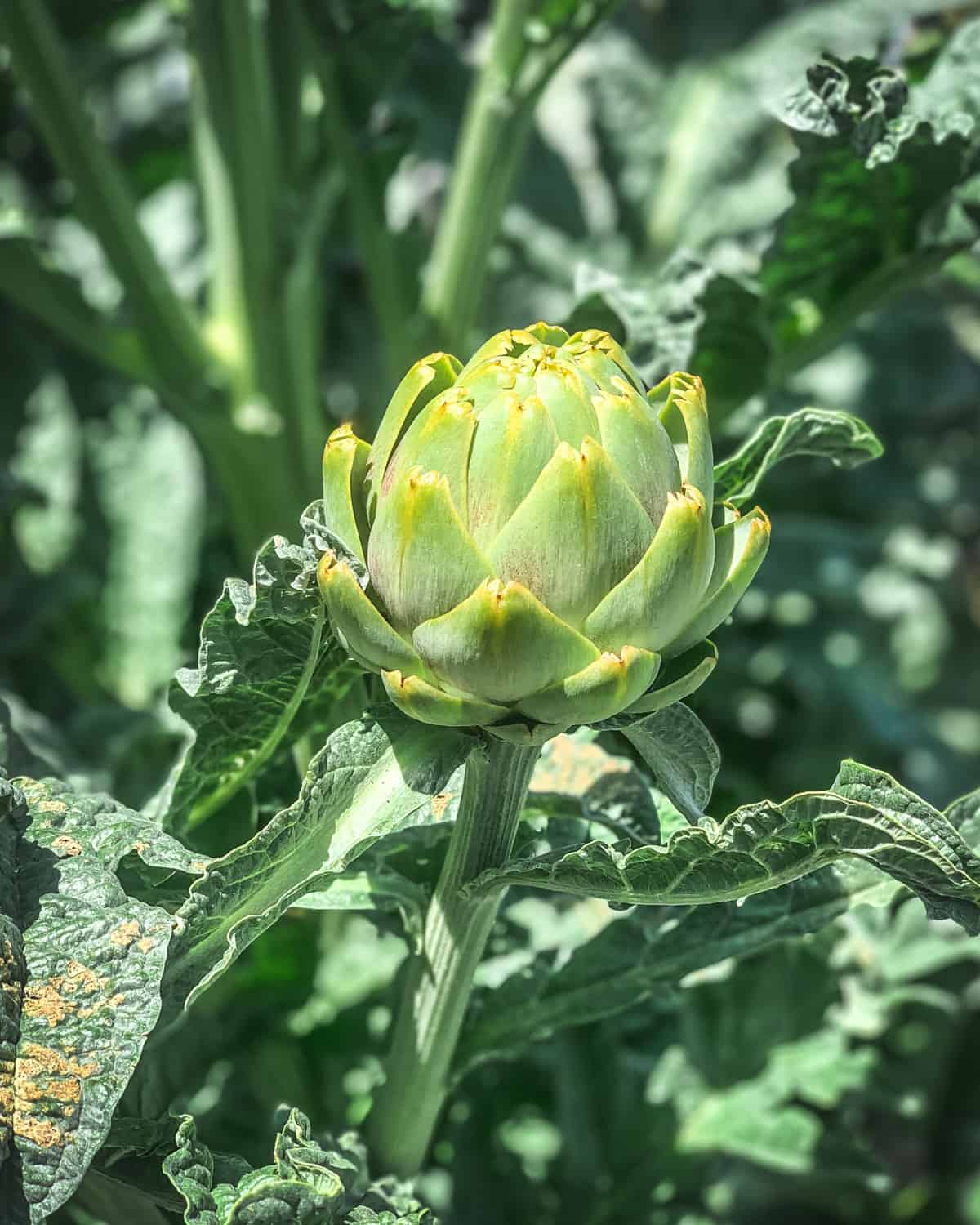 Most artichokes are perennials, and should be replanted every 3 to 5 years. These tall-growing plants do well in full sun.
It takes about 85 to 120 days to grow an artichoke plant, and they usually don't flower until their second year. It is well worth the wait!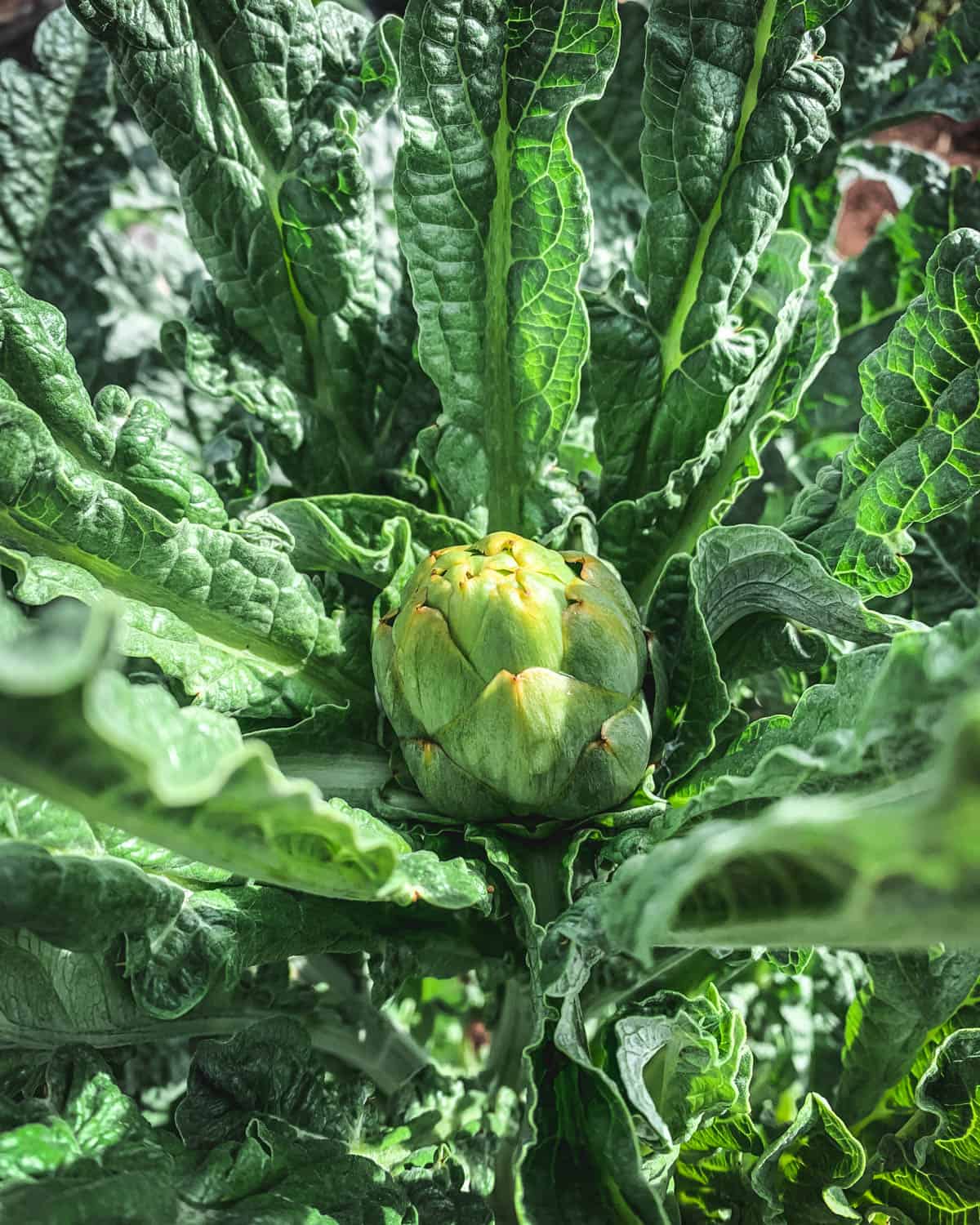 Artichoke plants prefer well-draining soil amended with compost and regular watering, especially during hot and dry times. This will ensure that the chokes are tender when harvested.
In winter, artichoke plants will die back to the ground. Trim and mulch over all of the small shoots.
Harvesting Artichokes
To harvest an artichoke, use a sharp knife to cut the topmost buds about 2 inches below their base.
After harvesting, the stem will grow side shoots with small new artichoke buds. The time to harvest the edible bud of an artichoke plant is before the leaves start to open up and it flowers.
Most artichokes will have a dusty green color when ripe and ready to harvest, and usually, an artichoke plant will produce about 6 to 9 buds per plant.
The artichoke bud is edible and delicious before going to flower, so it's essentially an immature flower. Once the artichoke has gone to flower, it is no longer edible, although it's a beautiful sight to see. I always leave a few to flower for their beauty and for the bees!
Cooking and Eating Artichokes
Artichokes can be steamed or boiled whole, or stuffed and baked. Make grilled artichokes for a real treat! They are a wonderful vegetable appetizer or side dish, with a unique taste and look.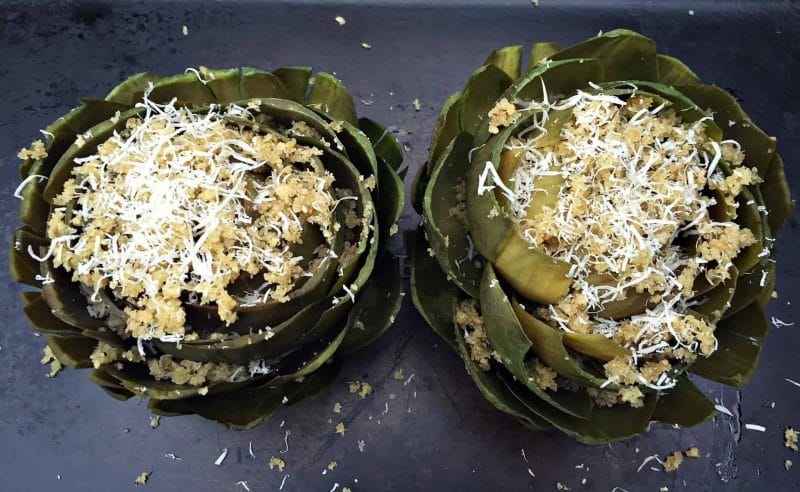 Eat artichokes by pulling them apart leaf by leaf and dipping them in garlic butter or other sauce. The soft insides of an artichoke bud are known as the heart, the best part! Make roasted or fried artichoke hearts, or use them in a variety of other ways as well.
The stem is an edible tasty extension of the heart, it can be eaten once you trim off the outer layer. Try these mini pizzas that feature artichokes hearts as a topping!
I grew up eating artichokes and have always loved them. As a native Californian where artichoke plants grow plentifully, my mom would always cook them when it was artichoke season.
To us kids, they were a treat! A strange thistle-y treat, perhaps, but it was always something we looked forward to as a pre-dinner appetizer.
Artichoke Plant Benefits
Artichokes make a healthy snack, appetizer, or side dish. They are loaded with nutrients, fiber, and antioxidants. They actually have one of the highest antioxidant levels of any vegetable! Rich with vitamin C, magnesium, and folate, you can feel good about eating this delicious thistle!
Not only do artichoke plants produce delicious food, but they are also stunning ornamental plants, with their silvery-green foliage drooping gracefully in the background of a flower or vegetable bed.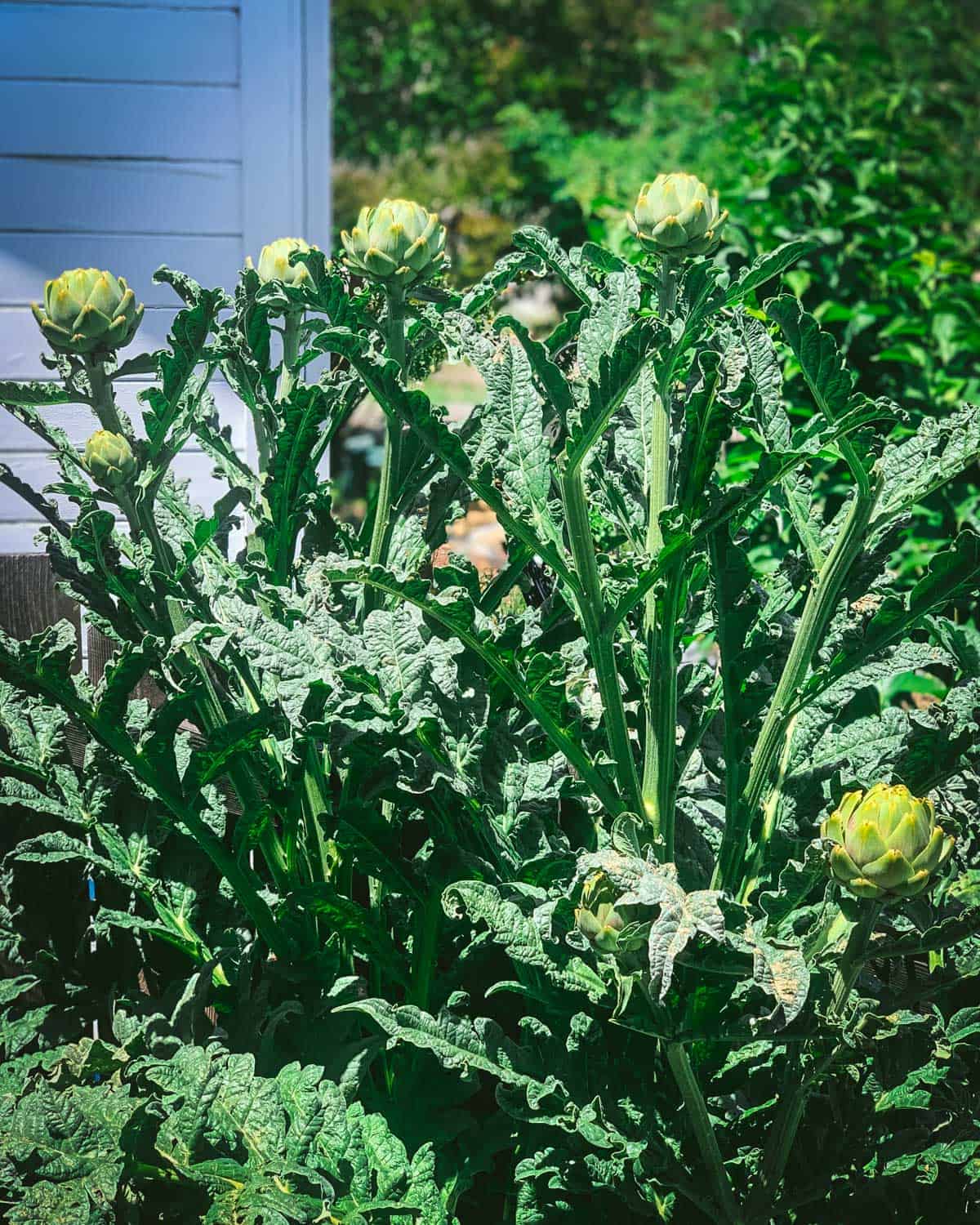 If you let artichokes flower, it turns into a beautiful thistle-like purple bloom. Give them plenty of room to grow and lots of water and enjoy the beauty and uniqueness of the artichoke plant.
Try these garden-growing ideas: