We have been out and about on many trails for the past few weeks with the hopes of finding some chanterelle mushrooms, as fall is the time of year for them in the Pacific Northwest. We recently took a day trip out to the coast range, where things are much more damp, to try our luck at foraging for chanterelle mushrooms. We went on a gorgeous hike (I won't tell you where!) that would have made my day regardless of the outcome of our foraging endeavors, but it sure made it sweeter when we spotted some chanterelles!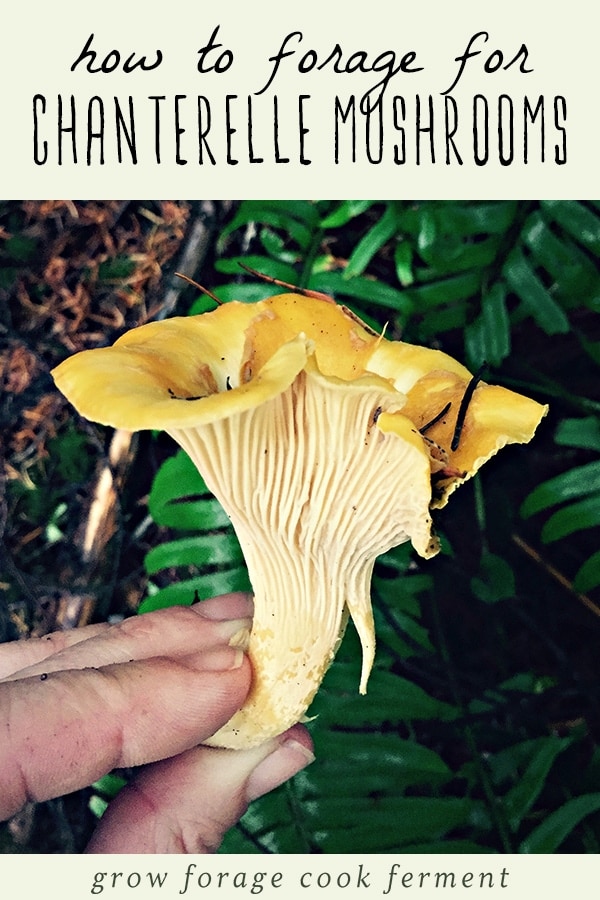 ---
Wildcrafting Weeds
If you want to learn more about the edible and medicinal weeds that surround us and how to use them, check out my eBook: Wildcrafting Weeds: 20 Easy to Forage Edible and Medicinal Plants (that might be growing in your backyard)!
Gather & Root Online Foraging Course
My online foraging course is a great way to learn about wild edible and medicinal plants! Sign up to learn more about the gather + root online foraging course here.
---

Foraging & Identifying Chanterelles
We actually found a huge variety of mushrooms on this hike, most of which I had no clue as to what they were. Lets talk about these awesome chanterelles.
Chanterelles are usually relatively easy to spot because of their yellow-orange color, although in the fall the colorful leaves on the ground can make it more difficult.
From the trail I was able to spot two pretty easily under a hemlock tree.
Related: What to Forage in Fall: 30+ Edible and Medicinal Plants and Mushrooms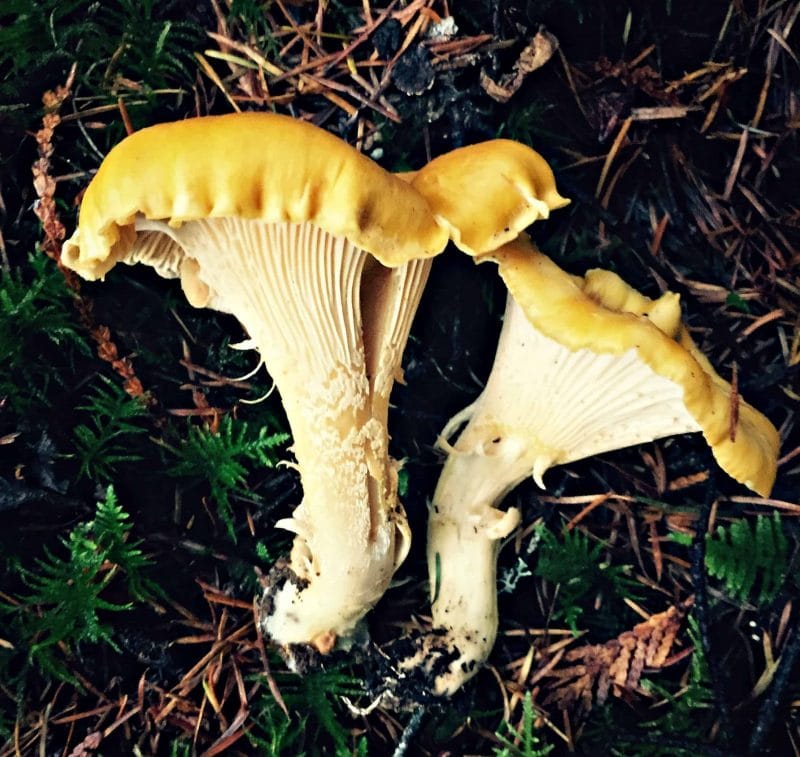 They generally grow on the forest floor in the mossy duff and around decaying wood under conifers.
If you do happen to find a few, keep looking as there will probably be more nearby! These two were hiding under a mossy log.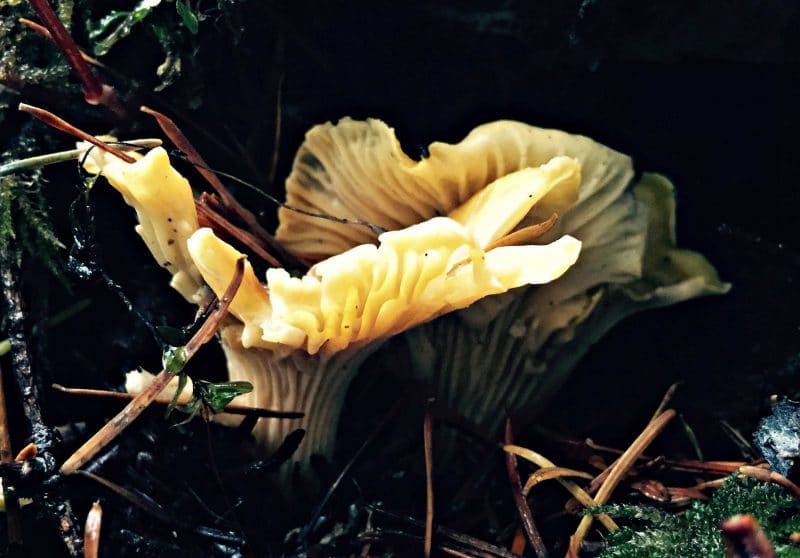 We looked around a little more, but decided that was all we really needed.
It was pretty obvious that other people had been on the same trail recently, probably also looking for mushrooms, so we took what we had and moved on.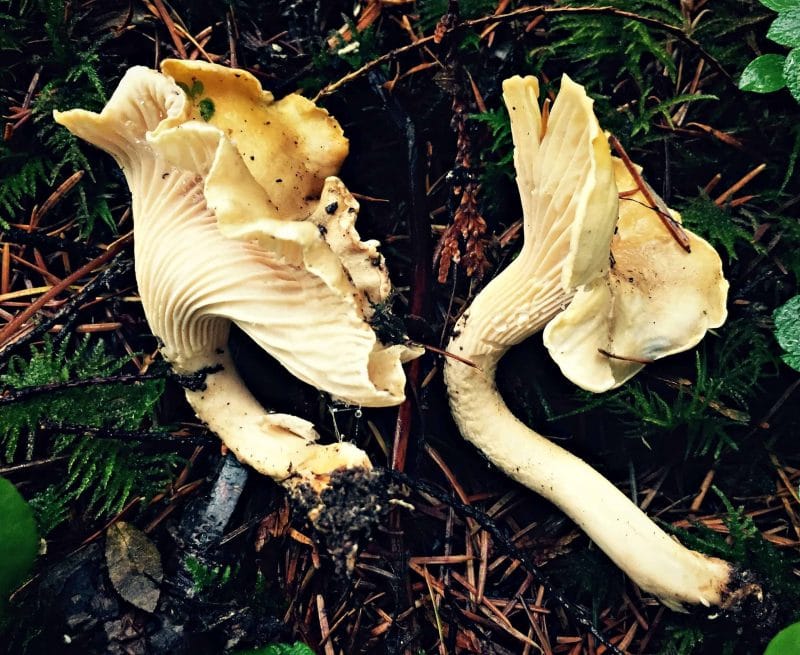 Chanterelles are one of the easiest mushrooms to identify. The most common variety on the west coast, the golden chanterelle, is yellow or orange in color, just as the name would suggest.
Also, instead of true gills, chanterelles have blunt ridges that form forks and run down the stem.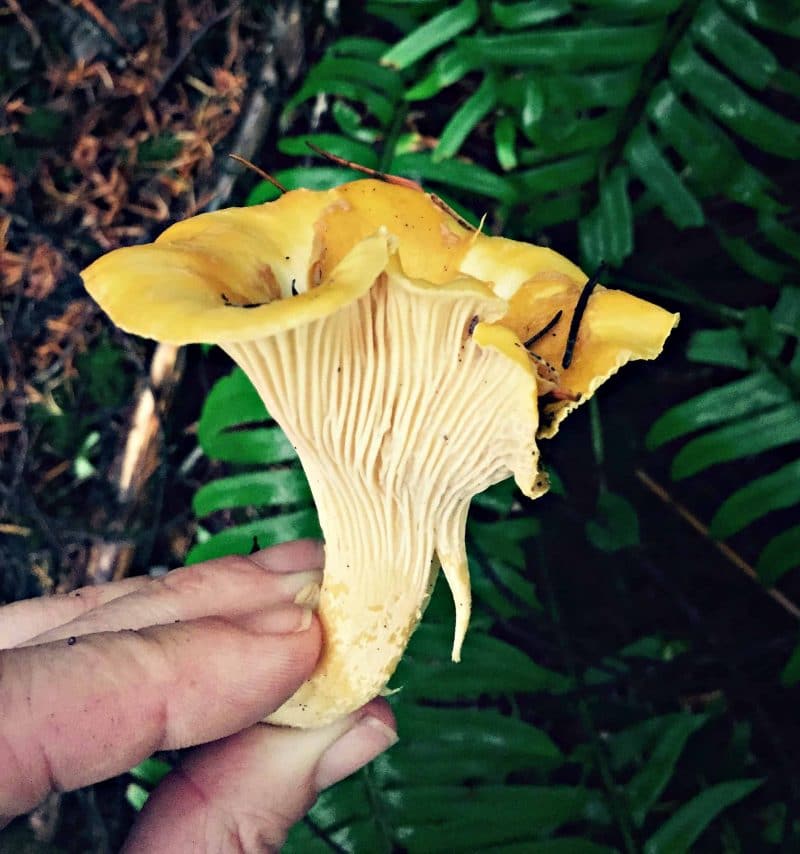 Their stems are solid, unlike the similar yellowfoot chanterelles.
There is only one real false look alike that is poisonous called the Jack-o-lantern mushroom, but it has true gills (not blunt) that don't run down the stem. I don't think they look much like chanterelles at all, but you should always consult a mushroom guidebook for every species that you collect just to be sure.
I recommend the book All That the Rain Promises and More by David Arora. If you really want to get more in depth on studying mushrooms, his book Mushrooms Demystified is also super awesome.
While these guidebooks are something you should have and are extremely helpful, the best thing you could do is go with someone who is experienced with foraging mushrooms.
Being that chanterelles are easy to identify, fun to find, and extremely tasty, chances are anyone who has any experience with collecting edible mushrooms can show you what they look like.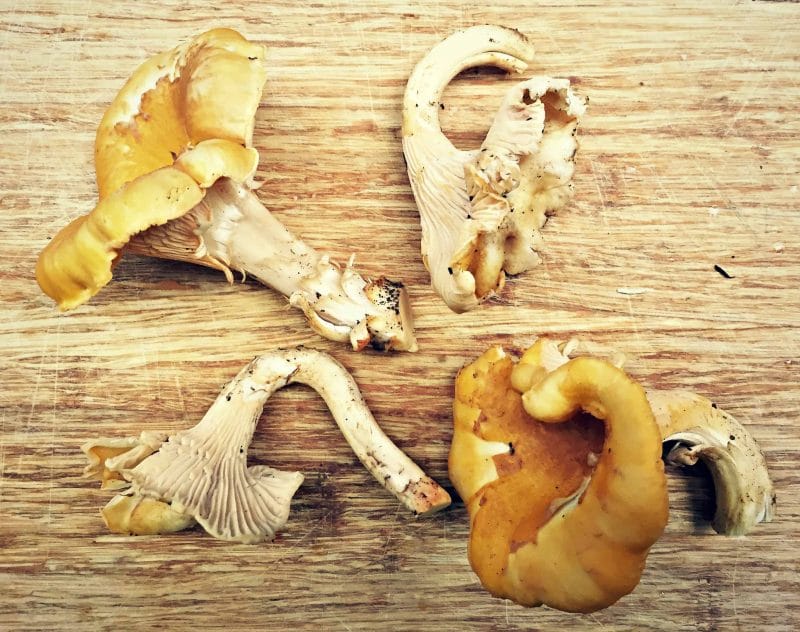 How to Cook Chanterelle Mushrooms
Once you get your chanterelles home it's time to start thinking about how you want to prepare them.
They are truly delicious and gourmet mushrooms and any chef would love to have some in their kitchen at this very moment. So if you have them you should consider yourself lucky!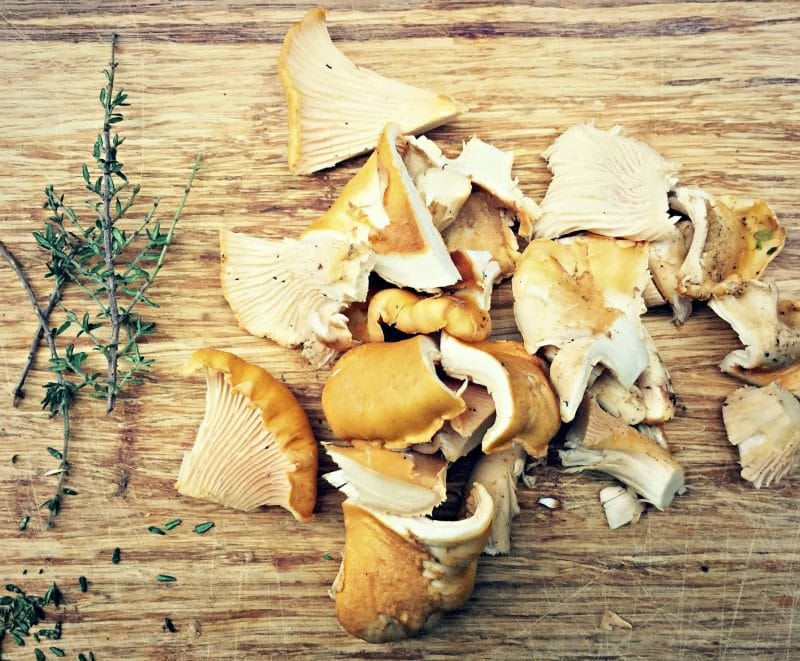 With the small amount that we collected we decided to just saute them up in butter with a little bit of fresh thyme. Mushrooms and thyme go together really well, and butter goes good with anything (especially mushrooms, ha!)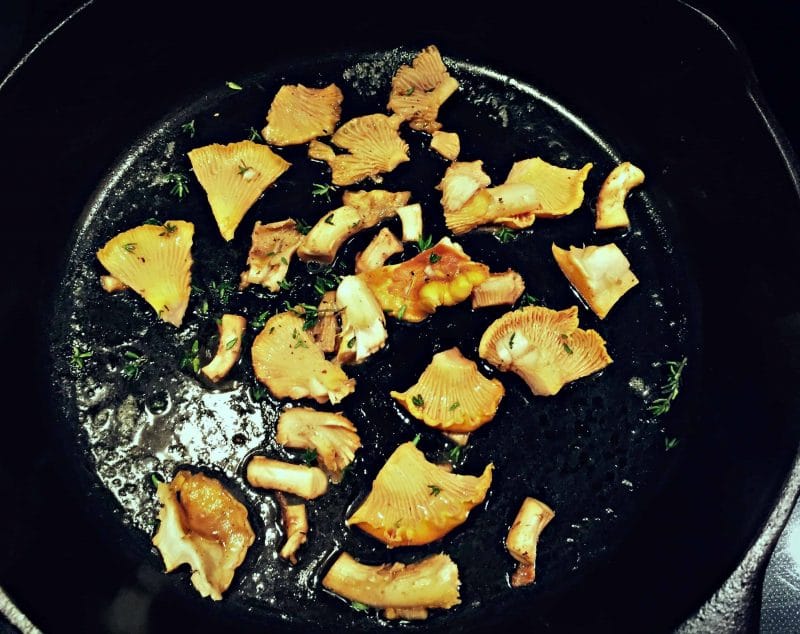 Done in a cast iron, because that's how we roll. These turned into a perfect little appetizer!
If you came upon a bumper crop of chanterelles you can get a little more creative with your dishes, such as a creamy chanterelle soup, or even a tart or quiche. Just remember that they don't stay fresh for long, so you'll want to use them up quickly.
You can also dehydrate them for use later. I've never done this with chanterelles, but I've dried other mushrooms and it always works really well. Then you can eat chanterelles all year long!
Foraging for chanterelle mushrooms is a great way to spend a fall afternoon, even if you don't find any.
Getting out in nature is really what it's all about, and you're bound to find something cool even if it's not edible.
But, if you do find something useful the excitement that ensues is always the best feeling. So go out for a walk in the woods, breath in the fresh air, listen to the birds, and keep your eyes peeled for wild edibles!
---
More Mushroom Foraging Guides
---