Lion's mane mushrooms have a distinct look and are easy to identify if you know what to look for. Growing on trees, they are a good reminder to also look up when foraging mushrooms! Lion's mane mushrooms are deliciously edible and medicinal, and a wonderful mushroom for beginners.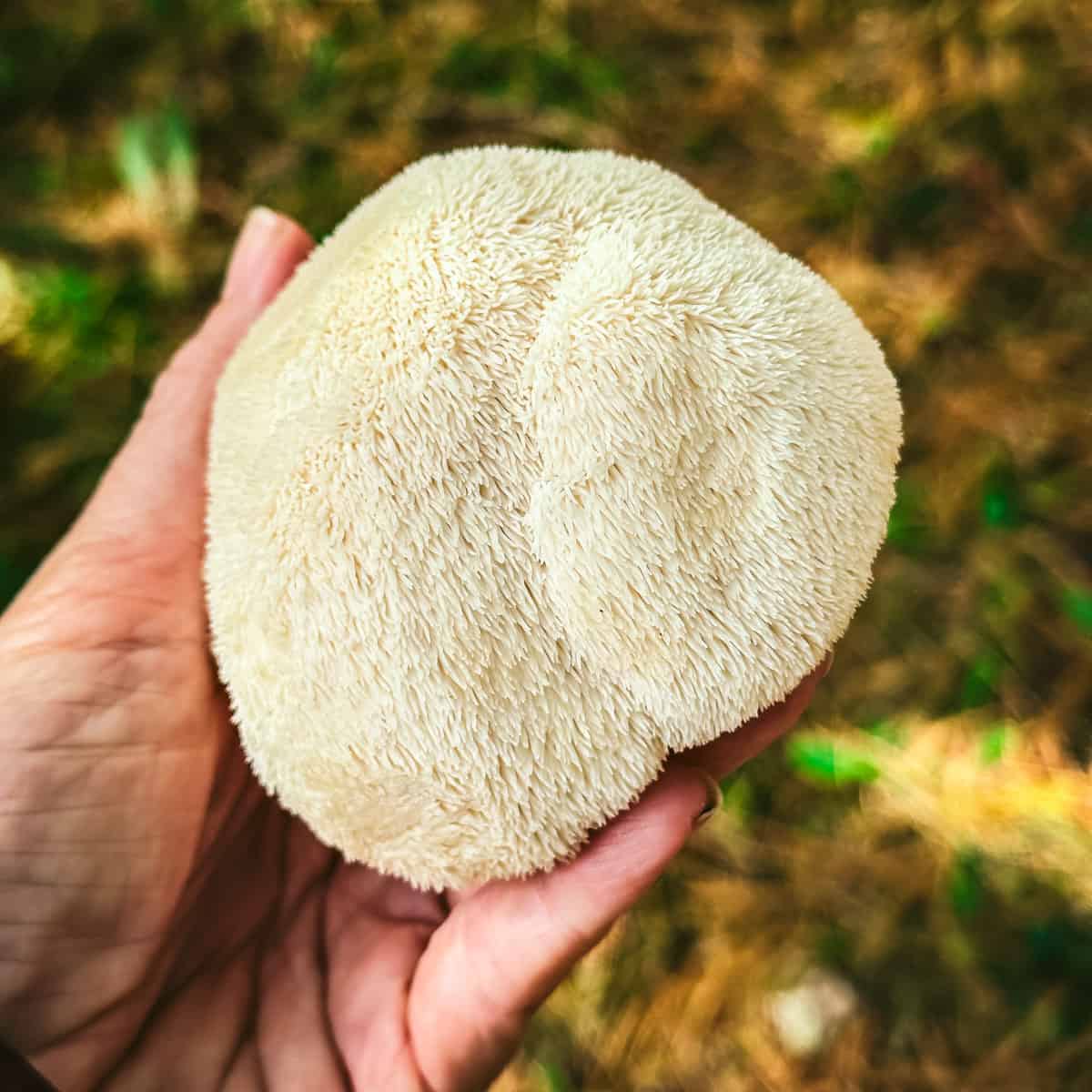 About Hericium
Lion's mane (Hericium erinaceus) is an easy to identify edible mushroom that has a distinct look with white hair or long teeth-like features and a pom-pom shape. To me they look like they come from a cartoon forest!
They are sometimes known as faceless hedgehogs. When they are young and the spines are short (like in the photo above), along with their round shape, they resemble a hedgehog.
These mushrooms are great for beginner foragers because there are not many look-a-likes. If you are interested in more mushrooms for beginning foragers, find 5 easy to identify mushrooms here.
There are many subspecies of Hericium. All of them look similar, and all are edible too, which takes a lot of the risk out of foraging for Lion's mane.
The main subspecies of Hericium that are found in North America are:
Lion's Mane (Hericium erinaceus)
Bear's Head Tooth (Hericium americanum)
Coral Tooth (Hericium coralloides)
Western Coral Hedgehog (Hericium abietis)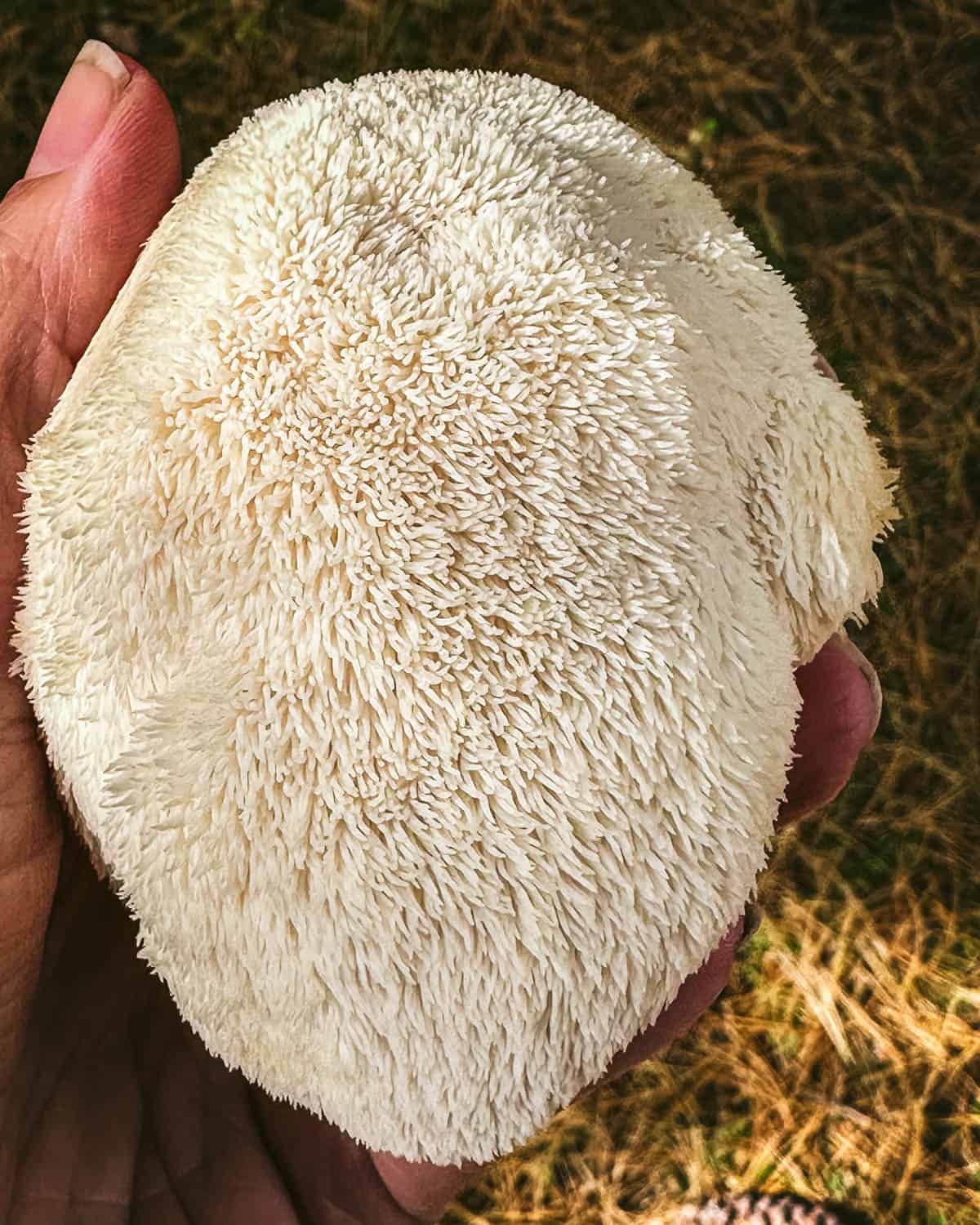 These mushrooms are all closely related and have the same uses for edible and medicinal purposes.
Hericium are a fall season mushroom that prefer the cooler temperatures. Depending on the region, sometimes you can find them any time from late summer to early winter.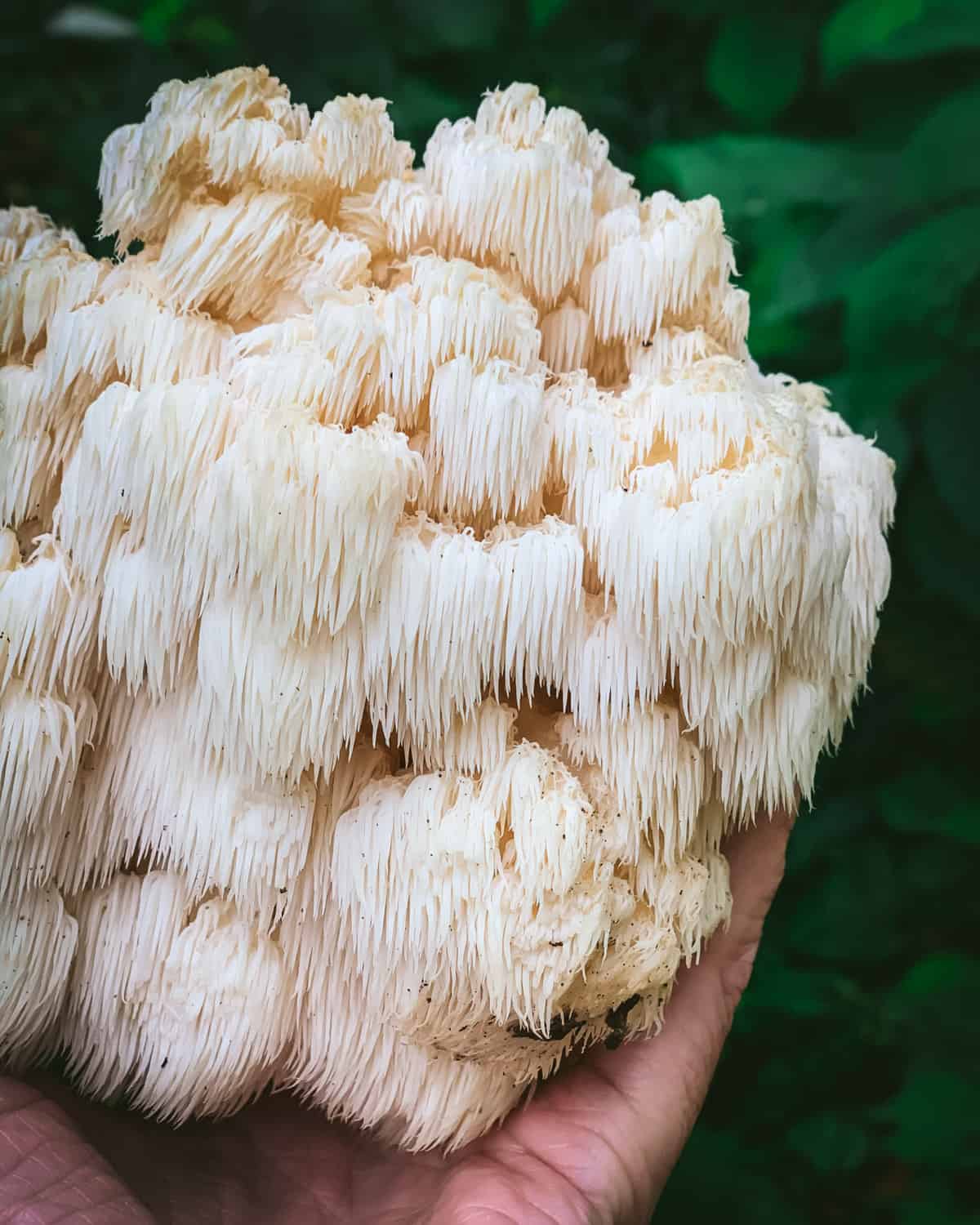 In Vermont I usually see them in late September through mid October, right in time for the weather to be a little chilly and a bit damp.
Related: What to Forage in Fall: 30+ Edible and Medicinal Plants and Mushrooms
Where to Find Lion's Mane Mushroom
Hericium species grow throughout the northern hemisphere, so for those of us in the US and Canada they are a good choice for successful foraging. They also grow in Europe and Asia.
Various varieties of this species grow in different regions of the US and Canada. Here's what to look for and where:
| Western North America | Eastern North America |
| --- | --- |
| Western Coral Hedgehog | Lion's Mane |
| | Bear Head's Tooth |
| | Coral Tooth |
Lion's mane are parasite mushrooms that grow on dead or dying hardwood trees or fallen logs. So as you are foraging, remember to look up into the trees as well as down on fallen logs!
You will most often find these mushrooms on oak, beech, or maple trees. The only exception to this is the Western Coral Hedgehog which primarily grows on conifers, especially Douglas fir.
Identifying Lion's Mane Mushrooms
Lion's mane and other Hericium species share a common feature: they all are white or light in color with dangling "teeth" of varying lengths, depending on the species.
They can be small, and some grow very large. Some Hericium can grow up to one foot across!
Lion's mane is a single ball or clump with no branching. It has dangling teeth that can grow to be 2 inches long or more, but starts out looking like short spines.
These magical looking mushrooms look like a big pom pom, with a ball-like shape. When they're young and the spines are short, some say they resemble a hedgehog and I agree!
Bear's head tooth has numerous branches growing from a central base and the teeth are generally about one inch long or less.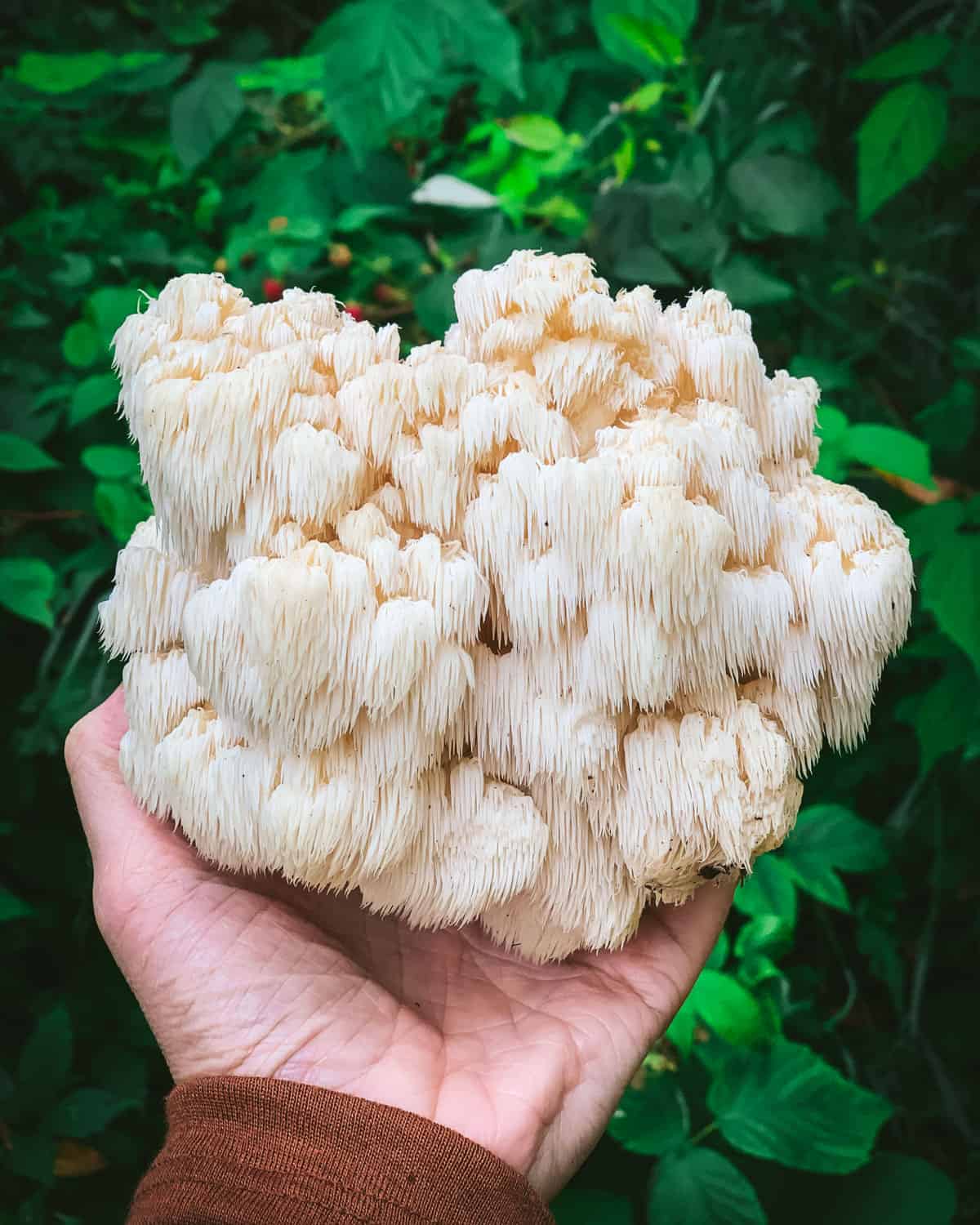 Coral tooth is named that because it resembles coral, with its loosely branching habit and teeth that are ½ inch long or less.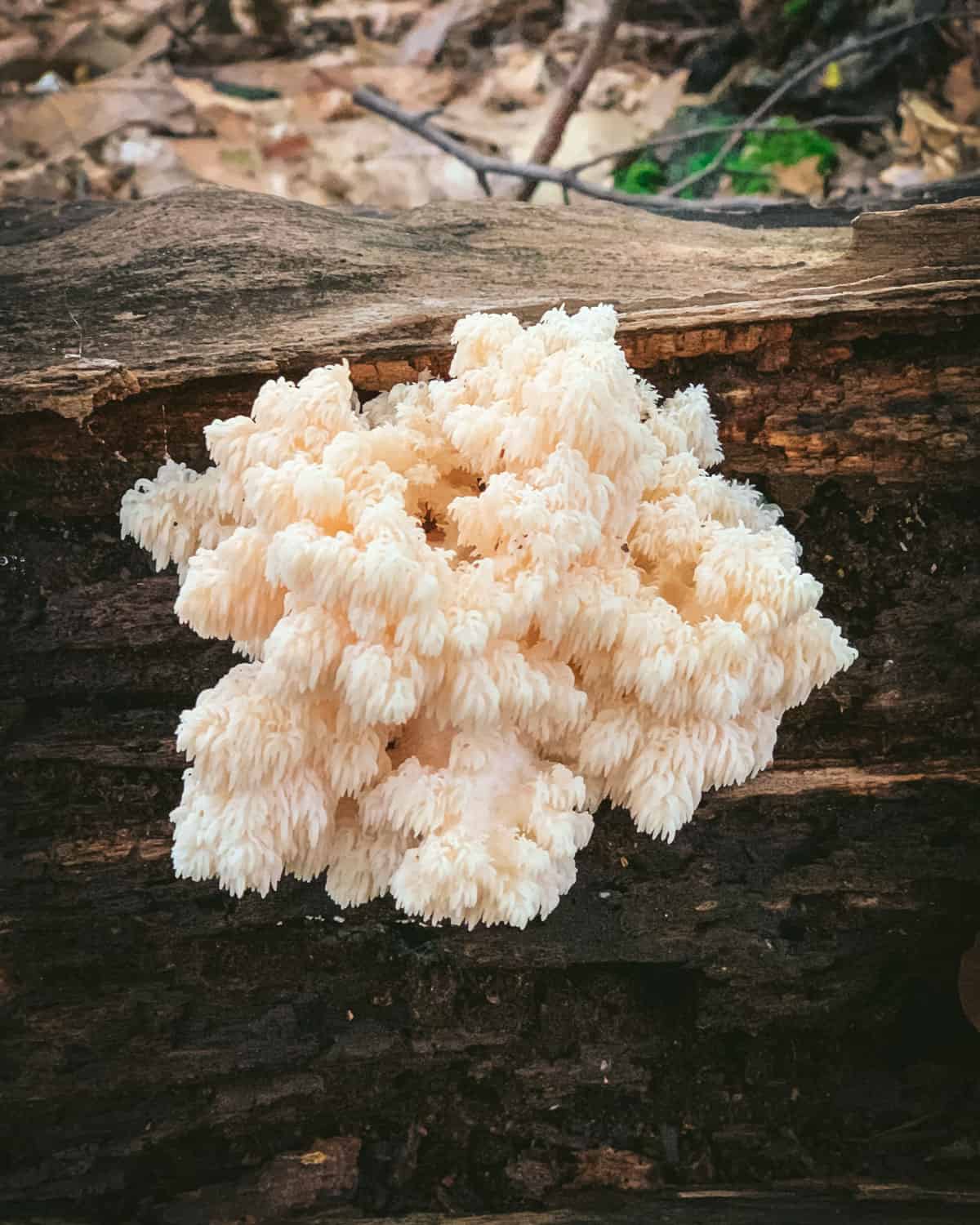 Western coral hedgehog looks very similar to bear's head tooth, but it grows in western north America.
All Hericium mushrooms generally start white when young, but as they mature they often turn yellow or brown a bit.
Harvesting Hericium
It's best to harvest lion's mane and other Hericium species when they are still young. They'll be white or sometimes light pink in color.
As they age they turn yellow or brown and can become mushy, so I don't recommend harvesting those.
Use a knife to carefully cut them off the tree or log. This is the best way to keep the mycelium in tact without damage. Always bring your mushroom knife when foraging!
Due to the nature of how mushrooms grow, they can be a bit dirty. All it takes is a quick rinse if necessary before you cook lion's mane.
Lion's Mane Look-a-Likes
Due to their unique features, most notably the dangling teeth, there aren't many lion's mane look-a-likes to speak of.
If you find a white or light mushroom with the distinctive dangling teeth, it is probably in the Hericium family. All of this species of mushroom are edible, so there is some peace of mind in that.
However, as always, it's best to consult with a local mushroom guidebook or a mushroom expert before eating any.
Related: 12 Best Books on Foraging and Wildcrafting
Note: I love the books All That the Rain Promises and More by David Arora and Mushrooms of the Northeast by Teresa Marrone and Walt Sturgeon. Both are pocket guides small enough to easily pack with you on your foraging trip with really helpful photos and descriptions.
Coral mushrooms can look somewhat similar, depending on the species. The biggest notable difference is that they have branches that grow up rather than teeth that grow down.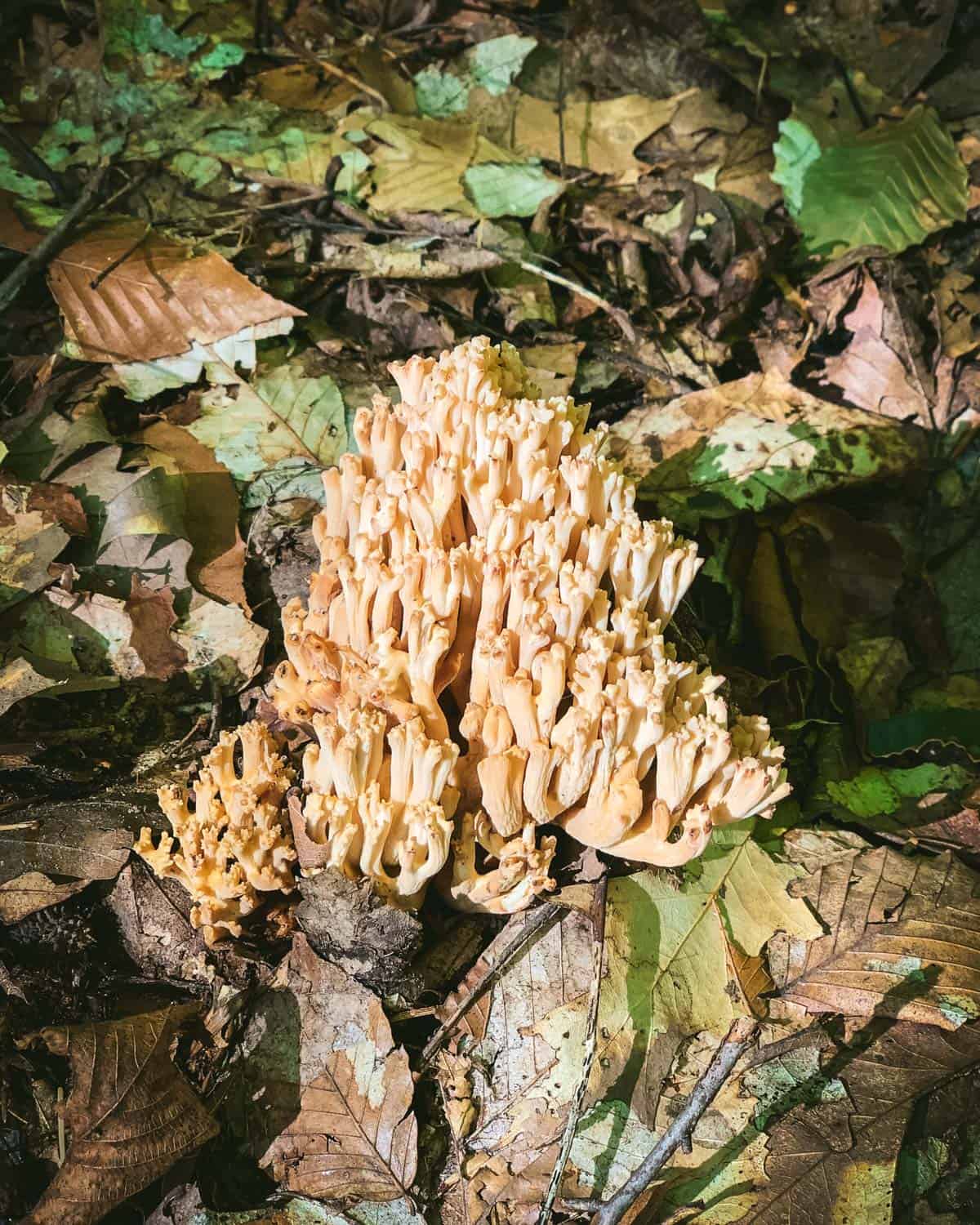 There are many species of coral mushrooms, some of which are edible and some of which are toxic. So it is important to take note of the differences.
Note: The look-a-like mushroom is called a coral mushroom, not to be confused with coral tooth mushroom which is a Hericium species.
Lion's mane and other Hericium species have dangling icicle like teeth hanging down, and coral mushrooms have loose branches that grow upwards.
How to Cook Lion's Mane Mushrooms
Edible and delicious, now it's time to learn how to cook lion's mane mushrooms! As with all wild mushrooms, I don't recommend eating lion's mane mushrooms raw.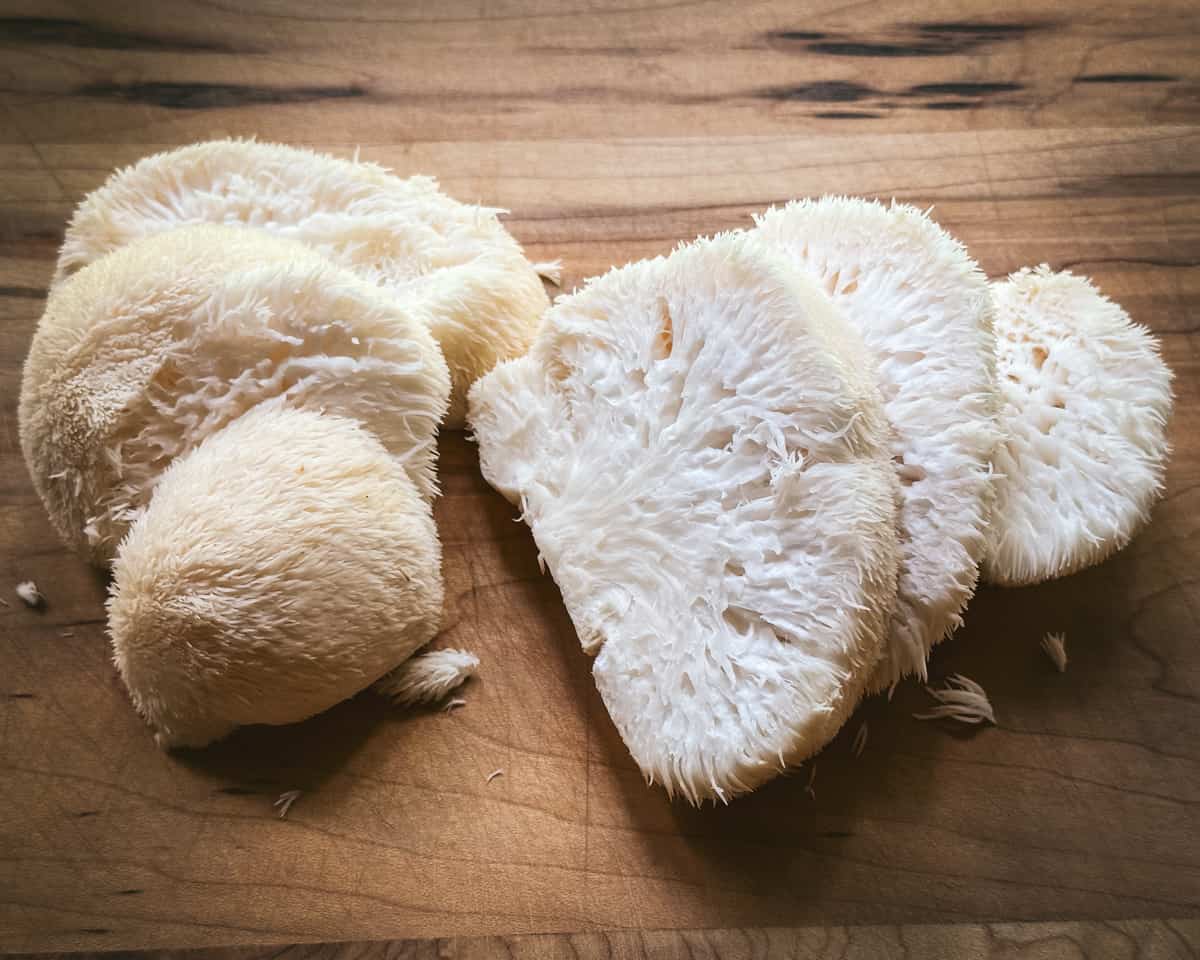 Lion's mane and other Hericium mushrooms are considered some of the best tasting edible mushrooms out there. Some say they taste similar to lobster or crab, and they have a meaty texture.
Mushrooms are absorbent by nature, so they can take on flavors as you cook them too.
Slice and simply sauté lion's mane mushrooms in butter, for a super simple and delicious way to eat them. Add garlic and fresh herbs as desired, to add even more flavor!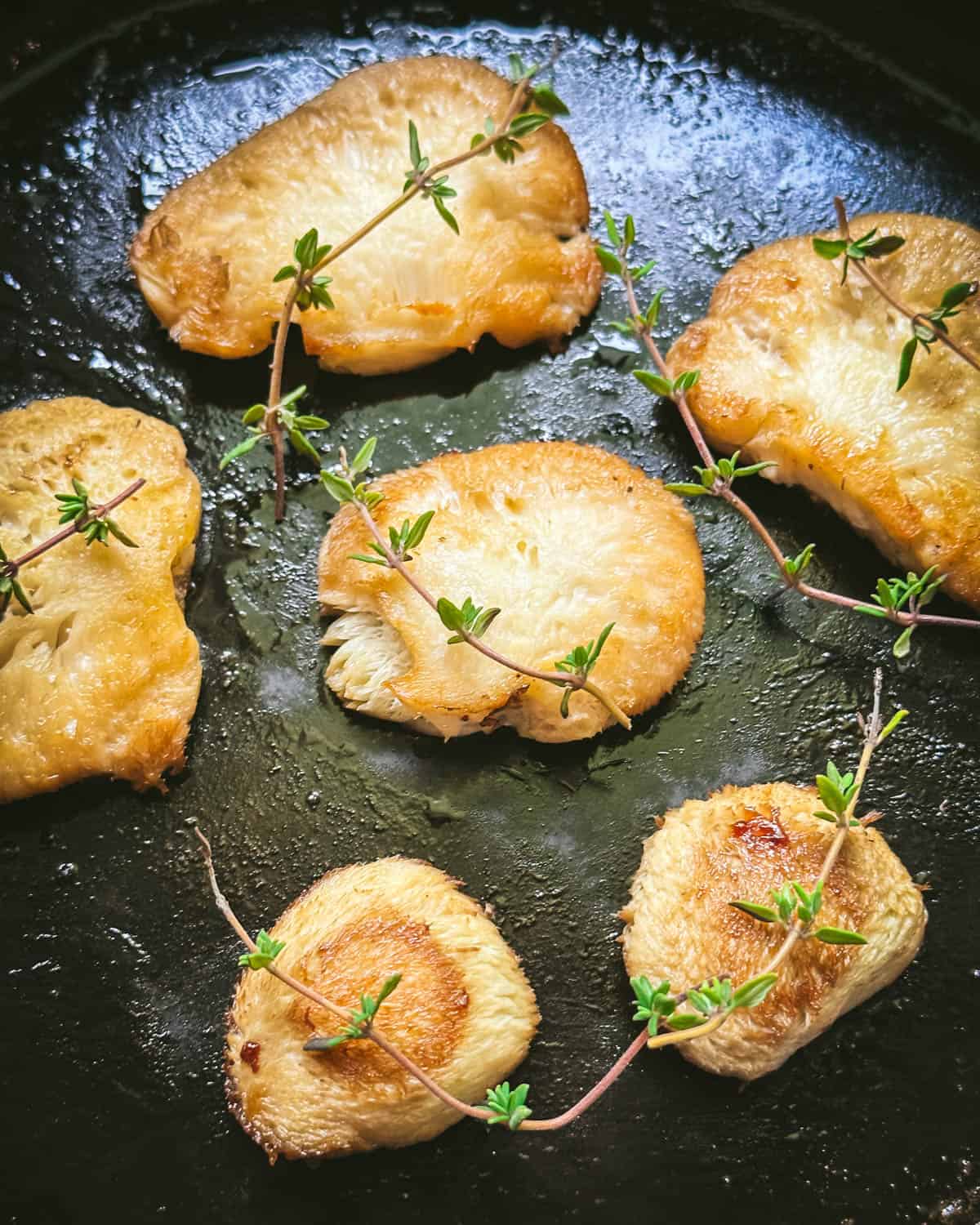 With their meaty seafood-like texture, they also work well in mushroom soup or chowder. This is a warm and comforting way to enjoy these fall mushrooms on a chilly day.
Some people like to turn lion's mane into mushroom "crab" cakes! This recipe is a crowd pleaser and is perfect for this mushroom's type of meatiness and flavor. Plus, it's a "crab" cake that vegetarians or anyone allergic to shell fish can eat!
Medicinal Uses of Lion's Mane
Lion's mane mushroom is anti-inflammatory, and may also be good for the immune system.
Aside from foraging and cooking lion's mane, it comes in powdered form or an extract or tincture which makes it easy to use medicinally.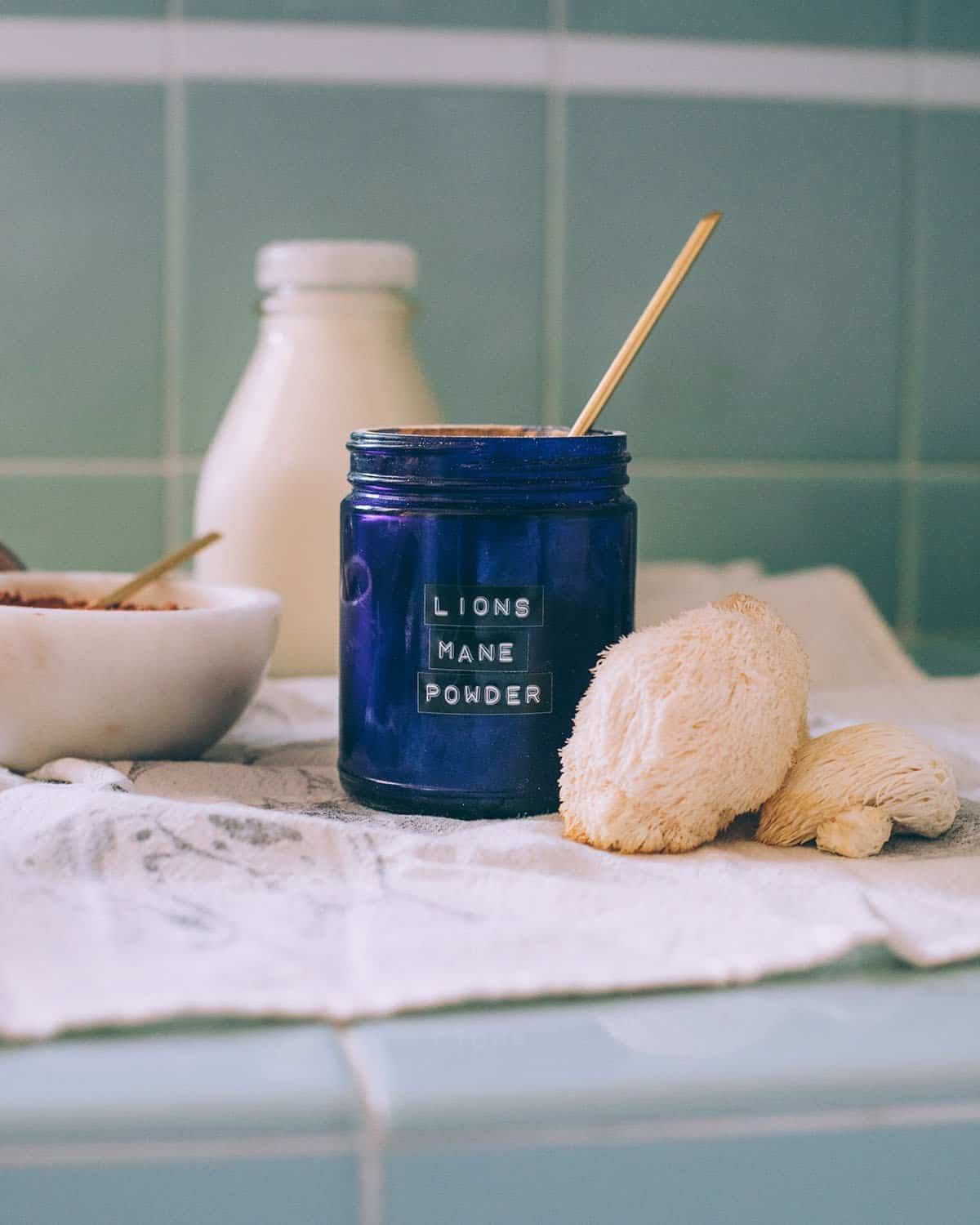 Lion's mane is considered to be a medicinal mushroom and an adaptogenic mushroom.
Adaptogens are known for helping our response to stress. They help our brain's ability to adapt and balance life's ups and downs.
Promoting better sleep, memory, focus, and reducing anxiety, lion's mane is a wonderful adaptogenic mushroom to use medicinally. It's good for all around brain health!
Use powdered lion's mane in mushroom hot chocolate or mushroom chocolates as a tasty way to access its medicinal benefits!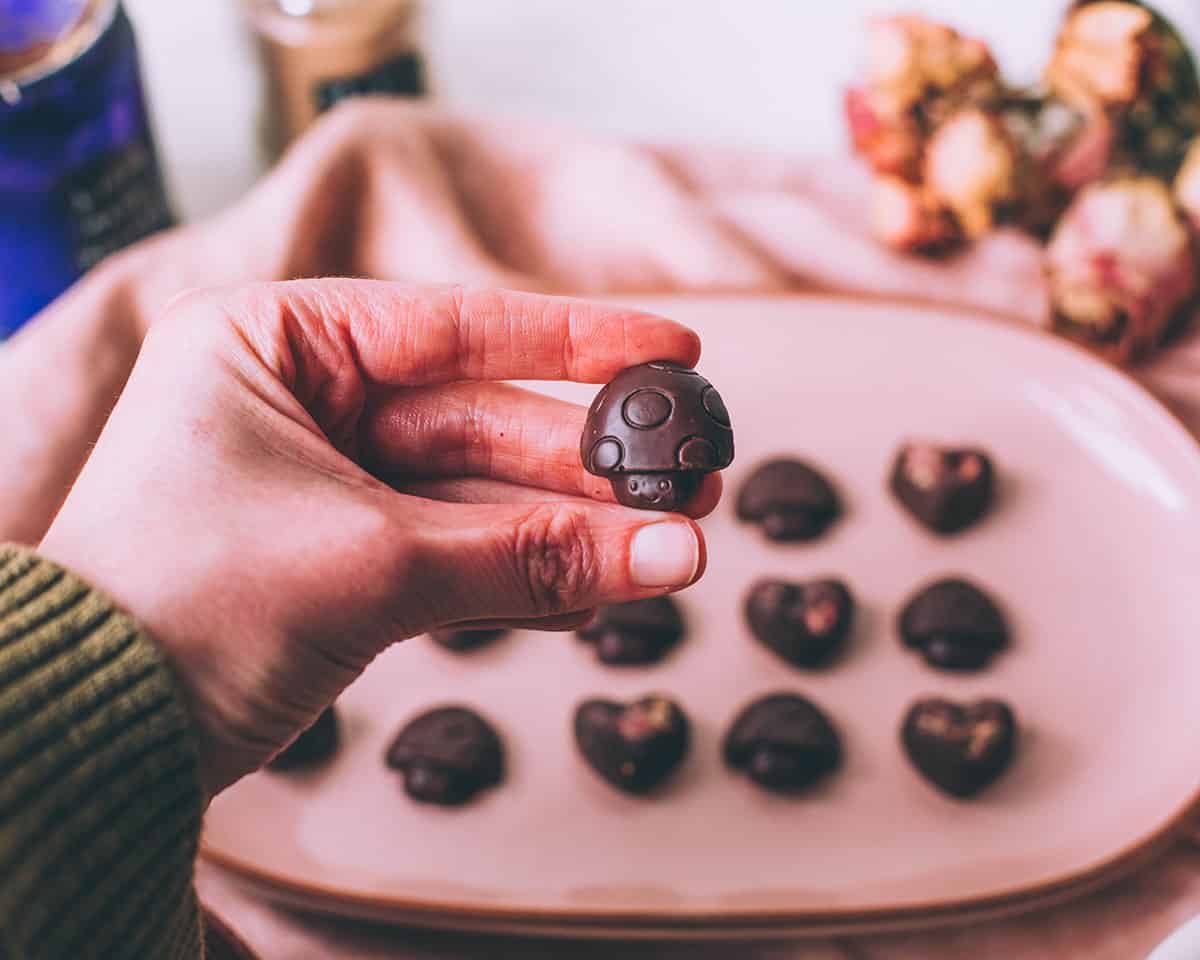 More Mushroom Foraging