When citrus season rolls around I'm always so excited to make all the lemon things! I love the tart flavor that lemon desserts bring, and I prefer them to not be too sweet. I want to taste that lemony flavor without it being overpowered by sugar. As you know I love adding fresh herbs and flowers to my recipes, and thyme is a great complement to lemon. It's a perennial herb so I have it out in the garden even in the middle of winter. As an added bonus, these lemon bars with honey and fresh thyme are gluten free and paleo!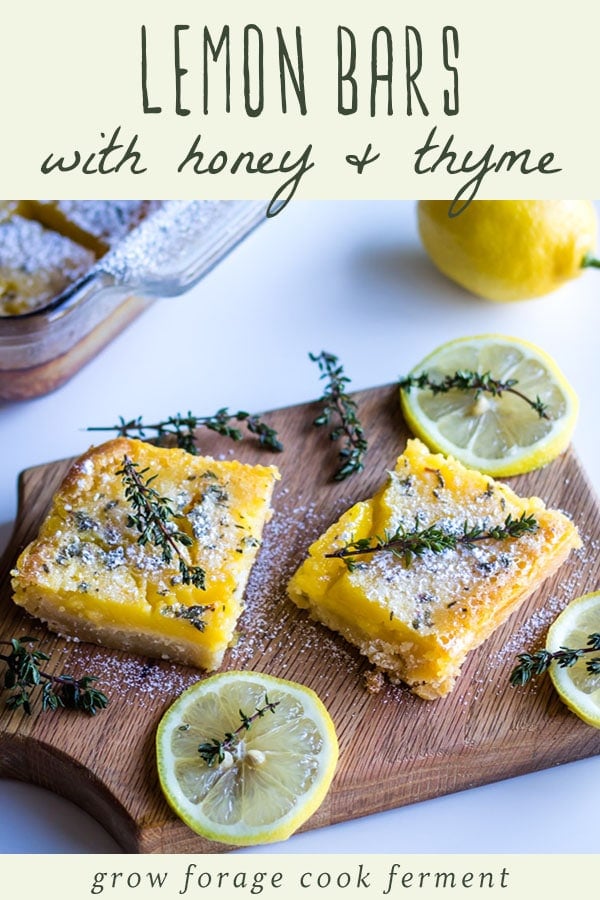 Herbal Citrus Recipes
I love the combination of citrus with fresh herbs. It is the perfect way to brighten up a cold and dreary winter! Herbs like thyme, rosemary, oregano, sage, and lavender all compliment citrus really well and bring another element into the recipe.
Lemon and lavender are an especially excellent combination! My lemon lavender shortbread cookies are always a bit hit. For a more slightly more savory take you can try these Meyer lemon and rosemary shortbread cookies.
Beyond desserts, citrus and herbs make a great base for cocktail recipes! My most recent favorite is this rosemary and blood orange champagne cocktail. Yummy!
Lemon Bars with Honey and Fresh Thyme
These lemon bars with honey and fresh thyme come together quickly and are extra lemony and a bit tart! Use Meyer lemons to make them slightly sweeter, if you prefer.
If you don't have fresh thyme available you can omit it and keep them plain. Other herbs that would work well instead of thyme are rosemary or lavender.
To make these lemon bars paleo, use coconut oil or grass fed ghee instead of butter and paleo powdered sugar for the optional garnish.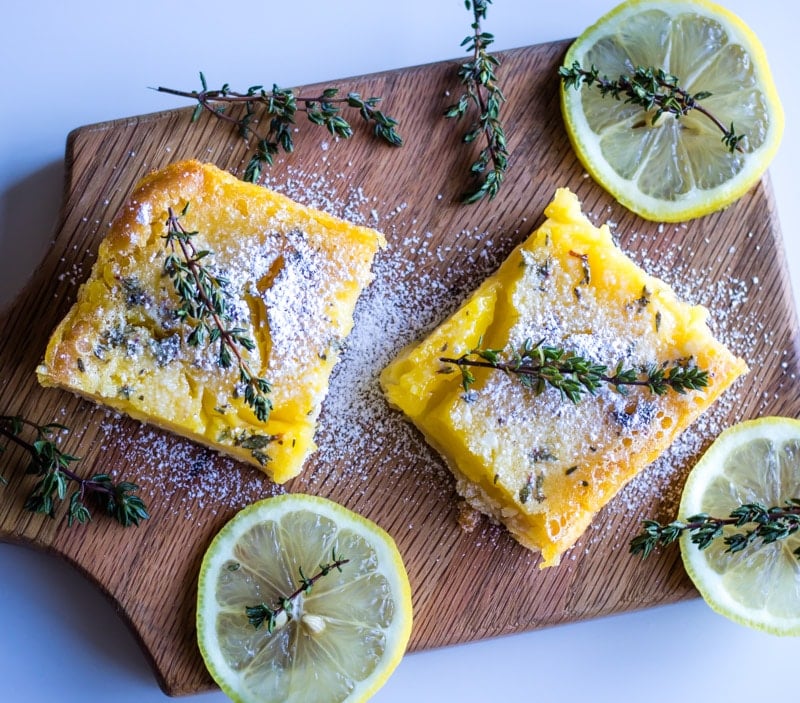 These lemon bars are so delicious, they are a lemon lovers dream dessert! They are not too sweet and have plenty of lemon kick, which is just how I like them! The addition of thyme is a nice change of pace, plus you get all the health benefits that thyme has to offer.
To me, these are absolutely the most perfect lemon bars! If you make these tasty herbal lemon bars please let me know what you think. (I think you're going to love them!)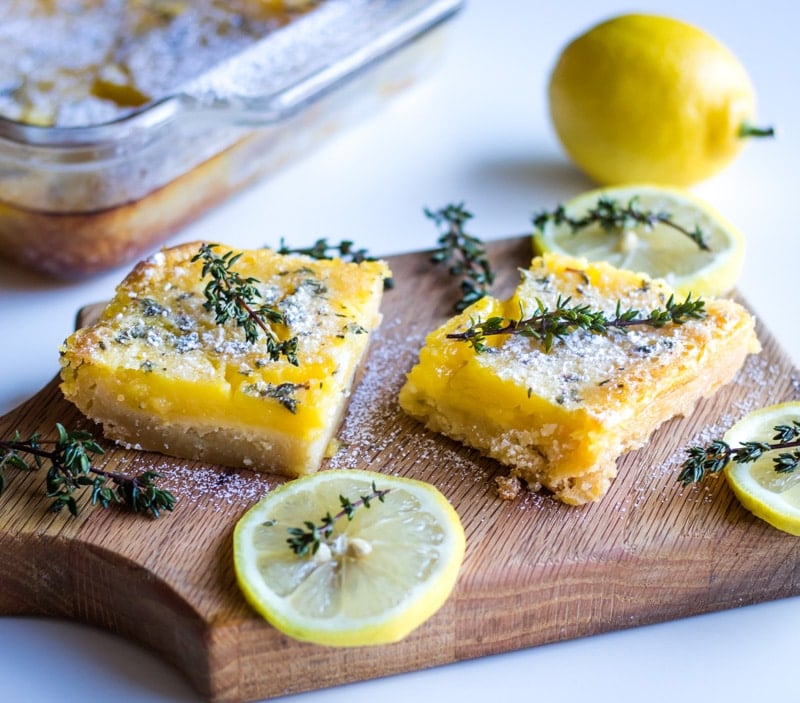 ---
Lemon Desserts
Citrus dessert lovers rejoice! Here are a few more of my most delicious lemon recipes (and one grapefruit one)!
---
Lemon Bars with Honey and Fresh Thyme (gluten free & paleo)
These delicious and extra lemony lemon bars are gluten free and made without refined sugar! They are made with honey and fresh thyme and are the perfect dessert to whip up during citrus season.

Ingredients
Lemon Bars
4

eggs

1

egg yolk

1/3

cup

honey

1-2

tbsp

lemon zest

3/4

cup

fresh lemon juice

3

tbsp

arrowroot powder

2

tbsp

fresh thyme leaves

powdered sugar

or coconut sugar for garnish, optional

fresh thyme sprigs

for garnish, optional
Instructions
Crust
Preheat oven to 350°F and grease an 8x8 or 9x9 square pan with butter or coconut oil.


Stir together the butter or coconut oil and honey until smooth.


Add the almond flour, arrowroot powder, and salt and stir until well combined.


Spread the mixture in an even layer in the bottom of the prepared pan and bake for 12-15 minutes or until just barely set and beginning to slightly brown.


Remove the crust from the oven and set aside to cool while you prepare the rest of the ingredients.

Lemon Bars
Turn oven down to 325°F


Whisk together the eggs, egg yolk, honey and lemon, then stir in the lemon juice.


Whisk in the arrowroot powder and fresh thyme leaves.


Pour the mixture on top of the cooled crust, then bake for 30 minutes or until the lemon bars are just set and only very slightly jiggly in the middle.


Remove from the oven and let cool completely, then refrigerate for at least an hour (a few hours is best) before cutting.

Notes
Serving Suggestion: Garnish with a sprinkle of powdered sugar or coconut sugar if desired and a sprig of fresh thyme. Enjoy!
Nutrition