So I had a bowl of little yellow and red plums sitting on my counter for almost a week. I gleaned them from a tree down the street from my house, with the owners permission, and I could take as many as I wanted. They were not quite ripe when I picked them, so I was letting them ripen while trying to decide what I was going to do with them. Eating them fresh was an option, and don't get me wrong, there was plenty of that happening. But, I wanted something more (don't we all?). The problem was that these plums were difficult to pit, so that left out a good number of options, such as plum cobbler, tart, or galette. I could have done plum jam, as the pits can be sieved out after cooking, but I would have needed a lot more plums to make that worthwhile. So, I thought about it for days before coming up with this yellow plum and lemon upside down cake recipe!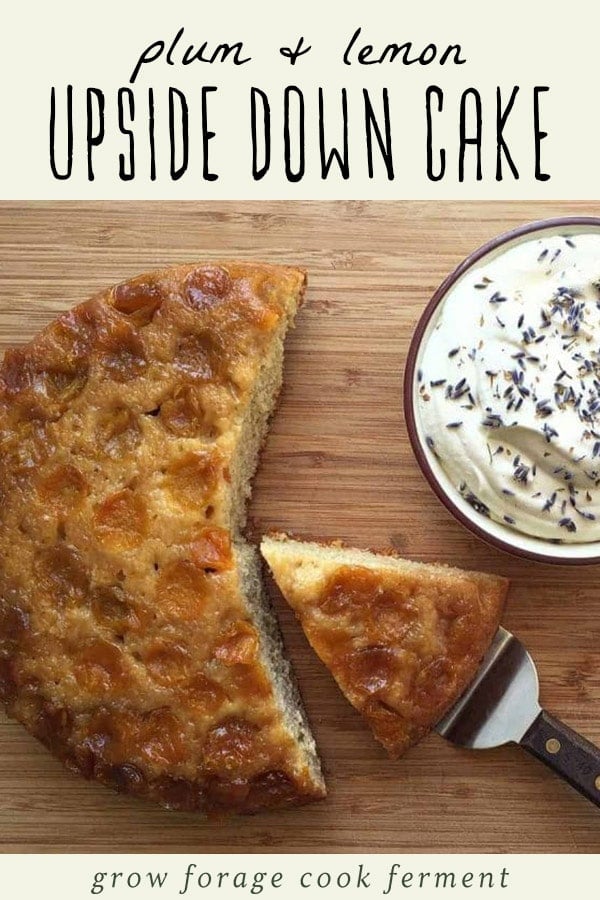 I was listening to a cooking radio program the other day called The Splendid Table, which only super nerdy cooks can appreciate, and there was a woman on the show who was talking about flavored whipped creams. This I needed to try! Since the plums were a little bit tart already, I decided to add lemon as well, and we all know that lemon and lavender is a match made in heaven – so lavender infused whipped cream it was!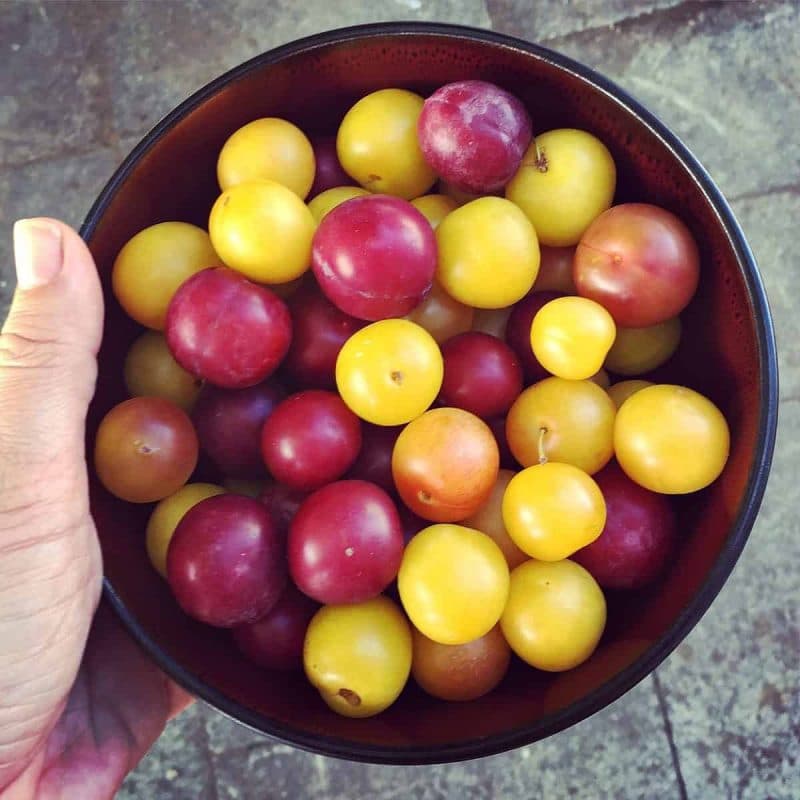 I actually had two kinds of plums, yellow and red. The red ones were very much cling stone, meaning the pit would not easily come out. I may decide to go get more of them and make plum jam, but that's a whole other post. The yellow ones were what I would call semi-free stone – they came out ok, but not super easily. So, I only had enough patience to do as many as was needed for this cake, rather than the large amount required for a cobbler or crisp. If anyone has tips for taking pits out of small plums without completely destroying them, please let me know! I think I did alright, though.
Lavender Whipped Cream Recipe
Before we get ahead of ourselves, let's talk about this lavender whipped cream, as it needs a bit of advance planning. The lavender must be steeped in the cream, then chilled for several hours, so I would start this in the morning.
Lavender Whipped Cream
Amazing lavender whipped creams the perfect topping for Plum & Lemon Upside Down Cake.
Steeping and Chilling Time
4
hours
Instructions
Combine the heavy cream and lavender in a small pot. Heat just to boiling, stirring often, then remove from heat.

Let steep until cooled to room temperature.

Strain out lavender flowers and refrigerate cream for several hours, until completely chilled.

Combine cream, powdered sugar, and vanilla in a mixer fitted with a whisk, and whip for several minutes until soft peaks form. You can alternatively make your

whipped cream by hand

with a whisk or

in a mason jar

if you don't have a mixer.
Nutrition
Plum and Lemon Upside Down Cake Recipe
Ok, now that you have your infused lavender cream chilling, let's get back to the plum cake. Of course you can use any variety of plum that you would like, or any other fruit that your heart desires. If you are using big plums or other bigger fruit like peaches or nectarines, I would cut them into slices or dices, rather than halves.
Plum and Lemon Upside Down Cake Recipe
This cake is easy to eat and looks beautiful! Top with lavender whipped cream for a delicious summer treat.
Total Time
1
hour
20
minutes
Ingredients
30

small yellow plums

cut in half and pitted

1

stick

unsalted butter

melted

1/2

cup

brown sugar

1

Tbsp

lemon zest

a microplane makes this job much easier

1

cup

full fat plain yogurt

or buttermilk

2

eggs

2

Tbsp

lemon juice

1/2

cup

sugar

2

cups

all purpose flour

1

tsp

baking soda

1/4

tsp

salt

1/4

tsp

cinnamon
Instructions
Preheat the oven to 350°F

Liberally grease a 9 or 10 inch cast iron skillet, or other pan of similar size, with half of the butter. Yes, you heard me right, half of the butter. It would be sad if your cake stuck to the pan.

Sprinkle the bottom of the skillet with the brown sugar and lemon zest, then add the plums in a single layer, cut side down.

Whisk together the remaining butter, yogurt, eggs, sugar, and lemon juice.

In a separate bowl, combine the flour, baking soda, salt, and cinnamon.

Add the liquid mixture to the flour mixture, and stir gently to combine.

Pour the batter into the skillet, on top of the plums, smoothing and leveling the top.

Bake for 50-60 minutes, or until a toothpick stuck in the center comes out clean.

Let cool for only about 5 minutes. Now it's time to flip… don't be scared!

Put a plate that is larger than the skillet over the top. Using hot pads (I highly recommend the hot handle holder you see in the picture above), carefully flip the cake over and gently lift the pan off the cake. This is the moment of truth. But really, all that butter should have helped!

It's common for some of the fruit to stick to the pan. As long as your cake is intact (I'm sure it will be), you can do a bit of fruit repair and no one will ever know.

And just like that you have a gorgeous upside-down cake!
Nutrition
Serving:
1
slice
|
Calories:
445
kcal
|
Protein:
7
g
|
Fat:
14
g
|
Cholesterol:
74
mg
|
Sodium:
347
mg
|
Potassium:
510
mg
|
Sugar:
49
g
|
Calcium:
5
%
|
Iron:
10
%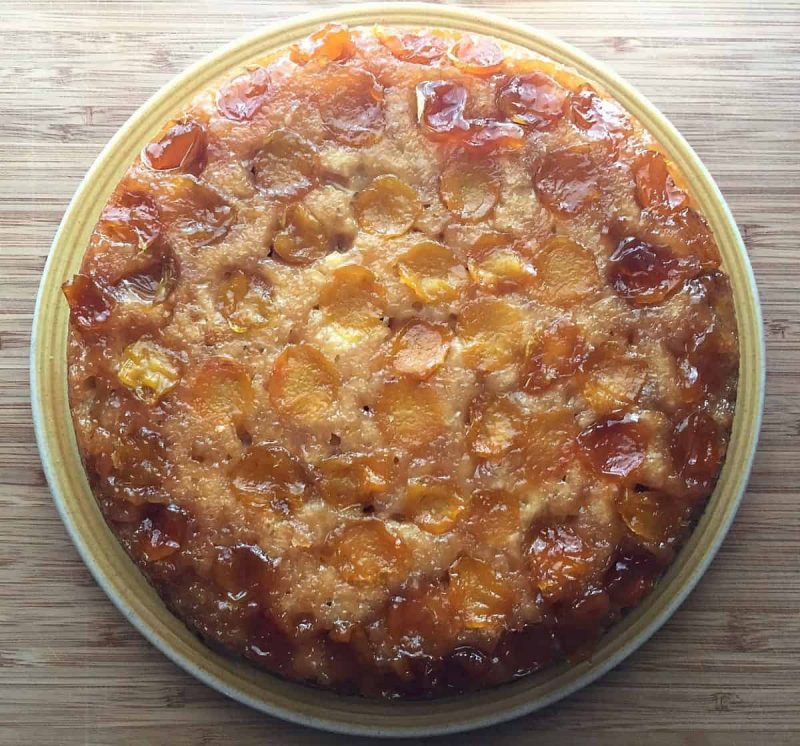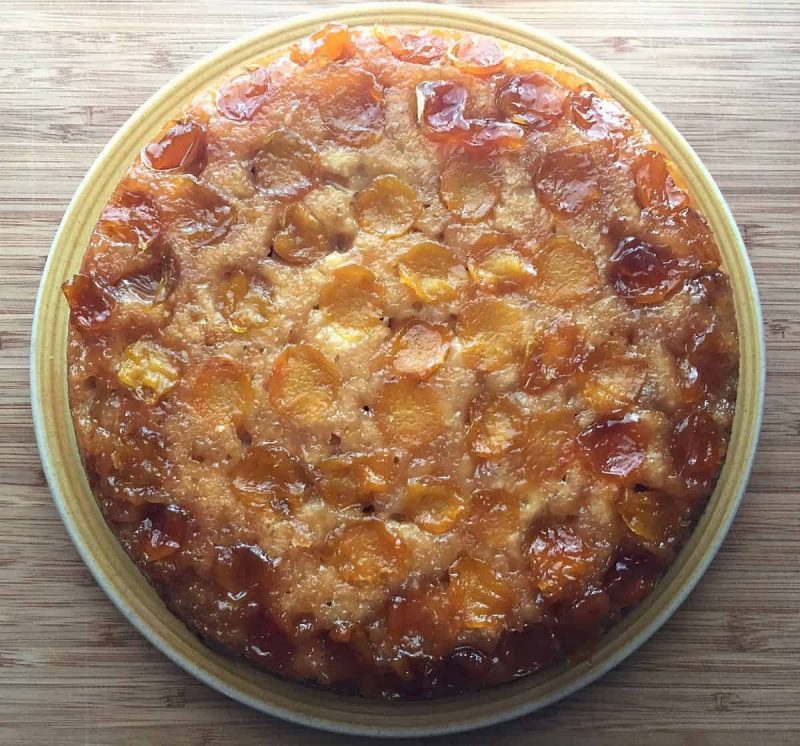 While it's cooling, whip up your lavender whipped cream, and then serve.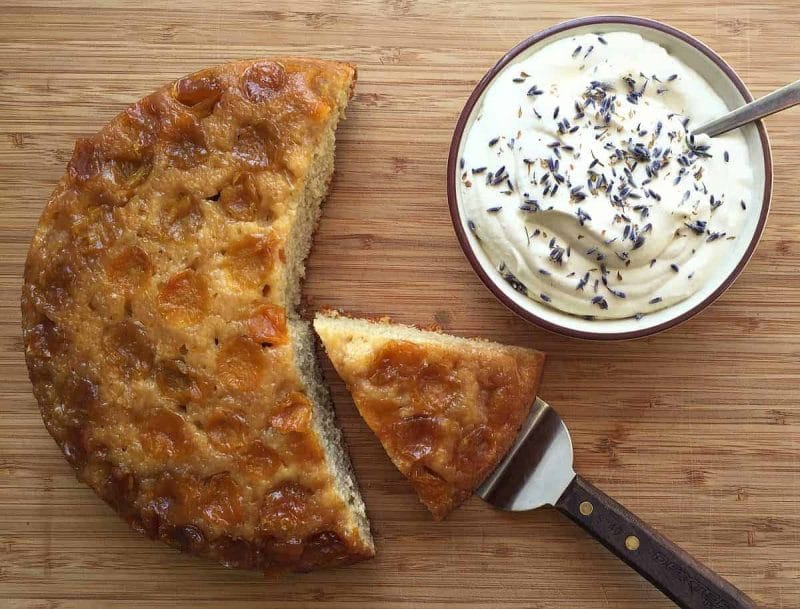 This cake is fairly easy to make, if you can get over the flipping part! I'm always scared to flip it, but I've actually never had an upside down cake disaster. I used to make a pineapple upside down cake in huge pans when I worked in a commercial kitchen, and it took two people to flip! They always came out beautifully, though.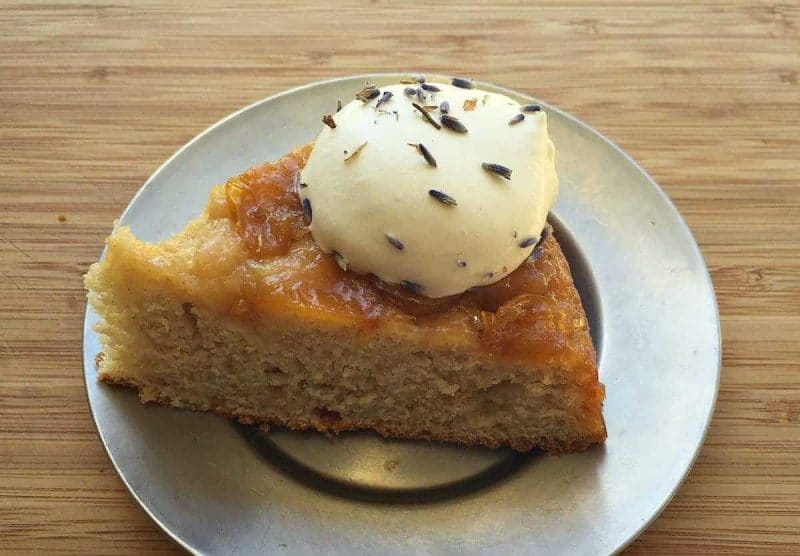 Sit down and enjoy a piece of this delicious plum and lemon upside down cake with lavender whipped cream!
Have you ever made an upside down cake?