It's winter time, and you know what that means.  It's citrus season!  We are lucky enough to have friends and family in the southern part of the country who send us homegrown citrus during the winter, which is always an exciting package to get!  Bright, fresh citrus can really make a dreary winter day more bearable.  Recently we got a bunch of super juicy grapefruits, and while I'm perfectly happy eating a half of one every day with my breakfast, I wanted to do something a little different with them this time.  After looking up a bunch of different recipes, I settled on grapefruit curd.  Here I'll show you how to make grapefruit curd, which is made just like lemon curd, but with grapefruit instead.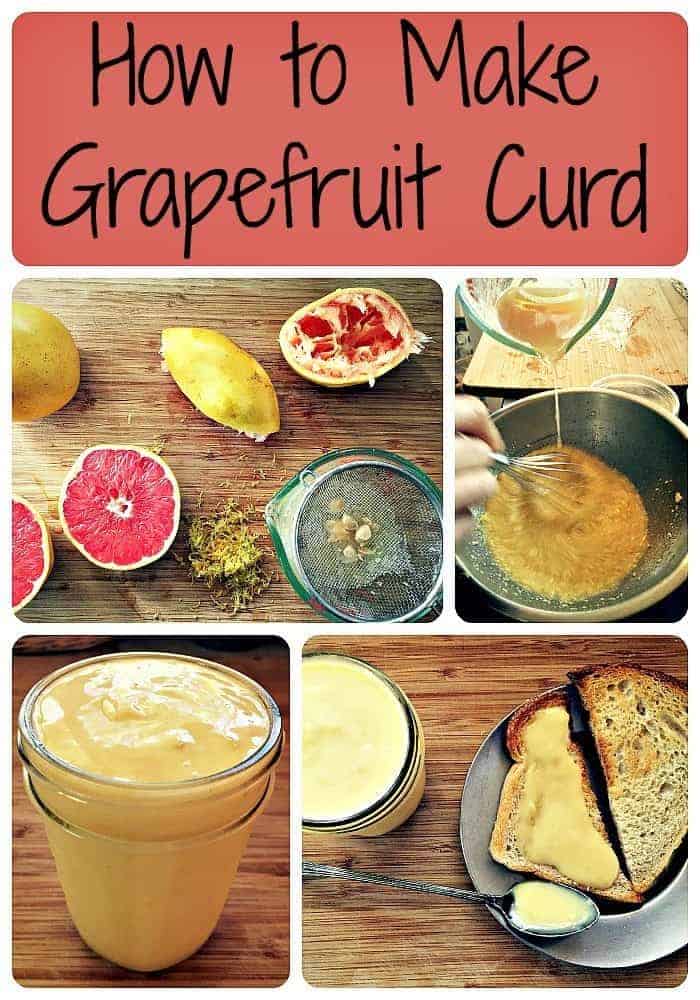 If you didn't know already, a fruit curd is a spread that you would use in a similar way as jelly or jam.  It is most often made with citrus as the fruit component, and also contains sugar, egg yolks and butter.  It is creamy and delicious, sweet yet tart.  I absolutely love it!  The best part is that it's fairly simple to make.  You can also make this recipe with any type of citrus juice, it doesn't have to be grapefruit.  Here is what you will need to get started (makes 2 cups):
1 cup freshly squeezed grapefruit or other citrus juice
2 Tbsp fresh grapefruit zest
5 Tbsp softened butter
1/2 cup sugar
2 egg yolks at room temp.
2 eggs at room temp.
pinch salt
1 Tbsp lemon juice
This recipe is adapted from 101 Cookbook's Ginger Grapefruit Curd Recipe.  I left the ginger out of this one, but feel free to add it if you'd like!  The day you're going to make this curd, try to remember to pull the butter and eggs out of the fridge to let sit at room temp for a few hours.  It's not essential, but it will make everything blend a little better.
The first step is to zest your grapefruit.  A Microplane
makes the job so much easier.  I don't know what I ever did without mine!
Then juice your grapefruits, enough to make 1 cup of juice.  Mine were really juicy so I only needed to use two.
Then simmer that grapefruit juice down to 1/2 cup.  If you don't have time for this step it is ok to skip it and and just start with 1/2 cup of juice from the beginning, but I think doing it makes for a much more flavorful curd.
Then cream together the butter and sugar in a metal bowl.  You will be making a double boiler with this bowl, so use one that will fit on top of a saucepan.  Then add in the egg yolks and eggs, one at a time, stirring to combine each one.  A whisk helps.
Then stir in the zest and pinch of salt, and slowly add in the grapefruit juice and lemon juice, stirring as you go.
Put a couple of inches of water into a saucepan and bring to a simmer.  Place your metal bowl on top of the saucepan for a makeshift double boiler.  Stir the curd constantly, as you don't want it to curdle.
After about ten minutes, the curd should start to thicken up.  Once it's thick enough to coat the back of a spoon, it's done.  It will thicken even more as it cools.
Pour into a pint jar, or two half pints, and refrigerate.  Now you have lovely grapefruit curd!
This is such a treat to have.  It makes a great gift, as well.
I've been eating it on sourdough toast every morning… sometimes even twice a day.  It's that good!
This is a great way to use up any excess citrus you might have.  Lime would be wonderful, as would meyer lemon.  It doesn't take much time to make, and it will make you feel a little more high class when you eat it.  Time to have a tea party with scones and grapefruit curd!
Save