One aspect about foraging that I absolutely love is when I discover a plant that I've seen for years, since childhood even, is edible and medicinal! This was the case with pineapple weed, also known as wild chamomile. When I learned several years ago that it can be used in the same way as its close relative chamomile, I was shocked and excited! Foraging for pineapple weed is easy, it grows almost everywhere, and you've most likely seen it before. Pineapple weed tea is a great way to utilize its benefits!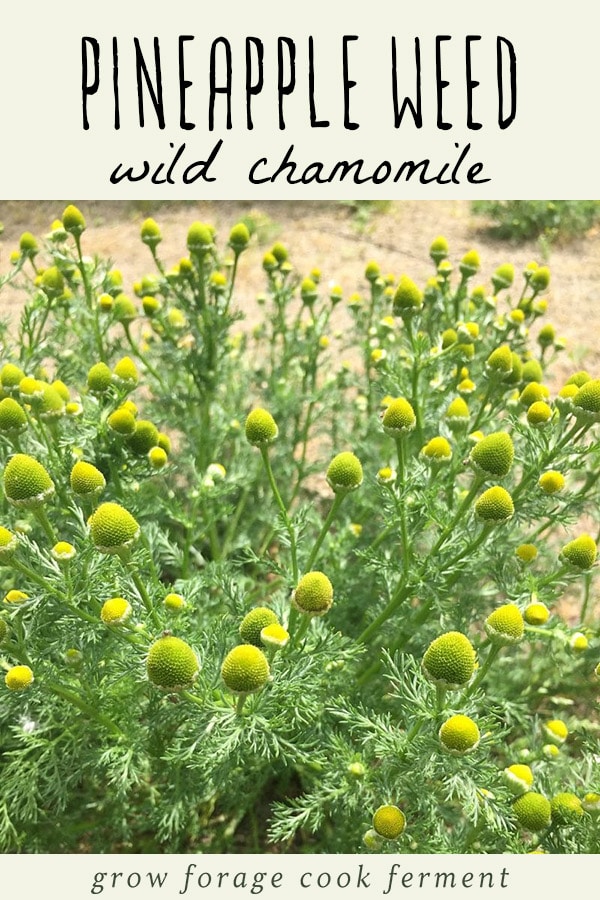 ---
Wildcrafting Weeds
If you want to learn more about the edible and medicinal weeds that surround us and how to use them, check out my eBook: Wildcrafting Weeds: 20 Easy to Forage Edible and Medicinal Plants (that might be growing in your backyard)!
Gather & Root Online Foraging Course
My online foraging course is a great way to learn about wild edible and medicinal plants! Sign up to learn more about the gather + root online foraging course here.
---
Identifying Pineapple Weed (Wild Chamomile)
Pineapple weed (Matricaria discoidea) is very easy to identify. The flower heads are cone shaped and yellowish green in color and do not have petals.
It looks similar to cultivated chamomile flowers, but without the white petals, and it stays much lower to the ground.
The flowers and leaves smell almost identical to chamomile, with a pineapple undertone. It's a lovely and sweet smell that will always remind me of summertime as a child!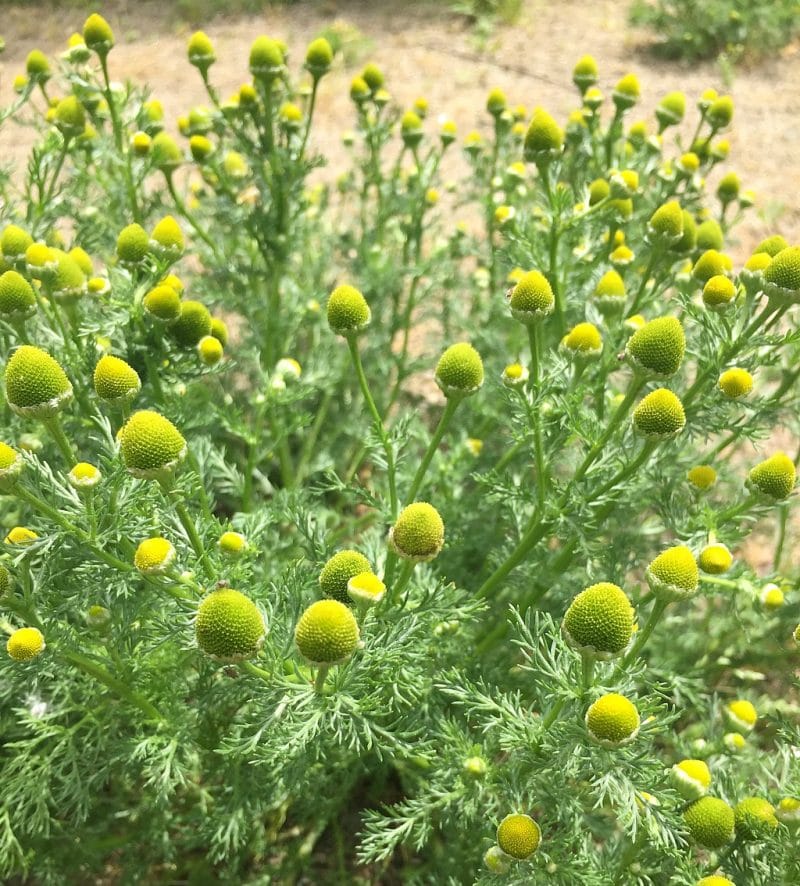 Because pineapple weed is often considered a weed, be careful where you harvest from to be sure that it hasn't been sprayed with any toxic chemicals.
It commonly grows on or along walking paths, trails, roadsides, and in disturbed areas. I wouldn't recommend harvesting in these areas as they are often polluted.
Try to harvest in areas that are away from heavy use by humans, pets, and vehicles.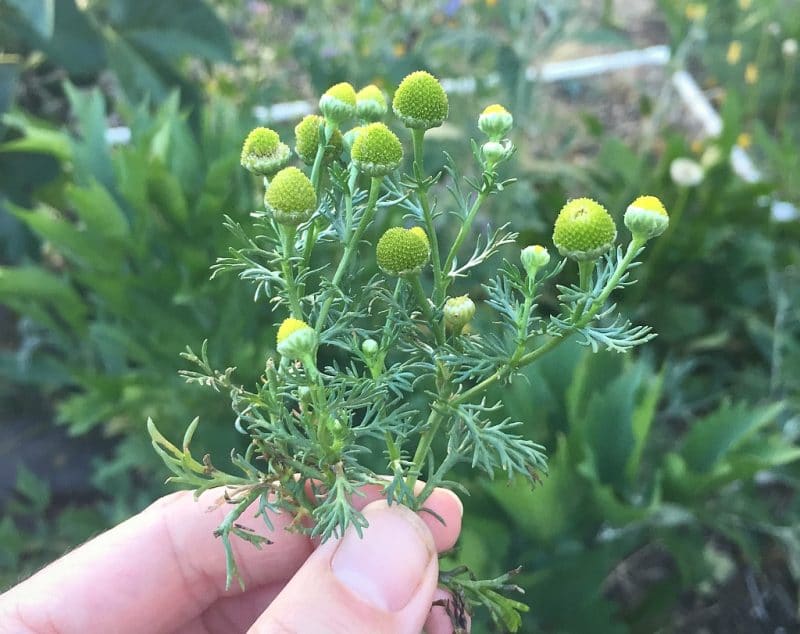 Edible and Medicinal Uses of Pineapple Weed (Wild Chamomile)
Pineapple weed has many of the same benefits as chamomile, namely being good for relaxation and promoting sleep, and as an excellent digestive aid.
It's also helpful for treating colds and is a mild pain reliever.
Besides having multiple medicinal benefits, pineapple weed is also edible and delicious! It can be made into a tea (see below), which is probably the easiest and most common way to use it.
You can also try making these yummy cookies, or this cordial, or this lovely sounding wildflower jam!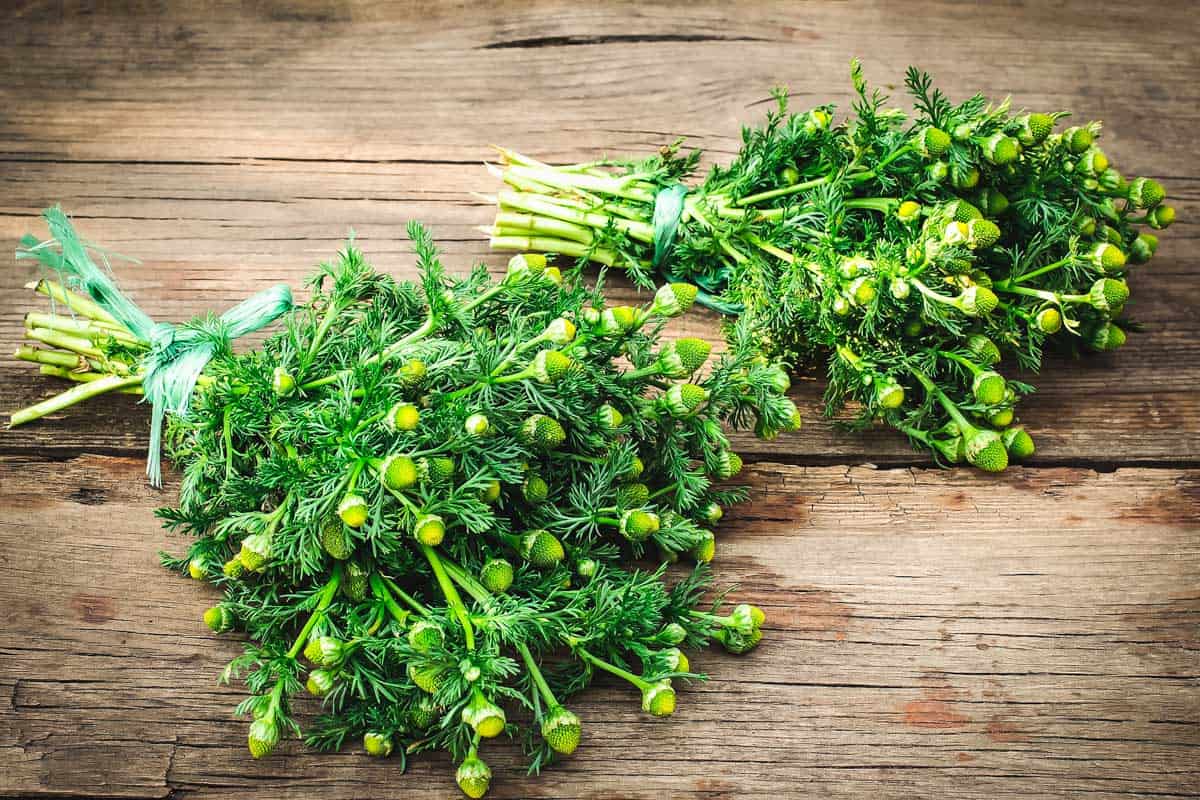 Pineapple Weed Tea
My favorite way to use pineapple weed is the simplest: tea!
It tastes somewhat similar to chamomile tea (another favorite of mine), but slightly sweeter and with a definite pineapple flavor. I can see why this plant got its common name!
It's as easy to make as any herbal tea, simply pour boiling water over a spoonful of fresh flowers, then strain when ready to drink. It can be served hot or iced.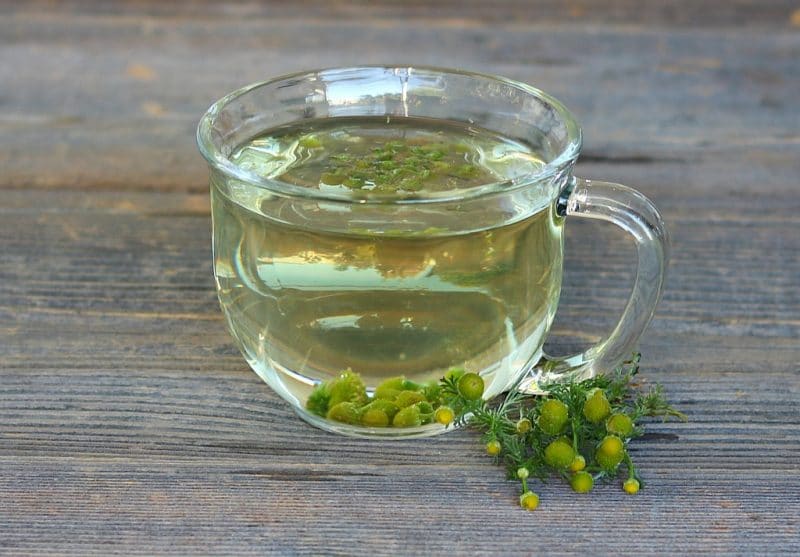 It's so awesome when a plant that you've seen many times turns out to be useful. Pineapple weed has so many benefits to us and it's always been there right under our feet!
---
More Herbal Tea Recipes
Herbal tea is like giving your water a nutrition and flavor boost. Enjoy our other tea recipes!
---
Pineapple Weed Tea
Pineapple weed, also known as wild chamomile, is easy to forage for. It is a common plant that is edible and had many medicinal benefits!
Ingredients
2

Tablespoons

fresh pineapple weed flowers

8

ounces

boiling water
Instructions
Bring the water to a boil and pour it over the pineapple weed flowers.

Allow to steep for at least 5 minutes.

Strain and sweeten if desired.
Notes
If using dry flowers, reduced the quantity of herbs to 1 tablespoon.
Nutrition
Serving:
8
ounces
|
Calories:
1
kcal