This gift guide for fermenters and homebrewers will give you all kinds of ideas for the holiday and Christmas season. Find ideas for fermenting kits and jars, kefir and kombucha starters, brewing supplies, books, and more. You'll find the perfect holiday gift for the fermenter or home brewer in your life.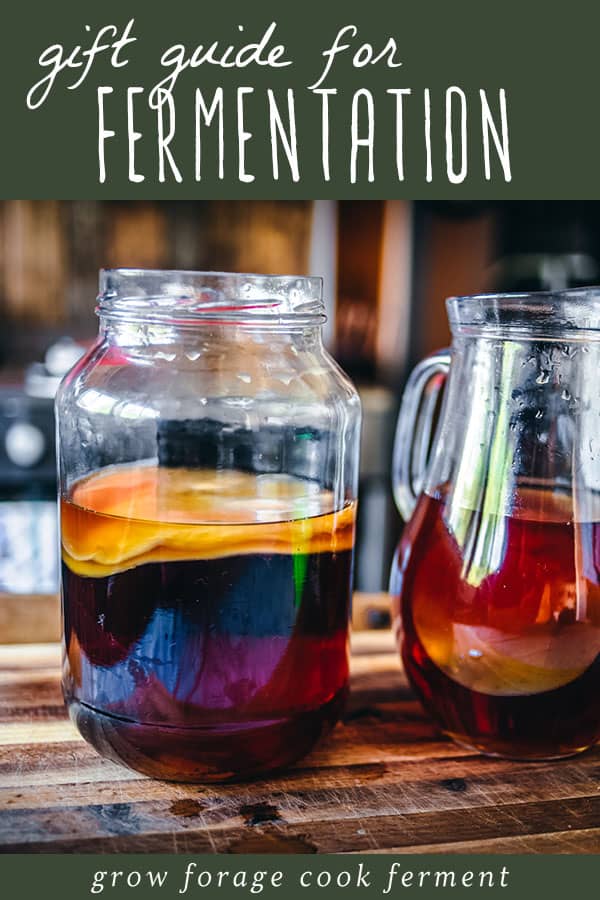 Gift Guide for Fermenters & Homebrewers
Fermenting is a huge passion of mine, and I love showing people how easy it is. So I decided to create this gift guide for fermenters and homebrewers!
Be sure to check out my other gift guides as well! I have one for foragers and wildcrafters, one for herbalists, and one for backyard gardeners.
This is going to be a long one because I have many recommendations. Although it's mainly geared towards newbies, even seasoned fermenters can still benefit from many of these products.
Get these things for that person in your life who has always wanted to make their own kombucha, fermented pickles, or homebrew, but doesn't have the right tools to start!
Vegetable Fermenters
Let's start with things you need for veggie ferments (like dilly beans, hot sauce, or cranberries).
Technically no equipment is needed besides a fermenting vessel, salt, and something to weigh down the veggies with, but it's really nice to have a kit like this one from Easy Fermenter.
It comes with handy weights, special airlock lids, and a recipe book. All you need is quart size wide mouth mason jars and you're good to go!
I also really like these simple stainless steel fermenting lids with airlocks.
These fermentation weights are handy to have as well!
These ceramic fermentation weights and funnel from Sienna Ceramics are really nice and make wonderful handmade gifts. I own both and they are just perfect!
Of course, sometimes it's nice to ferment in larger than quart size batches, and this is when a ceramic crock is perfect.
My Mom got me this this 3 gallon ceramic crock from Ohio Stoneware for Christmas a few years ago, and I absolutely love it!
Now the only thing I wish I had for it is the crock weight set, but maybe I'll get that this year.
This wooden Pickle Packer by Masontops is also something that I've had my eye on for a while. It would really make packing kraut down in the crock so much easier. It's the perfect stocking stuffer!
Masontops also carries a fermentation kit that includes Pickle Pipe lids, weights, and the Pickle Packer!

Kombucha, Jun & Kefir Brewers
For all the wannabe kombucha and jun brewers out there, the first thing they will need is a wide mouth one gallon glass jar. This is what all of the tasty 'booch is brewed in.
Then a kombucha SCOBY is needed to get the brew going.
Kombucha Kamp is a great place to get a SCOBY and other kombucha and kefir brewing necessities. They also carry Jun SCOBY's, kefir grains, and continuous brew packages!
If you'd rather purchase a whole kombucha kit in a one package deal that comes with everything, check out this Kombucha Brewing Kit from The Kombucha Shop.
It looks pretty awesome!
There are also these great milk kefir and water kefir kits from Cultures for Health. They also have a kombucha brewing kit as well as sourdough starters!
Mead, Cider, Wine, and Beer Brewers
Now let's move on to some homebrewing equipment.
For all the mead, cider, and wine makers out there, this one gallon jug with airlock is extremely useful and a great way to get started with a small batch of brew.
Champagne yeast is one of the easiest to use for beginners, as it always makes a reliable product, or you could get this wine yeast sample pack!
Get these two items plus a 3 pound jug of raw honey, and you will be setting someone up pretty good to get started on their own one gallon batch of mead right away!
See my full list of mead making equipment and ingredients here.
You can also give my Simple Mead Making eBook as a gift!
If you have friends or family that are into beer and want to learn how to make their own, this Homebrew Kit is the perfect place to start for all the right equipment.
It even comes with a brewing pot and your first beer recipe kit!
Adventures in Homebrewing also always has great deals on homebrewing equipment, and I totally love their rotating collection of free shipping beer extract kits.
These kits are the easiest way to start brewing your own beer, once you have the proper brewing equipment.
Fermenting Bottles
Fermenters and homebrewers often need bottles, whether it's for a kombucha or water kefir second ferment or for bottling homebrew.
My favorite are amber bottles with flip top lids. They make bottling super easy!
Fermenting Books
Now let's talk about books, as they always make great gifts.
Hands down, the two absolute best books for fermenting are Wild Fermentation and The Art of Fermentation by Sandor Katz.
Anyone and everyone who ferments should have these books!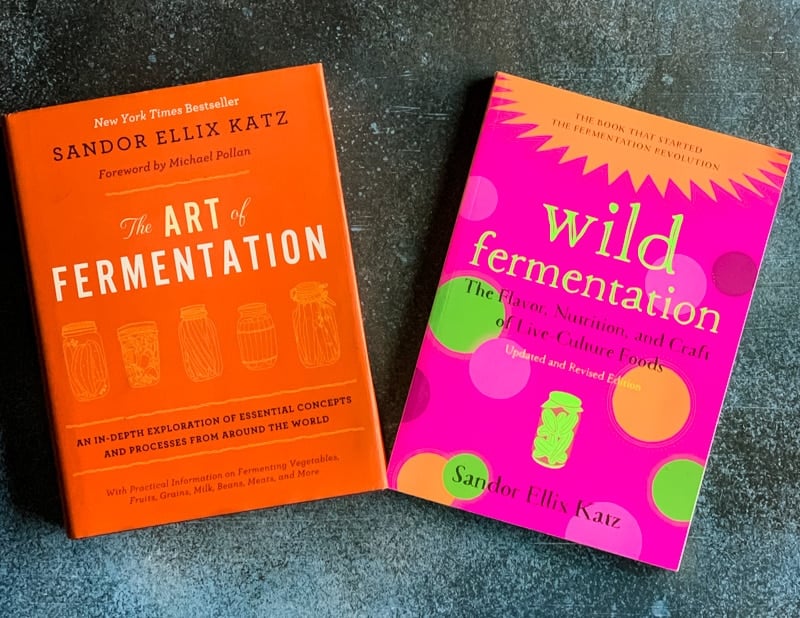 Two other great books by Kirsten and Christopher Shockey that focus on vegetable ferments and spicy fermented sauces are Fermented Vegetables and Fiery Ferments.
Another great book on the basics of fermentation with easy recipes is Fermenting Made Simple by Emillie Parrish.
Then there are these two cool looking books on brewing kombucha, The Big Book of Kombucha by Hannah Crum and Kombucha Revolution by Stephen Lee.
See my full list of books on fermentation and homebrewing!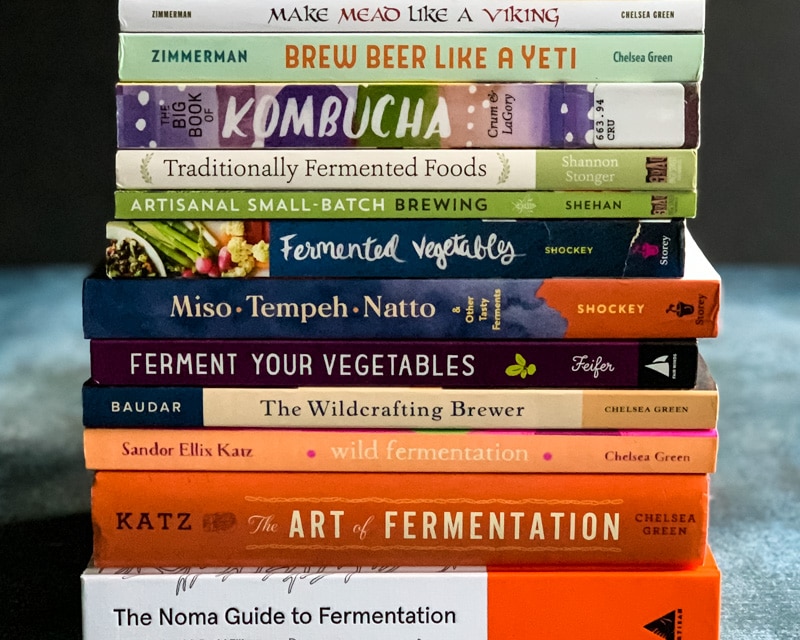 There's a lot more I could add to this list, but this should be enough to get you started!
Fermenting is so much fun, I'm all about getting others into it. I think these are some of the best fermenting and homebrewing gifts anyone could get!