The holiday season is here and it makes me so happy! I really do love this time of year, and Thanksgiving is my favorite holiday (probably because it revolves around food, ha!). I was always the kid who was picky about food, but liked weird things like pickles, olives, and cranberry sauce. But, the cranberry sauce that I liked back then was in the shape of a can. Don't get me wrong, I'll still eat that jellied stuff for nostalgia's sake, but I much prefer real cranberries these days. I usually cook up a batch every year with orange, ginger, honey, cinnamon and cloves. This year I thought I'd take those same ingredients and ferment them, and they turned out awesome! Here is how to make fermented cranberries.
If you're looking for my popular (and super yummy!) recipe for fermenting cranberries in honey, here it is: Fermented Honey Cranberries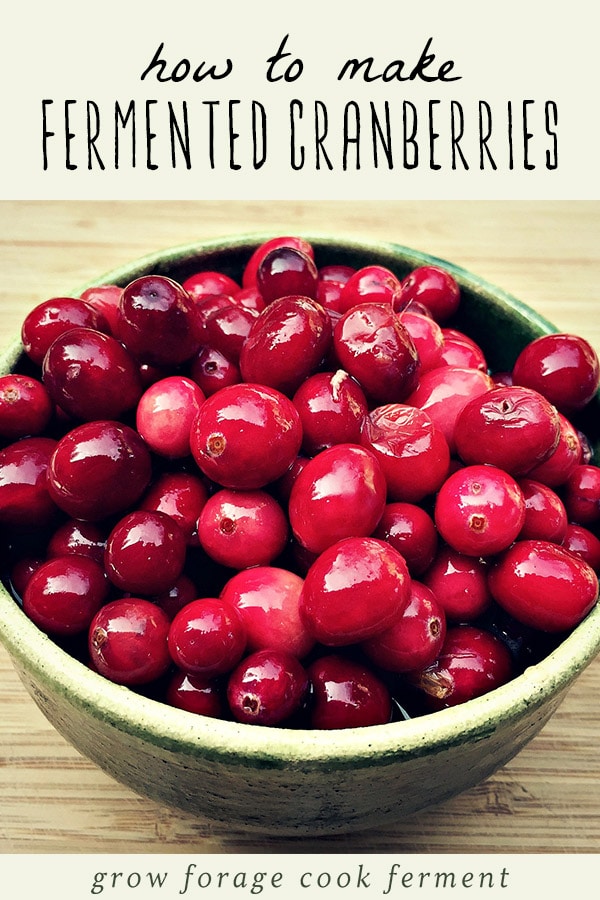 To make these fermented cranberries I used the Starter Kit from Fermentools. This is a great kit to have for any kind of vegetable ferments. It also makes a perfect gift for anyone who is interested in fermenting! Here is what comes in the Starter Kit: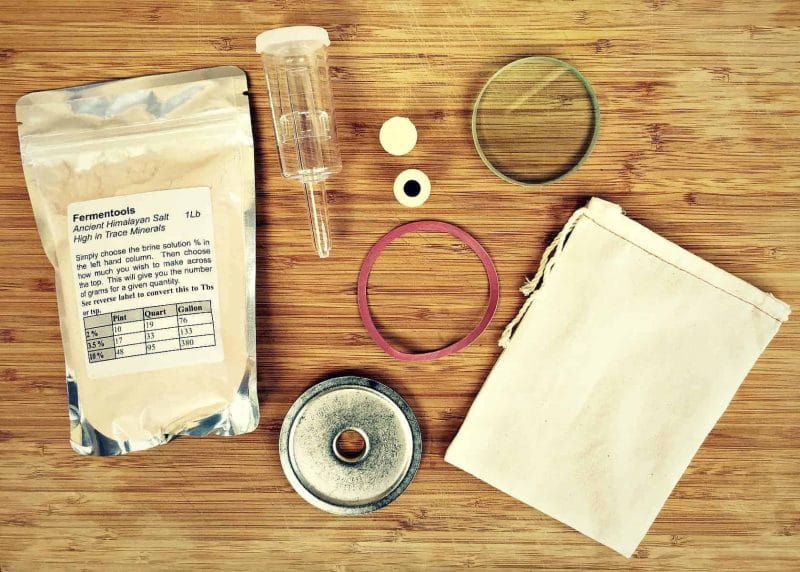 A stainless steel lid with a rubber gasket that fits onto any wide mouth jar, two rubber stoppers (one with a hole and one that is solid), an airlock, a glass weight, a bag of Ancient Himalayan salt, and a nice little bag to keep it all in.
Here is what you will need to make the fermented cranberries: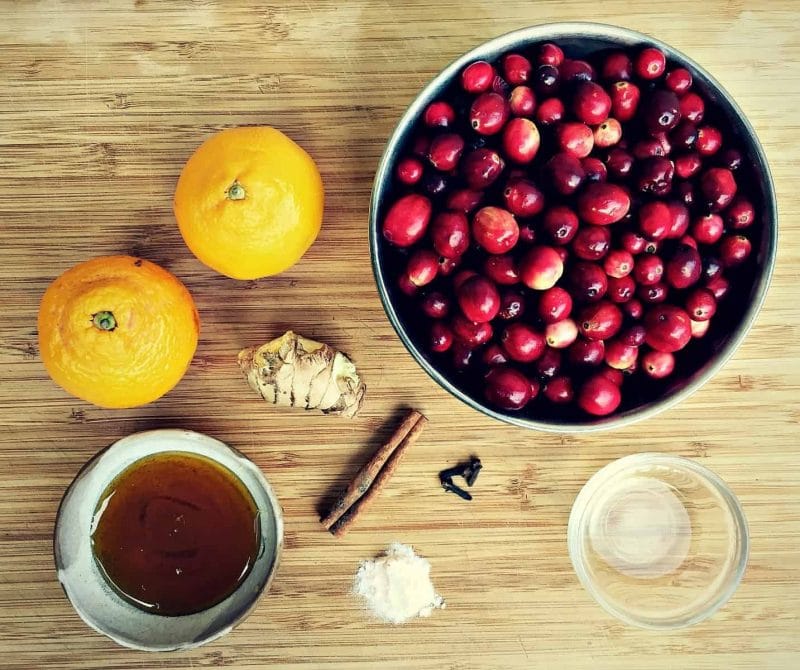 Fermented Cranberries Recipe
This recipe makes about one quart of fermented goodness.
12 ounce bag of whole cranberries
juice from 2 tangerines or 1 orange
hunk of ginger, grated
2 Tbsp raw honey or maple syrup
1 Tbsp brine (from another ferment) or whey (optional)
1/2 tsp salt (Himalayan or non-iodized)
1 cinnamon stick
3 whole cloves
unchlorinated water
First you want to smash up the cranberries a bit to burst their skins a bit. You can pulse them in a food processor a couple of times if you wish, but I like to be hands on so I mashed them up with a potato masher. This will result in mostly whole berries, which I like, but do it however you like it. The idea is to try to "pop" most of the berries.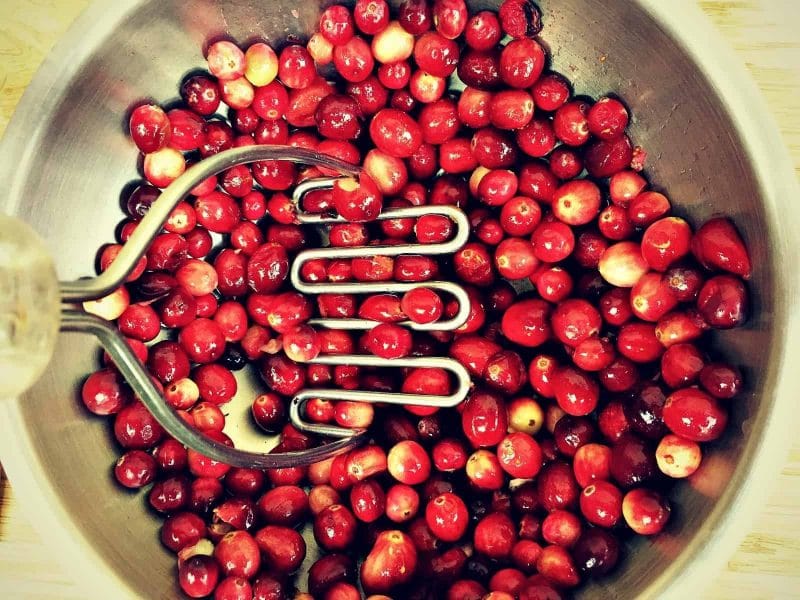 Then put the mashed berries into a wide mouth quart sized jar.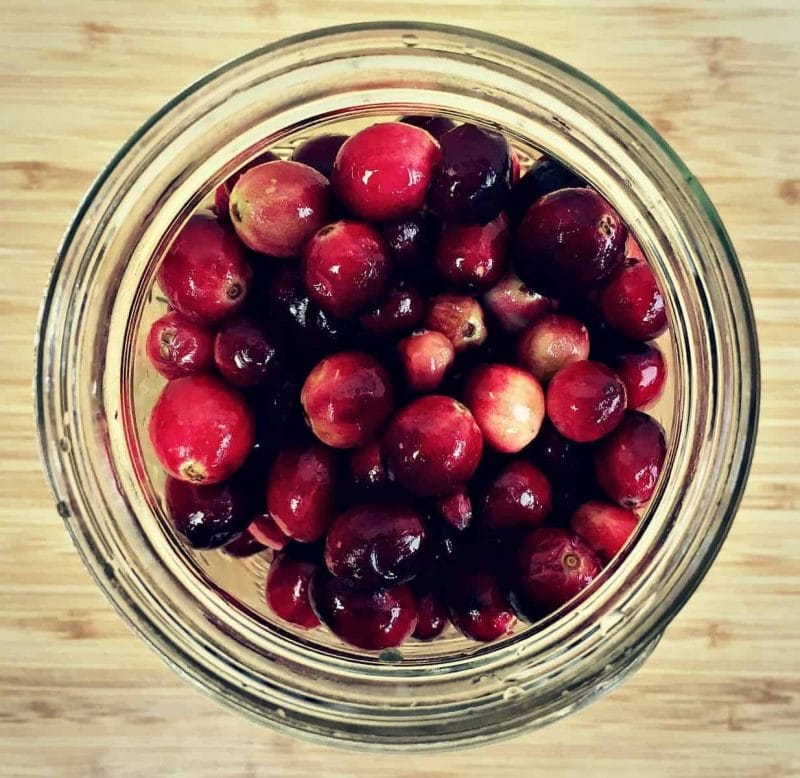 Then add the brine from another ferment (I used some from my lacto fermented dilly beans) or whey. Whey is the clear liquid that comes from yogurt or milk kefir. If you make milk kefir cheese, you will have plenty of whey. Basically, fermented brine or whey is added to help the whole process get going a little quicker. Don't worry if you don't have any, it will probably work anyways, it just might take a little longer. Anyways, add the brine or whey if you have it, salt, cinnamon stick, cloves, and grated ginger to the jar.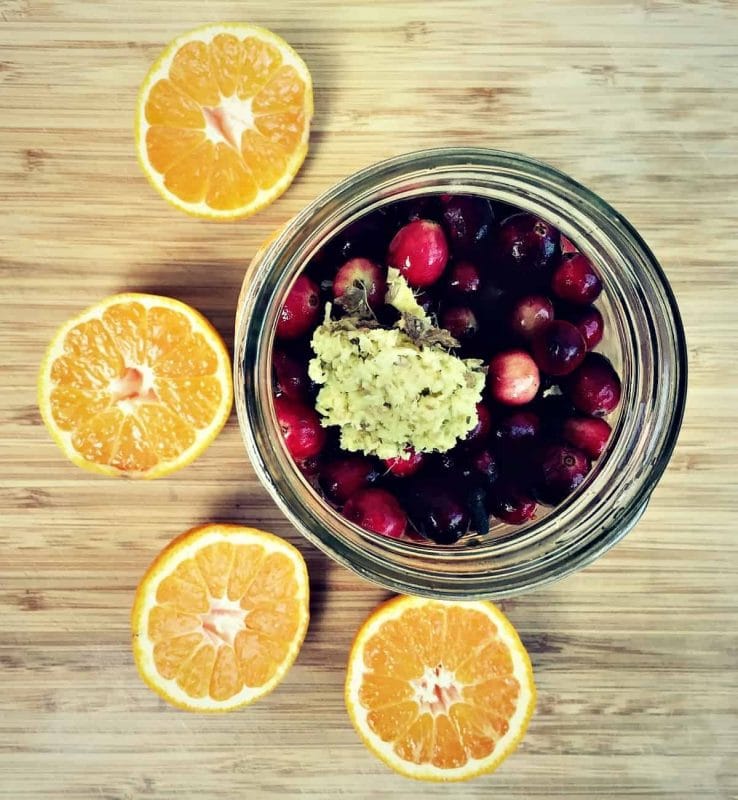 Then juice the tangerines or orange right into the jar. Use a small strainer for the seeds if need be. Then add the honey or maple syrup.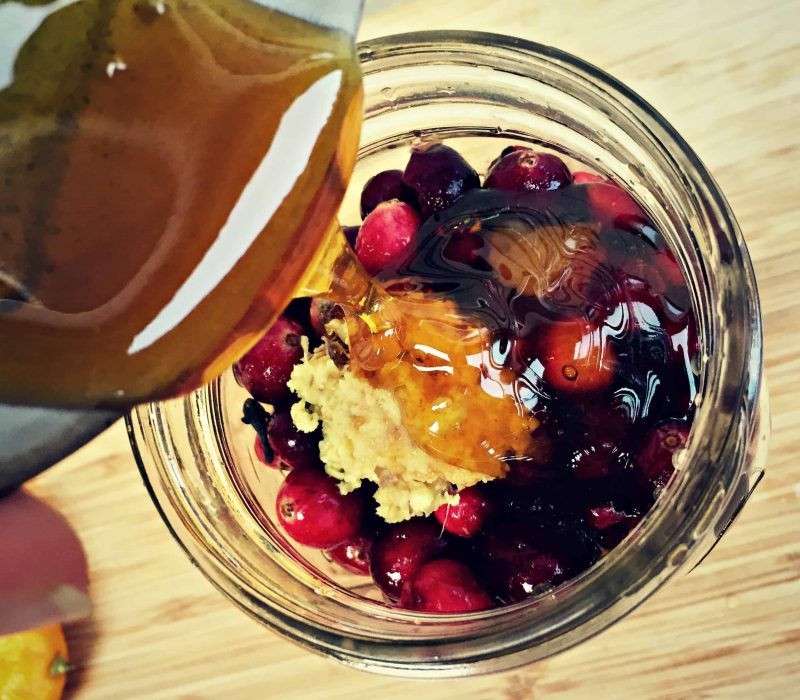 Fill the jar with unchlorinated water, leaving about 1 inch of head space. Cover with a lid and shake to get everything incorporated. Then uncover and put in the weight.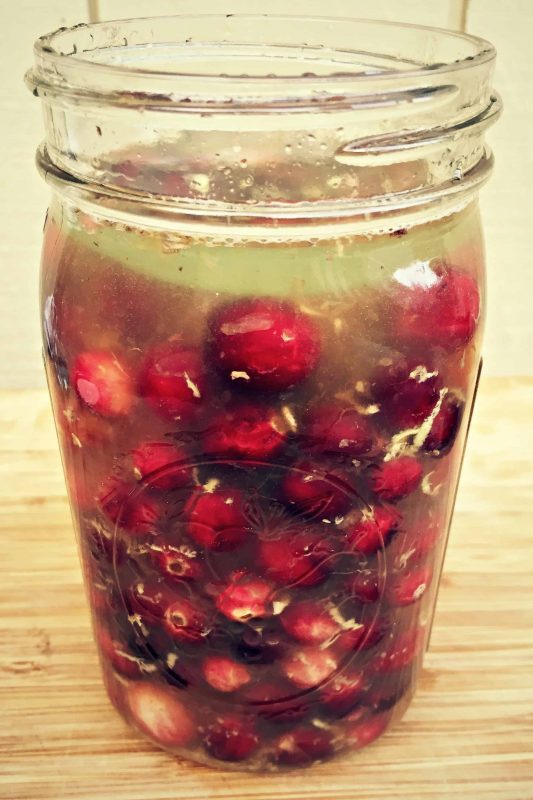 This little weight is really handy to have, as you need to keep everything under the brine when you ferment in order to prevent mold. Cranberries are especially floaty, so I was really glad to have this! Then put the rubber gasket on the rim, top with the Fermentools lid, and screw it down with a wide mouth jar band. Put the airlock attached to a rubber stopper into the hole in the lid. Make sure the airlock has some water in it. Pretty darn simple!
I was amazed by the quality of the Fermentools kit, the lid is stainless steel and is made very well.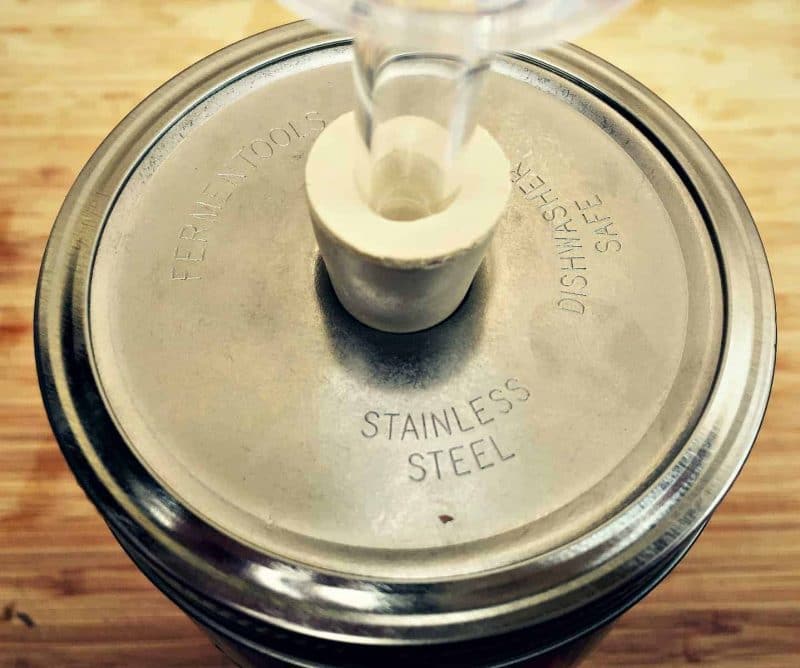 Of course, you can always come up with another weight for your veggie ferments, like a zip top bag full of water or some other creative thing. You also don't need to use an airlock for your ferments, covering the jar with a clean towel works just fine, but it can be helpful in preventing mold and other unwanted nasties.
Put the jar in a dark and quiet corner of your kitchen. After about 5 days my cranberries were bubbling quite nicely!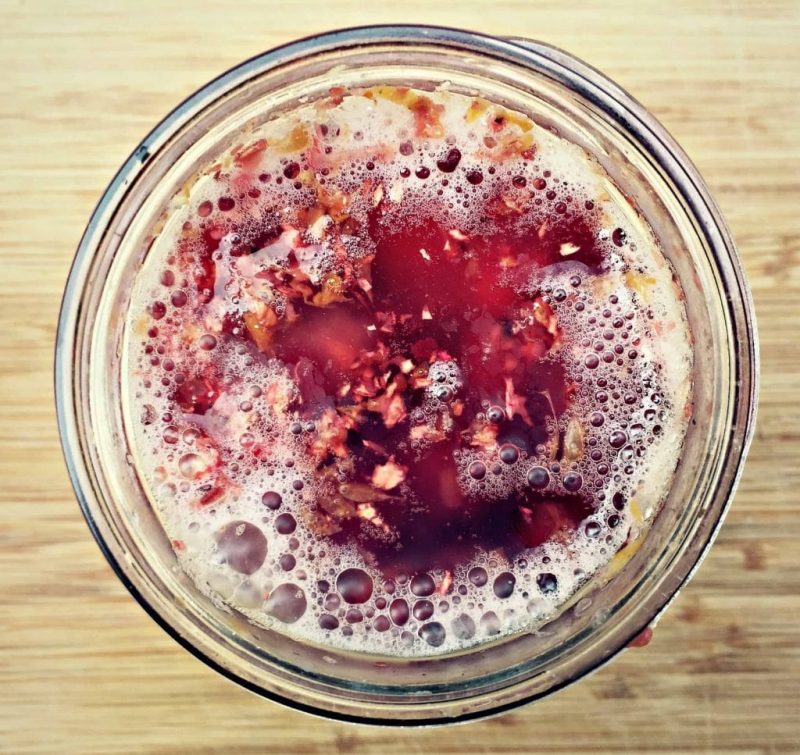 I pulled some out to taste, fearing that they would be too tart, but to my surprise they were quite mellow and pleasantly fizzy. Somehow the fermentation process took out all of the astringent and sour bite that fresh cranberries usually have.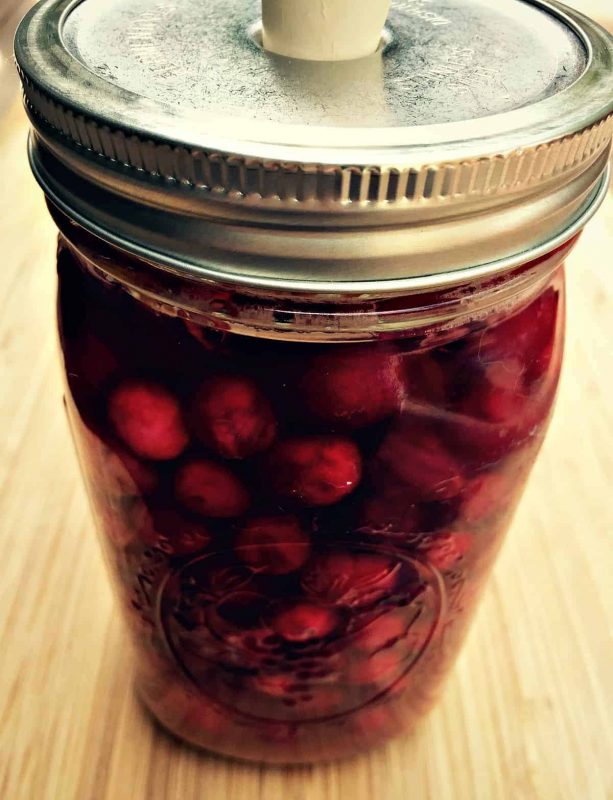 These would be a perfect addition to your holiday table! They are gorgeous in color for one thing.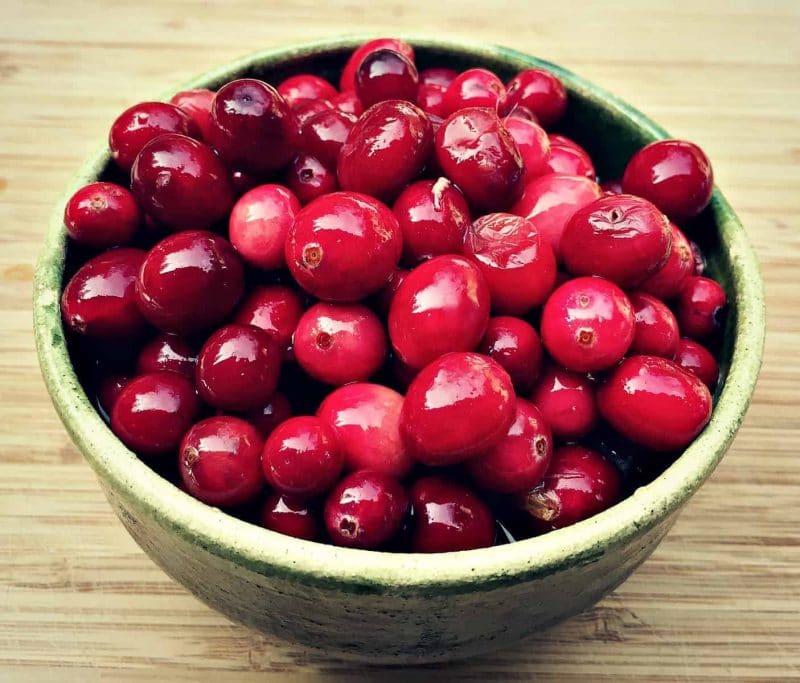 And of course they also taste wonderful. They are slightly bubbly and, well, just like a cranberry that isn't sour! So interesting what fermentation will do. I was popping these guys like candy! Before serving to a crowd, I suggest adding a little drizzle of honey or maple syrup at the table, just for a touch more sweetness and a gorgeous presentation.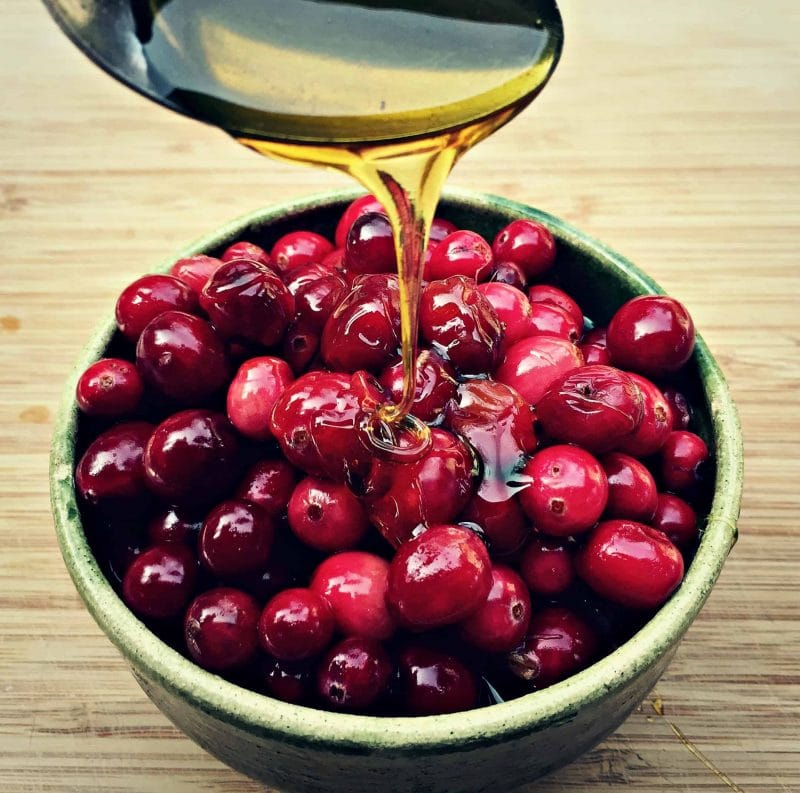 There you have it, fermented cranberries! Plus a super cool Fermentools kit that you should check out. Honestly, it's worth the price for the weight and the salt alone!
You should definitely make these fermented cranberries for the holidays, you won't be disappointed. Plus you'll intrigue all of your family and friends, guaranteed. You might even talk a few of them into fermenting things themselves!
Save