I have an exciting post for you guys today! Have you ever wanted to make cheese but were too intimidated by the complicated process? I have totally been there, and while I fully intend on conquering it someday (you know I will!), in the meantime this has become my saving grace in the homemade cheese world. I'm going to show you how to make milk kefir cheese, an easy to make, fermented and delicious soft cheese.
You may have already read my tutorial on water kefir and how to make herbal water kefir soda. This process is very similar, but you use milk instead of water. You also need to make sure to use milk kefir grains, which are a little different from water kefir grains. While they are actually not grains at all, they somewhat resemble grains in appearance.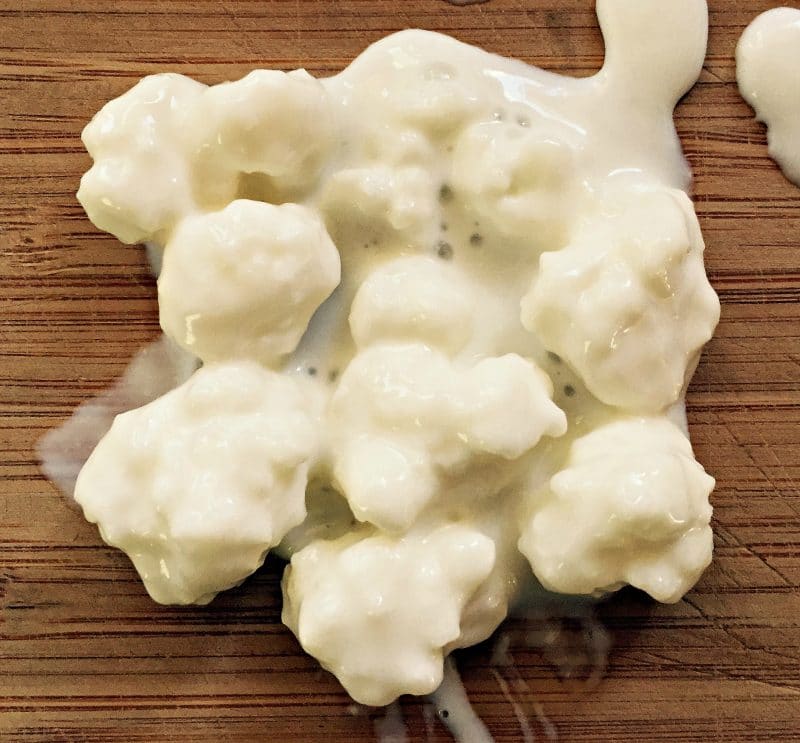 In actuality, kefir grains are a form of SCOBY, which stands for Symbiotic Culture of Bacteria and Yeast. Sounds appetizing, huh? The truth of the matter is that SCOBY's ferment and culture things like milk, sugar or honey into probiotic awesomeness!
So, the first step to making kefir is finding yourself some of these kefir grains. If you have a friend that makes milk kefir you can take a small spoonful from them, as they are constantly multiplying. You can also buy them online from Kombucha Kamp.
Once you have your grains, it's time to make some kefir! First put your grains into a quart jar.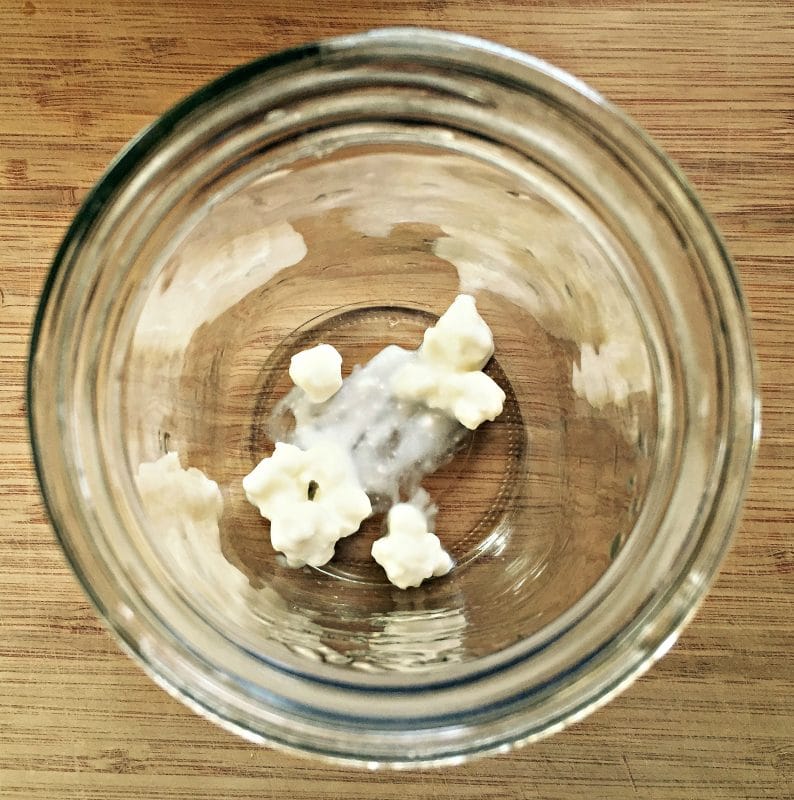 Then fill the jar with whole milk (organic preferred), leaving about an inch of head space at the top. The kefir needs a little space at the top because it will bubble up and expand a bit.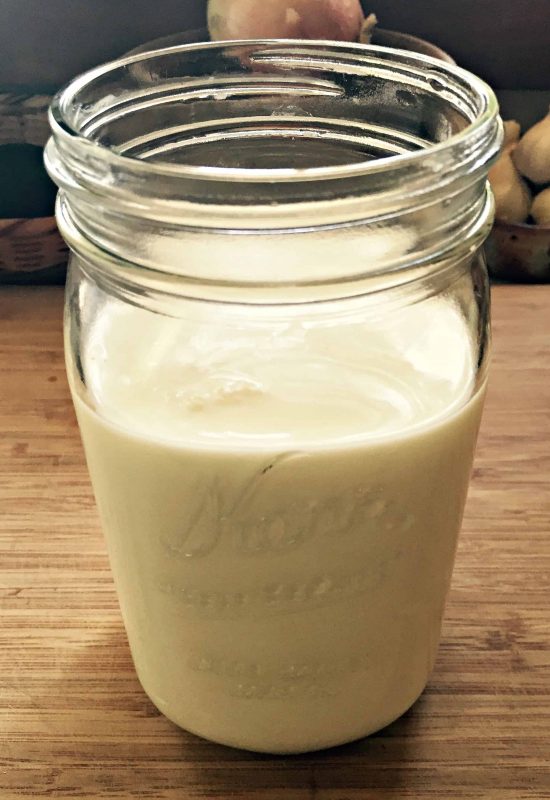 Cover with a lid and let it sit at room temperature for 12-24 hours, or until it thickens, shorter in hot weather, longer when it's cold. Alternatively, you can put it in the fridge and let it slowly ferment for 3-4 weeks, and it will eventually thicken up just like normal. I often do it this way, otherwise I would have milk kefir coming out of my ears in no time! This is great if you have a milk cow and tons of milk to use up, but it can become tiresome otherwise.
Once it has fermented you will want to strain out the grains. Since I'm going to show you how to make kefir cheese, you'll want to first line a small bowl with a few layers of cheesecloth, then put a larger strainer or colander over that.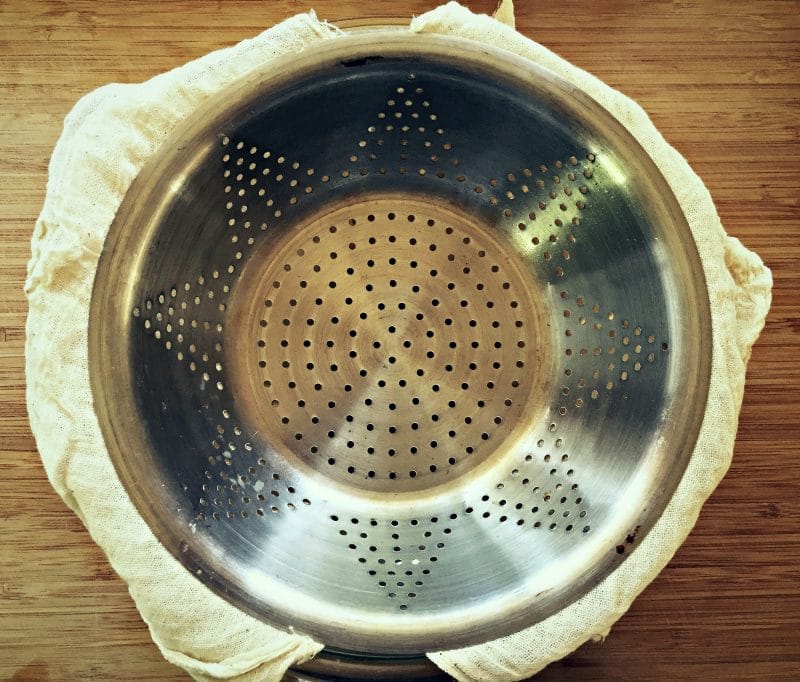 Pour in the fermented milk kefir.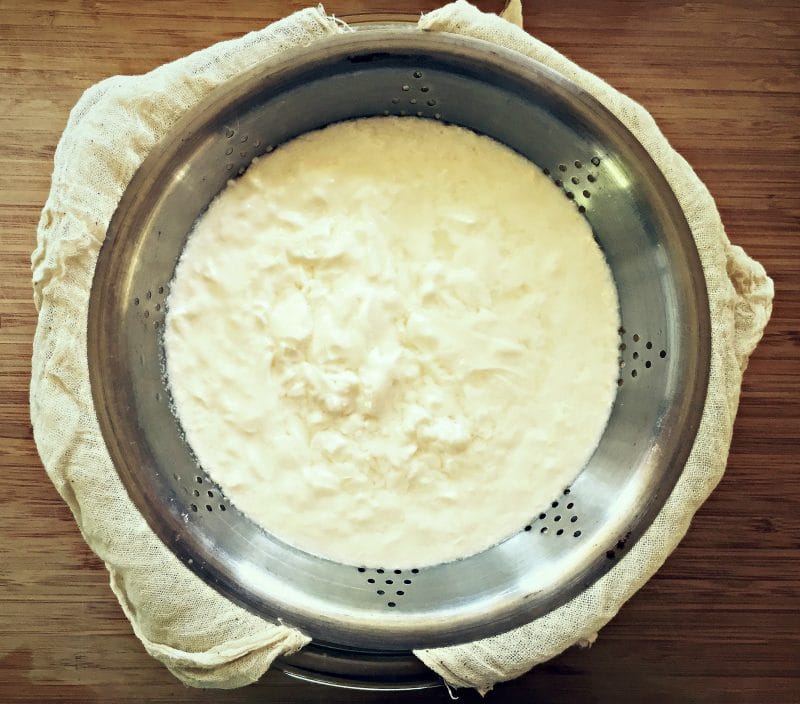 Strain out the kefir grains with the colander.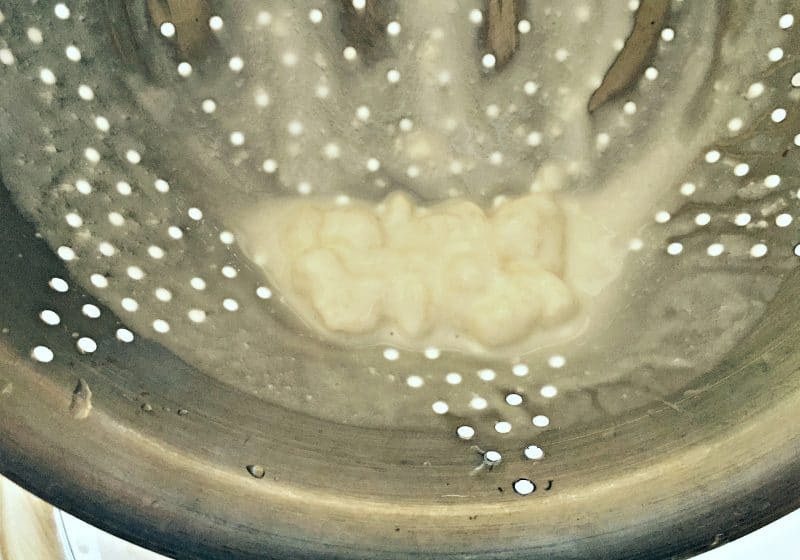 Save them aside to make another batch of milk kefir with. You will be left with the rest of the milk kefir in the cheesecloth.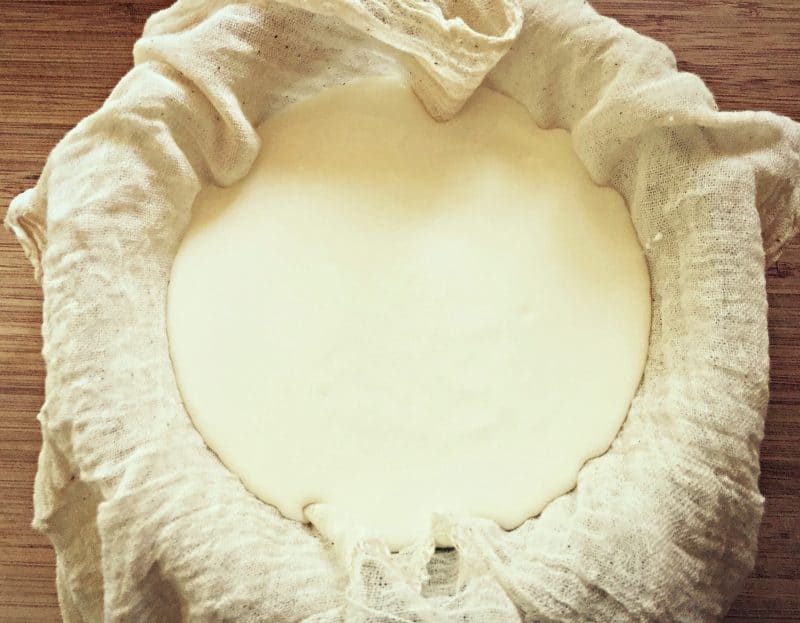 Tie up the corners of the cheesecloth onto a long spoon or other long stick like thing of some sort.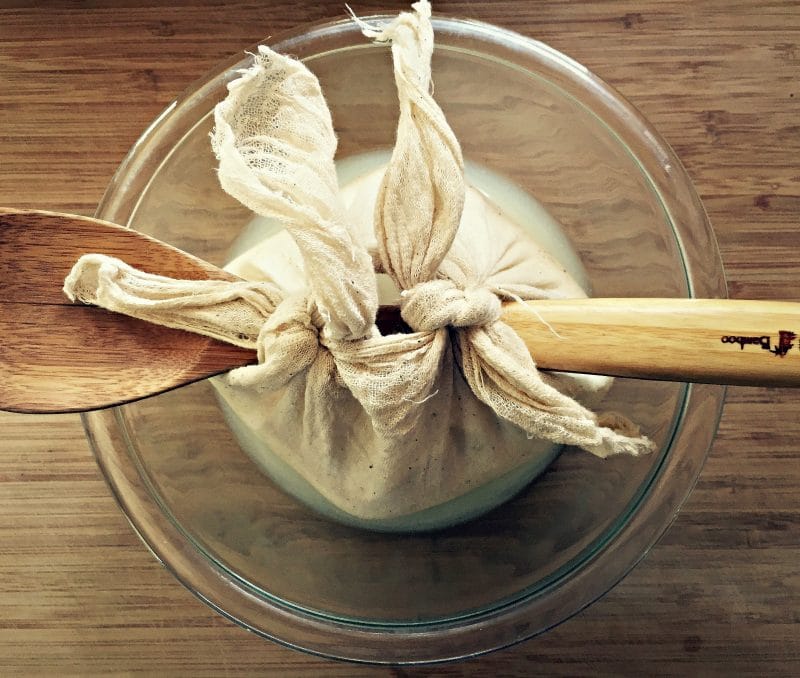 Then hang the bundle over a large bowl or pot. This will strain out most of the whey, leaving the curds in the cheesecloth.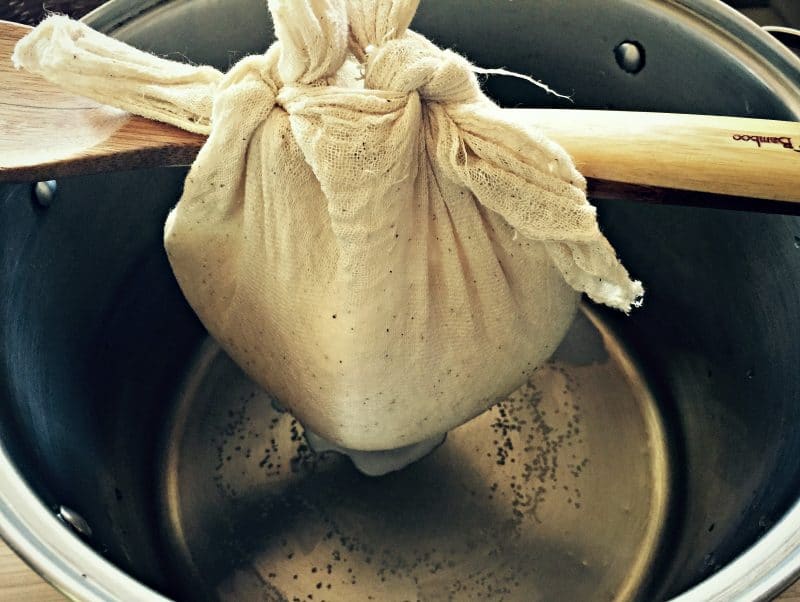 Let it hang there and strain for another 24-48 hours. If it's really hot out you may want to try and fit this into your fridge somehow, but I usually just do it at room temperature. Feel free to save the whey for other uses as well. Here is what the cheese should look like after straining.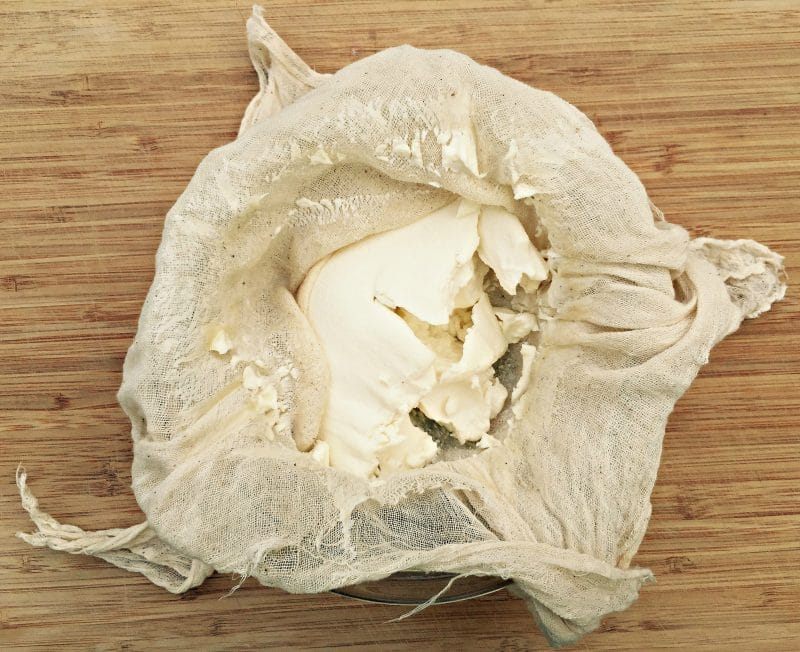 Turn it out into the bowl.
Then add 1 tsp salt and whatever seasonings your heart desires. I used 1 tsp garlic powder, a bunch of minced chives from the garden, and a few cracks of fresh ground pepper.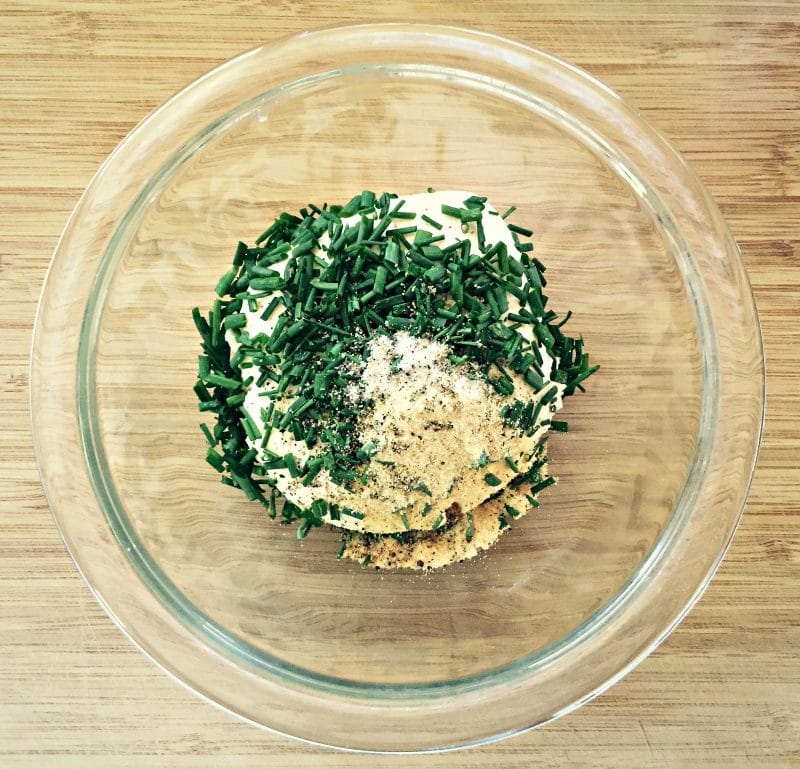 Stir it all together and there you have it, a home fermented and wonderful soft cheese!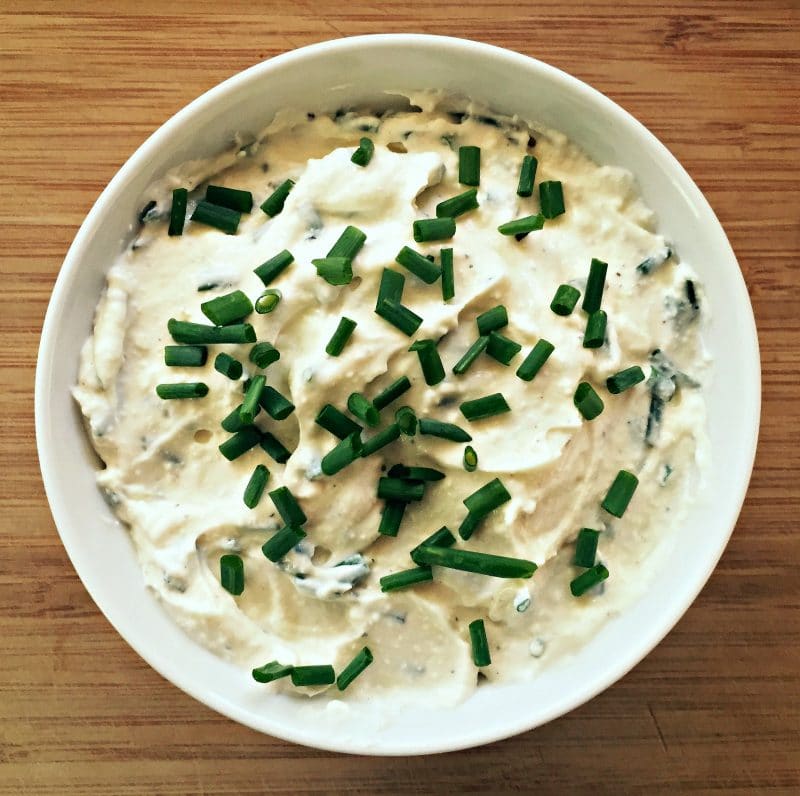 This cheese is great as an appetizer dip or for spreading on bagels. Honestly, it works for anything that you would use cream cheese or soft goat cheese in. I've used it in place of ricotta for making lasagna and it turned out wonderful. Use your imagination! It's actually quite tasty, sort of like a thick and rich sour cream or yogurt.
Here are a few more milk kefir recipes to get your wheels turning:
Hopefully this will inspire you to make your own milk kefir and turn it into something interesting… like cheese!